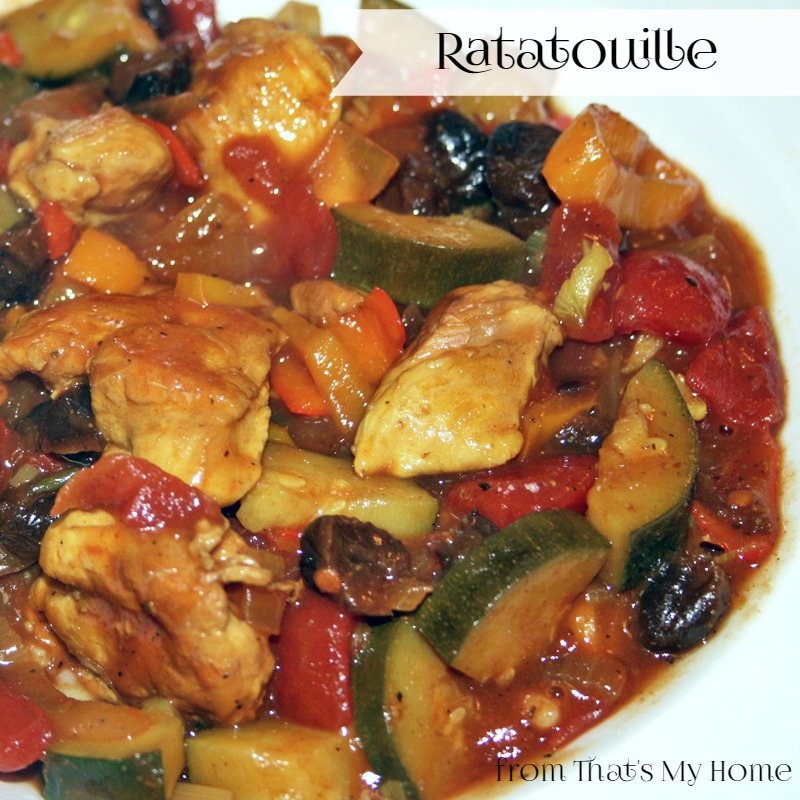 Ratatouille
I learned to make this dish many years ago when I worked at a local hotel where I used to live. I think that this dish can make anyone who says they hate eggplant love it. It comes together quite quickly once the vegetables are chopped and is one of those dishes that is better the next day. This picture has chicken breast pictures in it which I love adding.
I love serving it with grilled chicken, with pasta or just by itself. It makes a great diet dish! You can eat it either hot or cold. This is one of my favorite summer dishes to make, it is so versatile I know you'll love it too.
Ratatouille
Prep time:
Cook time:
Total time:
Eggplant, zucchini, onions, peppers in a tomato based sauce flavored with garlic, basil and oregano.
Ingredients
1 eggplant - diced
salt
olive oil
1 large onion
2 - 3 garlic cloves - minced
1/2 green pepper
2 zucchini - diced
2 yellow squash - diced
1 14.5 ounce can diced tomatoes
1/2 cup water
2 teaspoons wine vinegar
2 teaspoons sugar
1 - 2 tablespoons basil
1/2 teaspoon oregano
salt and pepper to taste
Instructions
Dice the eggplant and place in a strainer. Sprinkle with salt and leave in sink to drain for 20 minutes. Blot with paper towels to remove the moisture that formed on the eggplant. The salting helps to rid the eggplant of bitterness that sometimes comes from the seeds in it.
Add oil to pan and stir in garlic and onions. After the onions have turned translucent stir in the eggplant and green peppers. Add the tomatoes, water and spices. Cook for 10 minutes or until the eggplant begins to soften.
Add the zucchini and summer squash. Cook for 5 minutes. Add the wine vinegar and sugar. Cook for a few more minutes and taste to adjust seasoning.
How about making this dish with some of the leftovers? Roasted Vegetable Pasta