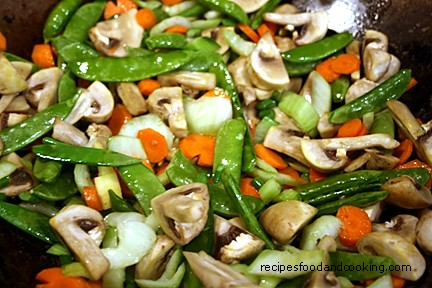 This is an easy recipe for Chicken and Pea Pods. Cut up all the vegetables you will be using. I used pea pods, garlic scapes, celery, mushrooms and carrots. I got the pea pods and garlic scapes from the clean food network. I had never used garlic scapes before but they are wonderful! They are the top part of the garlic bulb that is cut just before it flowers. They have a mild garlic flavor. In place of them you can use garlic and green onions if you desire.
Chicken and Pea Pods
Ingredients
1/2 lb. chicken breast cut into strips
1 tablespoon corn starch
1 teaspoon soy sauce
pepper
1/2 lb. pea pods - remove strings if necessary
3 carrots peeled and cut into circles
1/2 lb. mushrooms
garlic scapes
additional garlic if you desire
1/2 cup celery or bok choy
oil for sauteeing
Sauce:
3/4 cup chicken broth
1 tablespoon corn starch
1 tablespoon soy sauce
1 tablespoon hoisin sauce
Instructions
After you cut the chicken into strips mix the corn starch, soy sauce and pepper together and mix into the chicken. Set aside while you chop up the vegetables.
Mix together the sauce ingredients and set aside.
Add some oil to the pan. Saute the chicken in a pan until cooked throughout over high heat. This will only take several minutes. Remove the chicken from the pan to a plate and set aside while you saute the vegetables.
Add a little more oil if needed to the pan. Add the garlic scapes, carrots, mushrooms and celery. Saute until tender crisp. Stir in pea pods and cover the pan with a lid for about 2 minutes. Stir in chicken and add sauce. Stir while adding the sauce. As soon as it is thickened it is done.
Serve over rice.