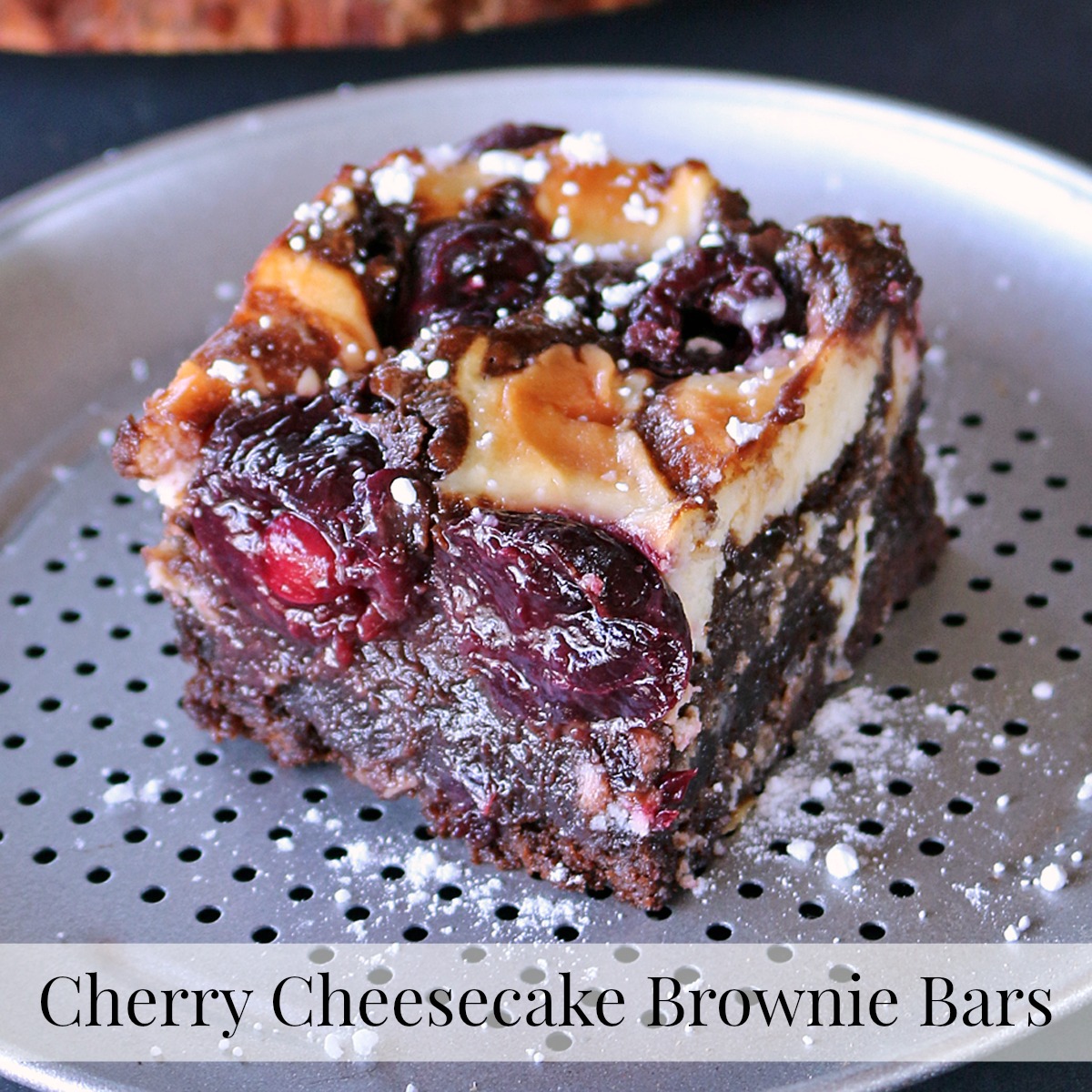 Cherry Cheesecake Brownie Bars
I love sweet cherries and they are at their peak right now. I saw a recipe for a Black Forest Cake but that sounded like a lot of work so I decided to try and make a brownie version of it that turned out to be pretty easy.
You need to be sure to pit the cherries first after washing them off.  I use a cherry pitter I got from OXO that does a really great job and I've tried a bunch over the years. If you don't have a cherry pitter for example you can use a chopstick, a straw, an unbent paper clip or a skewer. Push down until you feel the pit and then push the pit out of the cherry. You might have to try a few to get the gist of it. A cake decorating tip that you use for writing will work also. Place it on counter and put the end where the stem was down on the tip. Press down until you see the pit. If you are going to be a lot of cherries you might find it worth the investment in a cherry pitter.
When buying fresh cherries, look for ones with green stems. They should be firm to the touch with no soft spots. The color should be bright red to a deep mahogany. They are usually sold in bags which I usually find have way more than I want or can use in them. I carefully pour the excess cherries into some of the other bags on the table. (yep I am that person) Grocers really do need to keep some empty new bags on the table! I don't know about you but I love them as a snack and just don't need 3 lbs of them. Refrigerate them as soon as you get them home and wait to wash them until you are ready to use them. When stored properly they should last 4 – 10 days refrigerated in a plastic bag.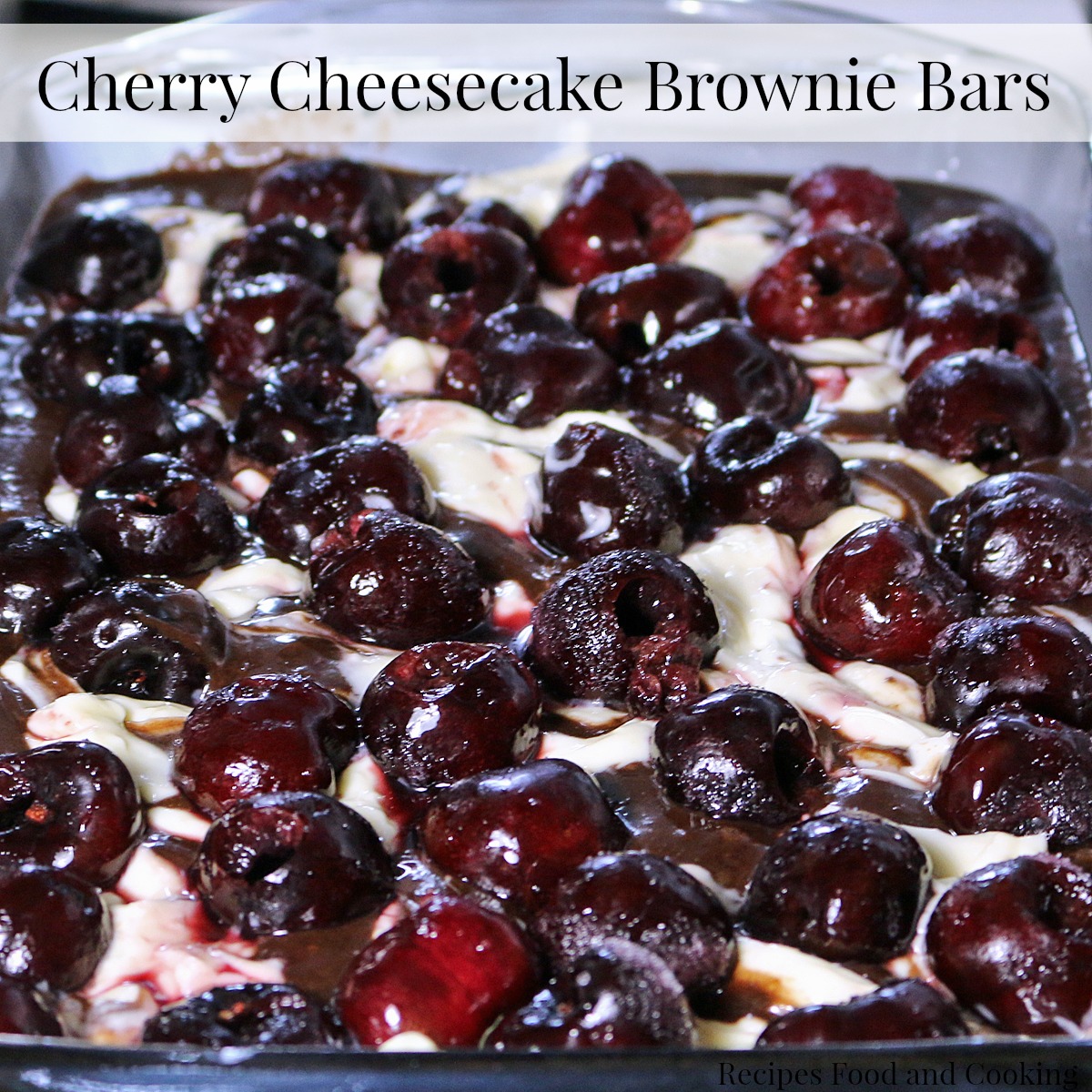 These Cherry Cheesecake Brownie Bars are easy to make, they start with a brownie mix, made according to directions. Next they are topped with a cream cheese mixture, swirl it in just a little bit. Top with the pitted cherries and above here we go, ready for the oven. Mine took almost a hour to bake, I started checking at 45 minutes. When a cake tester can pull out clean and it is puffed up in the center they are done. Cool well before cutting.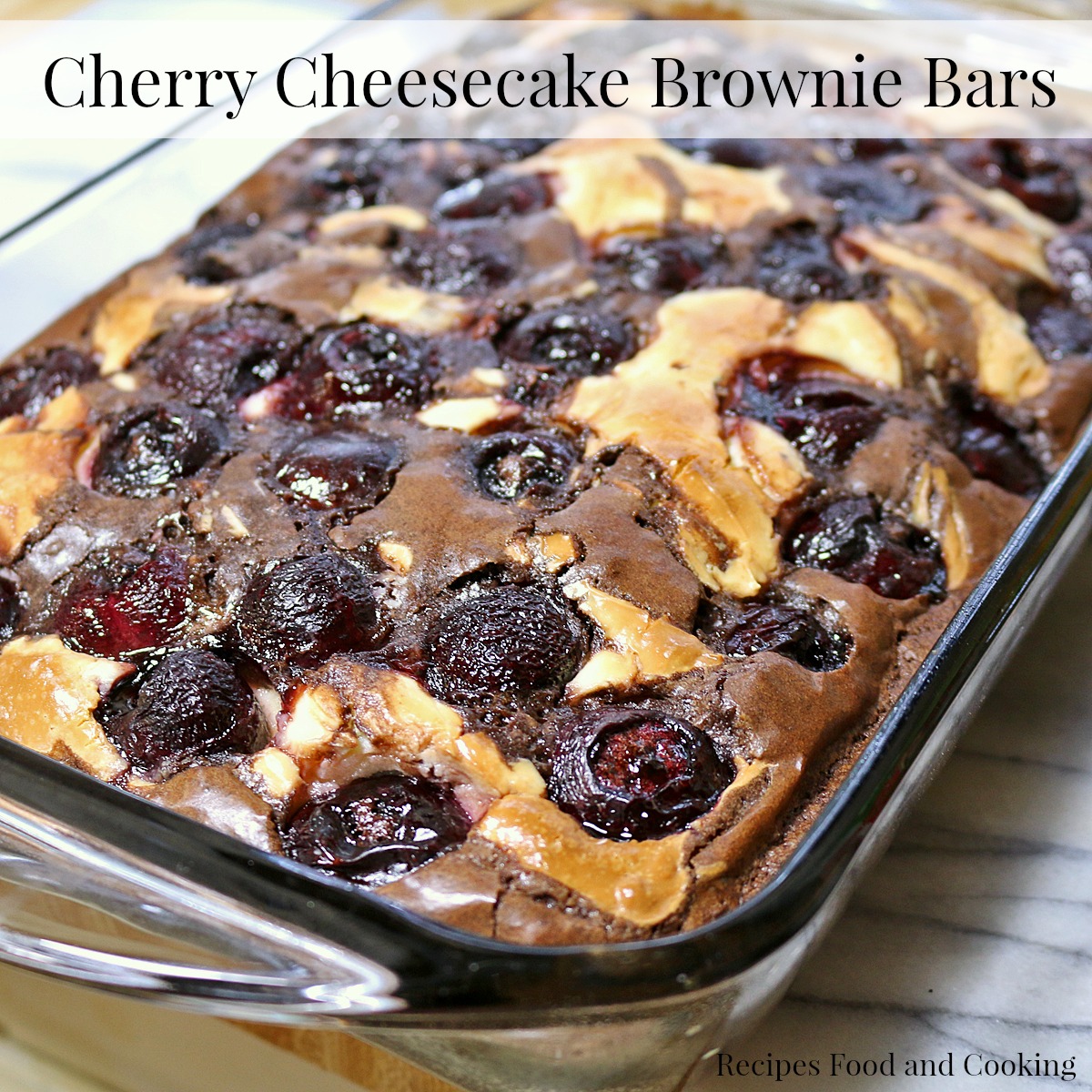 Baked, right out of oven above. It will fall a little bit as it cools. Cool completely before cutting. Refrigerate any leftovers.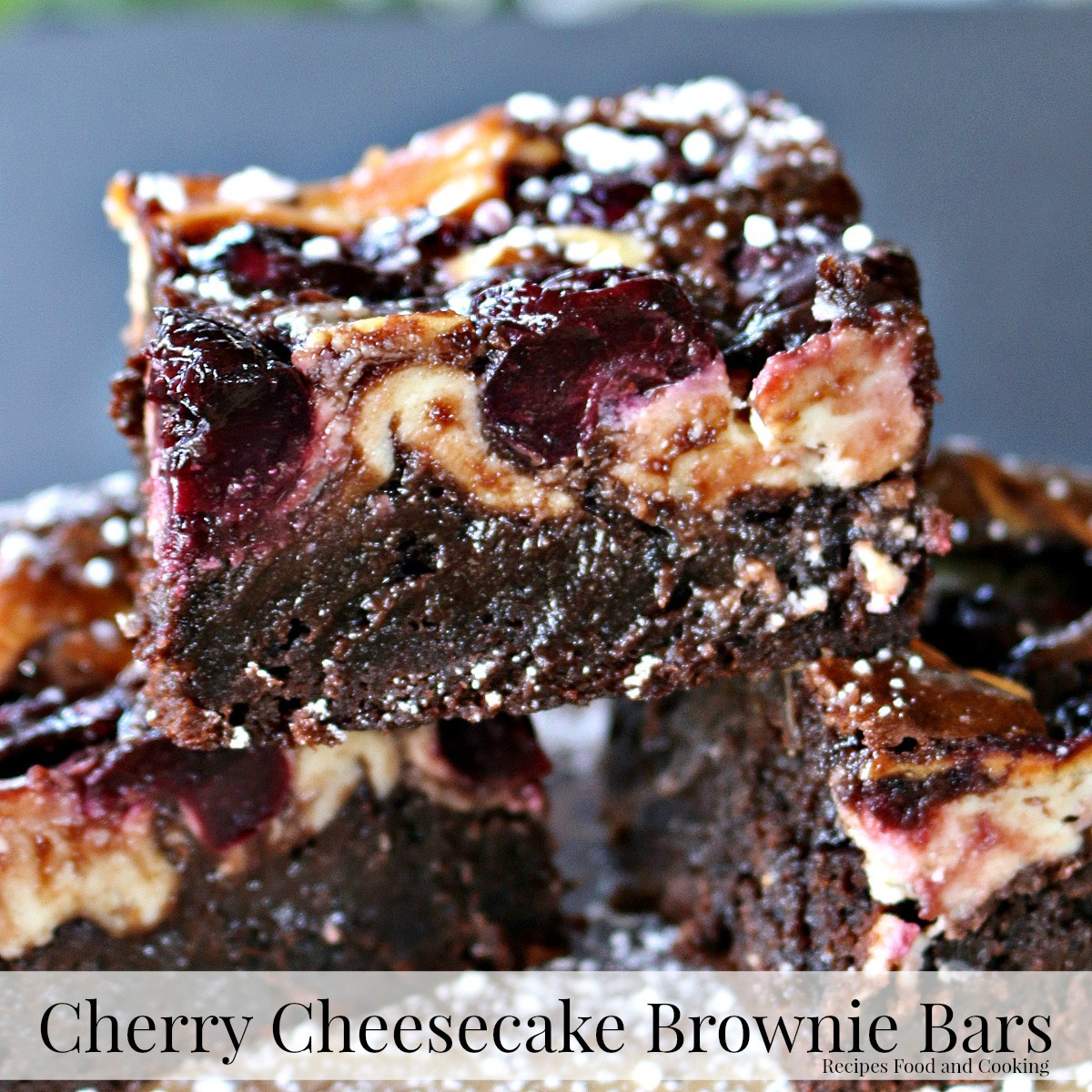 Cherry Cheesecake Brownie Bars
Author:
Mary Ellen @ Recipes Food and Cooking
Recipe type:
Dessert, Brownies, Cherry
Prep time:
Cook time:
Total time:
Cherry Cheesecake Brownie Bars start with a box brownie mix (or make your own) a layer of cheesecake filling and fresh sweet cherries.
Ingredients
1 box brownie mix for a 9 x 13 pan made according to package directions
Cheesecake Filling
8 oz. cream cheese
1/2 cup sugar
1 teaspoon vanilla
dash salt
1 egg
Cherries
1 lb. sweet cherries, pitted
1/4 cup sugar
Instructions
Preheat oven to 325 degrees. Grease a 9 x 13 baking dish. (I used a glass pan. In a metal pan you can bake at 350 but the baking time will be shorter)
Mix brownies according to package directions. Pour batter into prepared pan.
Add the cheesecake filling ingredients to a mixing bowl. Mix until well combined. Drop by large tablespoons evenly over batter. Swirl with a knife slightly.
Top with the pitted cherries that have the sugar added to them. (you can omit the sugar if desired) Mine took almost a hour to bake, I started checking at 45 minutes. When a cake tester can pull out clean and it is puffed up in the center they are done. Cool well before cutting.
Refrigerate.
Maybe you'd like to try our recipe for?
Peanut Butter Crumble Truffle Brownies
This was one of the first pics on this blog (10 years ago) – time to remake these! Don't let the pic fool you, they are delicious! They are unlike any other brownie I have ever made. They have a walnut topping poured over the top before baking.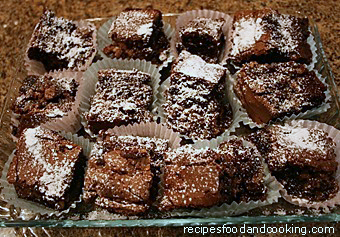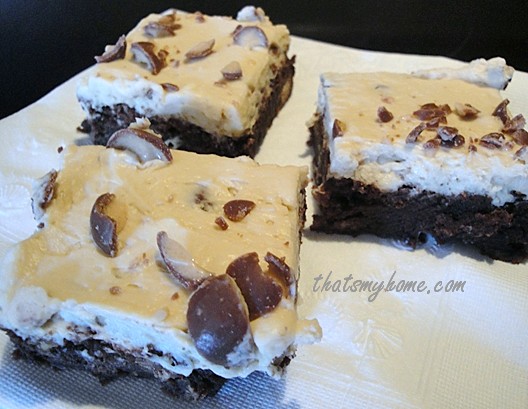 Pin It!