"This shop has been compensated by Collective Bias, Inc. and its advertiser. All opinions are mine alone. #AllNaturalPork #CollectiveBias"
Grilled Boneless Pork Chops with a Maple and Rosemary Glaze
Pork Chops are one of my favorite foods to do on the grill. They are perfect for a quick weeknight dinner or weekend entertaining! We all have those days when it seems like there aren't enough hours in the day. Smithfield® makes it easy for you to serve healthy dinners to your family in 30 minutes or less with their Smithfield All Natural Boneless Pork Chops. For recipe inspiration visit  the Smithfield® website.
I always know that when I buy a Smithfield All Natural Fresh Pork product it is all natural, free of steroids, hormones or artificial ingredients. It is also raised here in the USA by hundreds of American farm families and company farms. Good news is that Smithfield® Fresh Pork is hand-selected based on coloring and marbling. I've always been a fan of their bone in pork chops but my store didn't have any in stock when I went to do this post so I decided instead to give these boneless chops a try. They were moist and juicy from the first cut to the last. You can taste the quality and difference. I bought mine at Wal-Mart. Then the next time I went they were in stock so I have a pan fried version of them as well that can be done in 15 minutes.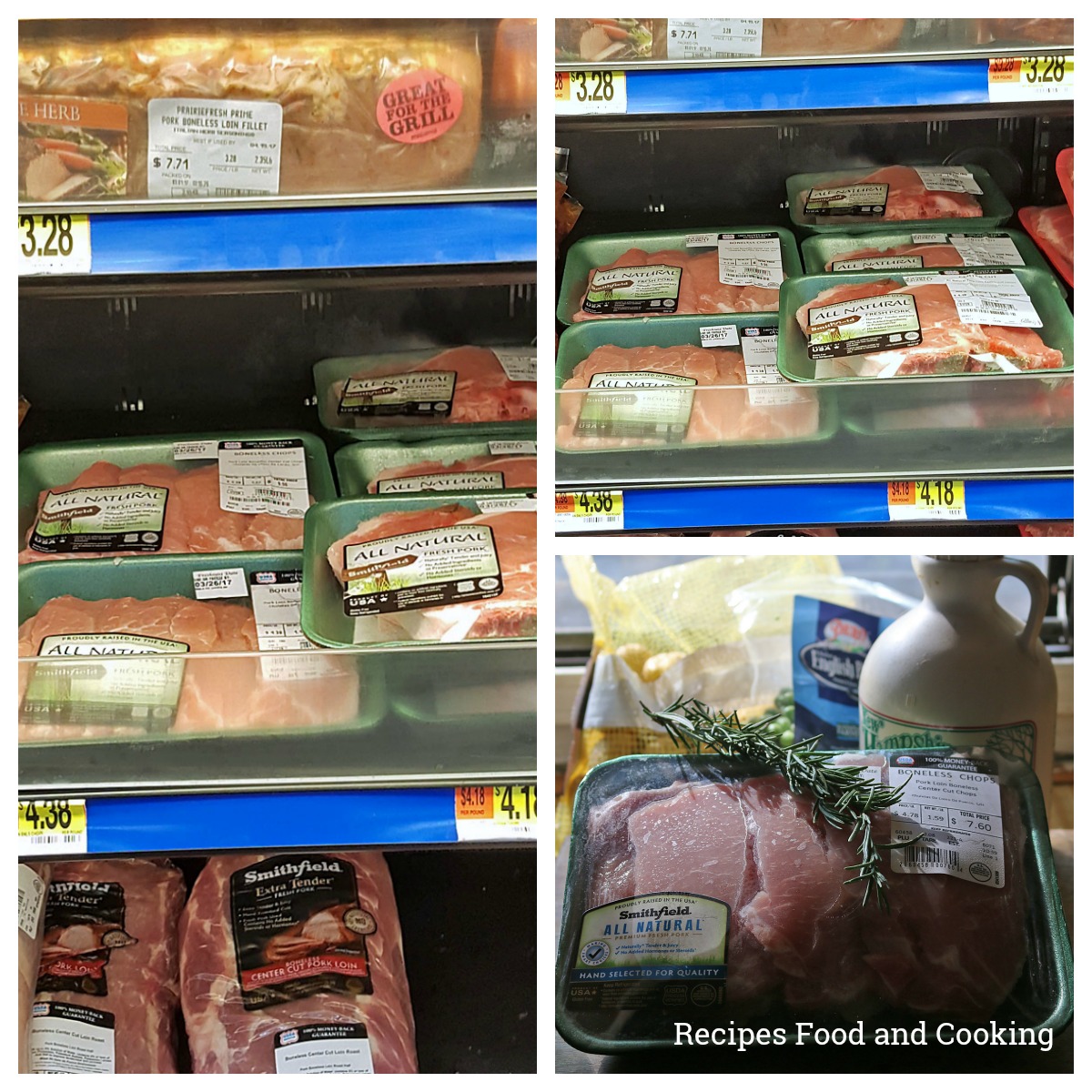 You're going to love how quickly you can get this dinner on the table. I served mine with New Baby Gold Potatoes with Spring Peas. This is one of my favorite first tastes of spring. They can be cooked together for a quick easy clean up.
Season your pork chops. I used salt, pepper and some dried rosemary. Get your grill going and add the pork chops. After you get the pork chops and potatoes going, start making the maple glaze. Put the maple syrup in a small saucepan with a little water. Add some fresh chopped rosemary. Let it reduce until it gets syrupy, about 5 minutes. I only add a little water so that the rosemary gets a chance in infuse the maple syrup.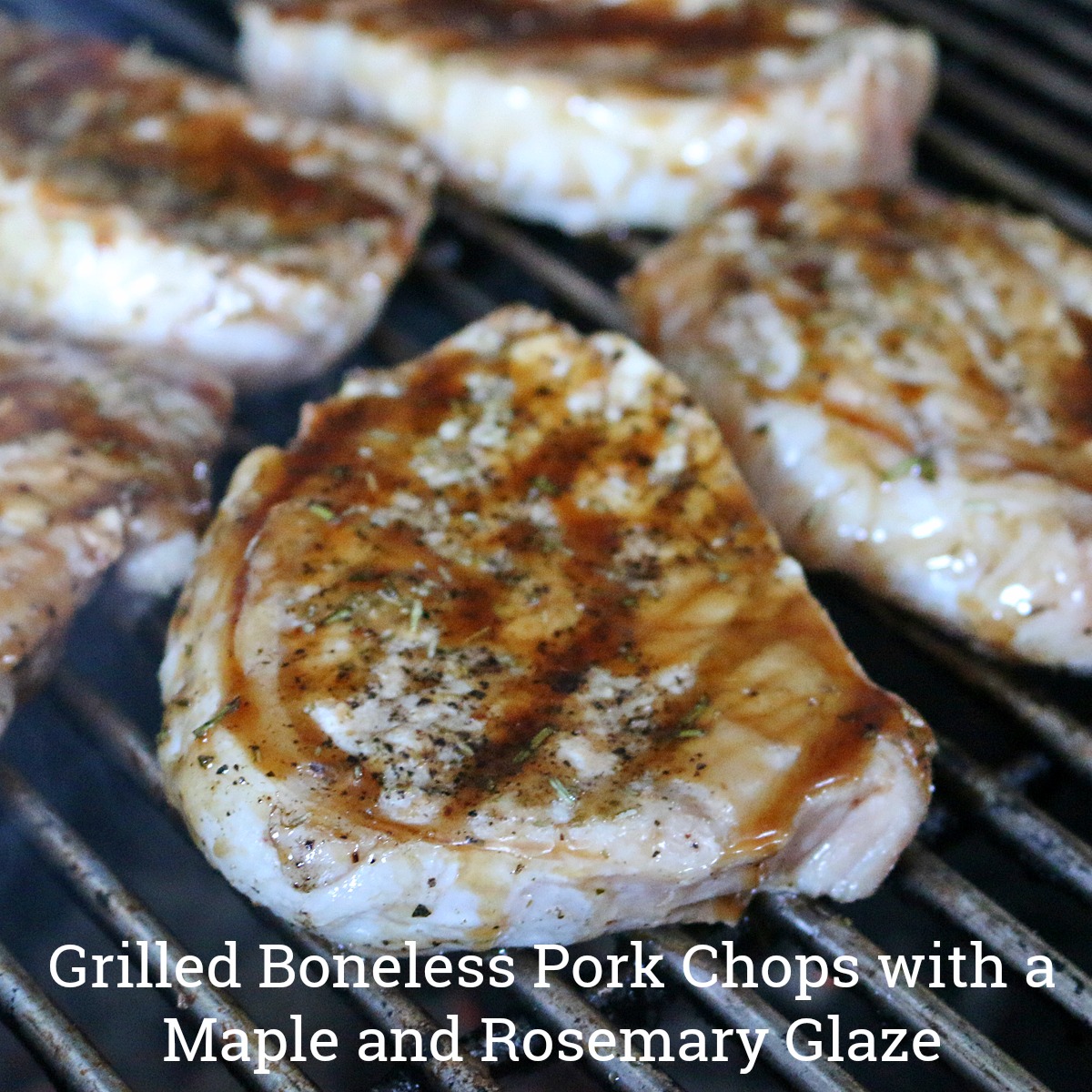 Brush the glaze on both sides the last 5 minutes of cooking time.
Grilled Boneless Pork Chops with a Maple and Rosemary Glaze
Author:
Mary Ellen @ Recipes Food and Cooking
Recipe type:
Pork, Main Dish
Prep time:
Cook time:
Total time:
Boneless pork chops in a maple, balsamic and rosemary glaze can be done in 30 minutes for a quick weeknight meal fit to be fed to family or guests.
Ingredients
1 package Smithfield All Natural Pork boneless pork chops
salt and pepper
crushed rosemary (optional and I used dried)
Sauce
1 cup pure maple syrup
1/4 cup balsamic vinegar
1/4 cup water
1 1/2 tablespoons fresh rosemary - chopped
Side dish
1 bag gold new baby potatoes
1 bag fresh English peas
salt and pepper
1 tablespoon butter
Instructions
Start the grill to medium heat.
Season the Smithfield All Natural Pork boneless pork chops with the salt, pepper and a little crushed rosemary.
Prepare the glaze. Add the maple syrup, water, balsamic vinegar and rosemary to a small saucepan. Bring to a boil and reduce to about half, about 5 minutes. Take off heat.
Put on the grill. Cook for about 7 minutes on each side.
Brush the glaze on each side and cook for 2 more minutes. Pour remaining glaze over pork chops. Temperature will be at 165 degrees when done.
To prepare the side dish:
Wash the baby new potatoes. Add 1 teaspoon of salt. Add to a pan and cover with water. Cover and bring to a boil. Cook for 10 minutes.
Add the peas. Cook until tender.
Drain. Season with the salt, pepper and butter.
Pan Fried Method for the Smithfield All Natural Bone-In Pork Chops – we liked these so much I made them again last night.
To pan fry the pork chops, season well with the salt, pepper and crushed rosemary if using. Pan fry in a little oil for 5 minutes on both sides. Add the glaze ingredients, the maple syrup, balsamic vinegar, fresh rosemary and water. Cook for about another 5 minutes, until temperature reaches 165 degrees turning them in the glaze mixture.
We've got another recipe using Smithfield® pork that you can get done in about 30 minutes also using the Pressure Cooker which is another great way to serve a quick and easy delicious dinner.
Pressure Cooker Mexican Pork Roast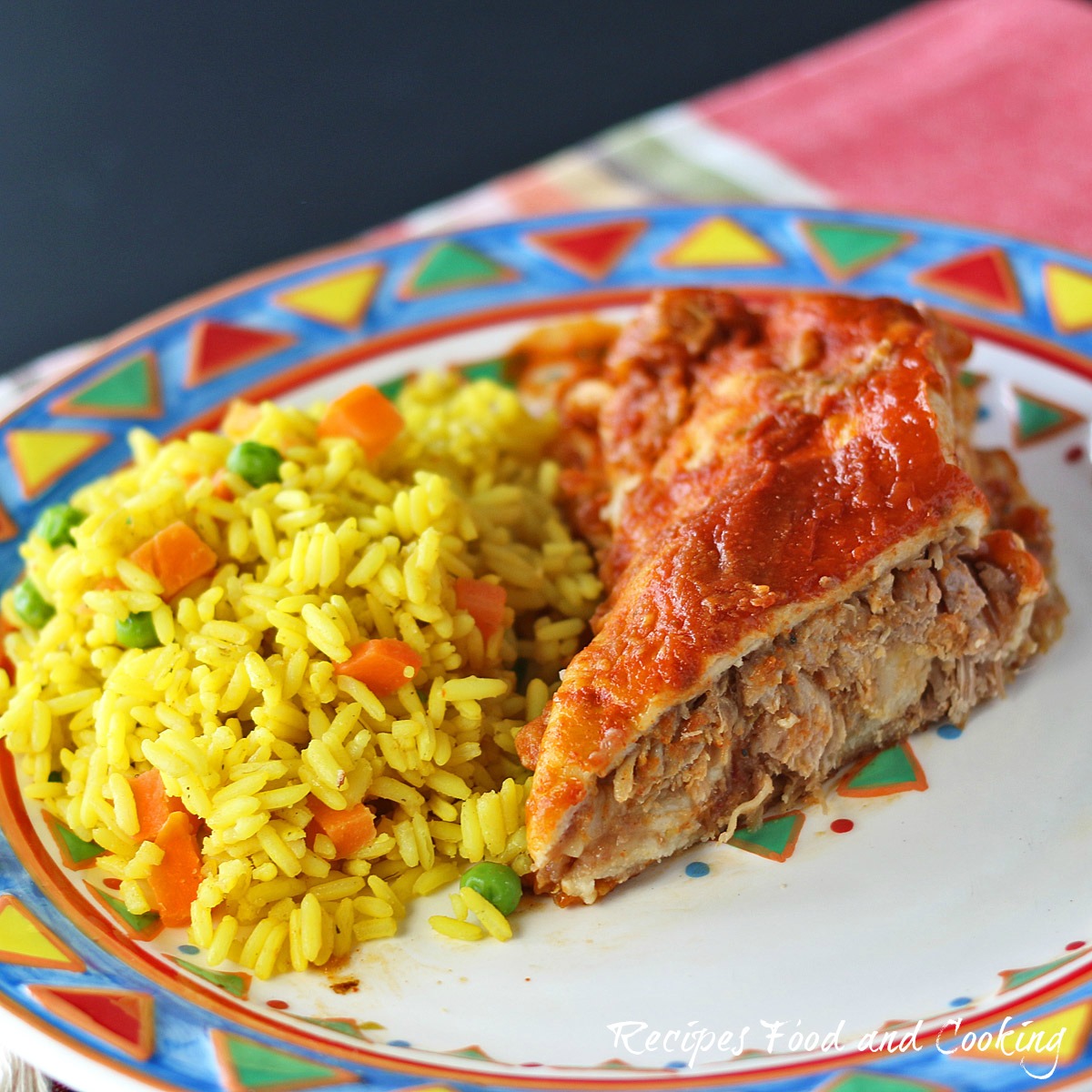 You can follow Smithfield® at Pinterest, Twitter, Instagram, Facebook or YouTube.
Pin It!