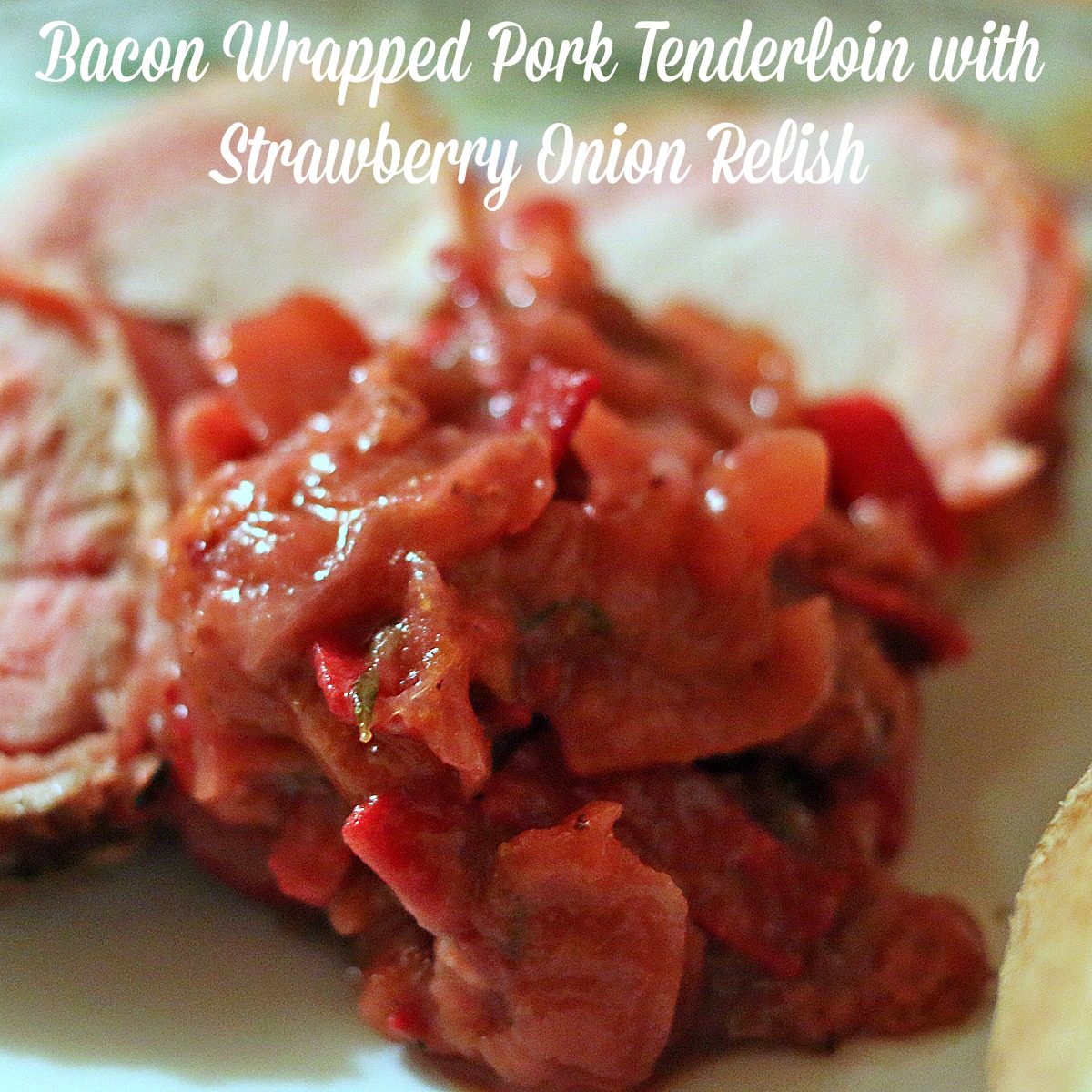 Bacon Wrapped Pork Tenderloin with Strawberry Onion Relish
I can hear it now. Strawberries and onions in a relish? Don't knock it until you try it because it's delicious! It is a little more interesting because it is actually made with strawberry onions and fresh strawberries. I also used a fresh red pepper, bacon and some fresh thyme with just a hint of balsamic vinegar. It went perfectly with the pork and would be great with chicken also. I actually found my inspiration for this recipe over at the Florida Strawberry Growers Association thanks to Strawberry Sue.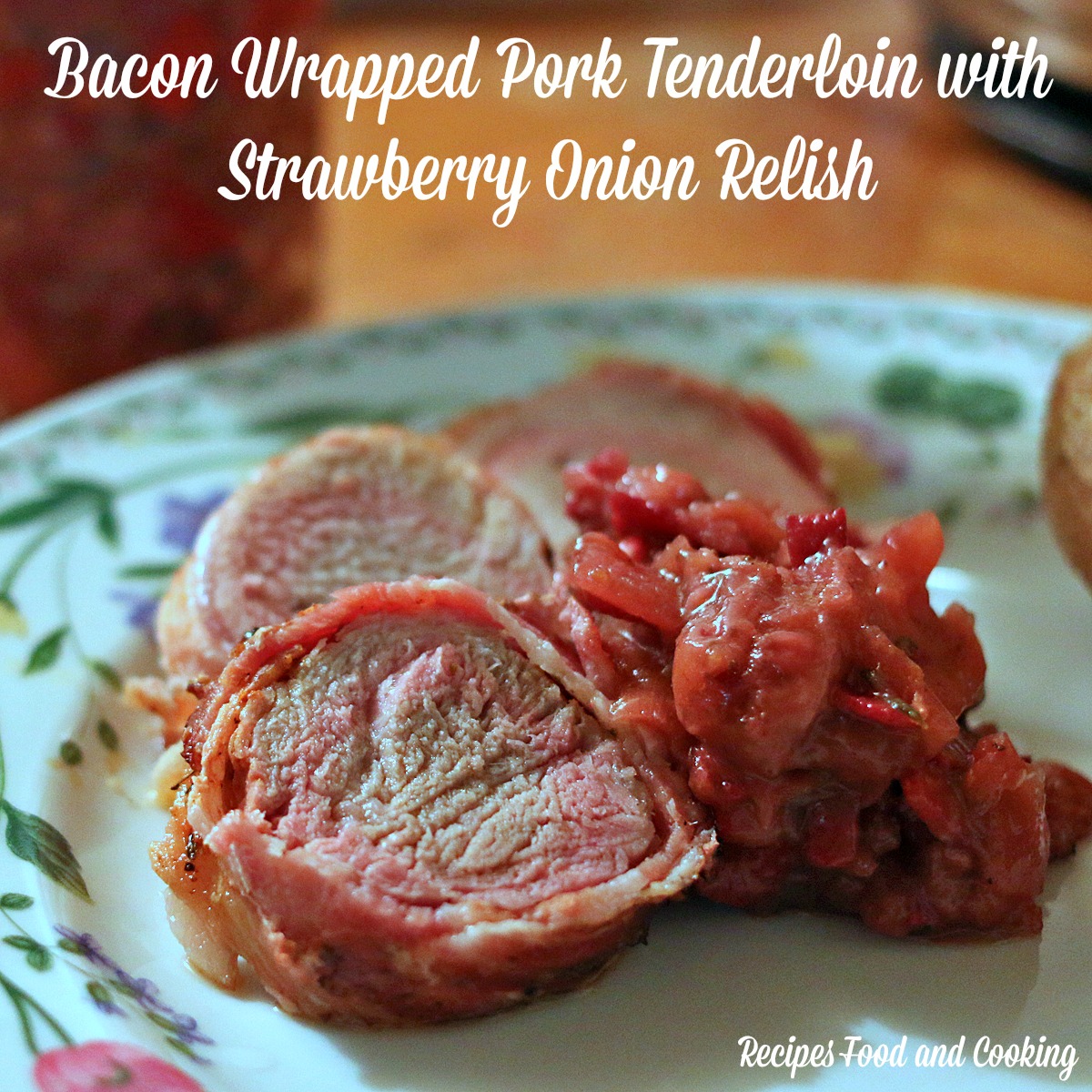 What's a strawberry onion? I asked the same thing when I first heard of them a couple of years ago while on a Sunday Supper weekend learning all about strawberries. Strawberry onions are grown around the perimeter of the strawberry fields here and it took me this long to find them. I got lucky and my co-op was able to get some so I was finally able to try them. If you're in the Ruskin, FL. area and want to learn more about the fantastic co-op I belong to send me an email and I'll give you details.
Farmers plant them to keep out the pests that would love to attack the delicious strawberries while growing. They are a Savannah Sweet Hybrid Onion and have just a hint of strawberries to them. If you can't find strawberry onions just use the sweetest onions you can find. Try this relish over warm brie or even crackers with cream cheese for a delicious appetizer.
You'd think the pork tenderloin would be the star of this plate but as good as it was the strawberry onion relish puts it over the top.

Bacon Wrapped Pork Tenderloin with Strawberry Onion Relish
Author:
Mary Ellen @ Recipes Food and Cooking
Recipe type:
Relish, Side Dish
Prep time:
Cook time:
Total time:
Strawberry onions with fresh strawberries, thyme, bacon, red pepper with a hint of balsamic vinegar.
Ingredients
2 cups chops strawberry onion or sweet onion
2 tablespoons butter
4 cups sliced strawberries
2 tablespoons sugar (this amount can change based on how sweet your berries are)
1 chopped red pepper
7 - 8 sprigs fresh thyme
1/4 cup water
dash salt
3 oz. bacon fried
2 - 3 tablespoons balsamic vinegar
Instructions
Saute onions and red peppers in butter until softened over medium heat, about 10 minutes.
Add the sliced strawberries, water, sugar and thyme. Cook for 15 minutes or until thickened.
Add balsamic vinegar, bacon and salt. Taste to adjust seasoning.
Notes
When tasting to adjust the seasoning you are looking for a sour and sweet balance. You don't want it to much one way or the other. If your strawberries are real sweet 2 tablespoons of sugar might be enough to the balsamic vinegar.

I actually used pre-cooked turkey bacon in this. Regular bacon works also.
Maybe you'd like to try our recipe for?
Cheesy Pistachio Pork Tenderloin with Grilled Broccoli and Grape Tomatoes
Breaded Pork Tenderloin with Peppered Southern Gravy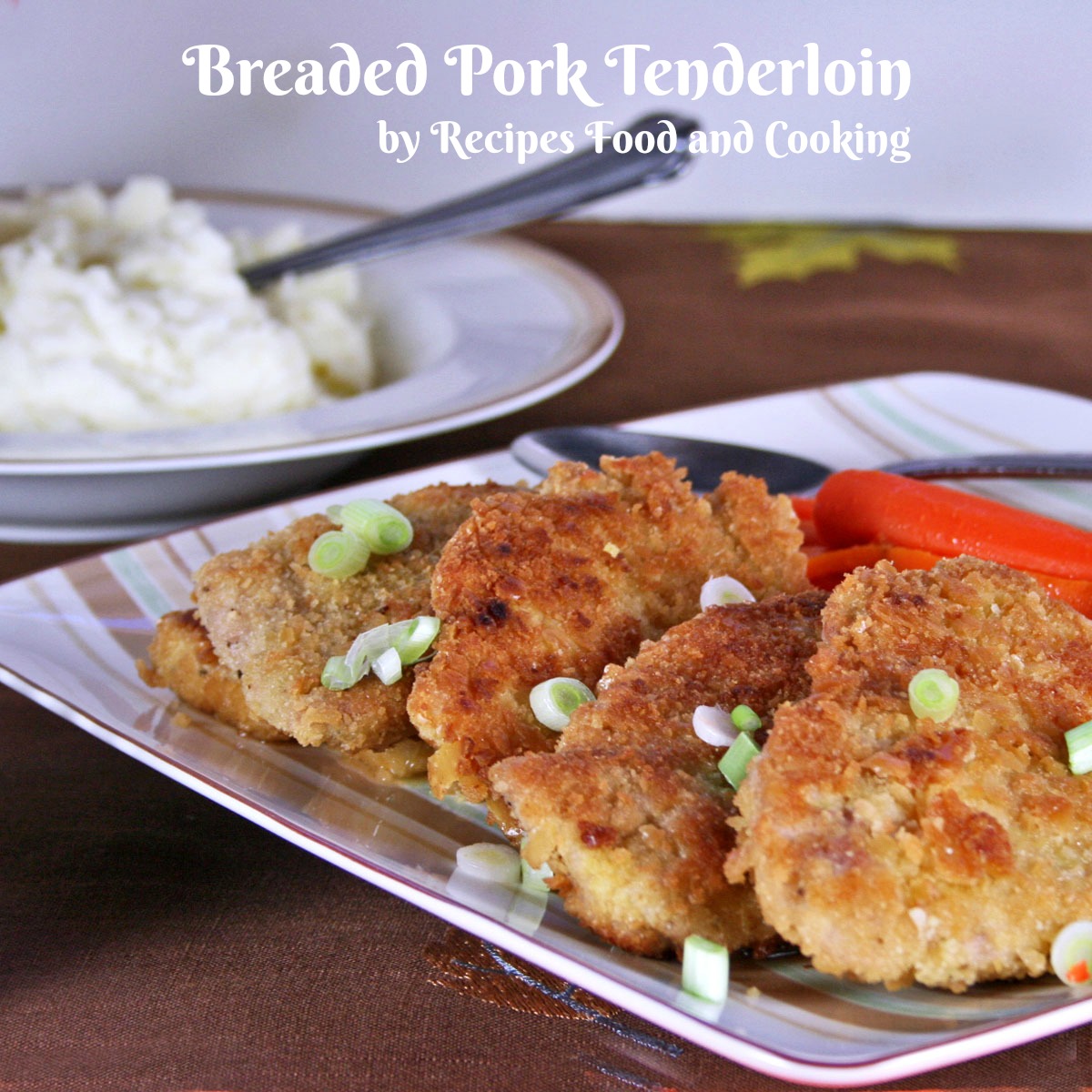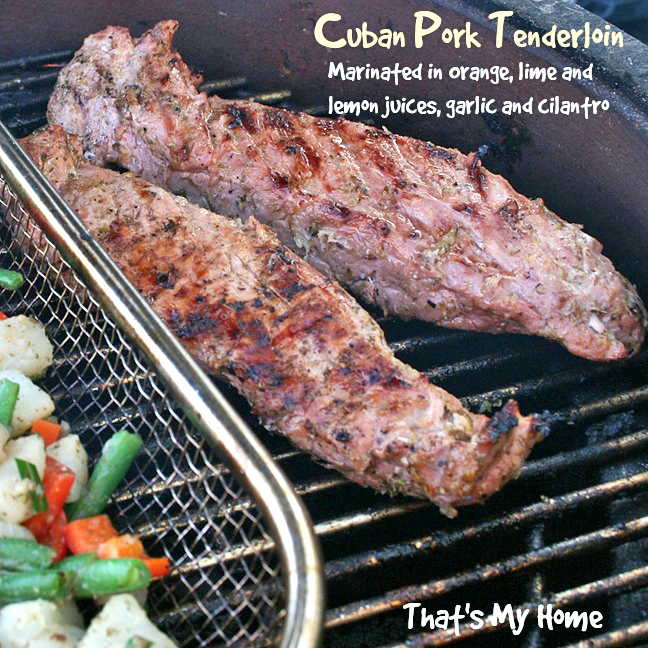 Pin It!