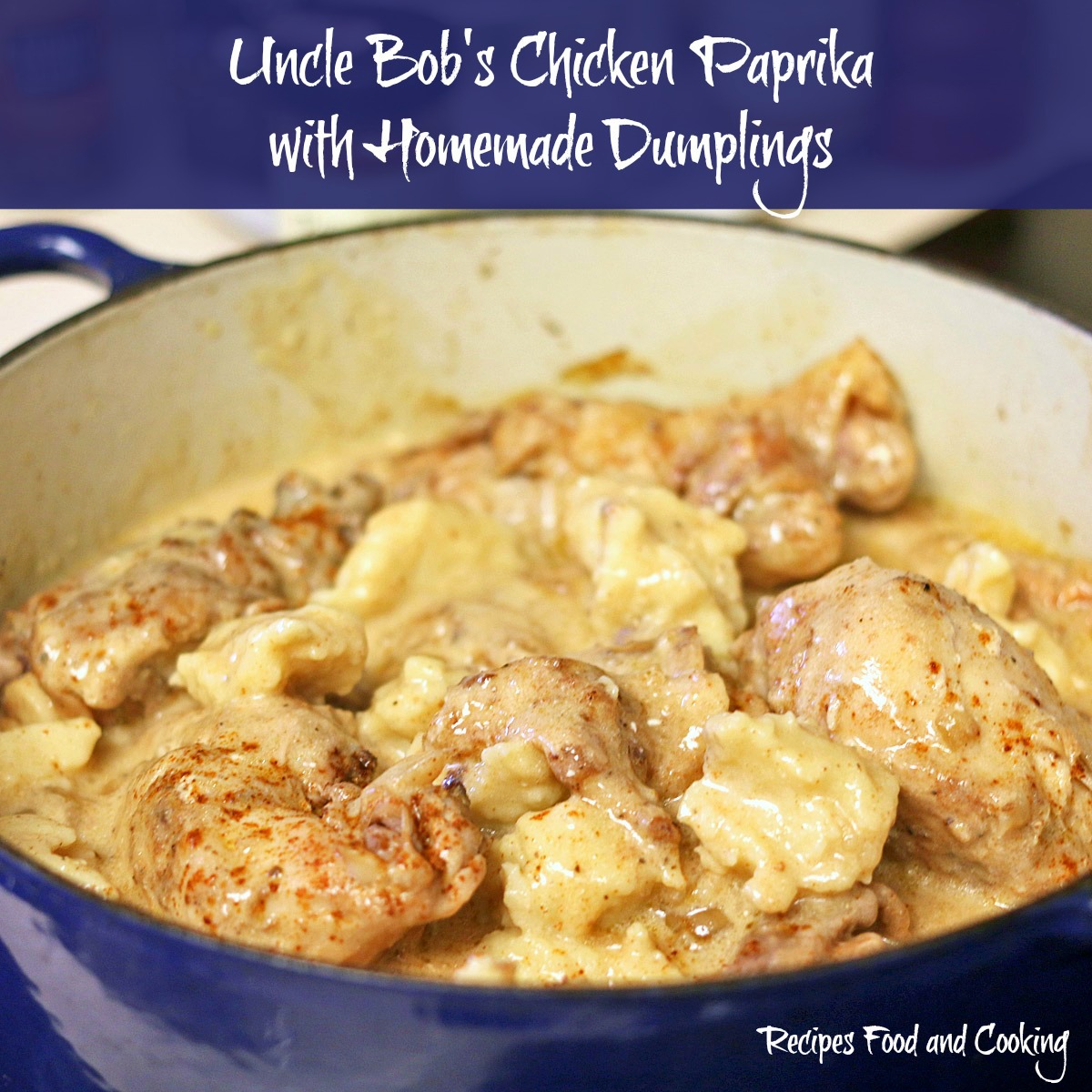 Uncle Bob's Chicken Paprika with Homemade Dumplings
My uncle sent me this recipe in a letter back in 1986 and I still make it today. Think of it as a stroganoff but made with chicken. It is a great make ahead dish also which is what I did today. It's in the refrigerator waiting for the last half hour of cooking as I write this. He got the recipe from a friend's mother who came here from Hungary many years ago. I use a whole chicken when I make this but you could use all chicken breasts, legs and thighs, whatever best fits your budget. I love the dumpling recipe and also use it in soups and stews.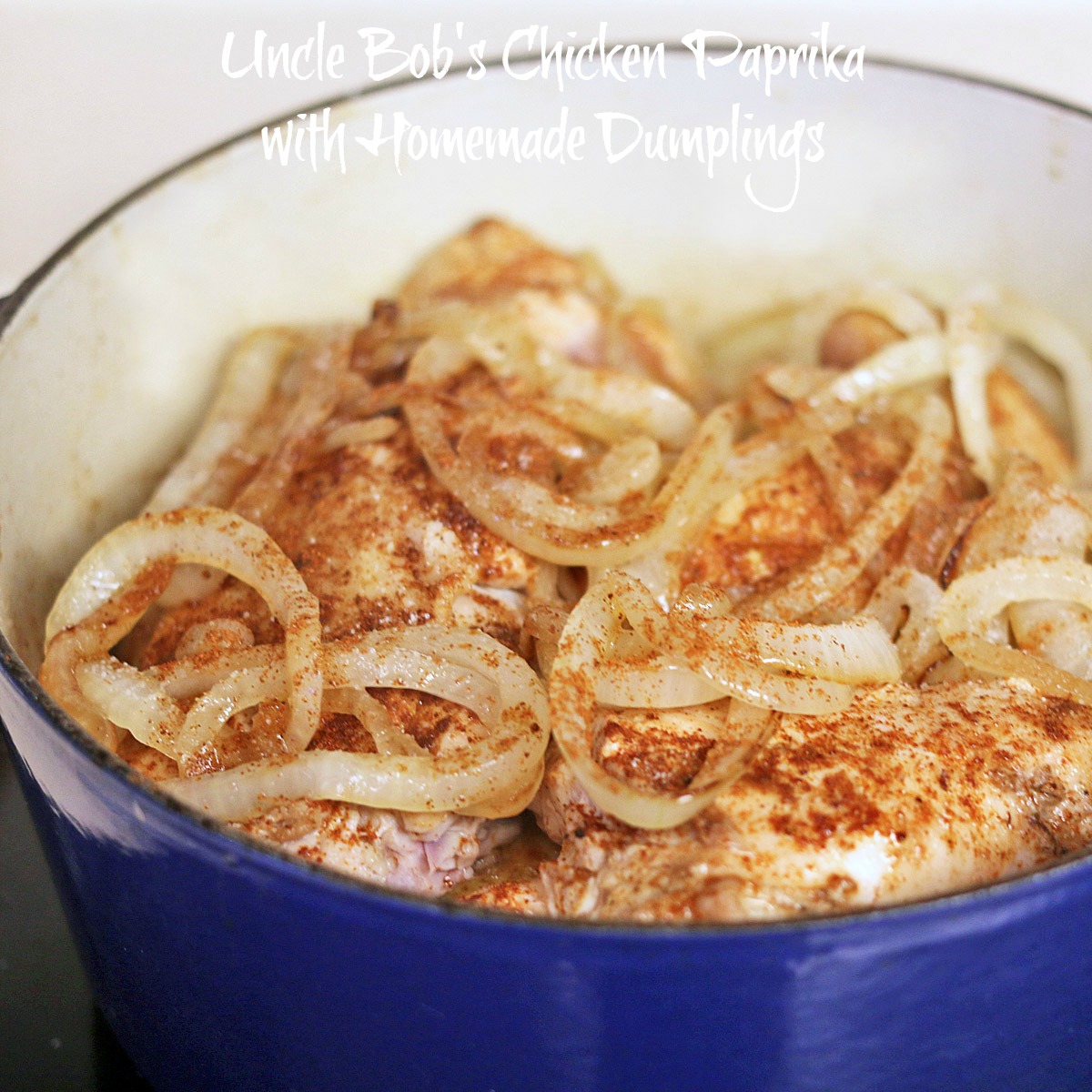 When adding the flour to the egg mixture for the dumplings, I do it a half cup at a time. I also let it rest for a few minutes after I get to 1 1/2 cups of flour. If you get to much flour in the dumplings they will be heavy instead of light as a cloud which is how I want them to be. Bring a large pan of salted water to a boil. Drop the dumplings into the water a teaspoon at a time. When they float they are done. Remove from boiling water with a slotted spoon and let them drain in a colander until you are ready to put them back into the chicken and sour cream mixture.
I remove the chicken from the broth first. Then add in the sour cream and flour. When that is all combined I add the cooked dumplings and chicken back to the pot.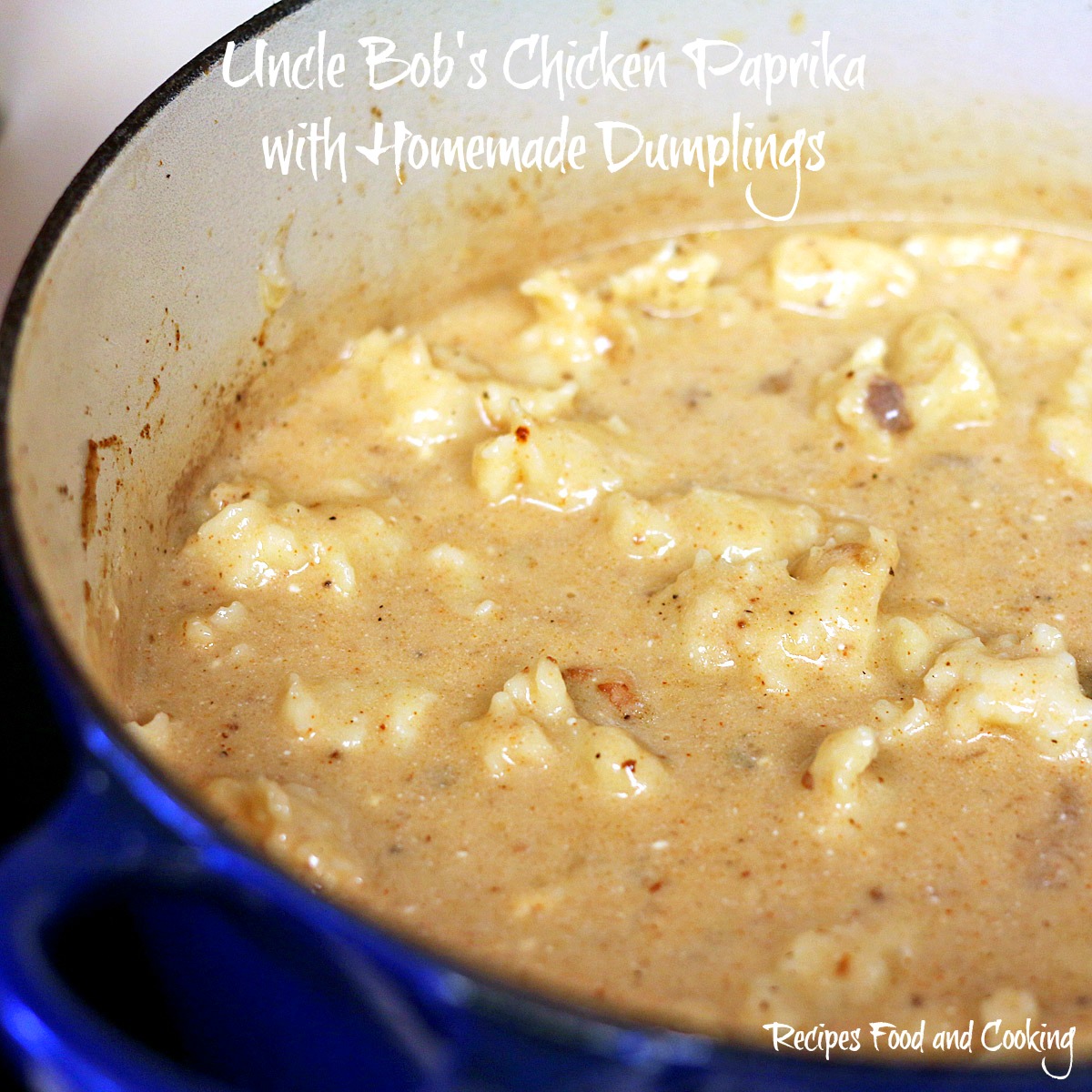 Everything added back to the pot before the final 30 minutes of baking.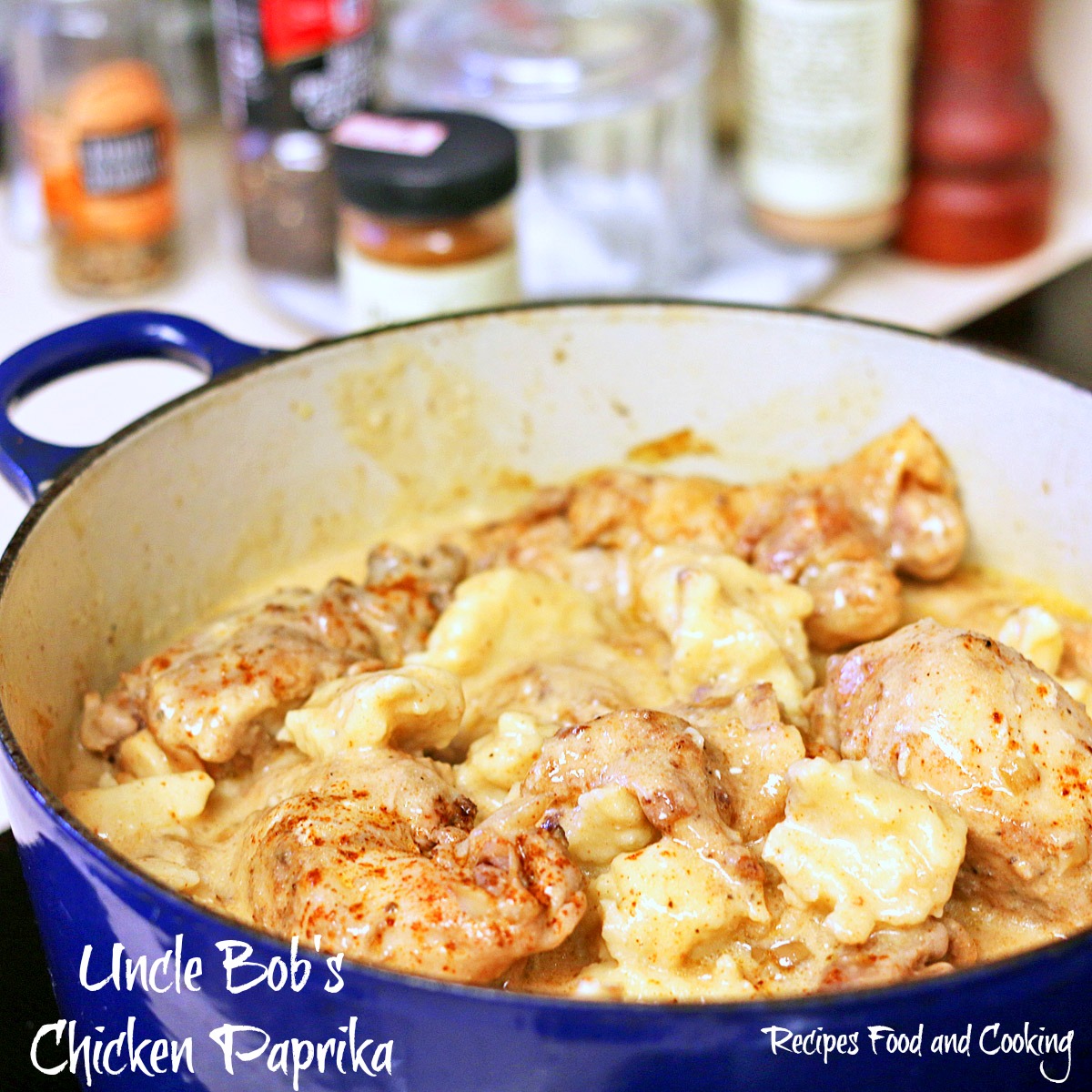 I served mine with some fresh zucchini on the side with Greek Seasoning.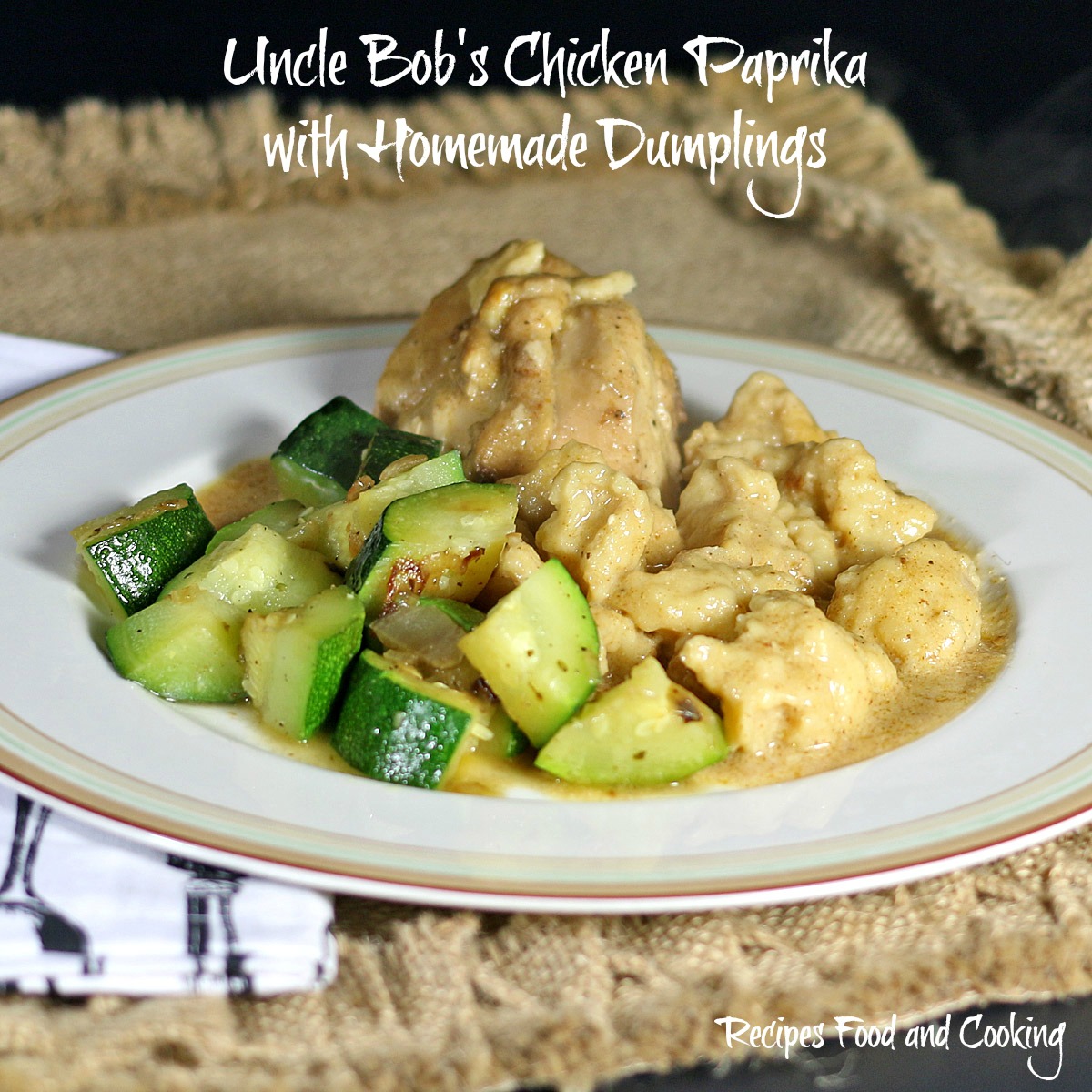 Uncle Bob's Chicken Paprika with Homemade Dumplings
Author:
Mary Ellen @ Recipes Food and Cooking
Prep time:
Cook time:
Total time:
Chicken Paprika with tender homemade egg dumplings. Makes a great make ahead dish also.
Ingredients
Chicken
1 cut up fryer
1 large onion sliced
3 T. paprika
salt and pepper
2 t. oil or butter.
Dumplings:
2 1/2 T. butter
1 t. salt
4 eggs
4 T. sour cream
2 cups flour - mine took 1 3/4 cups
Instructions
Saute onion in 2 t. oil or butter. Add cut up chicken and sprinkle with half of the paprika. Brown slightly and turn. Sprinkle with the rest of the paprika, salt and pepper. Add a little water so that chicken doesn't stick to pan. Cook 45 minutes over low heat, turning occasionally. Remove chicken from the pan and let cool.
Meanwhile, mix 3 T. flour with water to a pasty consistency and add to 1/2 pint of sour cream. Mix. Add this mixture slowly to the gravy mixture in pan, stirring until the mixture is dissolved into gravy. Add a generous amount of fresh chopped parsley. Return chicken to pan and cook another 25 to 30 minutes.
Dumplings
Add salt to butter. Add eggs and sour cream and mix well. Add flour until it has the consistency of mashed potatoes. Have ready a pot of boiling water and spoon dumplings into boiling water, using a teaspoon. Dumplings should be small. Drain and rinse with hot water in a colander. Add dumplings to chicken mixture and serve.
Maybe you'd like to try our recipe for?
Slow Cooker Mediterranean Chicken Stew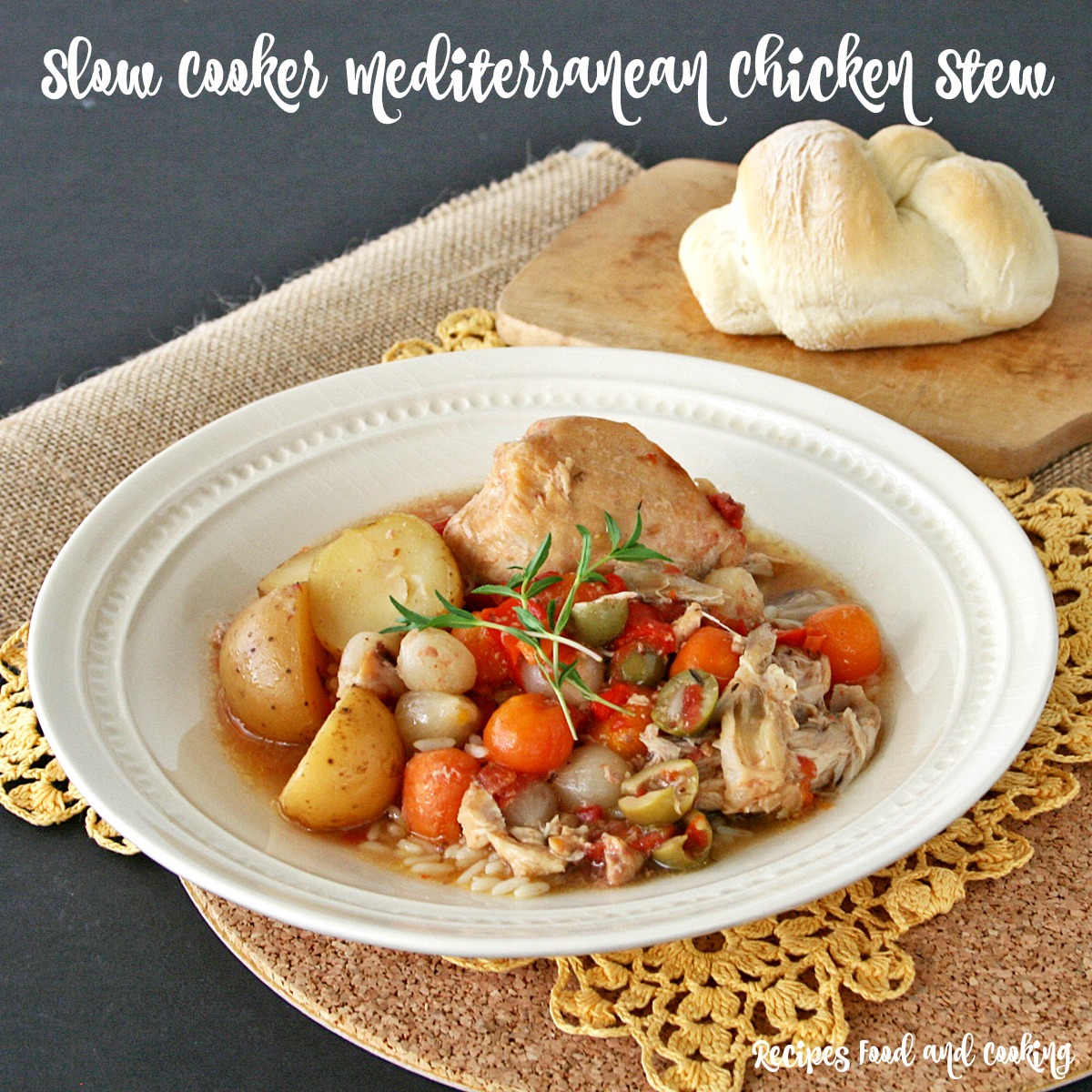 Chicken with Brown Rice and Mushrooms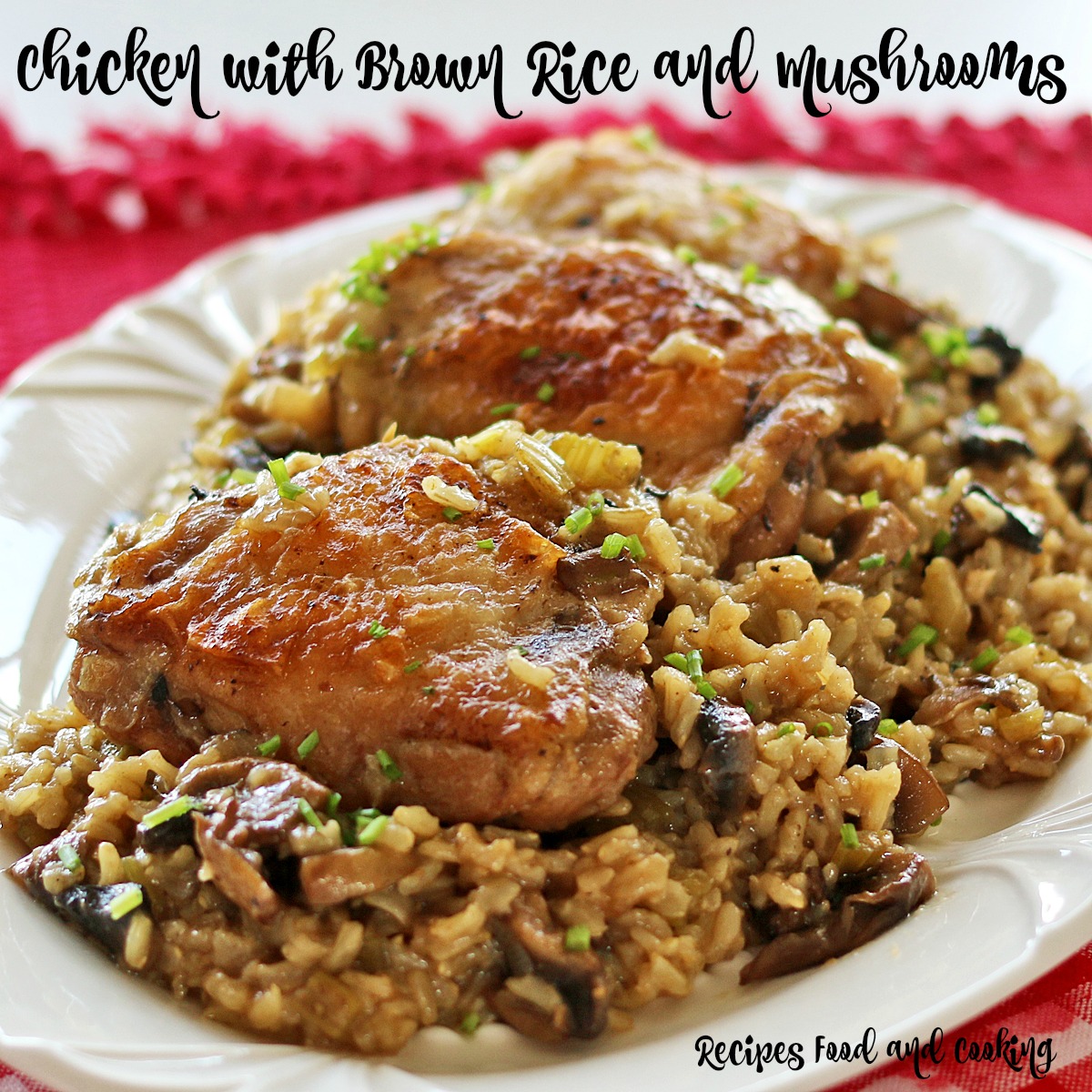 Pin It!