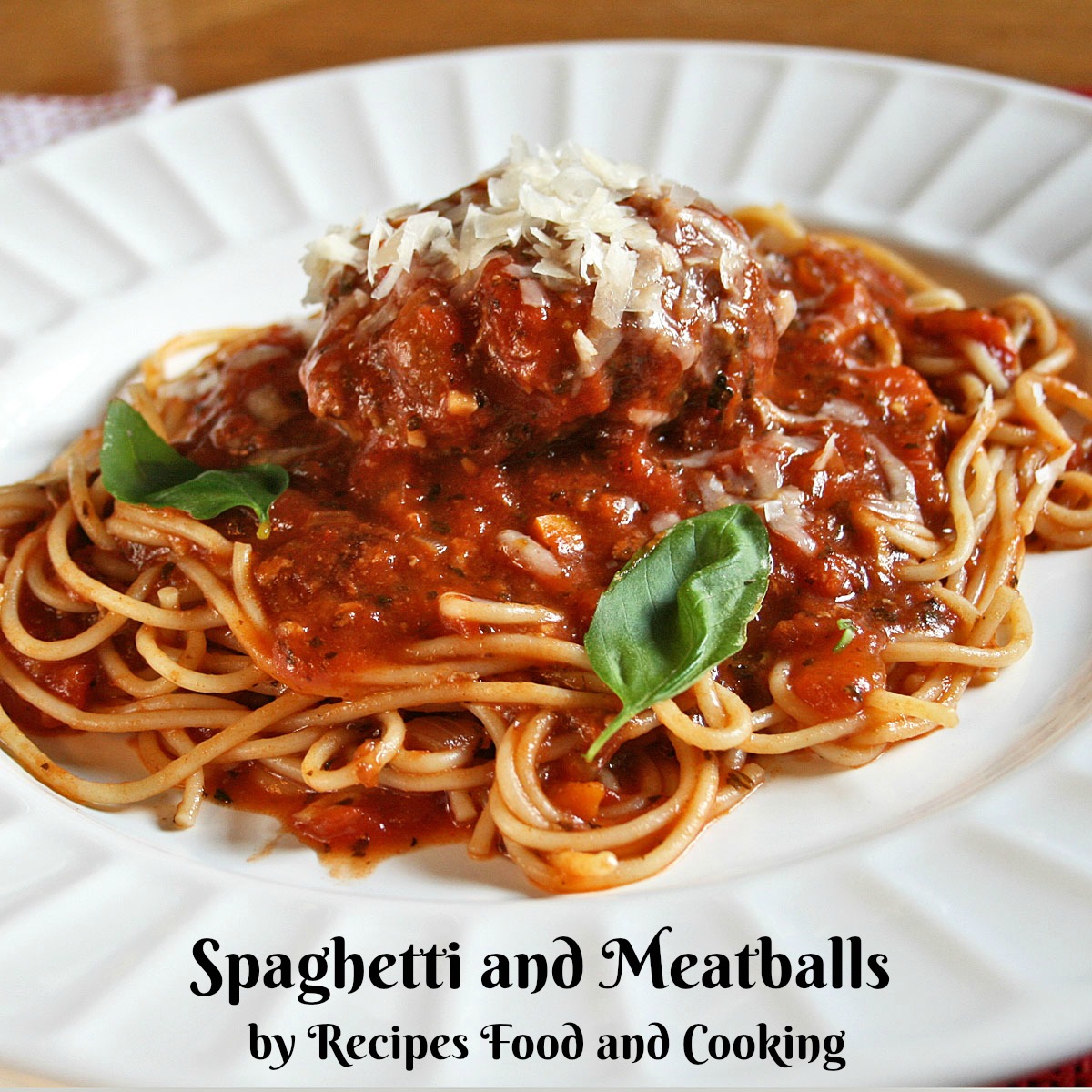 Spaghetti and Meatballs
I've had meatballs on my mind for a couple of days. The kind of meatballs my grandmother made long before I started baking them. Yep, these had to be fried in a little olive oil and I used the recipe she would of used for the meatballs. Well, not exactly I added garlic. She would of never made the sauce this way either because I don't think she ever ate a piece of tomato in her life. Me, I like a chunky spaghetti sauce once in awhile, especially if I am making a quick sauce.
This sauce can be made really quickly if you use crushed tomatoes instead of petit cut. I would say you could make this in about an hour then if you are in a hurry and have a pretty decent dinner. I add sugar to my sauce to balance the acidity of the tomatoes. If your tomatoes don't need it, don't add it. I start with a tablespoon and add until I think it is balanced. It is a personal taste thing so add it or don't, totally up to you.
When you make the meatballs, a spoon just doesn't cut it to mix them up. Wash your hands really well or put on some disposable gloves and dig in. Mix that mixture up really well. The longer you mix it together you will see the meat and everything you added become a cohesive mixture. If you can mix it for 5 minutes I would, you will taste and see the difference. If you don't want to add the extra oil to fry them, just bake them for 15 minutes in a 350 degree oven. They will finish cooking in the sauce. I got 9 big meatballs from 1 lb. of beef with everything else that was added.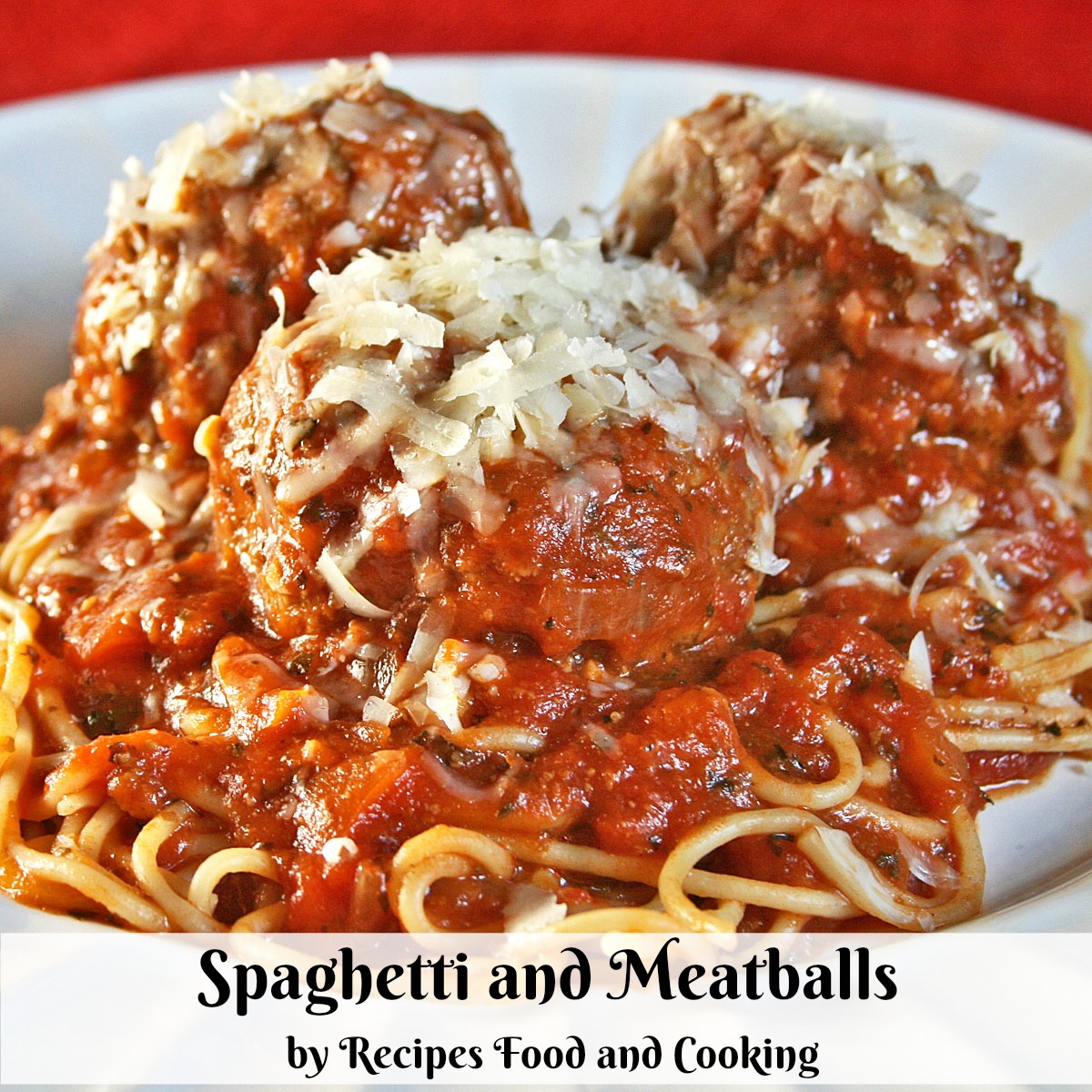 This sauce freezes well if you have extra.

Spaghetti and Meatballs
Author:
Mary Ellen @ Recipes Food and Cooking
Recipe type:
Italian, Beef
Prep time:
Cook time:
Total time:
Old fashioned meatballs served in a chunky spaghetti sauce with fresh basil, topped with fresh parmesan cheese, this is the way I make Spaghetti and Meatballs.
Ingredients
Meatballs
1 lb. ground beef
1/2 medium onion - chopped finely
1/2 cup sweet red pepper
1 garlic clove - minced
2 - 3 slices of bread
1 egg
salt and pepper
1/4 cup milk
Sauce
1 16 oz. can tomatoes - petite cut or crushed
1 small can tomato paste
1/2 onion - chopped
1/2 cup red sweet pepper - chopped
2 cloves of garlic - minced
1 tablespoon dried basil
1/2 teaspoon oregano
2 tablespoons sugar
salt and pepper
water - 2 - 3 cups
To Serve
Pasta
Handful fresh basil
Parmesan cheese to serve
Instructions
Meatballs


Put everything in a bowl and mix it up with your clean hands. Mix together several minutes after it is mixed together. You will see the texture start to change as you keep mixing it. Roll the meatballs into balls, about 1/2 cup each. Add a little oil to a pan and fry the meatballs until browned on all sides. Turn off while you make the sauce.
Sauce
Add all of the sauce ingredients to a big pan. Add the water and stir to combine. Bring to a boil and cook over medium heat until the vegetables are all softened. Taste at this point and add additional seasonings if needed. I cooked my sauce about 1 1/2 hours but could of done less. Add additional water if needed if sauce gets too thick. Add the meatballs into the sauce and simmer over low heat 30 minutes, stir carefully to not break up the meatballs.
Add a handful of fresh chopped basil if using right before you take it off the heat. Cook the pasta you are using about 10 minutes before you are ready to heat.
Maybe you'd like to try our recipe for?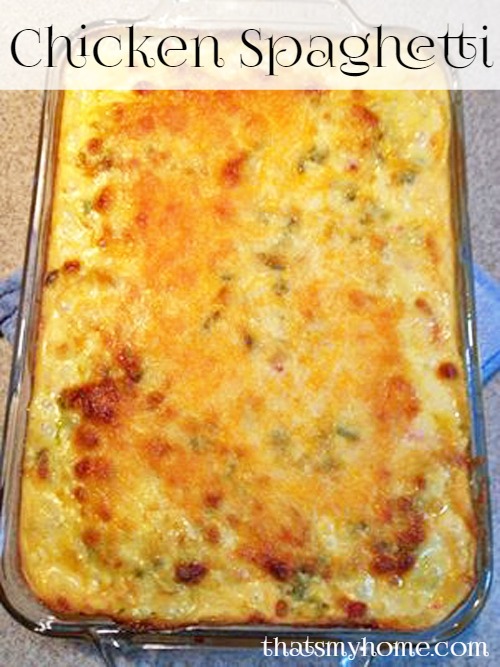 Pin It!