I received compensation for this post. All opinions are mine.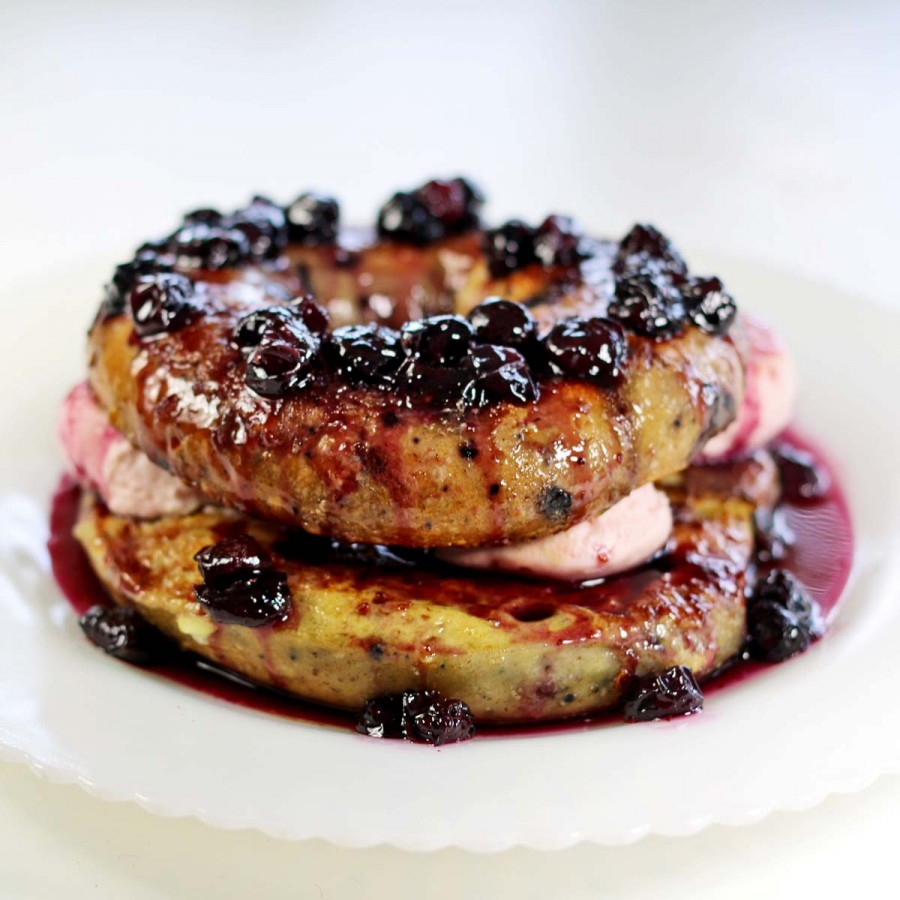 Bruegger's Blueberry Bagel French Toast
Bagels are one of my favorite breakfast or snack foods. Making a bagels into french toast takes it to a whole new level! I was a little concerned that the bagels might not be suited to make a tender french toast but I can say these blueberry bagels from Bruegger's did not disappoint. The eggs turned the bagels into a wonderful custard texture.
I started off going into Tampa to buy 2 dozen bagels of all varieties at Bruegger's Bagels. Everyone of them was so good. I shared them with a friends and saved out the blueberry bagels to make this french toast. While there I also picked up a couple tubs of their cream cheese, the strawberry one I used here and a Bacon Scallion one I gobbled down with my Everything Bagels. I sampled one of their delicious Cranberry muffins while I was there also.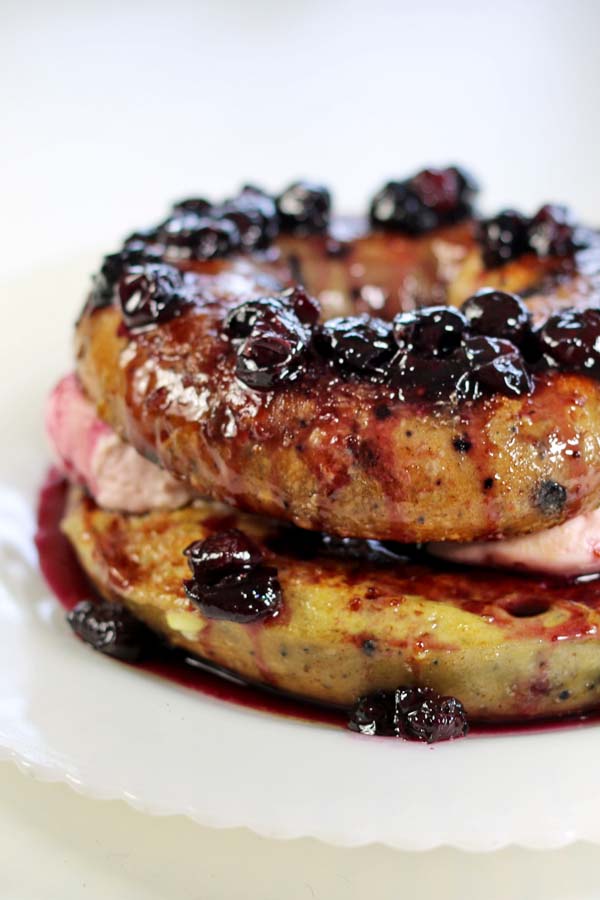 Bruegger's Blueberry Bagel French Toast
Prep time:
Cook time:
Total time:
Ingredients
4 Bruegger's Blueberry Bagels
6 eggs
1/2 cup milk
oil for cooking
1 pint blueberries
1 cup maple syrup
1 container Brueggers Strawberry Cream Cheese
Instructions
Slice the Bruegger's Blueberry Bagels in half.
Add the eggs to a large flat pan that will hold the Bruegger's Blueberry Bagels in a single layer. Stir in the milk.
Dip the bagels into the egg mixture and place cut side down in the pan. Cover and let set overnight in the refrigerator.
Add the blueberries to the maple syrup in a sauce pan. Bring to a boil and let mixture cook until the blueberries are cooked, about 10 minutes.
Add the oil to a large frying pan and bring to medium heat. Cook the bagels on both sides until lightly browned.
Put half of the bagel on a plate. Top with 3 scoops of the Brueggers Strawberry Cream Cheese. Add the top half of the Bruegger's Blueberry Bagel. Top with a few spoonfuls of the blueberry syrup.
New on the menu this summer!
Mediterranean Sunrise – a hearty sandwich with fresh-cracked egg, Genoa salami, red peppers, cucumbers and feta cheese on the new limited-time-only toasted Spinach-Parmesanbagel
Greek Goddess – roasted turkey, feta cheese, fresh tomatoes, cucumbers, spicy arugula piled high on butter-toasted potato bread and topped with champagne vinaigrette
Organic 20-hour cold brew coffee – small batches of artisan-roasted, triple-origin Aztec Organic coffee beans are steeped for 20 hours, creating a smooth, sweet, spicy beverage with hints of citrus and a caramel finish
Returning Items
Whipped Blueberry Greek Cream Cheese & Greek Yogurt – adding yogurt to cream cheese makes for a lighter, easier-to-spread texture with four times the protein and 50 percent less fat.
Coconut Iced Coffee – a breath of fresh sea air that is reminiscent of the fruity, refreshing drinks of the Caribbean.  It can also be served hot.
Pin It!