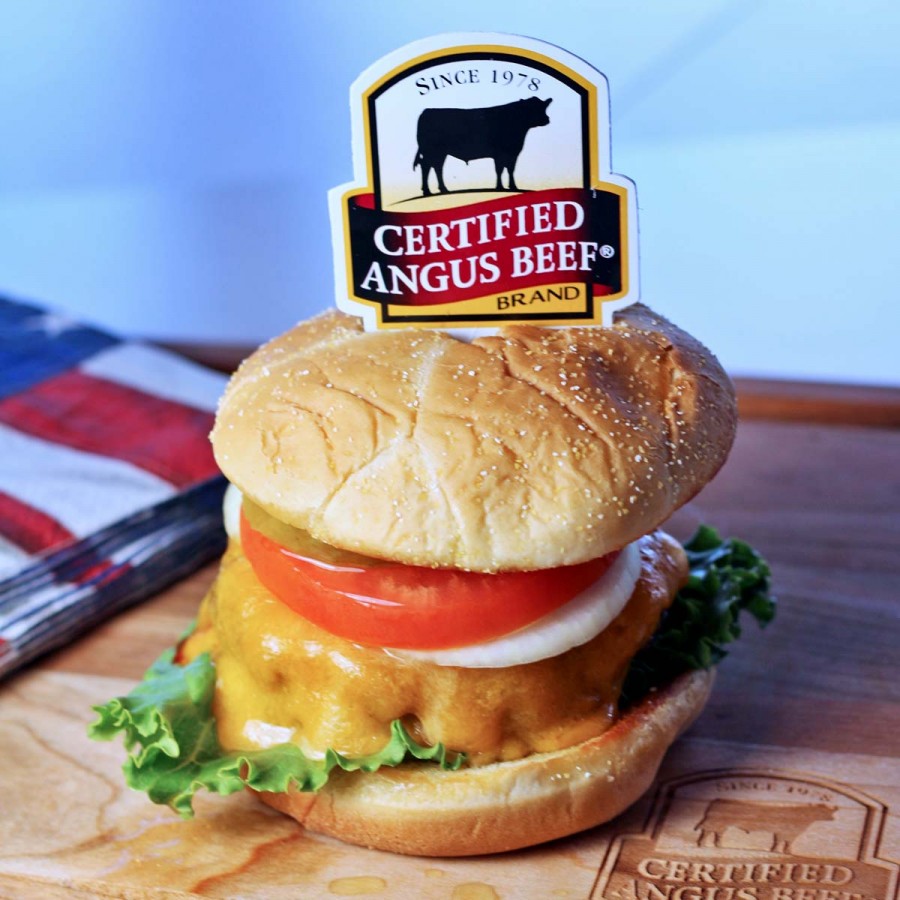 Double Stuffed Cheeseburger
May is Burger Month! It is organized by Kita Roberts who runs Girl Carnivore who I had the pleasure of meeting at a Sunday Supper event in February.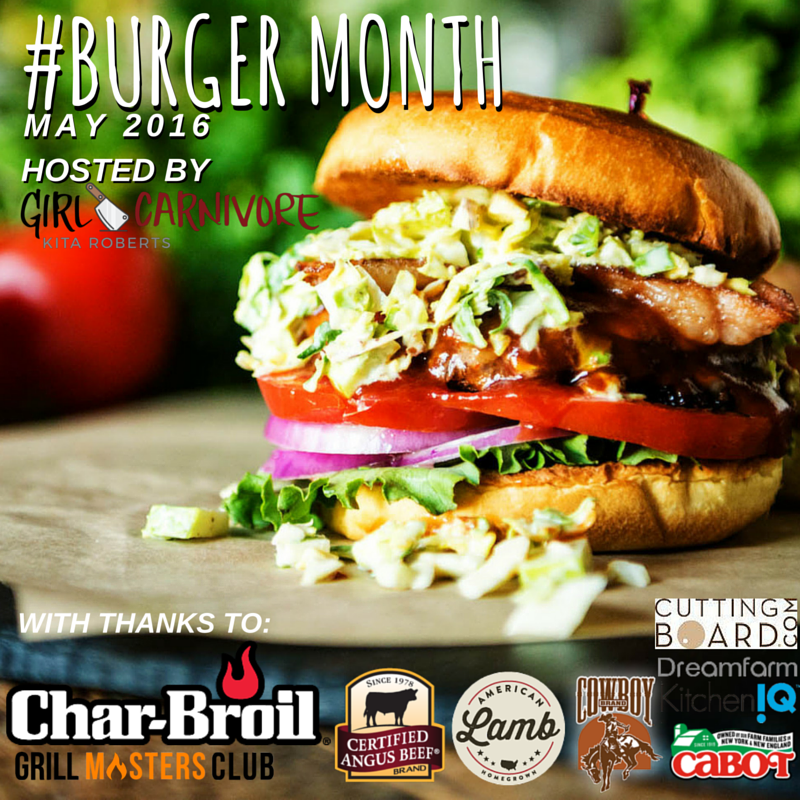 All month long bloggers have been posting their favorite burger creation. There has also been an exciting giveaway going on.
Insert code for giveaway
THE SPONSORS (AND PRIZES): BECAUSE THE GIVEAWAYS ARE PRETTY FREAKIN EPIC! 
American Lamb Board – (4) ALB prize boxes 5 lbs of ground lamb, an apron and a meat thermometer
Cabot Cheese – (4) Cabot Cheese Legacy Gift Box – 2 each Farmhouse Reserve, White Oak & Alpine Cheddar  – 1 each New York Vintage & Seriously Sharp & 1 Wine Bottle Opener
Cassabella – Week 3 – 1 Chop 'N Prep™ Cutting Board with 4 Cutting Mats
Certified Angus Beef – (4) CAB prize grilling accessory kit, $50 VISA card, and a George Motz Hamburger America cookbook.
Char-Broil – (4) Char-Broil Performance 780 Charcoal Grill
Cowboy Charcoal – (4) Hardwood Lump Charcoal, a variety of wood chips and some of Cowboy's new BBQ sauces.
Cuttingboard.com – (4) Olive Wood Carver Board
Dreamfarm – Week 2 – Big Vebo
Grill Master Club Subscription Grilling Box – (4) curated grill sample boxes
KitchenIQ -Week 1 – V-etched Container Grater
Swissmar – Week 4 – Glow 7PC Fondue Set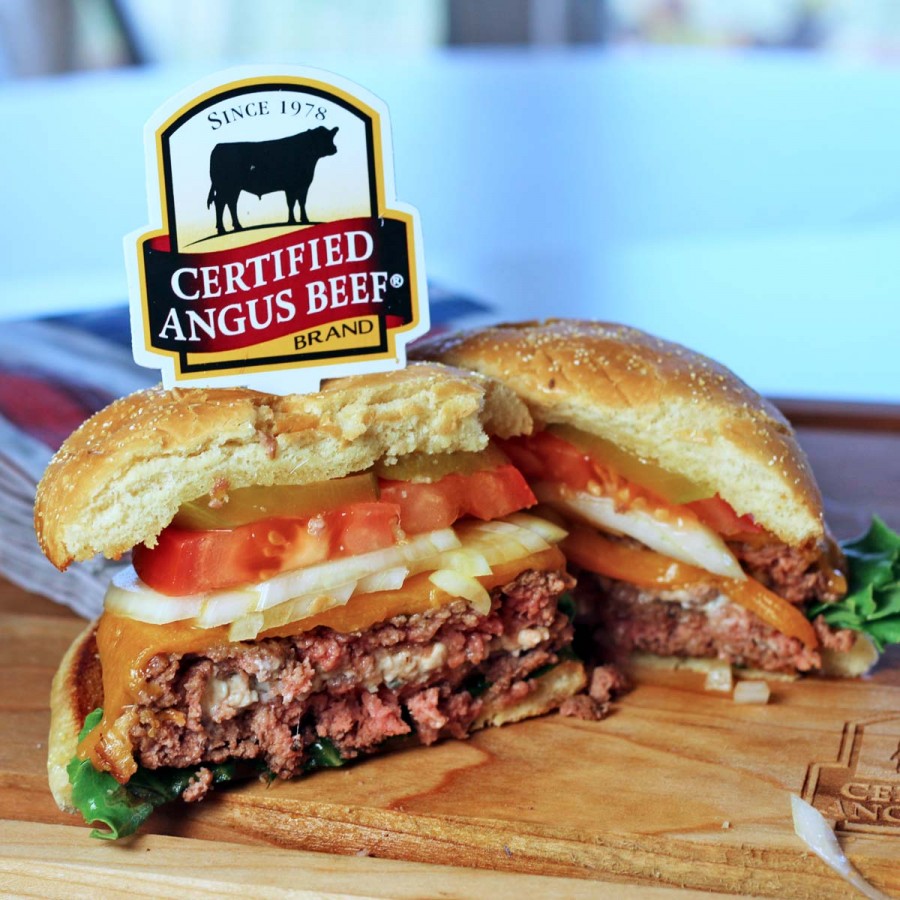 I made these burgers using Certified Angus Ground Sirloin. Look for it at the grocery store. I live in the Tampa area and find mine at a grocery store at St. Pete Beach called Shaner's Land and Sea. Try their steaks too for one of the best steaks you've eaten in your life.
Double Stuffed Cheeseburger
Prep time:
Cook time:
Total time:
Best hamburgers ever made with Certified Angus Ground Sirloin.
Ingredients
1 1/3 lbs. certified Angus Beef
2 - 3 tablespoons crumbled blue cheese for each burger
salt and pepper
sharp cheddar cheese slices
lettuce
vidalia onions
pickles
tomatoes
mayonnaise
hamburger buns
butter
Instructions
Divide the ground sirloin into 4 equal pieces. Divide each piece into 2 pieces. Shape each piece into a burger shape. Put the crumbled blue cheese in the center of 4 of the burger patties. Top with remaining burgers. Salt and pepper well.
Cook over medium heat until done to desired doneness. Mine took about 6 minutes. Top with cheese slices.
Spread a little butter on the cut sides of the hamburger buns. Toast until lightly browned.
Add burgers to bun and add toppings.
a Rafflecopter giveaway
Swissmar Glow 7PC Fondue Set ($15.00)
American Lamb
Cabot cheesebox
Cert Angus Beef
Charbroil Grill
Cowboy Charcoal Samplers
Cuttingboard.com cutting board
GrillMasters Club Box
Where this epic burger creation is my own for #BurgerMonth 2016, I would love to thank American Lamb Board, Char-broil, Cowboy Charcoal, Swissmar, Cabot
Pin It!