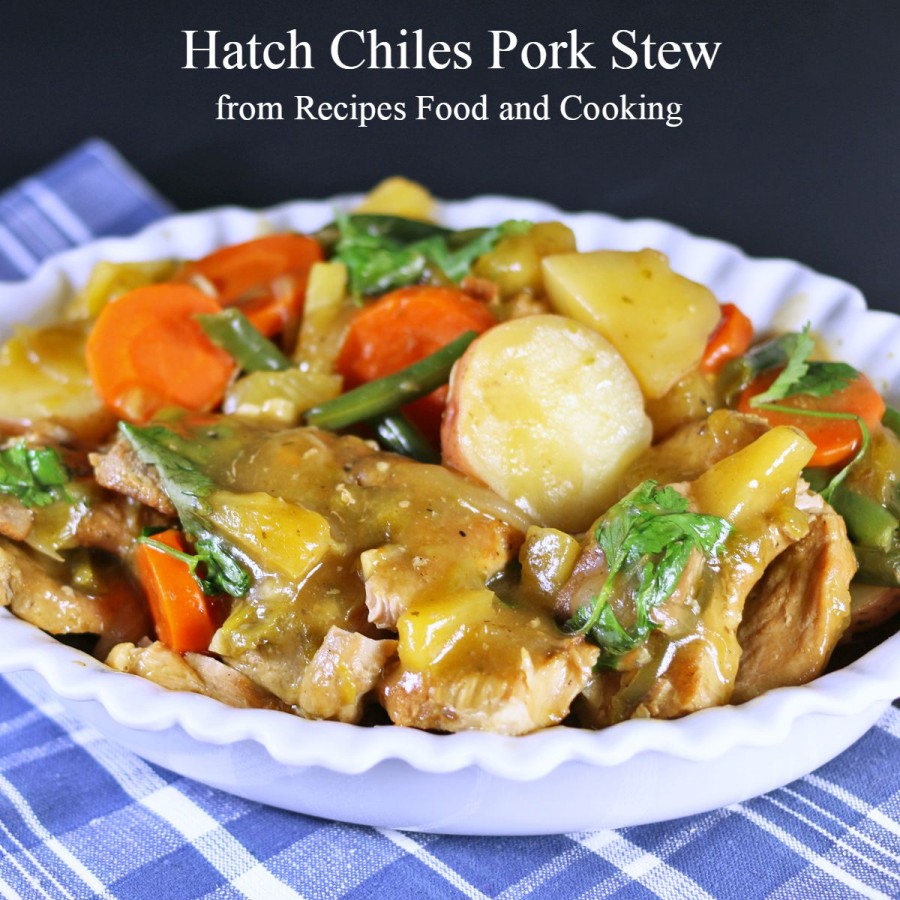 Hatch Chiles Pork Stew
This didn't start out to be a stew, originally it was going to be pork carnitas but halfway thru cooking this idea came to me instead. I was thrilled at how it turned out. The vegetables just soaked up that sauce. The next time I need a vegetarian dish I'll be making this sauce. When you first taste this sauce you get the flavor of the hatch chilies and then the subtle undertones of the citrus.
I was so excited this week when I had a box of produce delivered from Frieda's. I got a dozen of the most gorgeous Hatch Chiles from New Mexico. I also got Pomegranates, Dragon Fruit and some Fava Beans. I happily roasted those peppers unsure of what my first dish using them would be. I know what to do with 2 of them but not sure about the other 2. I loved being pushed out of my comfort zone so the fava beans and dragon fruit will do just that.
Preparing fresh peppers is easy to do. You can do them under the broiler or on the grill. I opted for the oven today. You broil them on high on a cookie sheet until the skins blacken. Then I leave them in the oven until they cool after I turn the oven off. The skins will easily peel off once the peppers are cool. I remove the seeds and put them in plastic bags to freeze. I took this picture while they were in the oven so the color is a little off but you get the idea.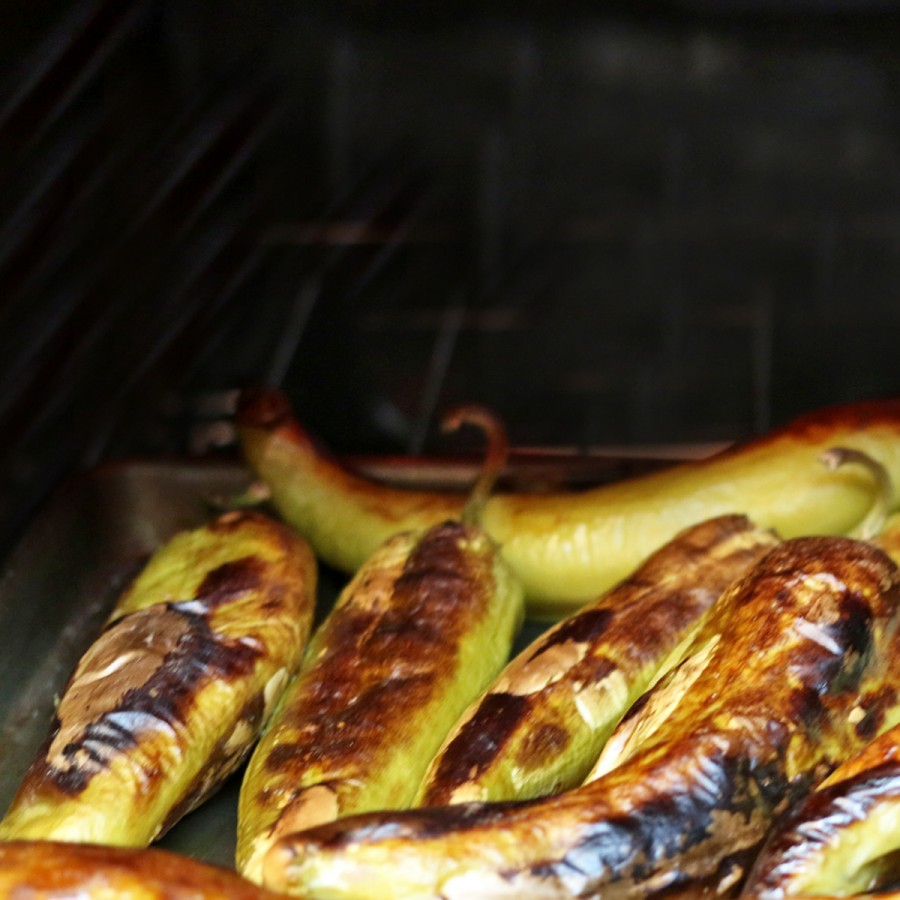 I just read over at Frieda's Facebook page that just one of these medium sized hatch peppers have the Vitamin C of 6 oranges! Who knew? The peppers I got were the mild ones and I love them because they really build that chile flavor without heat. I added a jalapeno in this for heat but if want hot I'd add at least 3 with seeds or without.
Here's the finished stew before it was served. Toss in that cilantro as soon as you remove the pot from the heat.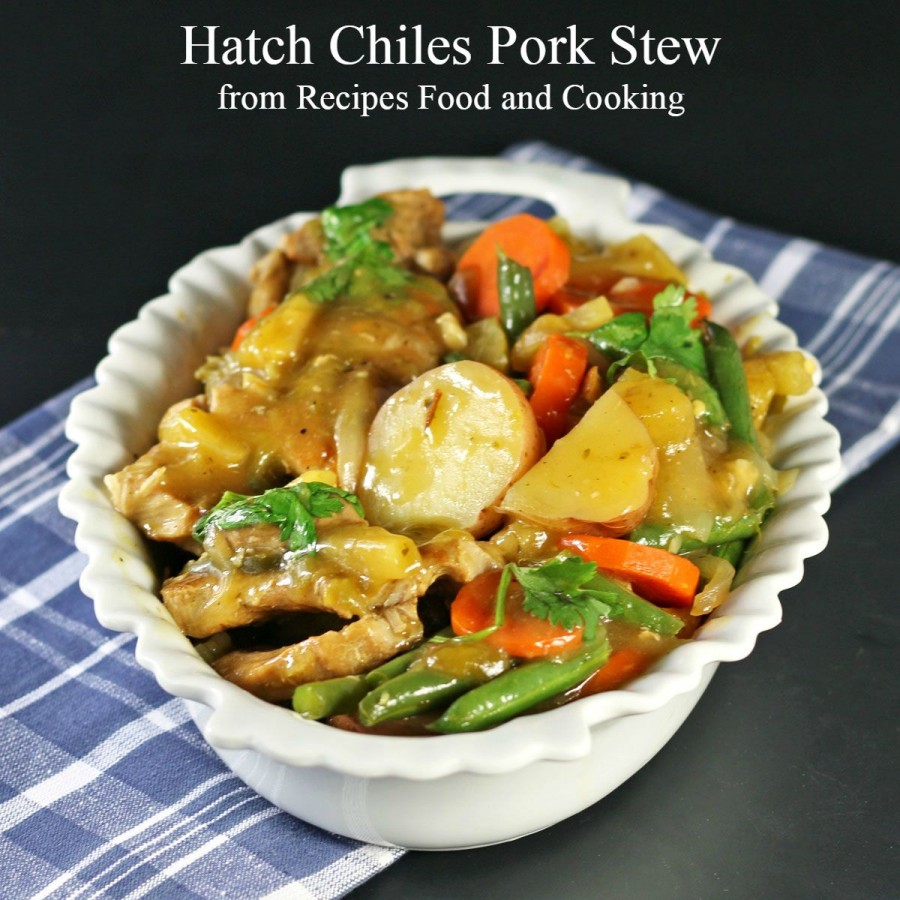 I used pork sirloin for this dish. I really like that it has just a little fat on it to make the pork tender and moist. It is also mostly lean. I wouldn't use pork chops with this, I think they'd dry out. Chicken breast or thigh chunks of meat would be great with it too. If you look at that list of ingredients I am sure there are a couple of things you're going to shake your head and wonder what is she doing? You'll understand completely once you taste this sauce. I think this just might become a house sauce.
Hatch Chiles Pork Stew
Recipe type:
Pork, Mexican, Main
Prep time:
Cook time:
Total time:
Ingredients
1 1/2 lbs. pork sirloin chops
oil
1 onion chopped
3 - 4 garlic cloves
1/2 naval orange cut in half
1 bay leaf
2 hatch chilies chopped
1 halapeno pepper without seeds
1/4 of a fresh pineapple
1/2 teaspoon oregano
1/4 cup milk
2 - 3 carrots
8 - 10 baby potatoes
1/3 lb. green beans
handful cilantro
Salt and pepper
2 cups water
1 heaping tablespoon cornstarch
1/4 cup water
Instructions
Put the oil in a dutch oven. Salt and pepper the sirloin chops. Brown on both sides.
Add the chopped onion and garlic to the pan. When the onions start to sweat add the pineapple, the orange, chilies, jalapeno, oregano, milk and water. Cover and simmer for 30 minutes.
Slice the carrots into circles, Add to the pan. Cut the potatoes in half. Add. Then snap the green beans in half and add to the pot. Salt and pepper everything. Put the lid on the pan and cook for another 15 minutes until the vegetables are tender.
Remove everything from the pot. Mix together the cornstarch and water. Stir it into the sauce. When it is thick pour the sauce over the pork and vegetables.
To find a Frieda's store in your area use the Frieda's store locator. If you can't find a product you see on the Frieda's site, ask your produce manager to see if he can get the produce in for you.
Disclosure: As I said above Freida's sent me a box of produce that contained some of the hatch chilies in my finished dish. All opinions are 100% mine. Thanks Frieda's!
Maybe you'd like to try our recipe for?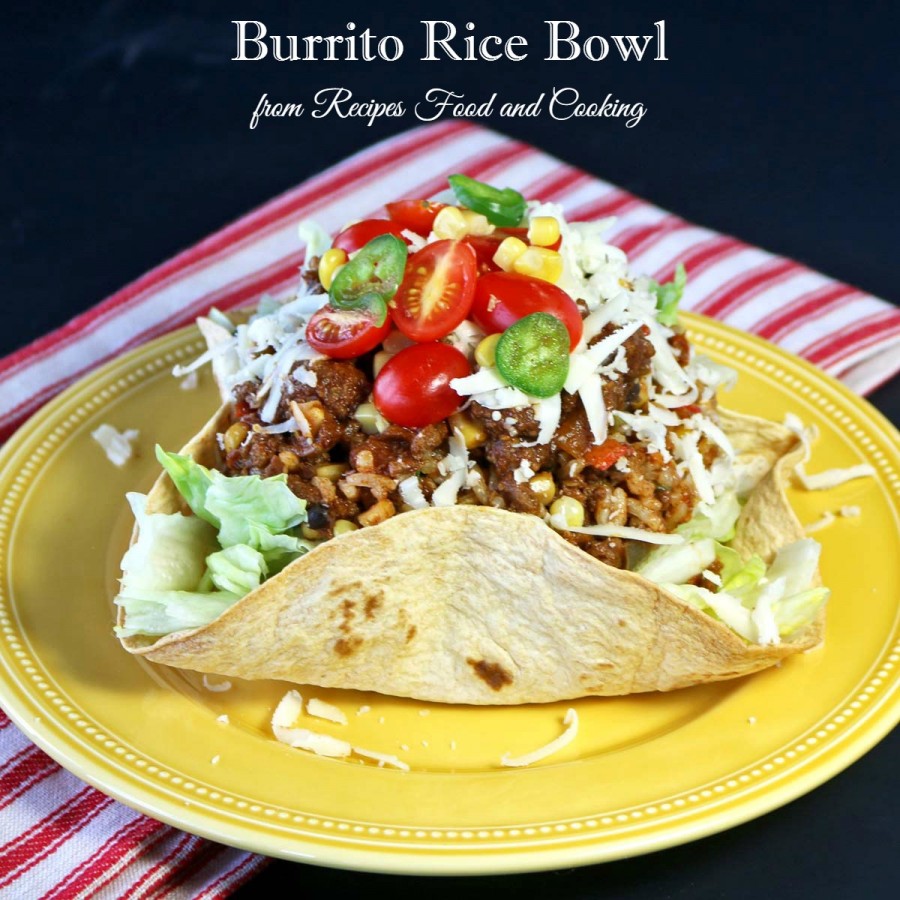 Pin It!