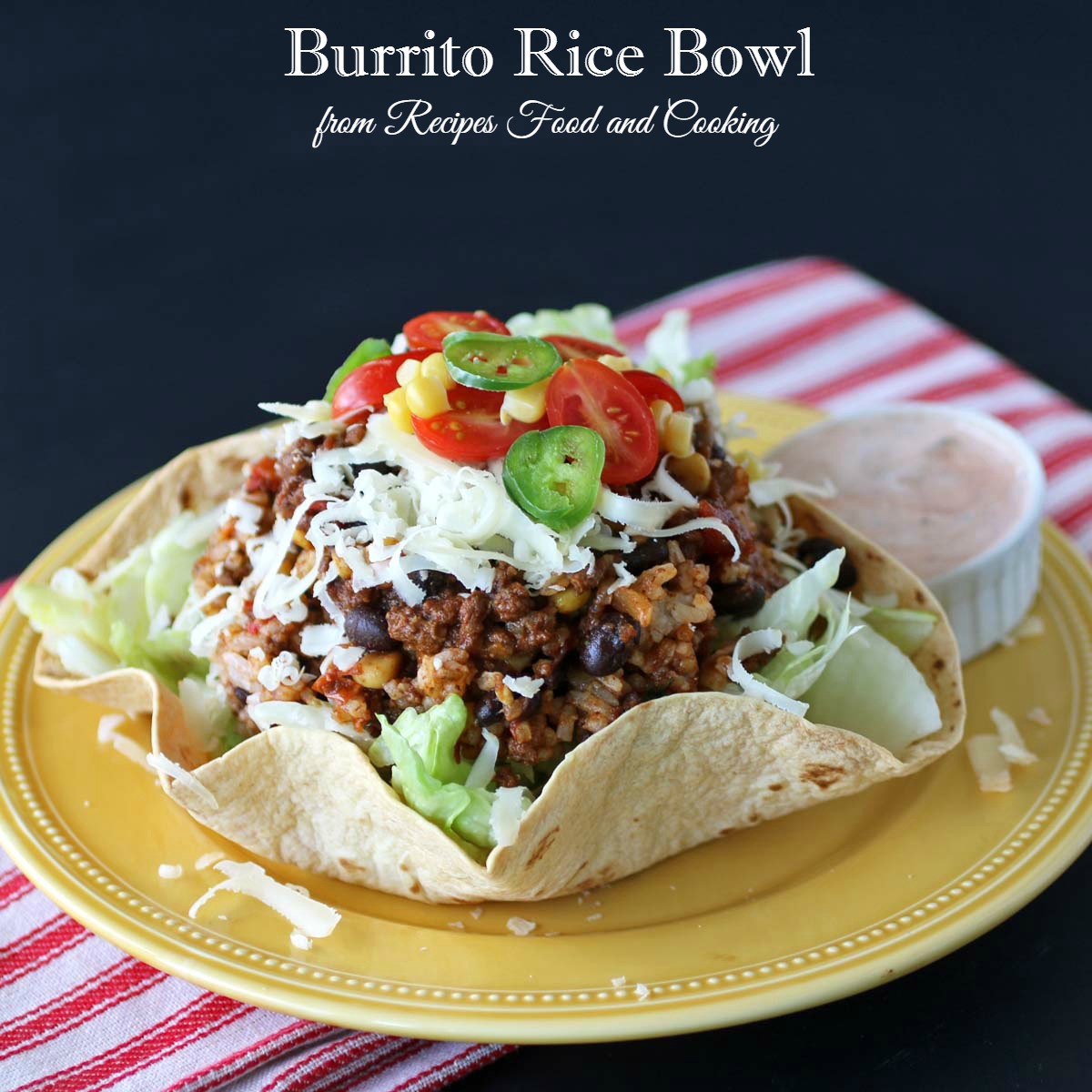 Burrito Rice Bowl
I made this over the weekend and it just gets better everyday. It is quick and easy to make too. It is full of spicy goodness, ground beef, corn and black beans. If you like heat add some hot sauce to it but I would do it after it has simmered a bit so that everything has a chance to meld together.
I made the shell for the salad in the oven. I found a bowl that I could drape the flour tortilla over. Put the shell in the oven at 375 degrees. After a couple of minutes, shape the tortilla around the bowl the best you can. It won't be perfect but you'll get a bowl shape. Bake for 8 -10 minutes or until the tortilla is crispy. Remove tortilla from bowl and let cool.
I cooked my rice separate from the sauce. This way I could either add it before serving or serve the sauce over the rice. It was good both ways. If you want to cook the rice with the sauce, do it in the last 20 minutes of cooking time.  Add one cup of rice and 2 cups of water to the sauce. Cook until the rice is tender.
While the tortilla is baking chop up the fresh vegetables to go on top. I also made a dressing of equal parts of sour cream and chunky salsa.
Burrito Rice Bowl
Ingredients
1 1/2 lbs. ground beef
1 cup diced onions
1 cup diced peppers
3/4 cup salsa
3 tablespoons taco seasonings
3 tablespoons chili powder
1/2 teaspoon cumin
1 can green chilies
3 - 4 garlic cloves - crushed
1 14.5 oz. can diced tomatoes
1 can corn - rinsed
1 can black beans - rinsed
salt and pepper to taste
Serve with
cooked rice
lettuce
tomatoes - grape or chopped
cilantro
lime wedges
sour cream
guacamole
Instructions
Brown beef in a large pan with garlic and onions. When the beef is browned add peppers, green chili, tomatoes,salsa and spices.
Cook over medium heat for 30 minutes. Add the beans and the corn. Cook for 10 more minutes.
Serve with jasmine rice or any long grained rice you have.
Notes
To cook rice add 1 cup jasmine rice to 2 cups of water. Cook covered over medium heat for 20 minutes.

Mix the rice into the ground beef mixture.
Pin It!