Grilled Chicken Scaloppine with Peaches
I've had this dish on my mind for a couple of weeks now and finally got the chance to make it, just in time for Weekday Supper. Our theme is cooking with fruit in a savory way. Georgia peaches are all over the market right now. It's time to really enjoy these peaches while we can. You know what I mean, when you find that perfect peach, take your first bite and the juice runs down you chin? It's that time of year.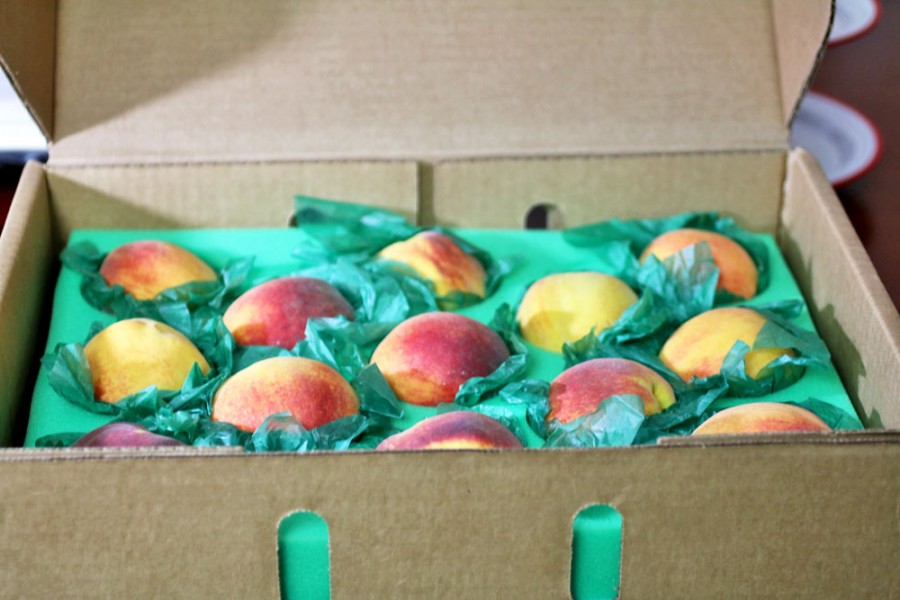 Aren't those peaches gorgeous? These are the best tasting peaches I've had in a long time. I was so lucky that when I went to the Food and Wine Conference in July that I won Georgia Peaches during our Price Is Right game along with some Gena Knox cookbooks. Gena's cookbooks are wonderful! I don't know which I enjoyed more the recipes with all fresh ingredients or the stunning food photography. Those peaches arrived today and I am sure going to have a lot of fun baking with them this weekend. Go on over the Sweet Georgia Peach website for peach recipes and meet some of the Georgia peach growers that give us this gorgeous taste of summer.
Rice would go great with this dish. I would even try the Cilantro Lime Rice I made a while back with this. I think they'd compliment each other really well. This dish really could take on about any flavor profile, a teaspoon of sweet curry, cajun seasoning or even a southwestern blend. I don't know about you but I change up the flavor profile in a lot of my recipes depending on my mood.
Grilled Chicken Scaloppine with Peaches
Recipe type:
Chicken, Griled
Prep time:
Cook time:
Total time:
Thinly pounded chicken breasts grilled with Georgia peaches in a balsamic glaze.
Ingredients
2 chicken breasts
2 peaches
salt and pepper
1 teaspoon butter
2 sweet peppers
1/2 small onion
1/4 cup water
2 tablespoons balsamic vinegar
Instructions
Put a pan of water deep enough to cover the peaches on high heat. When boiling add peaches. Leave in water for about 3 minutes. Rinse under cold water. Skin the peaches but do not cut into. Set aside.
Cut the chicken breasts into halves. Pound the pieces about 1/3 inch thick. Season with the salt and pepper.
Preheat the grill to high.
Cut the sweet peppers into thin strips. Cut the onion into thin strips.
Add the butter to a teflon skillet. When butter is melted add the peppers and onions. Saute until soft.
Put the chicken pieces on the grill with the whole peaches. Close lid. Leave on grill until you get grill marks on the chicken. Do not turn. When the grill marks are on the down side, the top layer of the chicken should of turned to white from the lid being down. Remove the chicken and peaches from the grill.
Add the chicken immediately to the pan with the peppers and onions. Add water.
Slice the peaches into wedges and add to the chicken.
Add the balsamic vinegar. Cover and let cook for 5 minutes over medium heat.
See what the other Weekday Supper posts were this week!
Monday – Mexican Chicken Bowl by Gluten Free Crumbley
Tuesday – Blackberry BBQ Glazed Chicken by Feed Me, Seymour
Wednesday – Duck Confit Sliders by The Petit Gourmet
Thursday – Tilapia with Raspberry Chipotle Sauce by Feeding Big
Friday – Chicken Scaloppini with Grilled Peaches by Recipes Food and Cooking
Pin It!