This shop has been compensated by Collective Bias, Inc. and its advertiser. All opinions are mine alone. #SunsOutSpoonsOut #CollectiveBias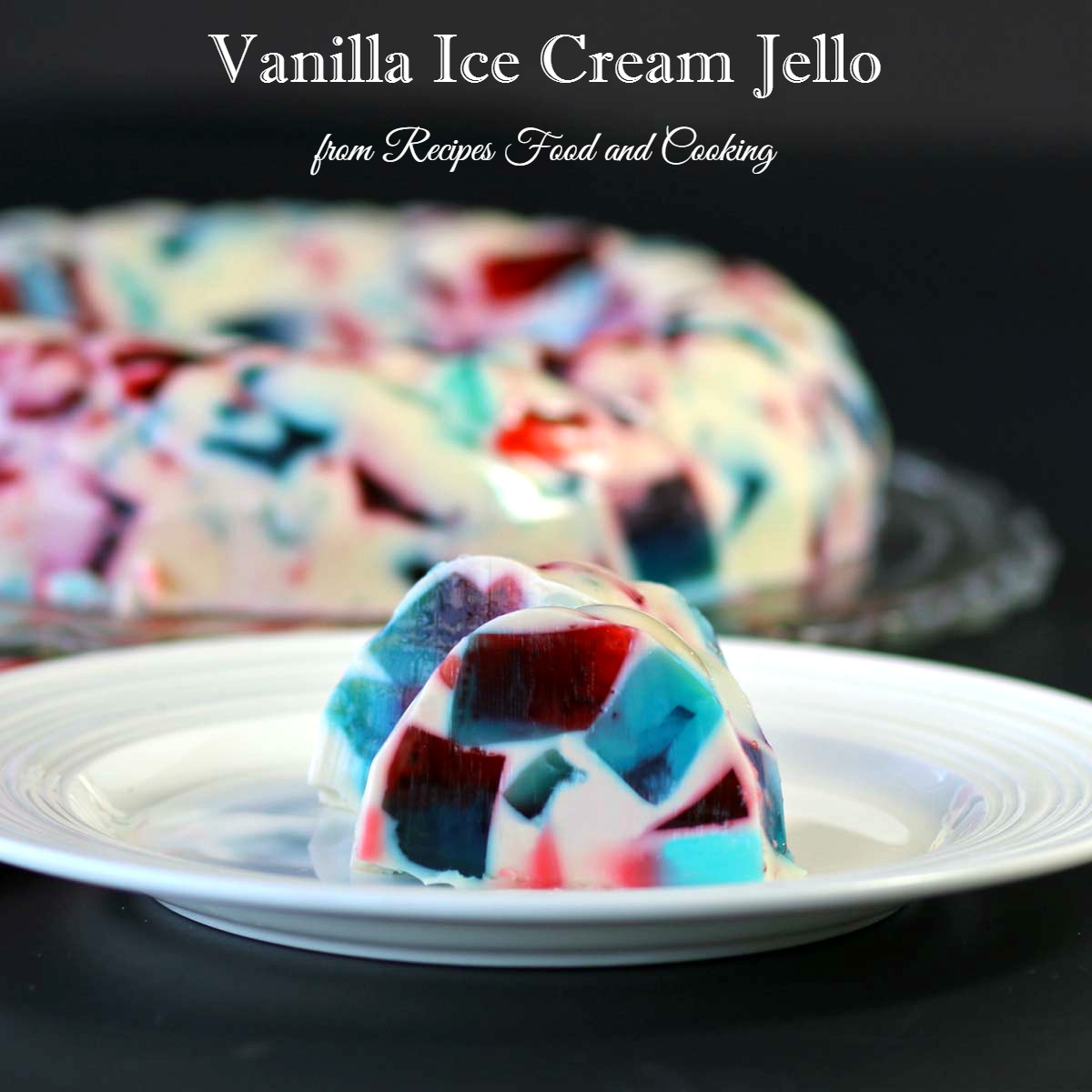 Blue Bunny Vanilla Ice Cream Jello Mold
Remember these kinds of jello's from the 6o's? I think every mom on the block had that green tupperware dish just for making a molded jello like this one.  This recipe was inspired by Brianne over at Cupcakes & Kale Chips. She made a ice cream jello mold for a recent Sunday Supper dinner. I knew right away I wanted to make this. With the 4th of July coming up I thought this would be great if you're having a cookout with friends or family.
The kids are going to love this. You need to make 2 boxes of Jello up using the package directions. Then you are going to make a gelatin using Blue Bunny Vanilla Ice Cream. If you've never used gelatin before here's what you do. Sprinkle the gelatin over cold water and give it a stir. Bring a cup of water to a boil. Add the sugar and vanilla. After 5 minutes add a little of the hot water to the gelatin. Stir and keep pouring the water in. Set aside to cool slightly. If you try to add the hot water too quickly the gelatin can get stringy. If that happens you'll need to start over.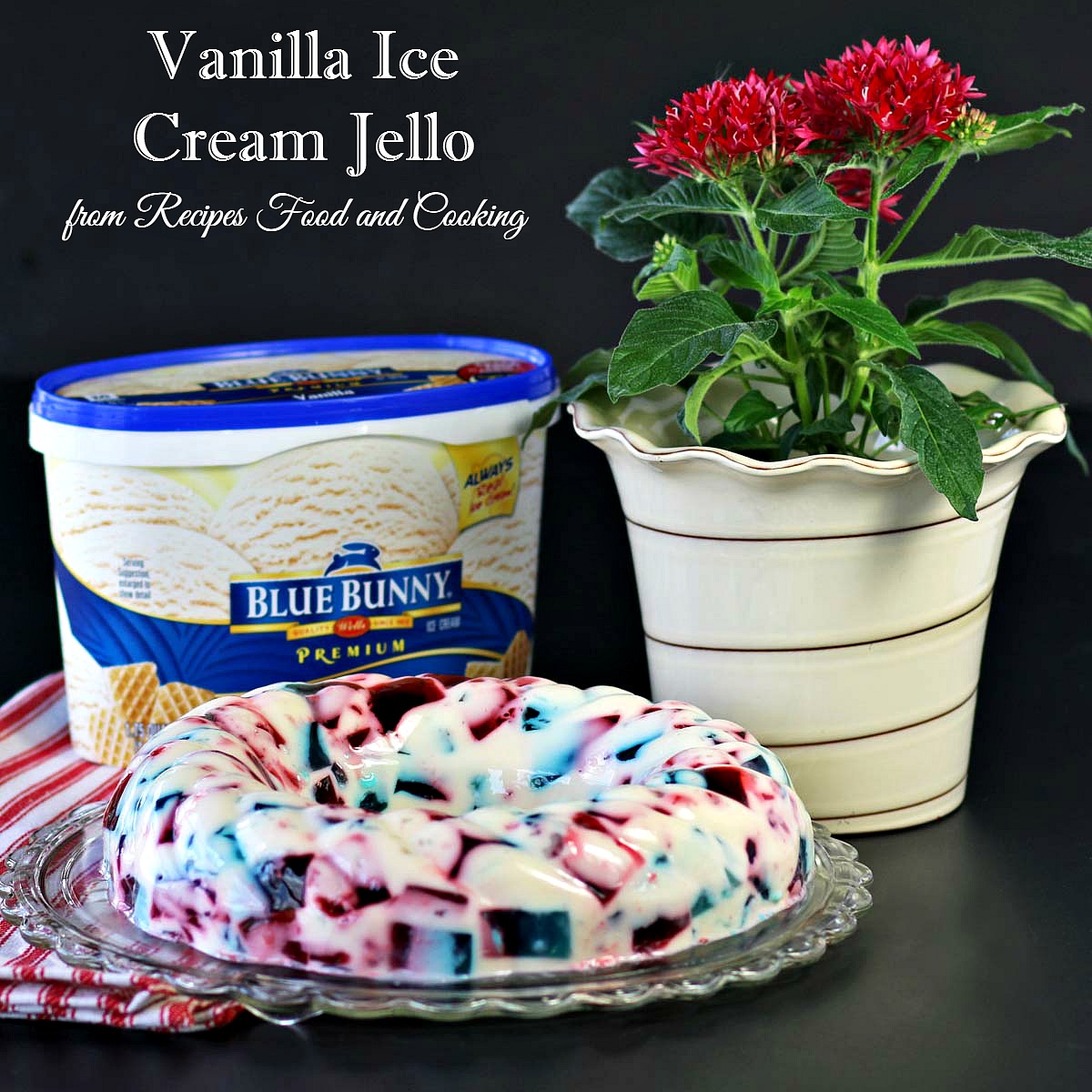 I used 2 colors of jello and made the jello in a 6 x 8 pan. I made the blue color first and let it set for about 45 minutes. Then I made the red jello and poured it on top of the blue. When the jello is set it is time to make the vanilla ice cream jello.
I used a metal pan to make this in because I couldn't find my tupperware dish. I bought one at a garage sale earlier in the year just for an occasion like this and I have no idea where it is. In my defense I moved less than a month ago to a new house.
To remove the jello from the pan, set the pan in cool water for several minutes. Not to hot or the jello will melt. The heat of a babies bottle is to warm if you want something to compare to. To see if it is ready to be  turned onto a plate, see if the jello will pull away from the sides of the pan easily. If it doesn't pull away put it back in water for a few more minutes. When you flip it over be sure you have the serving plate where you want it because I'm telling you jello doesn't move easily. I tried!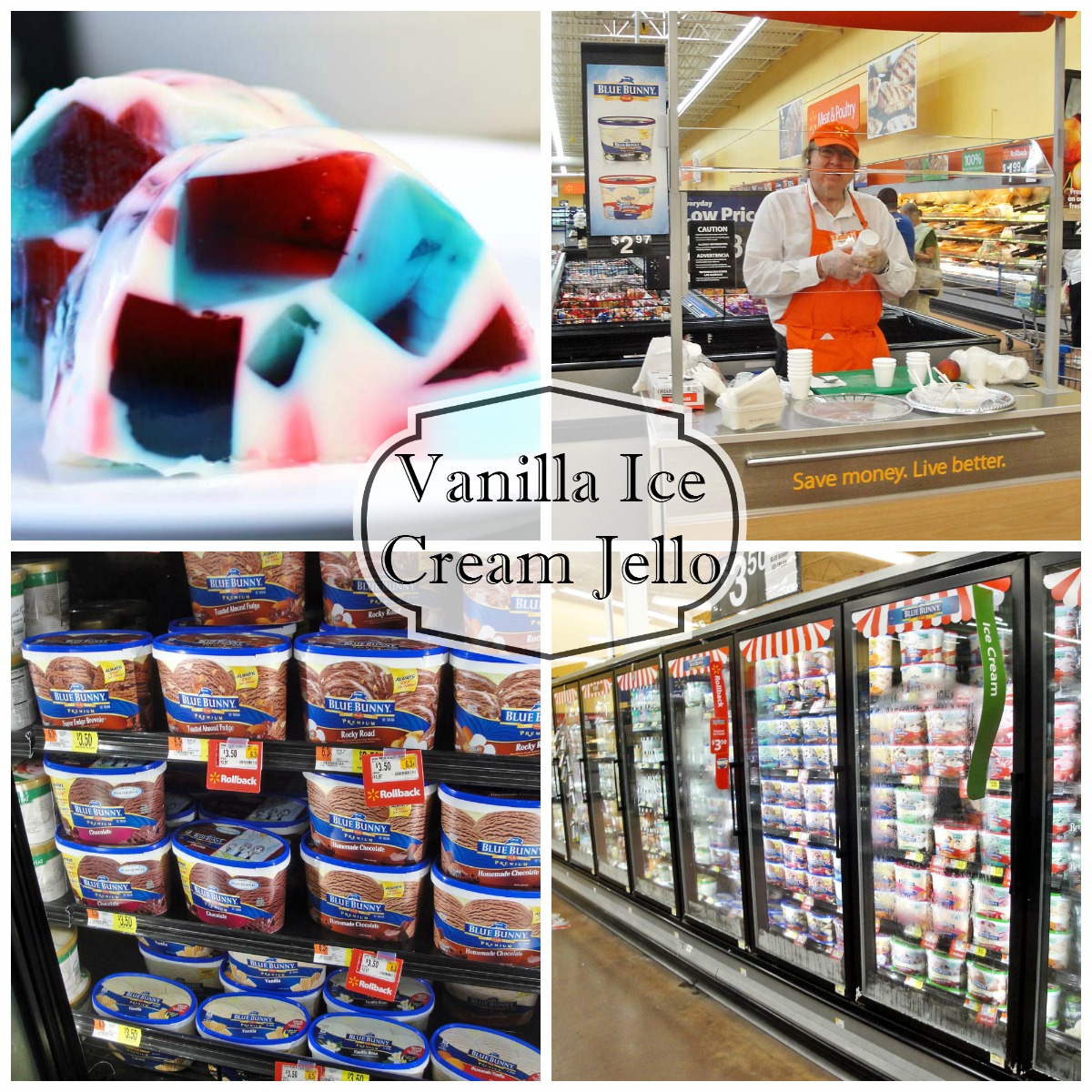 I went to Walmart to attend a demo a few days ago. Look for Blue Bunny Ice Cream in the frozen food cases in the ice cream aisle. There will also be another in store demo at Walmart over the 4th of July with Chips Ahoy. Here is the Demo Store List to see when they will be at a store near you.
Vanilla Ice Cream Jello Mold
Recipe type:
Jello, side, dessert
Ingredients
2 3 oz. packages of jello (any flavor)
2 cups hot water
2 cups cold water
Vanilla Ice Cream Jello
2 cups Blue Bunny Vanilla Ice Cream
2 envelopes unflavored gelatin
1/2 cup cold water
1 cup boiling water
1/2 cup sugar
1 teaspoon vanilla
Instructions
Make one of the jello colors if using 2 kinds according to package directions. Pour into a 5 x 8 dish (or similar). Let the jello set for about 45 minutes in the refrigerator.
Make the other color according to package directions. Pour on top of the first layer. Let chill 4 hours.
To make the vanilla ice cream jello, melt the vanilla ice cream in a saucepan. Let cool.
Add the gelatin to the cold water. Sprinkle it on top. Stir and let sit for 5 minutes while the gelatin blooms. Add the sugar and vanilla to the boiling water. Add a little of the boiling water to temper the gelatin. Slowly add the rest in. Set aside for 5 minutes. Slowly stir it into the ice cream mixture.
Cut the jello into cubes. Put them in the pan you are going to use.
When the vanilla ice cream jello has cooled to room temperature pour it over the jello cubes. Refrigerate until set up.
 Visit Blue Bunny for more recipes using ice cream or their Blue Bunny website.
Strawberry Rhubarb Lemon Crumble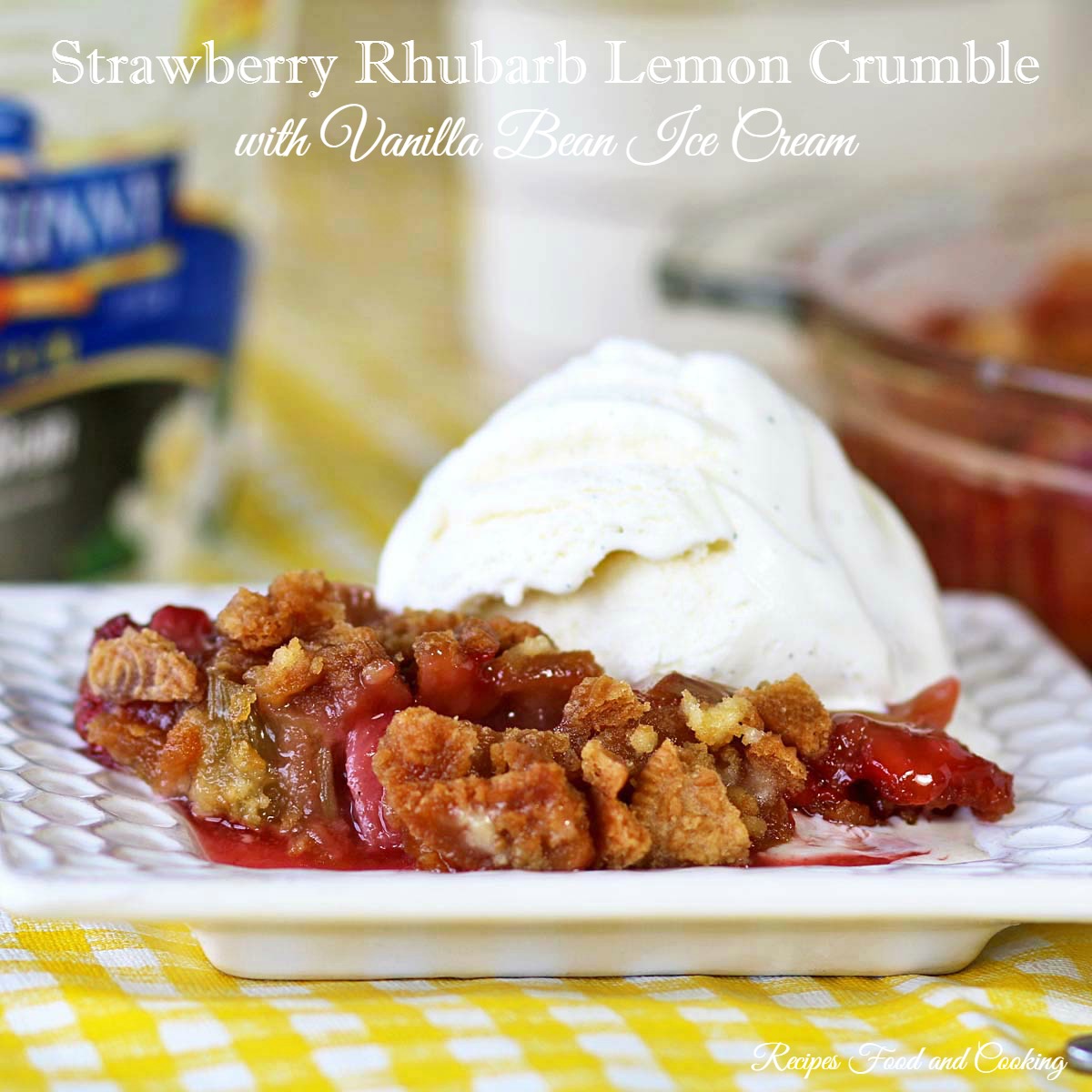 Pin It!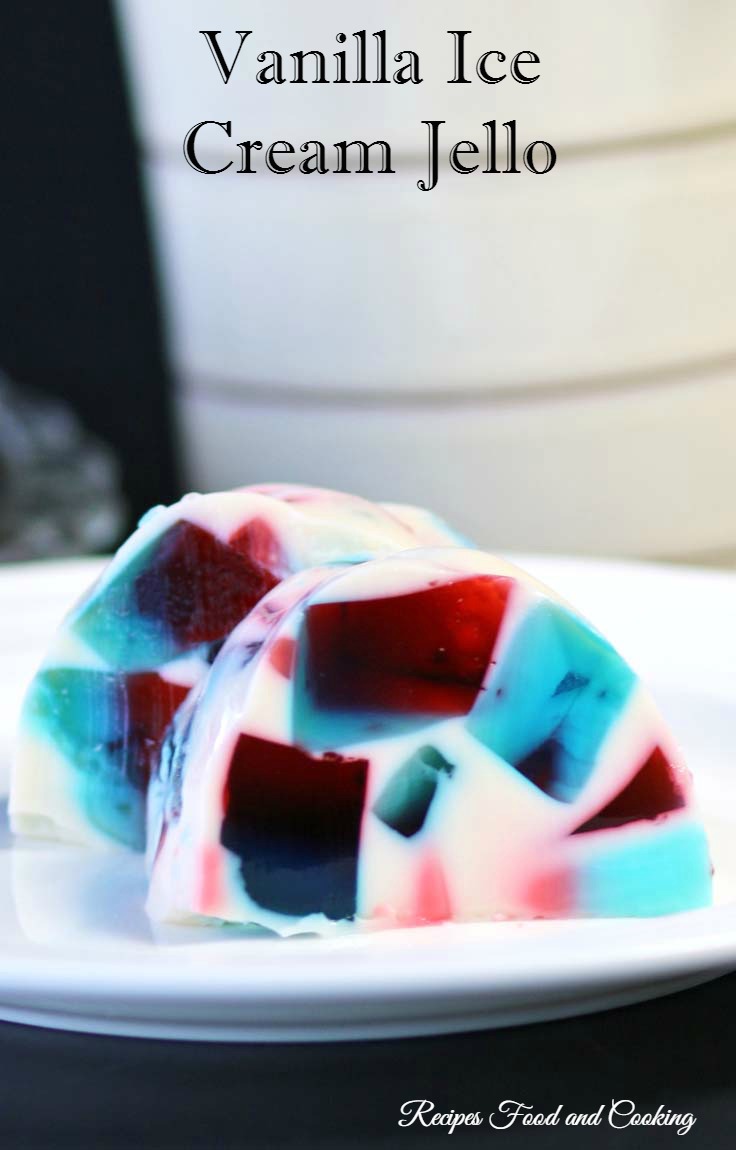 Follow Blue Bunny on Twitter  /  Facebook  /  Instagram  and  Pinterest
I love comments! What's your favorite kind of ice cream?