This post is sponsored by The Beef Checkoff in conjunction with a social media campaign through Sunday Supper LLC. All opinions are my own.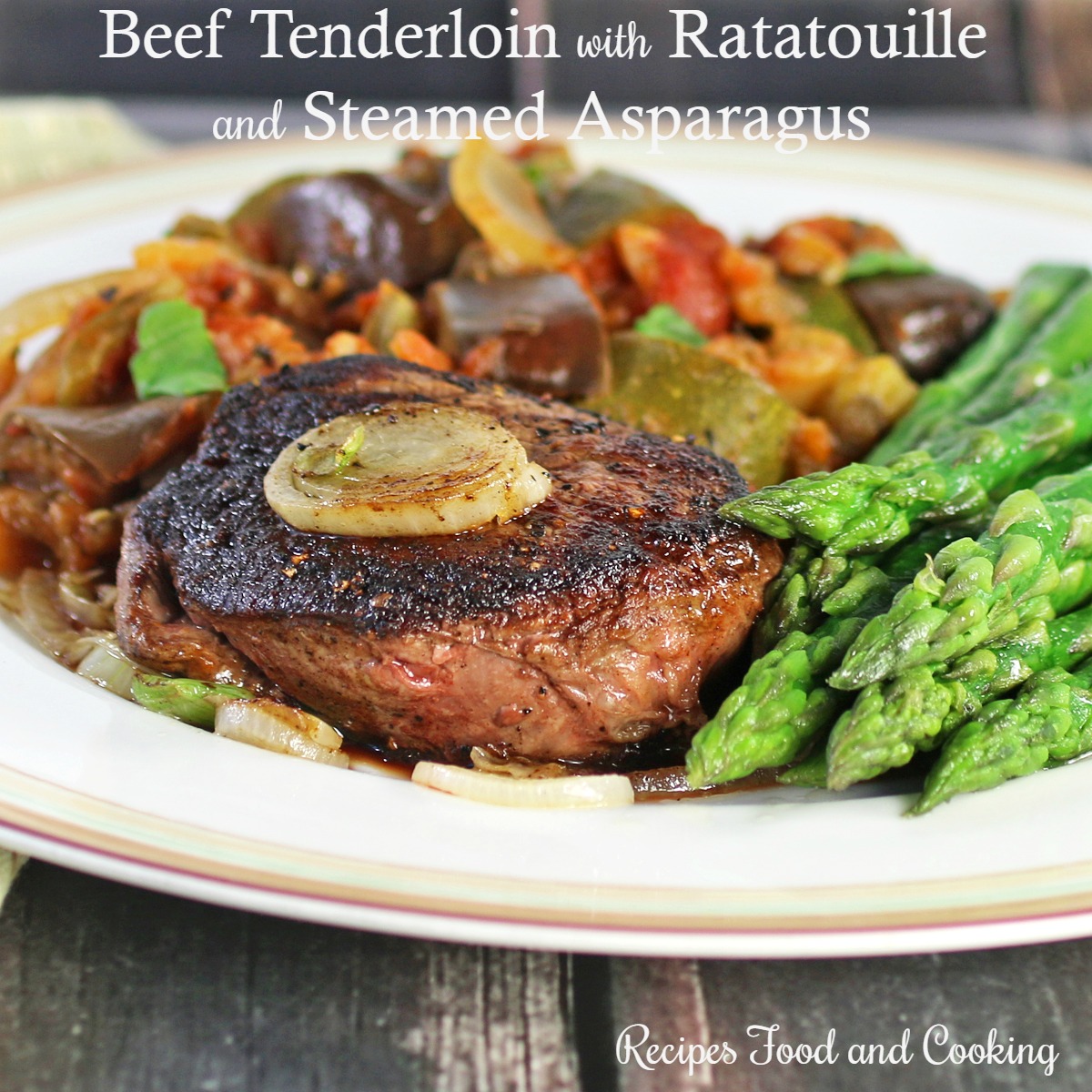 Beef Tenderloin with Ratatouille
and Steamed Asparagus
I am so excited to be able to share with you The Protein Challenge from The Beef Checkoff. Their message and mine are to Take Control and challenge yourself to 30 days of eating protein-rich foods at every meal and feel the difference. I started it about 8 days ago and I already feel better in the afternoons when I tend to want to slow down.
Since they say it so well here is the challenge. "The 30 Day Protein Challenge is a fun, step-by-step way to help you get an optimal amount of protein throughout your day. Significant research shows that some people can lose and/or maintain a healthy weight, support a healthy metabolism, and age more vibrantly when they consume more high-quality protein, within calorie goals."
Our Sunday Supper family is sharing recipes today for breakfast, lunch and dinner so that you can get the recommended amount of protein. These aren't your momma's recipes! I see recipes for Mexican Shredded Beef and Egg Breakfast Burritos, Steak and Caramelized Onion Flatbread. Yam Nuea Yang (Spicy Thai Beef Salad) or Skirt Steak with Chimmichurri Sauce to name a few that are being shared today. Be sure to follow the Sunday Supper Protein Packed Recipes Pinterest Board to see all of the recipes.
I love making Ratatouille and love eating it more. It is one of those dishes that gets better when allowed to set overnight giving all of ingredients a time reach their peak of goodness. It is good the day it's made don't get me wrong but plan for extra. It is good hot or cold making it a perfect dish for summer. I love serving it with the beef tenderloin, they really compliment each other.
I bought a whole tenderloin and trimmed it. It is a good way to reduce the cost. Making this beef tenderloin about the same as any other healthy meat or seafood.
The first thing you want to do is remove it from the package and place it on a cutting board. I pat it all over with a couple of paper towels. You will see some silver white colored skin on the tenderloin. You want take a very sharp knife and go under the skin without cutting into the meat. You'll get a little but you are going to throw out what you're cutting off, it's not edible. When it is all trimmed decide how you are going to use it. For dinner on The Protein Challenge you are allowed 25 – 30 grams of protein. So a 4 oz. tenderloin is just about perfect.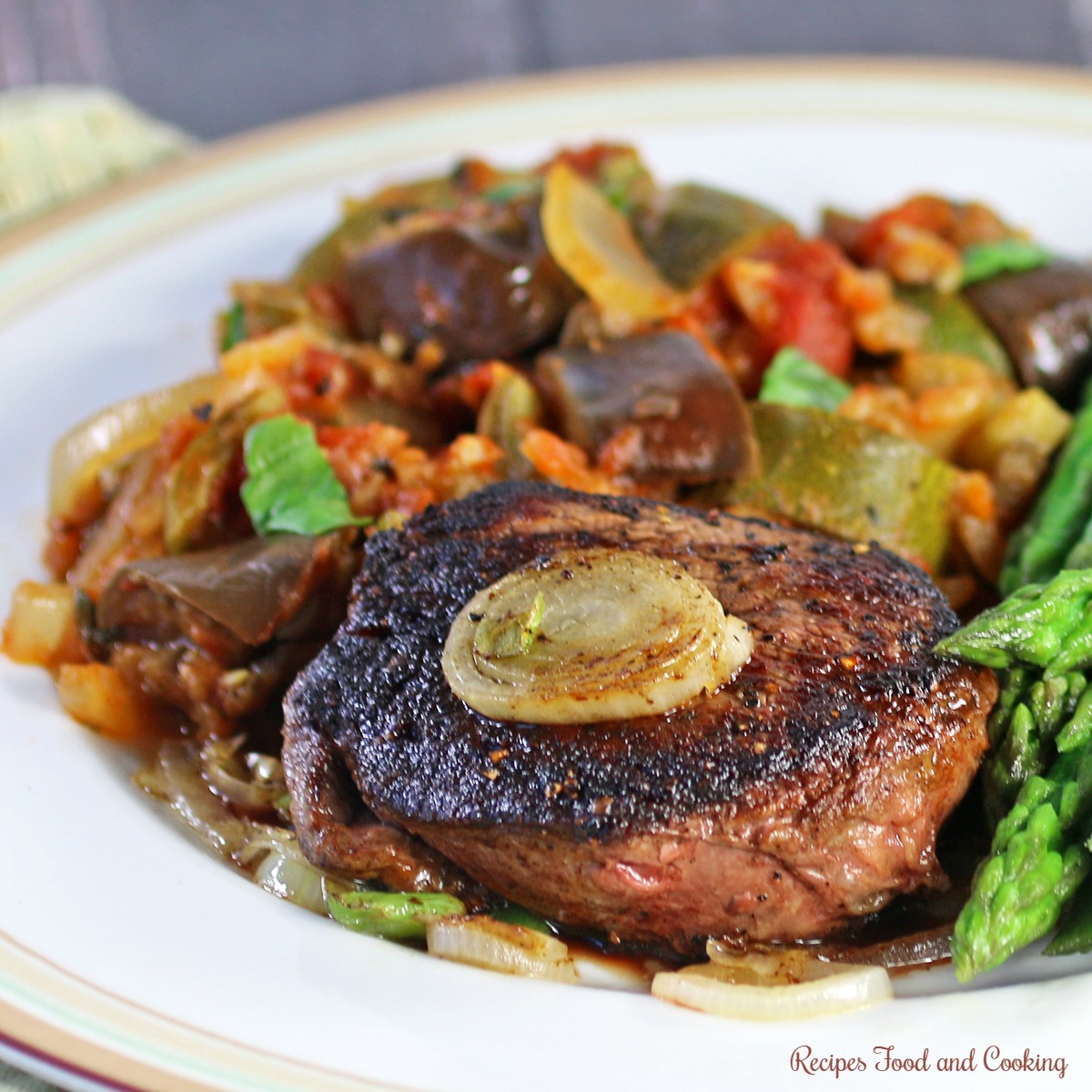 I cut the thicker ends into steaks or a roast and the skinnier pieces into k-bobs or beef tenderloin tip. The one I bought was just around 6 lbs and I have a 2 1/2 lb. piece for roasting, 4 4 oz. steaks (as shown here) and 2  1/2 lbs. for k-bobs. So I am going  to get 3 –  4 meals for 4 out of this tenderloin. Basically for the price of a take out dinner you can have 3 really good you for tenderloin beef dinners! The other great thing is that it is quick to prepare!
Let's talk about Ratatouille for a moment. Have you ever made it? Do you order it when you go out? I learned to make this years ago from a chef I worked for. It is all about the timing. In the best ratatouille the vegetables all maintain their shape and the sauce just enhances it all. It is garlicky, full of fresh basil, crushed tomatoes, vinegary and sweet. Love, love it!
I bought Chinese eggplant for this because I love that it is a little sweeter and I like that almost every piece has that pretty purple skin on it to add color to an already colorful dish. There is a little sugar added at the end of the cooking to balance the red wine vinegar and tomatoes. I'm going to give you how I make it but your tastes might like a little more or less of something. I love basil and often I add some good dried basil when the sauce is first combined and then add fresh when I take it off of the heat. Even if you don't like garlic this just isn't the same without it. My mom hated garlic and this was one of her favorite dishes that she requested often.
You'll also see I served this with some fresh steamed asparagus. So good!
Beef Tenderloin
Prep time:
Cook time:
Total time:
Ingredients
4 4 oz beef tenderloin steaks
1 teaspoon butter
garlic powder
black pepper
sea salt
1 cup sliced onions
Instructions
Pat the steaks dry with a paper towel. Let steaks come to room temperature before cooking. You can cook the steaks on a grill or in a pan.
Season the steaks well on both sides. Melt the butter in a pan. Place steaks in pan over high heat. Cook for 5 minutes on one side and flip over and cook until desired doneness. If you like your steaks medium here is how I test them. Touch the pad of skin on your hand right under your thumb. Poke that area with your other thumb. That is what a medium steak should feel like. Don't poke holes in your steaks or cut too soon. Let them rest about 5 minutes before serving.
Are you ready to make Ratatouille?
Ratatouille
Recipe type:
Vegetable, Side Dish
Prep time:
Cook time:
Total time:
Ingredients
1 eggplant - diced or 4 Chinese eggplant
salt
olive oil
1 large onion
2 - 3 garlic cloves - minced
½ green pepper
2 zucchini - diced
2 yellow squash - diced
1 14.5 ounce can diced tomatoes
½ cup water
2 teaspoons red wine vinegar
2 teaspoons sugar
1 - 2 tablespoons basil
½ teaspoon oregano
salt and pepper to taste
Instructions
Dice the eggplant and place in a strainer. Sprinkle with salt and leave in sink to drain for 20 minutes. Blot with paper towels to remove the moisture that formed on the eggplant. The salting helps to rid the eggplant of bitterness that sometimes comes from the seeds in it.
Add oil to pan and stir in garlic and onions. After the onions have turned translucent stir in the eggplant and green peppers. Add the tomatoes, water and spices. Cook for 10 minutes or until the eggplant begins to soften.
Add the zucchini and summer squash. Cook for 5 minutes. Add the wine vinegar and sugar. Cook for a few more minutes and taste to adjust seasoning.
Want to see more from The Beef Checkoff?
Start your day deliciously:
Power up at lunch:
Make a fantastically satisfying Sunday Supper:
Get your knife supply ready:
Website / Twitter / Facebook / Pinterest
Join the #SundaySupper conversation on twitter on Sunday! We tweet throughout the day and share recipes from all over the world. Our weekly chat starts at 7:00 pm ET. Follow the #SundaySupper hashtag and remember to include it in your tweets to join in the chat. To get more great Sunday Supper Recipes, visit our website or check out our Pinterest board.
Would you like to join the Sunday Supper Movement? It's easy. You can sign up by clicking here: Sunday Supper Movement.
Pin It!