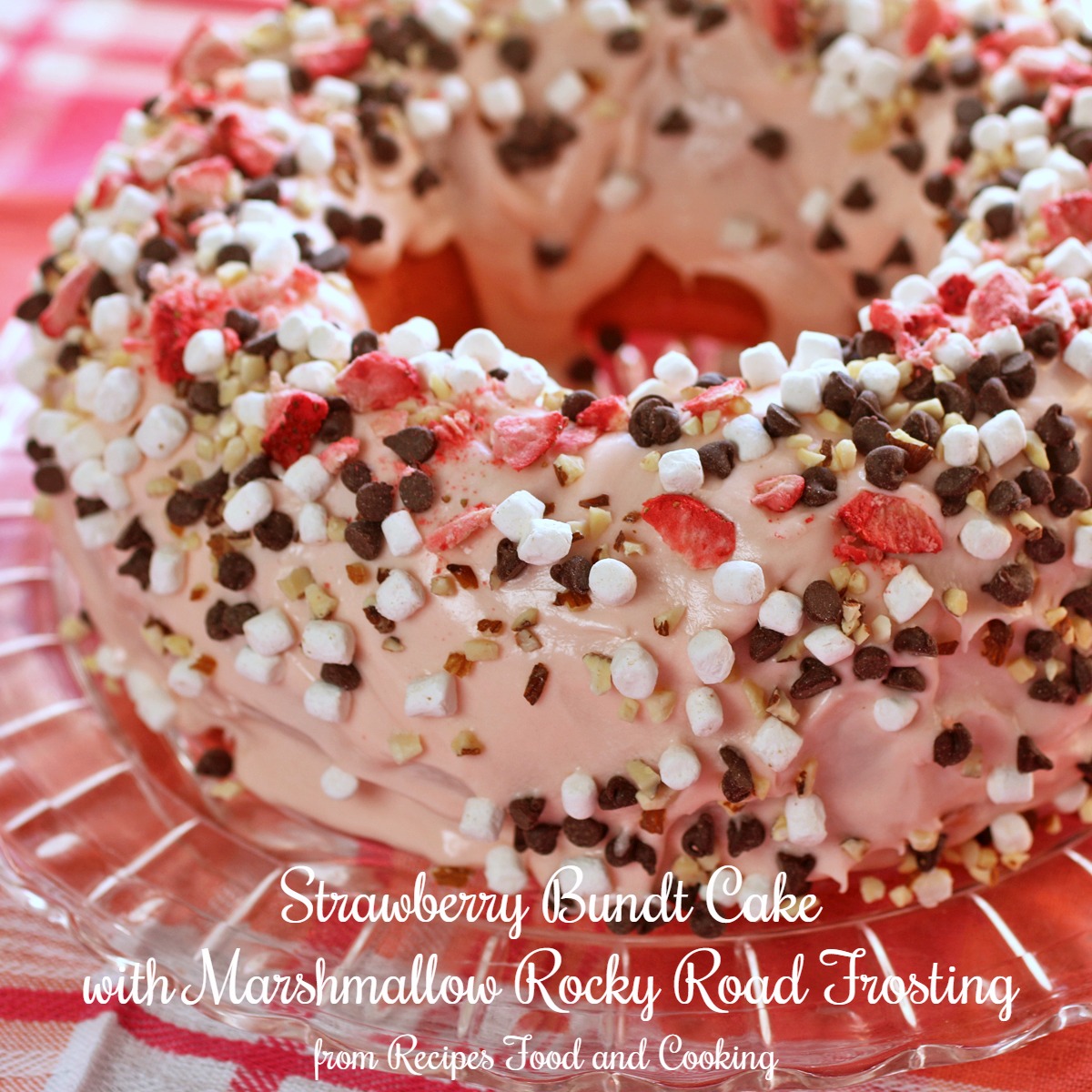 Strawberry Bundt Cake with Marshmallow Rocky Road Frosting
It's Bundt Baker's time of the month again and this month our challenge was to make a Rocky Road Bundt Cake. I decided for me this cake would be all about the frosting so I started with a box strawberry cake mix and made it according to the package directions.
The frosting on this cake actually has a dozen strawberry marshmallows in it!  It has an interesting consistency that worked perfectly on this cake. It starts out as a type of butter cream but when you add the marshmallows to it the consistency totally changes, to a soft and creamy consistency. Be careful not to get the marshmallows to hot when you add them. If you do the frosting will melt and you will have a mess on your hands. I put my marshmallows in a 1000 watt microwave for just less than 15 seconds. When you see the first marshmallow start to puff up take them out of the microwave. It will dry to the touch in a couple of hours. Be sure to frost it quickly so you can get the topping ingredients to stick to the cake.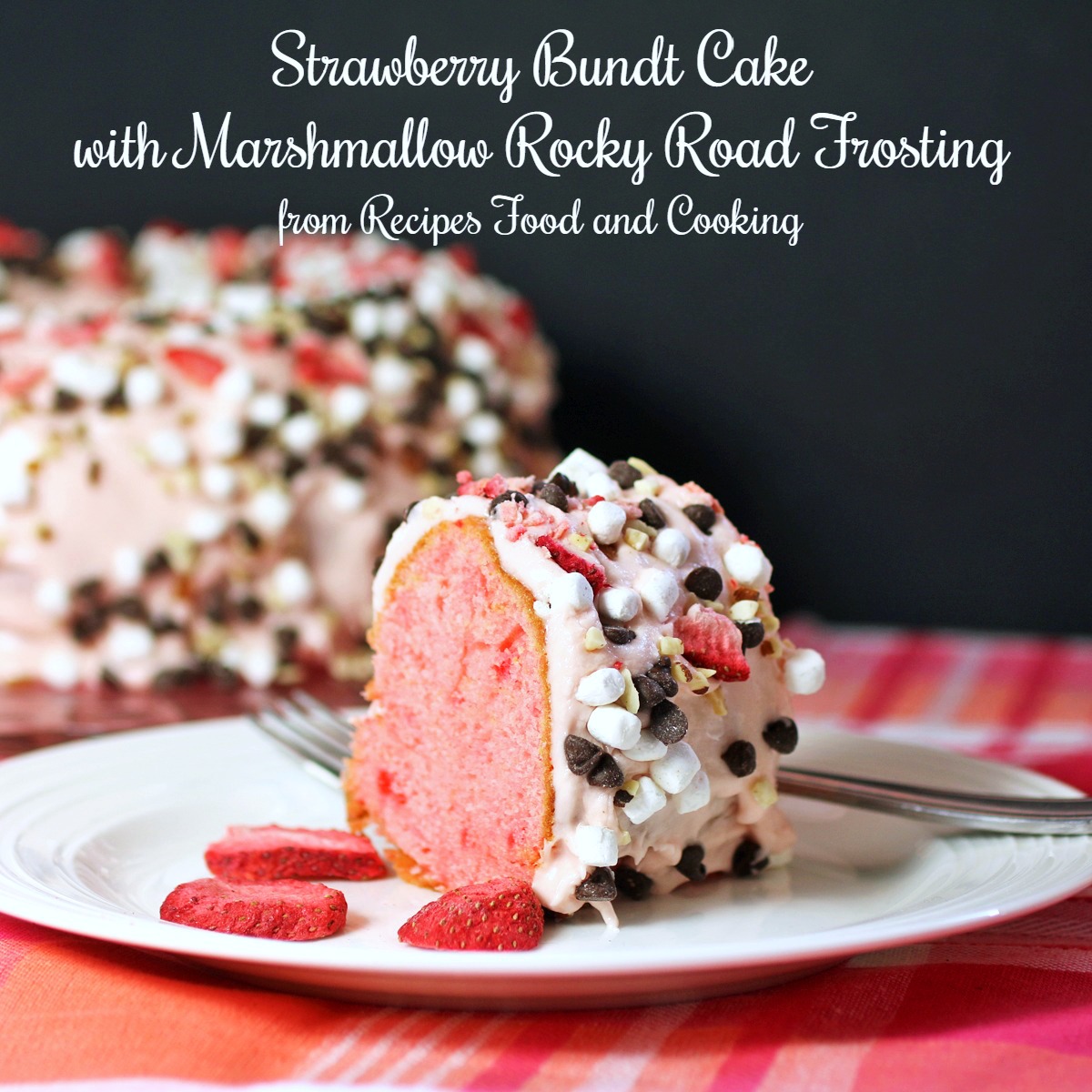 I used mini marshmallows, mini chocolate chips and chopped almonds for the rocky road topping. As soon as you get the frosting on the cake you want to add the marshmallow mixture to the top and sides. I found the mini marshmallows at our bulk food store but regular marshmallows will work also. I didn't need to add additional food coloring to the frosting, I just let the strawberry marshmallows color it.  I would use regular chocolate chips and sliced almonds if you can't find the minis. I had some freeze dried strawberries so I crushed up a handful of them and added them to the top for a little more strawberry flavor.
Strawberry Bundt Cake with Marshmallow Rocky Road Frosting
Recipe type:
Bundt Cake, Dessert
Prep time:
Cook time:
Total time:
Strawberry Bundt Cake with Marshmallow Rocky Road Frosting
Ingredients
one strawberry cake made according to package directions
Frosting
1/2 cup butter - softened
2 cups confectioner's sugar
1 teaspoon vanilla
2 tablespoons milk
12 strawberry marshmallows
Toppings
1 cup mini marshmallows
1/2 cup mini chocolate chips
1/2 cup chopped almonds
handful freeze dried strawberries - optional
Instructions
Make the cake according to package directions. Bake in a bundt pan. Cool.
To make the frosting add the butter, confectioner's sugar, vanilla and milk to a mixing bowl. Beat with a whisk attachment for about 5 minutes until light and fluffy.
Put the marshmallows in a glass bowl. Microwave them for about 15 seconds, they will just start to puff up. Do not get them too hot. It is okay if they aren't all puffed. If you get them too hot they will melt the frosting. Add the marshmallows to the mixing bowl. Beat for about 3 minutes.
Frost the cake. Sprinkle the toppings on the side and top of cake.
 #BundtBakers is a group of Bundt loving bakers who get together once a month to bake Bundts with a common ingredient or theme.
Are you ready to bake? Take a look at these rocky road inspired bundt cake recipes by talented bakers around the world:

 

 What is Bundt Bakers? It's a group of Bundt loving bakers who get together once a month to bake bundts with a common ingredient or theme. Follow our Bundt Bakers Pinterest board for incredible bundt cake recipes and inspiration. Stacy of Food Lust People Love heads up our group and has a #BundtBakers page where you can find information and links to the recipes for each month. How is the monthly theme determined? We take turns hosting each month and choosing the theme/ingredient.
Pin It!