This shop has been compensated by Collective Bias, Inc. and its advertiser. All opinions are mine alone. #WeekNightHero #CollectiveBias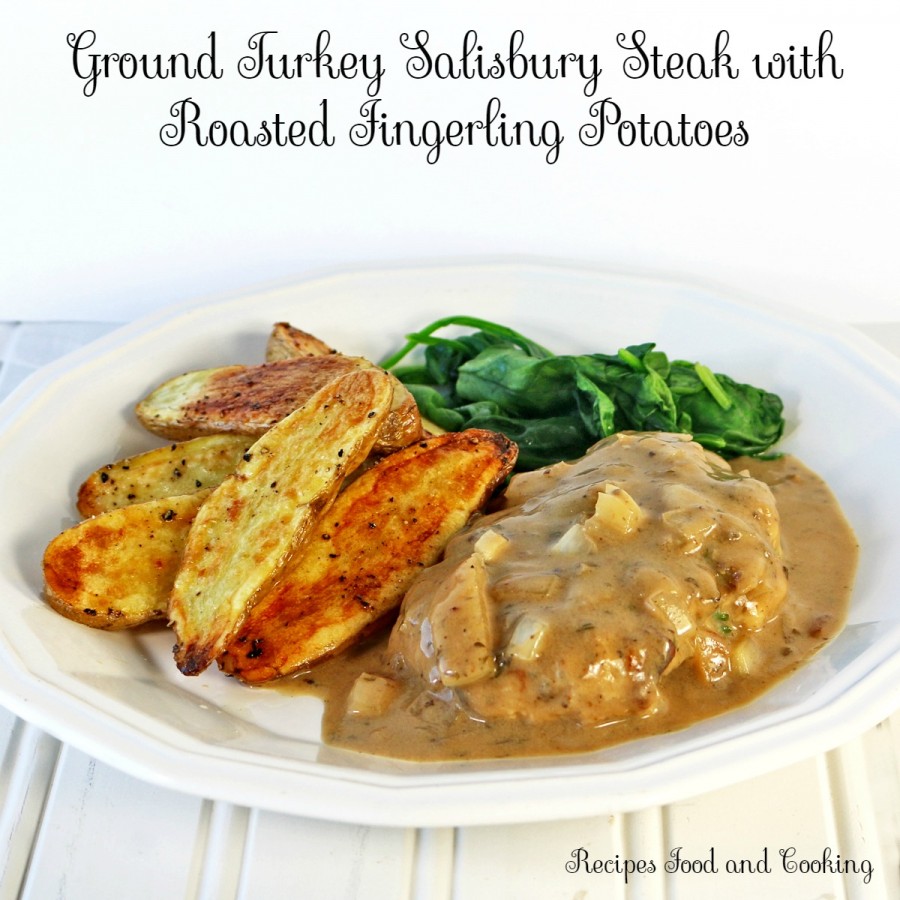 Easy Turkey Salisbury Steaks
Have you tried Campbell's new Soups for Easy Cooking? I have tried 2 of the 4 and so far love both. It is different than using a soup. This is more like a sauce and it makes making dinner in under 30 minutes a breeze. You don't need a whole lot of ingredients to make a dish when you use these Soups for Easy Cooking. They are a great way to save time making a homemade meal in the kitchen and not sacrifice flavor!
If you are using Campbell's Cream of Mushroom Soup you really need to try the Savory Portabella Mushroom Soups for Easy Cooking. I made Salisbury Steaks using ground turkey, a little bit of parsley, onions, milk and panko. Then I shaped them into patties and browned them on both sides. Next you add the Savory Portabella Mushroom Soups for Easy Cooking and let it simmer for another 10 minutes. Even with roasting the potatoes dinner can be on the table in 30 minutes!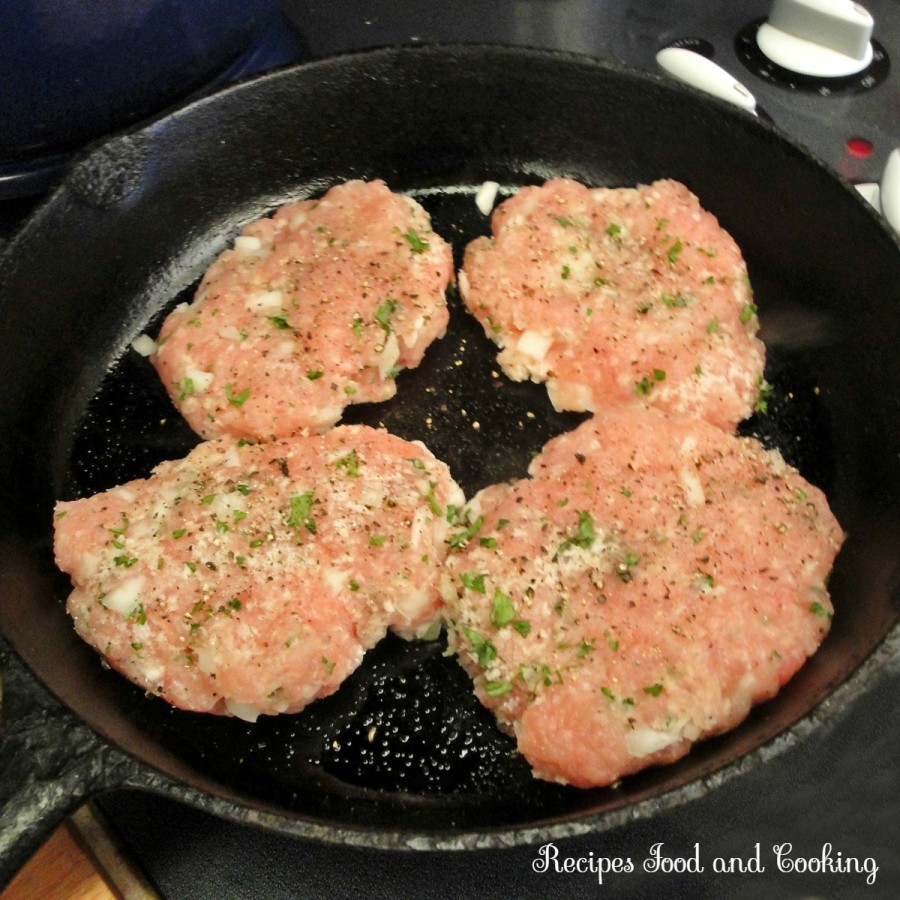 Below are the Turkey Salisbury Steaks just as they are finished before plating. Look at all that wonderful sauce.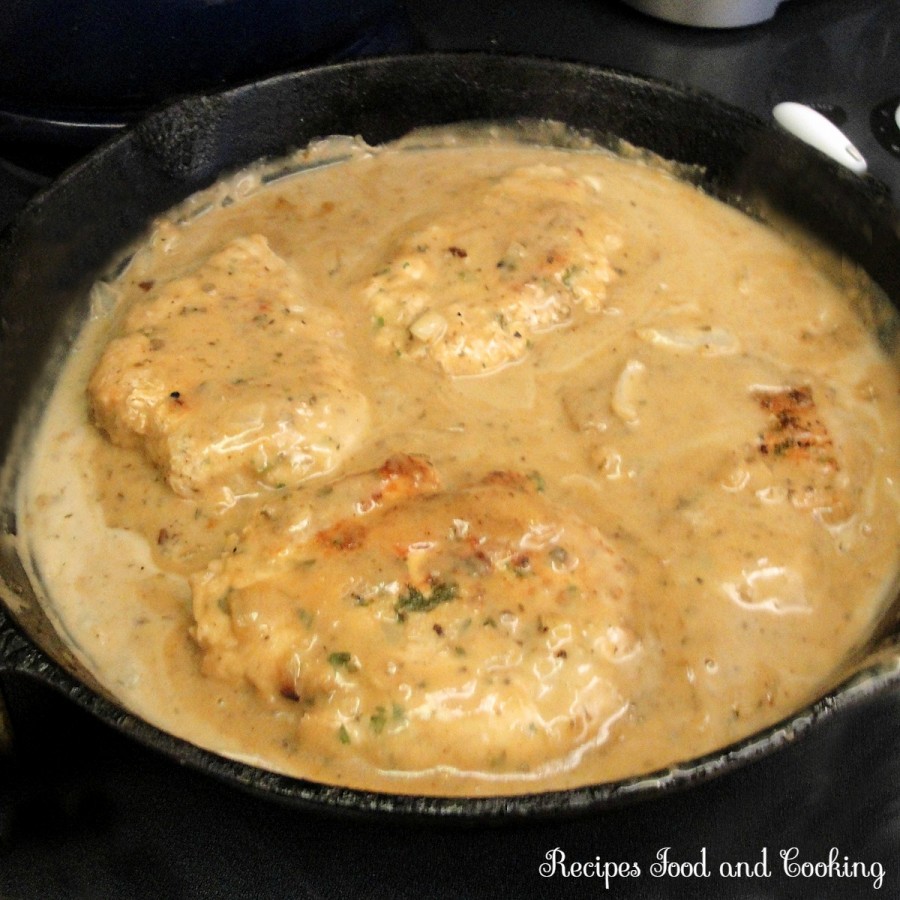 The roasted potatoes with the steaks take 20 minutes so you might want to get them going first. Then when you get them done you might want to consider making the potatoes covered and smothered.
Yep, that's right smothered and covered roasted potatoes. This sauce is so good you are going to want to put it on everything and then lick the plate! Top the sauce with a little sharp cheddar cheese and get ready to get rave reviews about dinner from your family. If you don't have fingerling potatoes, regular baking potatoes will work.
To make roasted potatoes heat your oven to 425 degrees. Put a little olive oil on a cookie sheet. Wash the potatoes. Then cut the fingerlings down the middle or a baking potato into one inch pieces. Put down in the oil and flip it over. Salt and pepper the potatoes. Put them in the oven, in 10 minutes flip them over and cook for another 10 minutes. I would check them a couple of times before the 10 minutes are up.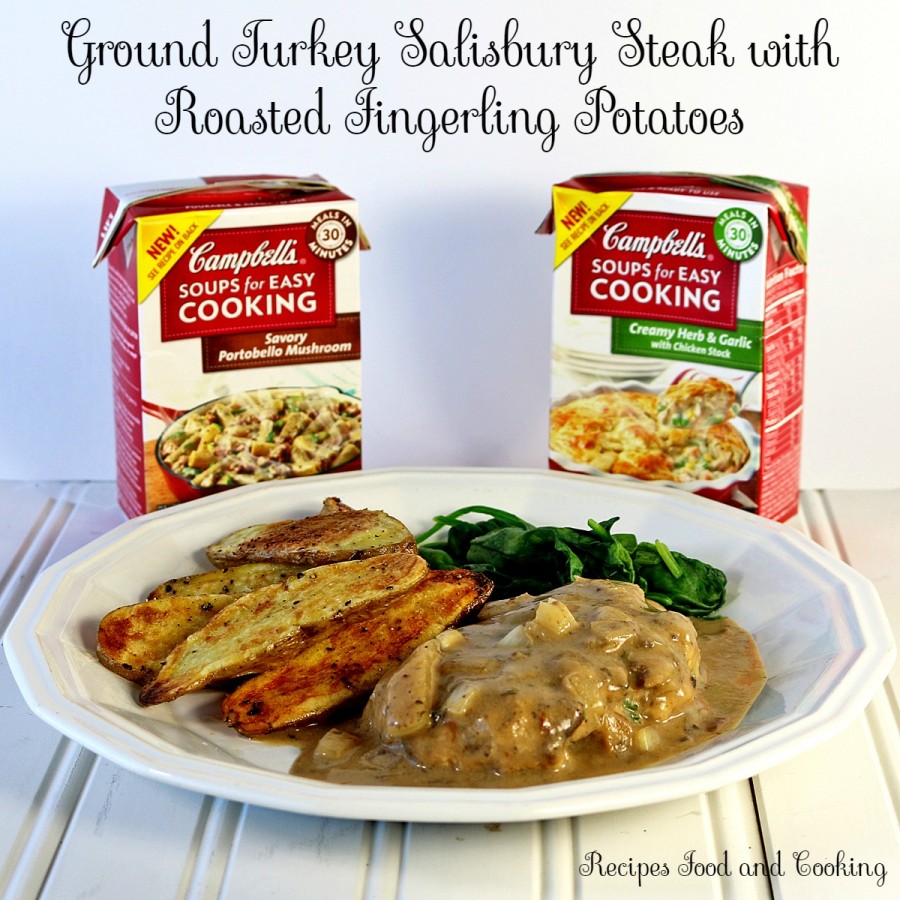 Are you ready to get to cooking dinner?
Easy Turkey Salisbury Steaks
Recipe type:
Turkey, Dinner
Prep time:
Cook time:
Total time:
Ingredients
1 lb. ground turkey
1 cup diced onion - divided
3 - 4 tablespoons minced parsley (can be omitted)
3/4 cup panko or breadcrumbs
salt and pepper
1/2 cup milk -divided use
Campbell's Soups for Easy Cooking Savory Portabella Mushroom
1/4 cup water
Instructions
Put the ground turkey, 1/2 cup onion, parsley, panko, salt, pepper and 1/4 cup milk in a bowl. Mix until thoroughly incorporated. Divide into 4 pieces. Pat out into an oblong pattie.
Spray a pan with cooking spray. Brown both sides of the patties over medium heat. Add the onions when you flip the patties over. Allow to brown a little.
When both sides of the patties are browned add 1/4 cup of water and then the Campbell's Soups for Easy Cooking Savory Portabella Mushroom. Cover and cook for 10 - 12 more minutes over medium heat. Just before you take the pan off of the heat, stir in the remaining milk.
There are 4 kinds of Easy Cooking Soups.
Savory Portobello Mushroom (great for skillet dishes)
Creamy Herb & Garlic with Chicken Stock (perfect for pot pies)
Sweet Onion (a savory addition to meatloaf and skillet dishes)
Mexican Style Tomato (great for Mexican dishes)
I tried the Creamy Herb and Garlic with Chicken Stock in my favorite Chicken Cordon Bleu Casserole instead of using Cream of Chicken in it. It took a little more that 30 minutes but most of it was baking time. It only has 15 minutes of assembly time and then you can sit back while it bakes.
These Campbell's Soups for Easy Cooking are the perfect secret weapon for today's busy parents. The four soups reduce the number of steps needed to make delicious meals in less than 30 minutes! Look for them at Wal-Mart in the soup aisle.
Click here to get a coupon from Coupons.com. Coupons are only available until 4/13/2015  so go on over to Walmart.com and get your 75 cents coupon and try these Soups for Easy Cooking.
You can follow Campbell's on Facebook, Twitter @campbellkitchen or Pinterest. Go see more real, homemade 30 minute meals! Be sure to follow Campbell's so you don't miss a single recipe.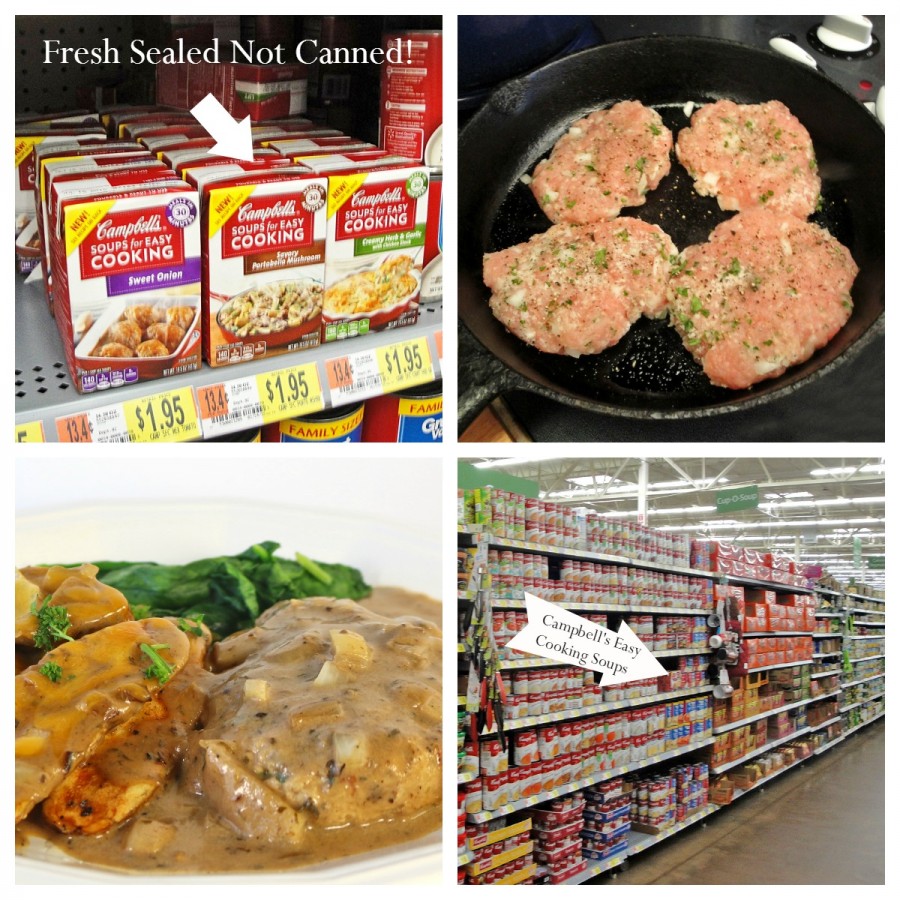 Be sure to check out more delicious, easy homemade recipes using Campbell's Soups for Easy Cooking. I'd love to hear your favorite! Leave me a comment below which one you want to try first. I'll be trying Sweet Onion next!
Pin It!