Skinny Eggplant Roll Ups are made with Japanese eggplant, a ricotta filling and marinara sauce all topped with mozzarella cheese.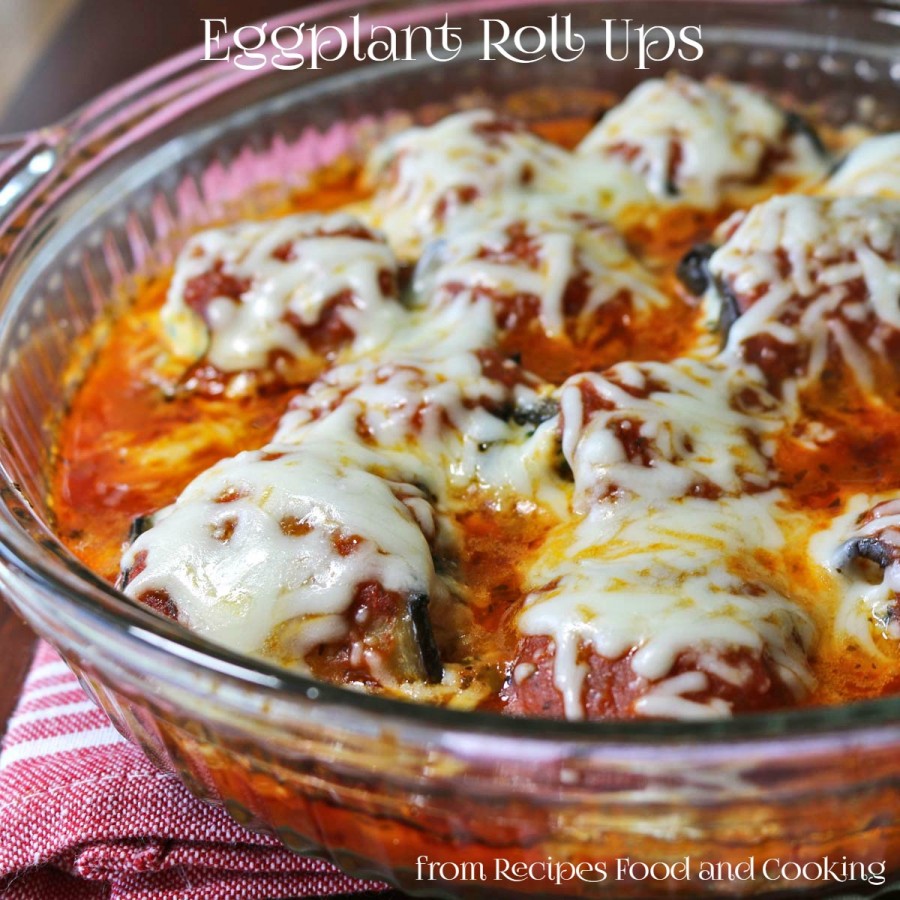 Skinny Eggplant Roll Ups
I am guest posting today over at Love Bakes Good Cakes. I met Jamie online last year thru a joint group we are both in. I love Jamie's recipes and know you will too. Jamie has been sharing some of the best healthy recipes this month! I am sharing on her blog today this delicious recipe for Skinny Eggplant Roll Ups, they literally melt in your mouth.
Go on over to Jamie's to get the recipe for these delicious Skinny Eggplant Rolls. Round out dinner by checking out Cupcakes & Kale Chips for some Healthy Desserts or The NY Melrose Family for some Healthy Snack Ideas in our #EatHealthy15 Series. We've got you covered if you are looking to eating healthier in 2015!
Skinny Eggplant Roll Ups #EatHealthy15 and a Giveaway!
Ingredients
4 Japanese Eggplants
1 lb. skim ricotta cheese
? cup Parmesan cheese
1 egg
1 large shallot - diced
6 oz. fresh spinach quickly blanched
salt and pepper to taste
1 tablespoon oil for frying eggplant
Prepared Marinara Sauce
1 cup low fat mozzarella cheese
Instructions
Slice the eggplants into just under 1/4 inch slices lengthwise. Salt the pieces lightly and place in a drainer for 15 minutes. Blot lightly with paper towels. Add the oil to a pan and quickly fry the eggplant slices about 1 minute. Drain and let cool a few minutes.
Blanch the spinach. Squeeze out the excess water. Roughly chop the spinach. Add the spinach to the ricotta cheese in a mixing bowl. Add the shallots, salt and pepper, mix well.
Spray the pan you are cooking these in, a 8 x 8 dish will work fine. Spread a little of the marinara on the bottom of the pan.
Spread a couple of tablespoons of the ricotta mixture on the eggplant. Roll up tightly the best you can. Place seam side down in the marinara sauce. Repeat until you are done rolling them all. Top with additional marinara sauce.
Bake at 350°F covered for 25 minutes covered. Top with the cheese and cook another 15 minutes. Let set a few minutes before serving.
Just fill out the rafflecopter below and good luck. Don't forget to check out the rest of the guest posts on Love Bakes Good Cakes.
Raffle is Closed
Looking for some more Healthy Recipes?
Lasagna Roll Ups with Whole Grain Pasta