Cranberry Pomegranate Vodka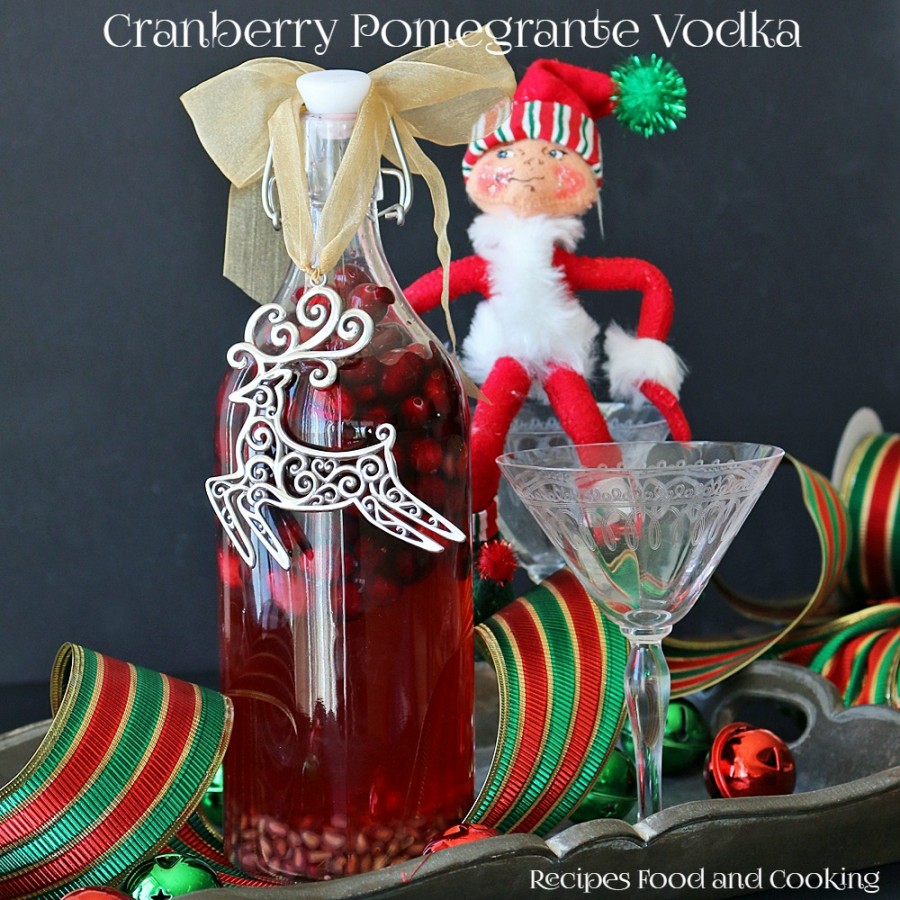 Cranberry Pomegranate Vodka
This Cranberry Pomegranate Vodka is so easy to make and makes a perfect gift for giving to your favorite vodka lover. The amounts needed will vary upon your container. You do need to make sure the bottle has a tight fitting top. I also had a friend sneak in as you can see. Luckily I got him in time before he could take a sip! If you have seen what happens when an elf gets a nip you know it can get pretty ugly.
I love giving gifts I make myself best of all. It means more that way. I was taught this at a young age by my mom and can remember many projects we did in December for family and friends. Sometimes she even got my dad involved. He loved working with wood and I can remember him making step stools, wall desks and taught us how to make a holder for thread out of wood one year for us to give as gifts. I still have one that I've had for years and whenever I see it I remember good childhood memories. Christmas is so much more than who can spend the most money or get the most gifts. It is the little things that add up in the end I think. Cookies for someone who can't bake anymore, shoveling the snow for someone elderly when they aren't expecting it, visiting with someone who is house bound, I'm sure you get the drift here.
This is a quick gift to make but it needs to set for a couple of weeks to infuse the vodka with the cranberry and pomegranate flavors. I added some sugar to make up for some of the tartness of the cranberries. Just put the sugar in and shake the bottle several times over a couple of days and it will dissolve. I had thought of using a simple syrup and you could, I decided not to dilute the vodka, I know my friend that I am giving this to will be add a splash of cranberry juice, soda and fresh lime to the drink she"ll make with it.
Do you know the easiest way to get the seeds out of a pomegranate? Cut it in half. Use a wooden spoon and whack the skin with the spoon, really hard. The seeds will fall out so have a bowl ready to catch them.
Also, if you poke a hole in the cranberry it is supposed to infuse easier. Use a sanitized big safety pin or something similar.
Cranberry Pomegranate Vodka
Vodka flavored with fresh cranberries and pomegranate seeds.
Ingredients
1 1/2 cups cranberries
seeds from a pomegranate
4 tablespoons sugar
vodka
few drops red food coloring if desired
Instructions
Rinse and drain cranberries.
Cut the pomegranate in half. Use a wooden spoon and spank the skin of the pomegranate hard until the seeds come out.
Put the pomegranate and cranberries in a bottle. Add the sugar and red food coloring if using. Pour the vodka over the fruits. Shake the bottle to mix up the sugar. Do this several times a day until the sugar is dissolved.
Let the vodka set on the counter for 24 hours and then put the bottle in the refrigerator.
Beverages:
Bread:
Appetizers and Snacks:
Condiments and Sauces:
Savory and Sweet Mixes:
Desserts and Sweets:
Other gifts from your kitchen!