Chocolate Pudding Dessert is a layer of the best chocolate pudding, whipped cream and toasted coconut.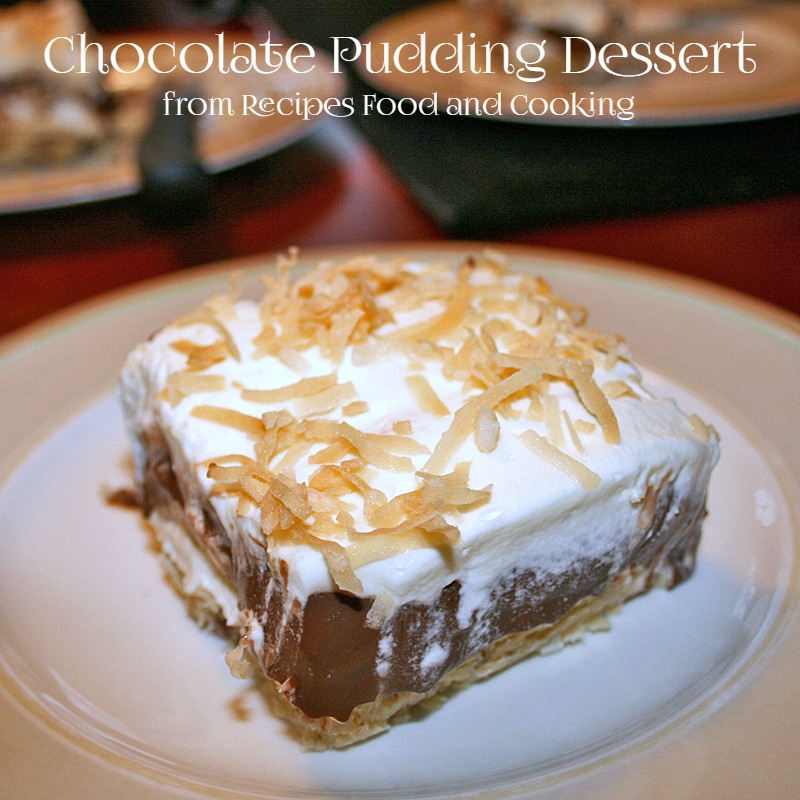 Chocolate Pudding Dessert
If you need something quick and easy this might be what you're looking for. It all starts with a refrigerated pie crust you buy at the store. The filling is a chocolate pudding recipe that is one of my favorites and then it's topped with whipped cream and a little toasted coconut. You could also use cool whip in place of the whipped cream to save another step. The rich creamy chocolate pudding is really the star in this dish and everything else just an accompaniment.
Chocolate Pudding Dessert
Prep time:
Cook time:
Total time:
Creamy chocolate pudding with whipped cream and toasted coconut.
Ingredients
Chocolate Pudding
2/3 cup sugar
1/2 cup cocoa powder
4 tablespoons cornstarch
4 cups milk
4 ounces semi-sweet chocolate
2 teaspoons vanilla extract
Topping
1 cup heavy cream
1/3 cup confectionery sugar
1 teaspoon vanilla
1 cup coconut - toasted
Instructions
Roll out the pie crust so it fits in the bottom of an 8 x 8 pan. If it goes up the sides in places don't worry about it. Let the pie crust rest for 10 minutes before baking. Prick all over with a fork. Bake for 10 -12 minutes at 350 until lightly browned. Cool.
Spread the coconut on a cookie sheet. Bake for about 5 minutes until the coconut starts to brown. Watch it carefully, it can burn easily.
Pudding
In a medium, heavy-bottomed sauce pan, stir together sugar, cocoa powder and cornstarch. Turn heat to medium high. Gradually add milk and stir constantly until pudding begins to boil and thicken, about five minutes.
Reduce heat to medium low, add semi-sweet chocolate and continue heating five minutes more until pudding is completely thickened. Remove from heat, let cool five minutes.
Add vanilla and pour on top of the crust. Spread it out evenly. Cover and let cool completely.
When the pudding has cooled, whip the cream. When it starts to form peaks add the confectionery sugar. Spread on top of the chocolate pudding.
Top with the coconut right before serving.
Maybe you'd like to try?