Kielbasa braised with potatoes and cabbage.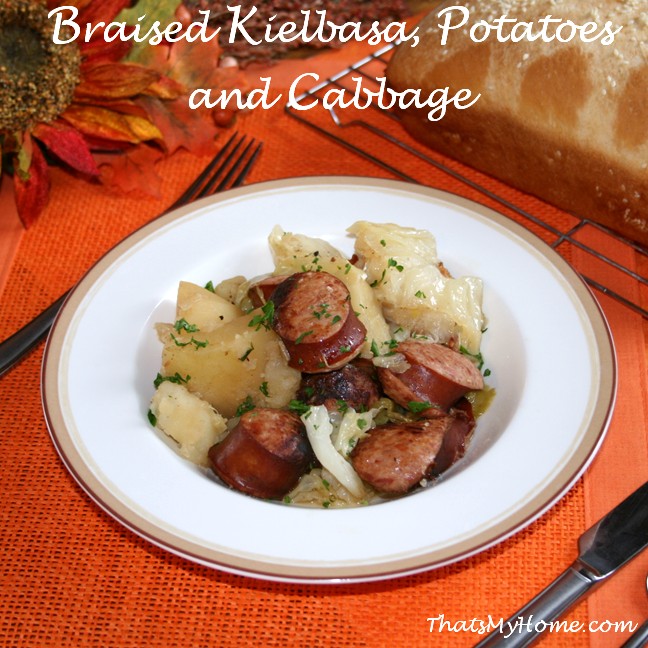 Braised Kielbasa, Potatoes and Cabbage
This is one of those quick and easy throw it in the pot dinners, perfect on a busy day. I love cooked cabbage and when it is quickly cooked like I did here it doesn't make the whole house smell like cooked cabbage, one of the biggest complaints I hear when people say they don't like cabbage.
I always brown my kielbasa first just to get some color and then take it out of the pan and put it in the refrigerator until the last 15 minutes of cooking time. That way the kielbasa keeps all of its flavor and isn't cooked to death like it has been in a buffet table all day. This cooks relatively quickly, less than an hour is the way I like it best. You could add carrots or rutabagas to this. Serve with some crusty bread and you have dinner! Use turkey kielbasa and this is actually a pretty healthy dinner.
Pot of Braised Kielbasa, Potatoes and Cabbage
Don't forget to follow me on Facebook, Pinterest – Love those Pins! or Google+ – Love those shares!

Braised Kielbasa, Potatoes and Cabbage
Prep time:
Cook time:
Total time:
Kielbasa braised with potatoes and cabbage.
Ingredients
1 - 1/2 lbs. kielbasa
1 tablespoon oil
1 medium head cabbage
1 onion
4 potatoes
2 cups water
salt and pepper
2 -3 cloves garlic - optional
Instructions
Cut the kielbasa into 1 inch pieces. Add the oil to a large pot. Brown the kielbasa. Remove to a small bowl and refrigerate until time to put it back in the pan.
Add the onion and cook until it starts to soften. Peel the potatoes and cut into 2 - 3 pieces depending on the size of your potatoes. Cut the cabbage in half, peeling off the tough outside leaves. Cut the cabbage into wedges and then in half again. Add to the pan with the potatoes.
Add the water, salt, pepper and garlic if using. Cover and let cook for about 30 minutes over medium heat. Add the kielbasa back into the pan. Cover and let simmer over low heat for 15 more minutes. Serve.