Moist raisin and nut quick bread baked in cans.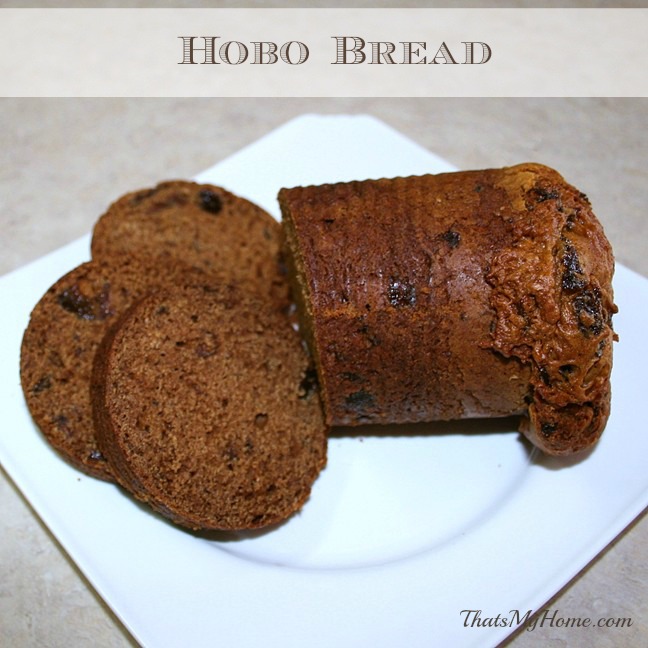 Hobo Bread Recipe
I can't guarantee that this is their recipe but I will tell you it is from one of their old newsletters years ago. I love that you bake this bread in cans, so start saving them if you want to do the same. Plain tin ones are best and if you don't have any mini bread pans work also. Every time I make these, I always think just what happens if they won't come out?
Now I have been making this bread for say over 20 years so you would think by now I would be over that. Nope, as I popped these in the oven the other day I immediately thought what if they don't come out? They have yet to stay in the can. This bread would make great gifts during the holidays. Tie a pretty ribbon on them and wrap in plastic wrap so that they stay fresh.
One of the key things with this bread is soaking the raisins. Don't start the recipe until the raisins and water have cooled back to room temperature.
Enjoy!
Don't forget to follow me on Facebook, Pinterest – Love those Pins! or Google+ – Love those shares!

Hobo Bread Like Greenfield Village
Prep time:
Cook time:
Total time:
Moist raisin and nut quick bread baked in cans.
Ingredients
2 cups raisins
1 1/2 cups boiling water
4 teaspoons baking soda
4 Tablespoons butter, softened
1/2 cup granulated sugar
1/2 cup brown sugar
2 eggs
1 teaspoon salt
1 teaspoon vanilla
1 3/4 cups walnuts (I didn't use)
4 cups flour
Instructions
Pour boiling water over raisins; let cool.
Stir in soda and other ingredients.
Fill 6 or 7 greased and floured soup cans to half full. (I do mine at 2/3rds.)
Bake at 350°F. for about 45 minutes. Cool and remove from cans.
http://razzledazzlerecipes.com Restaurant Recipes area