Reese's Oreo Peanut Butter Bark is Peanut butter cups and oreo cookies, topped with chocolate and then a peanut butter chip layer and mini Reese's chips.

Reese's Oreo Peanut Butter Bark
Need something kind of fast? If you are looking to a food gift this just might be what you are looking for. It turned out totally different than I intended. Originally I went to the store to get some seasonal fall M and M's which they did not have, then I burned my white chocolate which was going to be the top layer. I even grabbed a bag of mini candy bars instead which I ended up not using. A quick look in my cupboard revealed peanut butter chips and mini Reese's chips I had forgotten I had bought. So I was rescued and was I ever glad that I had a plan again. I love the way this turned out and sometimes that is just how you get a new favorite recipe.
In the picture above you will also see a little pumpkin container with a black kitty. It holds a large Reese's Peanut Butter Cup. I found the directions for it here.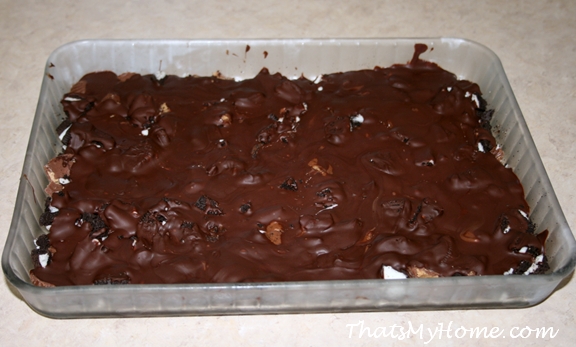 This picture is right out of the freezer before adding the peanut butter chips.
If you notice I told you in the recipe to use parchment, I did that for a reason that I should of done here. You will be able to lift the bark right out of the pan if you do. If you don't use parchment spray you pan really well with cooking spray.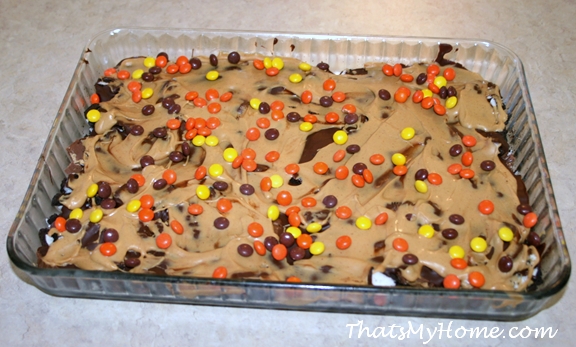 Reese's Oreo Peanut Butter Bark
Prep time:
Cook time:
Total time:
Peanut butter cups and oreo cookies, topped with chocolate and then a peanut butter chip layer and mini reese's chips.
Ingredients
1 8 oz, bag Mini Reese's Peanut Butter Cups
1 row Oreo cookies
16 oz. milk chocolate or semi-sweet chocolate
1 1/2 cups Reese's Peanut Butter Chips
1 tablespoon canola oil
1 cup mini Reese's Mini Pieces
Instructions
Line a 9 x 12 dish with parchment paper. Spray lightly with cooking spray.
Lightly smash the peanut butter cups with your hand. Scatter over the bottom of the pan. Chop the Oreo cookies into bite size pieces. Scatter over the peanut butter cups.
Put the milk chocolate in a microwave safe bowl. Heat for about 1 minute 30 seconds. Check and stir several times, all microwaves are different. When melted stir together and pour over the oreos and peanut butter cups. Spread the chocolate over the tops of the Oreos and peanut butter cups. It won't be smooth. If you have some gaps, put the whole thing back in the microwave for 20 - 30 seconds, spread out the best you can. Put in the freezer for 20 minutes.
Melt the peanut butter chips in a microwave safe bow with the oil. Mix together until melted and blended. Spread quickly over the top of the chocolate. Quickly scatter the Reese's Mini Pieces over the top. Refrigerate until set. Break up into pieces and put in bags if giving as gifts.