Pumpkin Cinnamon Rolls with Cream Cheese Frosting – Big, fluffy cinnamon rolls with cream cheese frosting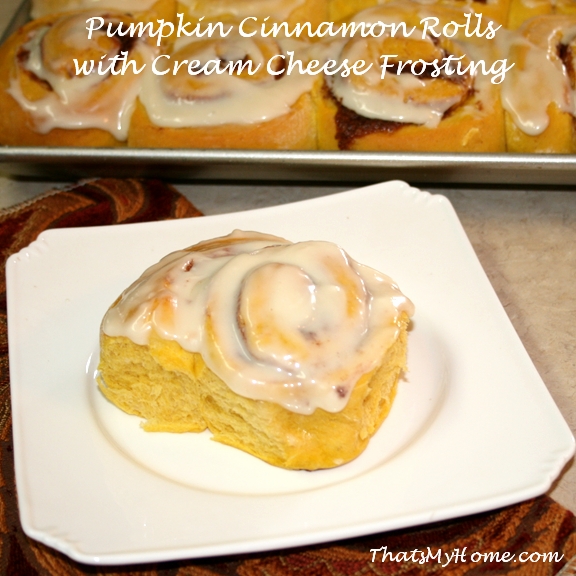 Pumpkin Cinnamon Rolls Recipe with Cream Cheese Frosting
I have been into pumpkin recipes this week but after I made the pumpkin snickerdoodle cookies yesterday I still had to use up the can of pumpkin. I got a pumpkin cinnamon rolls recipe to start with from Kings Arthur's Flour and adapted it slightly. The dough is a dream to work with and the resulting rolls are awesome.
This rolls are still good for a couple of days, which really surprised me how fresh they still were. I froze some and they passed that test too. I definitely will be making these again.
Let's talk for a minute about cinnamon. I get mine from Penzey's and it is amazing! There is such a difference in it from what you can get at the store. They came out with their own blend which I just about use exclusively now. I used to buy several different kinds from them but don't find that necessary now. So if you are looking for a new cinnamon to try go to Penzeys.com and browse thru their catalog and have them send you one. You'll thank me later if you haven't heard of them.
Pumpkin Cinnamon Rolls Recipe with Cream Cheese Frosting
Prep time:
Cook time:
Total time:
Serves:
15 pumpkin cinnamon rolls
Big, fluffy pumpkin cinnamon rolls with cream cheese frosting.
Ingredients
For the dough
1 packet active dry yeast (2 1/4 teaspoons)
1/2 cup warm water
1/2 cup warm milk
1/4 cup melted butter
1 egg beaten
1/3 cup granulated sugar
1 teaspoon salt
3/4 cup pumpkin puree
5-6 cups all purpose flour
*Cinnamon Smear
1/2 cup brown sugar
1/4 cup butter
1 tablespoon cinnamon
Frosting
3 oz. cream cheese
1 1/2 cups powdered sugar
1 teaspoon vanilla
pinch salt
2-3 tablespoons heavy cream
Instructions
In large bowl, sprinkle yeast and 1/4 teaspoon sugar over warm water. Stir and proof 5-10 minutes. After yeast has foamed, stir in milk, butter, sugar, salt, pumpkin puree, egg and 5 cups of the flour.
When you can no longer stir, remove dough to board and knead in remaining flour or until dough is similar to bread dough, slightly sticky but won't stick to your hands. You can also use a dough hook with your mixer and knead the dough for about 6 minutes, adding a little flour if necessary to get the dough to leave the sides of the bowl.
Lightly grease dough ball and place into a clean bowl. Cover with a clean kitchen towel or plastic wrap and place in a warm, draft free area in your kitchen. Let dough rise for 1-2 hours or until doubled in size.
Mix together the cinnamon smear ingredients in a small bowl.
Roll the dough into a 8 x 16 rectangle. Spread the cinnamon smear on the dough. Roll the dough up into a cylinder. Cut into 15 equal size pieces about 1 inch thick. Place the rolls on a greased cookie sheet. Cover and let rise until doubled.
Mix together the frosting ingredients and set aside until ready to use.
Preheat oven to 350 degrees. Bake the rolls for 15 - 18 minutes. Let cool slightly and frost with the cream cheese frosting.