Mom's Chili is easy and delicious, the longer it cooks the better it gets. Freezes well too!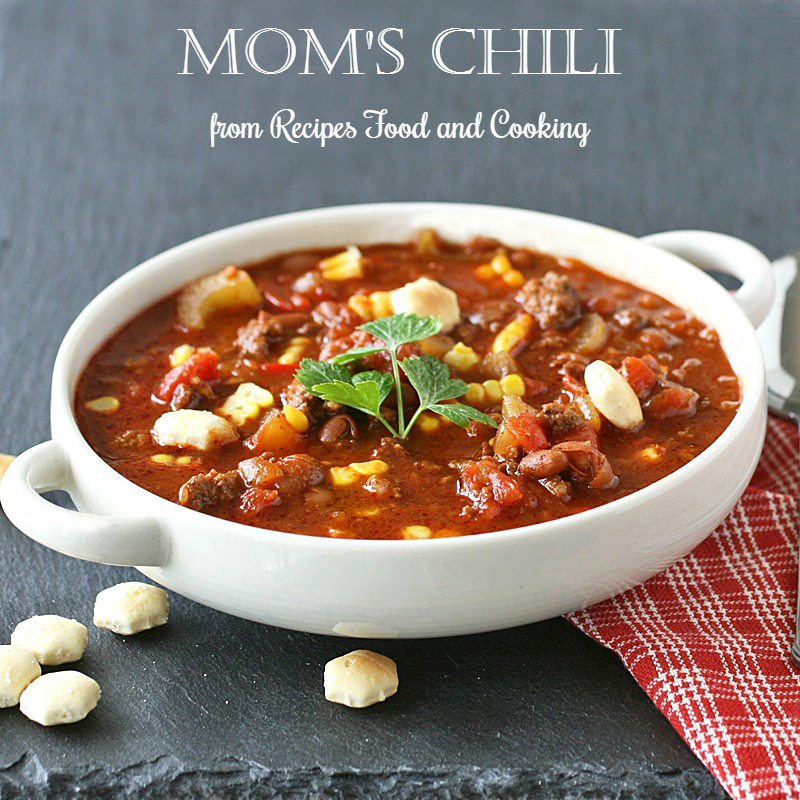 We used to have chili quite often when I was growing up and this is pretty close to the chili my mom made, except that I added some corn. I love corn in chili and just happened to have a couple of ears in the refrigerator. That is what makes chili such a versatile dish, you can add any kinds of vegetables to it. Sometimes I will add zucchini and love adding squash or pumpkin cubes.
How many times have you seen a recipe call for tomato paste like this one and don't want to open an entire can for it? Did you know that you can buy tomato paste in tubes? Most grocery stores carry it and it is a little more expensive but I keep it in the refrigerator and I find so many uses for it when I am cooking. Sometimes I just want a dab of tomato flavor and with it in the tube it's easy.  If you make your own salad dressings a squirt might be all you need to change the entire dressing. It is easy to find in specialty stores but check your grocers first because it can be 50% cheaper there I have found.
The longer this chili cooks the better it gets, which is why I add so much water to start. Chili is also one of those dishes that is better the second day. This chili also freezes well so even though I cook for just me usually I package it in single serving sizes just for me in freezer plastic bags.
Mom's Chili
Prep time:
Cook time:
Total time:
Almost my mom's chili that we ate growing up. The longer it simmers the better it gets.
Ingredients
1 1/2 lbs. ground beef
1 1/2 cups chopped onion
1 1/2 cups chopped celery
1 1/2 cups chopped sweet peppers
4 garlic cloves crushed
1 28 oz. can crushed or petite tomatoes
3 - 4 tablespoons tomato paste
2 28 oz. cans water
1 large can chili beans
2 ears of corn - optional
3 - 4 tablespoons chili powder
2 tablespoons sugar
1 teaspoon salt
pepper
Instructions
Brown the ground beef in a large pan.
Add the onion and garlic. Cook for a couple of minutes until it starts to sweat.
Add the celery, peppers, tomatoes, tomato paste, water, sugar and spices. Bring to a boil and turn down to simmer. Cook for one hour. Add the beans and cook for another 30 minutes. Add the corn and cook another 10 minutes.
Some of other soups you might like to try: