Chocolate Truffles – rich, creamy and sinful bites of chocolate.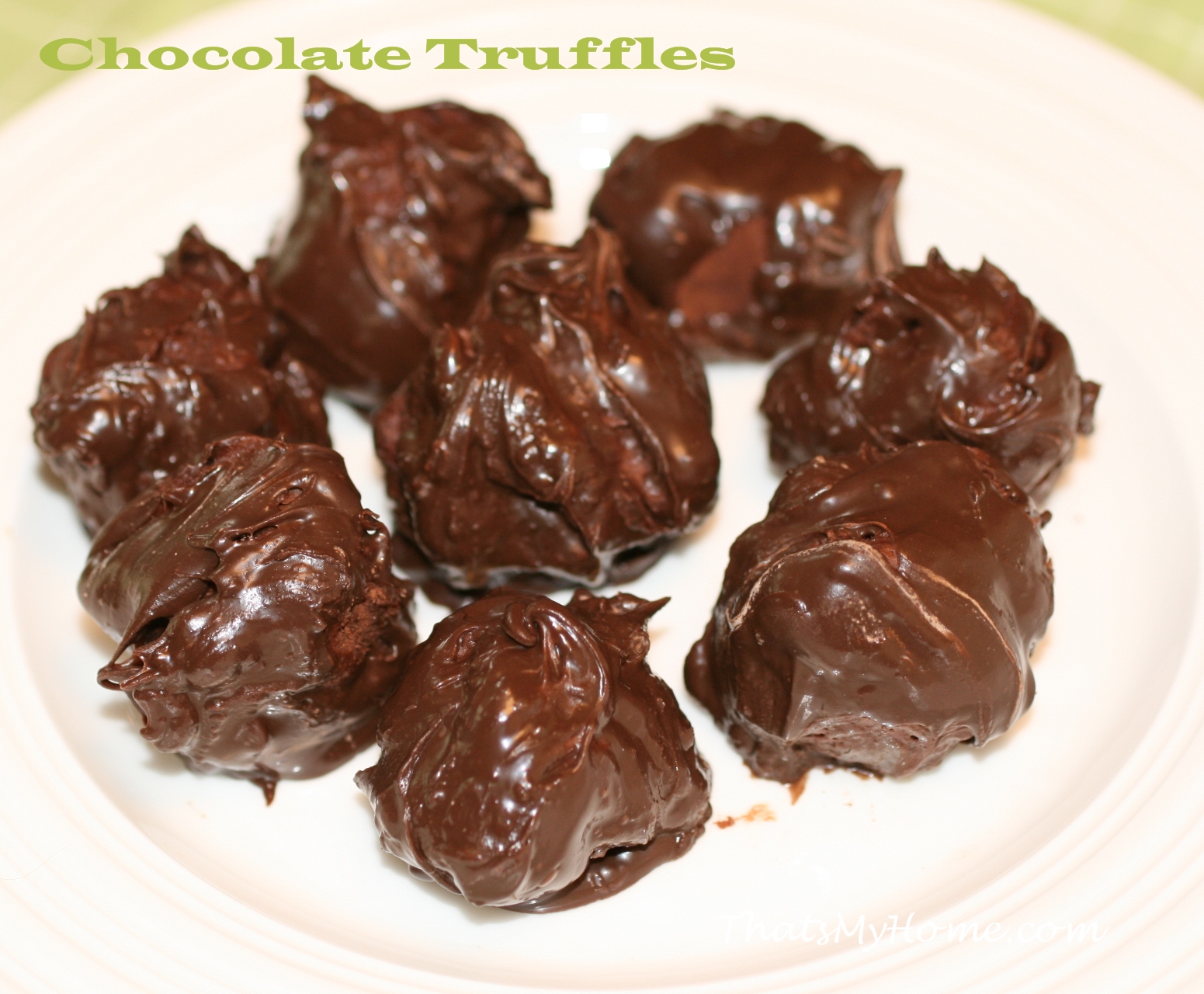 I have been making truffles of all kinds since the 80's. When I worked as a pastry chef I did a dessert party for a travelers convention and saw people putting them in their pockets, I always wondered what the truffles looked like when they were retrieved.
Okay, so if you have been reading you know my aunt came this weekend. I made these for her to make sure I could satisfy her chocolate cravings. Between her and my mom I am not sure which one loved these truffles most. My mom ate a truffle almost every day after she got sick, said some days it was all she could eat. Mom called me one day wanting to know if Russell Stover had gone out of business, convinced they must of because she was out of truffles. This recipe is what got her hooked on them, they are so good.
I used Ghirardelli Couverture for dipping the truffles in. It avoids having to temper the chocolate, however if you feel like tempering chocolate feel free. I have a chocolate tempering machine that I use when make a lot of these. I can usually find the Ghirardelli Couverture at Sam's Club. If you can get it I love Peter's brand of chocolate, I just am not able to find it here.
Chocolate Truffles
Prep time:
Cook time:
Total time:
Chocolate Truffles - rich, creamy and sinful bites of chocolate.
Ingredients
Truffle inside
1 lb. chocolate
1 cup heavy cream
1 lb. chocolate for dipping - (I use Ghirardelli Couverture most of the time)
1 - 2 tablespoons oil
Instructions
Melt chocolate over a double boiler or in the microwave, add heavy cream. Blend together until it is smooth. Let cool to room temperature. Beat it with a whip until it begins to lighten in color. Let set on the counter overnight before making the truffles.
Roll into about 1 inch size balls. Place on parchment until ready to dip.
Melt chocolate in a double boiler. Be very careful to keep the water around 110 degrees. Do not let any water get into the chocolate or it will seize and become unusable. Add a tablespoon of the oil, if not quite fluid enough for dipping add additional oil.