Cinnamon rolls with a sticky butterscotch coating.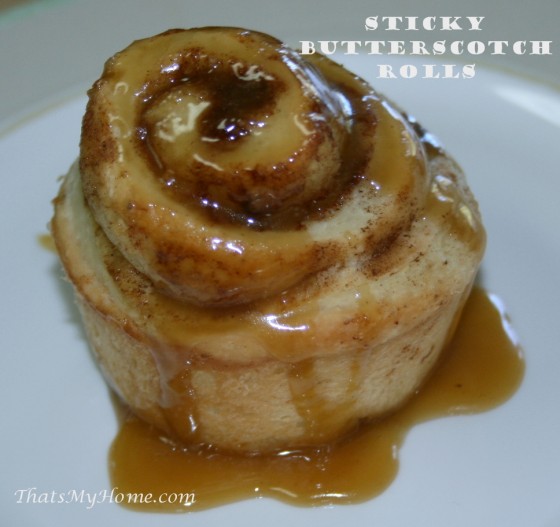 These are super easy to make and so good! No sense in going to a bakery when you can bake these sticky buns at a fraction of the cost. I see no reason why you couldn't even make them the night before and let raise in the refrigerator overnight. I had a little extra glaze left so when I removed them to a rack to cool I put a little more over each one while they cooled.
I have been asked what kind of yeast I use when I make bread. I use one from King Arthur that I buy in bulk and keep in the freezer. I use their SAF Instant Yeast so I don't need to proof it all, it goes right in with the flour. It can last a year or more kept in the freezer, it also can make 96 loaves of bread. Cost is just under $6.00 so you can see what a savings it is over those packets you get in the store. One of the cool tools you can get at King Arthur is a yeast spoon to measure just the equivalent of a package of yeast.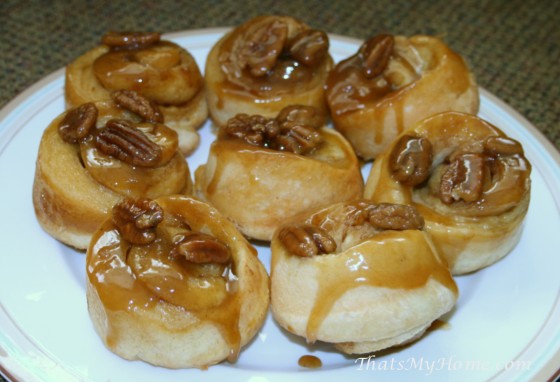 Sticky Butterscotch Rolls
Prep time:
Cook time:
Total time:
Cinnamon rolls with a sticky butterscotch coating.
Ingredients
3/4 cup milk
1 tablespoon plus 1/2 teaspoon active dry yeast
1/2 cup granulated sugar
6 tablespoons butter - softened
2 large eggs
4 cups all-purpose flour, plus more for dusting
1 teaspoon salt
Cinnamon Smear
1 cup light brown sugar
2 teaspoons cinnamon
2 tablespoons butter – melted
Sticky Glaze
1/2 cup packed dark brown sugar
3 tablespoons unsalted butter
1/3 cup whipping cream
pinch of salt
1 cup pecan halves – toasted – optional
Instructions
Make the Dough: In a glass measuring cup, heat the milk in the microwave until warm, 1 minute. In the bowl of a standing electric mixer fitted with the paddle, combine the warm milk and the yeast. Add the granulated sugar and the 6 tablespoons of softened butter and mix at medium speed until the butter is broken up, 1 minute. Beat in the eggs, one at a time. Add the flour and salt and mix at low speed until incorporated, about 2 minutes. Scrape down the side of the bowl. Increase the speed to medium and mix the dough for 2 minutes longer. Scrape the dough into a lightly oiled bowl, cover with plastic wrap and let stand at room temperature for 30 minutes.
Preheat the oven to 325°. Spray a standard 12-cup muffin tin with nonstick cooking spray.
On a lightly floured work surface, roll the dough out to a 9-by-24-inch rectangle. In a small bowl, mix the light brown sugar with the cinnamon. Brush the 2 tablespoons of melted butter over the dough and sprinkle with the cinnamon sugar. Beginning at a long edge, roll up the dough as tightly as possible and pinch the seam. Cut the log into twelve 2-inch pieces and set them in the muffin cups cut side up over glaze and pecans. Cover and let stand in a warm place for 30 minutes.
Set the muffin pan on a baking sheet and bake for 25 to 30 minutes, until the buns are golden brown.
Make the Glaze: In a small saucepan, bring the brown sugar, butter, whipping cream and salt to a boil. Simmer over moderate heat until thickened slightly, about 2 minutes. Place a couple of tablespoons of the glaze in the bottom of the muffin tins. Add 3 – 4 pecans, top with cinnamon roll dough and let raise.
Turn out of muffin tins after you let the rolls sit at least 10 minutes.
Adapted from Food and Wine
Maybe you'd like to try our?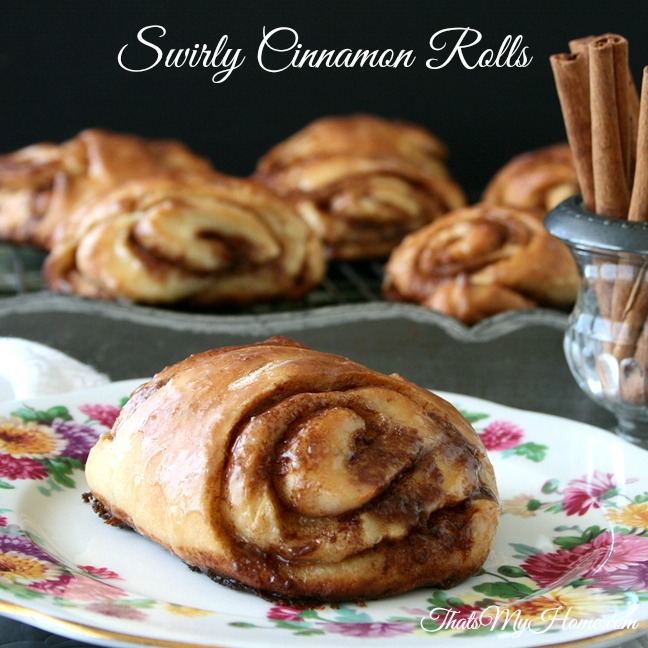 Enjoy!