Oatmeal Cake
My mom used to make a Oatmeal Cake similar to this one. You would never guess it was made with oatmeal. This is one of the moistest cakes I have ever had, it is really delicious. Add a scoop of ice cream with caramel sauce and this would be pure heaven.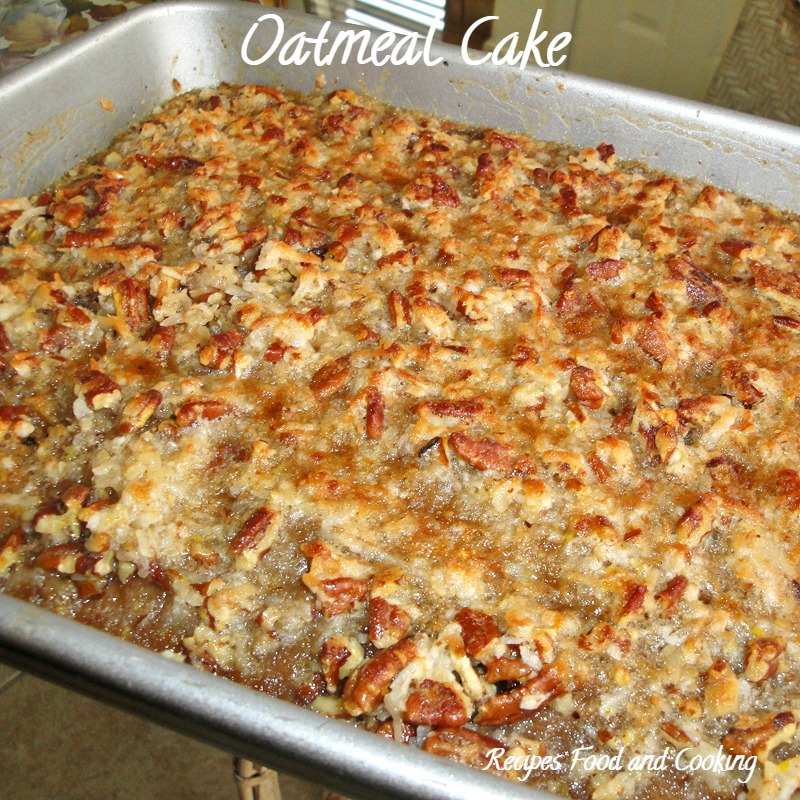 Oatmeal Cake
Prep time:
Cook time:
Total time:
Old fashioned oatmeal cake, it has a crunchy oatmeal topping.
Ingredients
1 cup oatmeal
1 1/2 cups boiling water
1/2 cup butter
1 cup sugar
1/2 cup brown sugar
1 teaspoon soda
2 eggs
1 teaspoon vanilla
1 teaspoon nutmeg
1 teaspoon cinnamon
1 teaspoon salt
1 1/2 cups flour
Topping
1 cup brown sugar
1 1/2 cups coconut
1 egg
1/2 cup melted butter
1 cup chopped pecans
3 tablespoons heavy cream
Instructions
Mix together the oatmeal and boiling water. Stir and let cool for 20 minutes.
Add the butter, sugar and brown sugar to a mixing bowl. Beat until light and creamy.
Add the eggs. Mix together until incorporated.
Add the spices, vanilla and flour. Mix together until all is incorporated, about 2 minutes.
Pour into a greased and floured 9 x 13 pan.
Bake at 350 degrees for 30 minutes or until done.
When it comes out of oven have the topping ready. Preheat broiler.
Mix all topping ingredients together and put on cake when you take it out of the oven. Broil 4 inches from broiler element. Watch closely so it does not burn.
Maybe you'd like to try?