Turkey Stuffing Bread is wonderful for stuffing and makes great sandwiches after Thanksgiving too!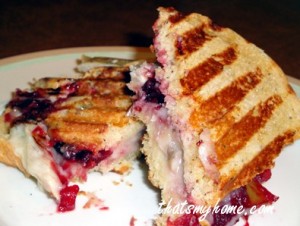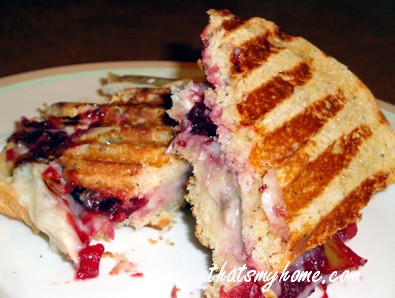 This was lunch today, I have been thinking about this sandwich ever since I found a recipe for Turkey Stuffing Bread. I spent the weekend testing recipes for turkey leftovers so I had set aside some turkey breast for the sandwiches. I made a homemade cranberry chutney to use on the sandwich also.
I also use this cranberry chutney with brie during the holidays, it is so pretty and festive. For some reason I had never wrote that recipe down and I found the one I use back in 90's in one of those little magazines you get at the grocery store. I am still trying to get organized in my new house so that I can find everything so sometimes finding things can present a challenge.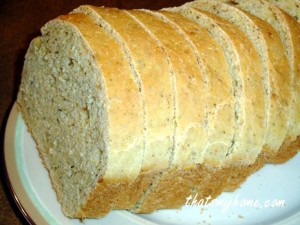 Turkey Cranberry Panini
Prep time:
Cook time:
Total time:
Serves:
2 loaves of bread
Turkey Stuffing Bread is wonderful for stuffing and makes great sandwiches after Thanksgiving too!
Ingredients
1/4 cup warm water
1 teaspoon white sugar
1 cup plus 1 tablespoon milk (70° - 80° F.)
1 egg
5 tablespoons butter, softened
2 tablespoons brown sugar
1 1/2 teaspoons salt
1/4 cup cornmeal
3 3/4 - 4 cups flour
4 teaspoons dried minced onion or toasted onion
1/2 teaspoons celery seed
1 teaspoon poultry seasoning
1/2 teaspoons rubbed sage
1/2 teaspoons pepper
2 1/4 teaspoons active dry yeast (1 package)
Instructions
Place cornmeal, flour, spices and brown sugar in your mixer bowl. Use a dough hook if you have one to mix it up.
Proof yeast in a bowl with white sugar. Mix up egg in a small bowl with a fork. Melt butter. Add yeast, milk and butter to the flour mixture with the milk. Combine with the dough hook.
Knead for about 5 - 7 minutes until you get a nice supple dough. Put in a greased bowl and let rise until doubled. Divide dough in half. Shape into loaves and place in a greased bread pan. Let double.
Bake at 350 degrees for 35 - 45 minutes. Center of bread will be 165 degrees when done.
Yield: 2 loaves (1 ¼ lbs)
Cranberry Chutney
12 oz. fresh or frozen cranberries
2 apples – chopped
1/2 cup onion – chopped
1 cup brown sugar
1/2 cup white sugar
1/2 cup water
3 inch piece of cinnamon
4 tablespoons candied ginger – chopped finely
1/4 cup apple cider vinegar
Wash cranberries and throw away the bad ones. Add with everything else to a large saucepan. Bring to a boil and turn down to heat to low. Cook for 45 minutes stirring often. Pour into a clean glass jar or mason jar. Will keep in the refrigerator 2 weeks.
To make sandwich:
2 slices Stuffing Bread
Sliced Turkey Breast
2 slices Havarti Cheese
Cranberry Chutney
Butter
Spread butter on bread. Add cheese, turkey, cranberry chutney and cheese to a slice of the bread. Top with remaining piece of bread. Place sandwich on panini grill on medium heat. Grill until toasted.