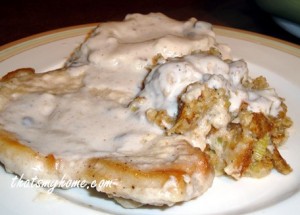 Pork Chop Casserole
My grandmother used to make the best stuffed pork chops. This recipe is a take of them. When you don't have thick chops this works really well. I used to love sitting in grandma's kitchen when she cooked and baked. I learned many lessons setting on that red kitchen stool.
Pork Chop Casserole with Stuffing
Prep time:
Cook time:
Total time:
Ingredients
4 - 6 Pork Chops
flour
salt and pepper
1 can mushroom soup
1 cup milk
Stuffing
1/2 loaf of bread - torn into pieces - dried out
2 Cups cornbread stuffing mix - I use Pepperidge Farm
1 medium onion
2 stalks celery
2 cups chicken broth
4 tablespoons butter
1 teaspoon sage
salt and pepper - to taste
water as needed
Instructions
To make the stuffing:
Saute the onion and celery in the butter. Add chicken stock, sage, salt and pepper and bring to a boil. Simmer for about 15 minutes or until celery is tender. Cool.
Salt and pepper pork chops. Add a little flour to a plate and dredge pork chops in the flour to coat. Quickly sear the pork chops in a pan with a little oil. Drain on a paper towel while you assemble the casserole.
Pour chicken stock, vegetables over the dried bread. Combine to moisten the bread. Add a little water if necessary.
Spray a 8 x 13 pan with oil. Put stuffing in pan. Top with the pork chops. Mix the milk and mushroom soup together in the pan you fried the pork chops in. (dump the oil out first) Pour over the pork chops. Cover pan with foil.
Bake at 350° F. for 1 hour. Enjoy!
Note: I didn't add all of the mushroom gravy mixture to the casserole. I only topped the chops with it. I set the rest aside to use as gravy on the potatoes and stuffing.