Pumpkin Fudge is made with canned pumpkin and filled with walnuts.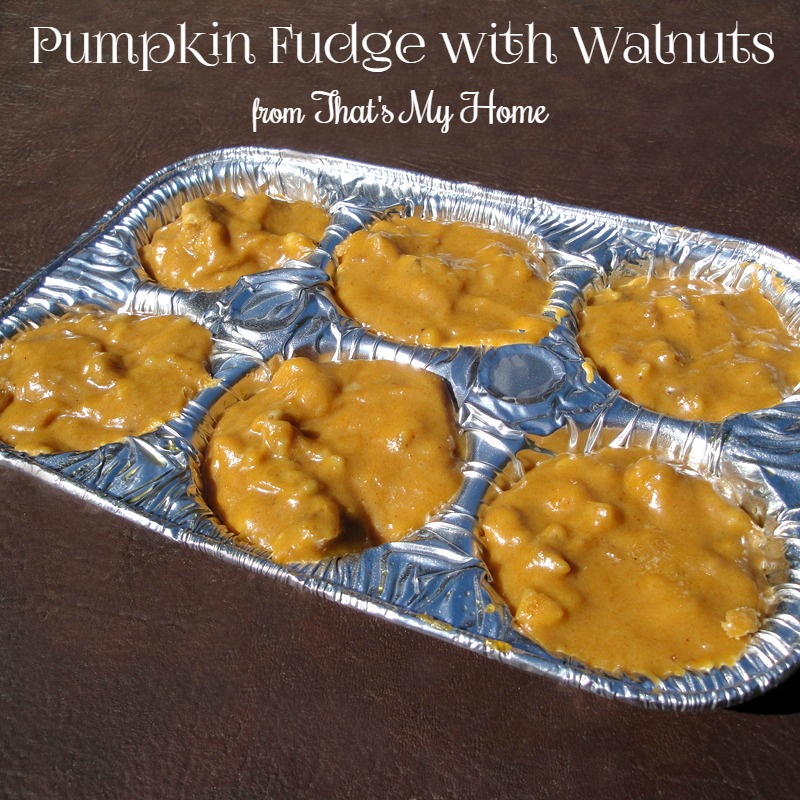 I make this fudge every fall, I absolutely love it. Roast the walnuts for a totally different taste.
Some tips for making fudge are:
Don't make fudge on a rainy day.
Use a heavy pan with straight sides.
Use a candy thermometer.
Don't stir the fudge while it is coming up to temperature. Wash the sides of the pan down with a little water and a pastry brush.
After you take the fudge off of the heat and add the butter, let it cool undisturbed until it reaches 110 degrees. Both of these last 2 steps helps to keep sugar crystals from forming which can give you grainy fudge.
If you call yourself fudge challenged look for fudge recipes that have marshmallow cream in it, they are less likely to have problems.
Pumpkin Fudge
Prep time:
Cook time:
Total time:
Ingredients
4 C. sugar
1 C. milk
3 T. light corn syrup
1 C. fresh pumpkin puree or canned pumpkin puree
3 T. unsalted butter
1 t. vanilla
10 large marshmallows
2 C. chopped walnuts
Instructions
In a 4-quart heavy saucepan combine the sugar, the milk, the corn syrup, the pumpkin puree, and a pinch of salt, cook the mixture over moderate heat, stirring, until the sugar is dissolved, and cook it, undisturbed, until a candy thermometer registers 238° F.
Remove the pan from the heat, add the butter (do not stir it into the mixture) and marshmallows, let the mixture cool until it is 140° F.
Stir in the vanilla and the walnuts, beat the mixture with a wooden spoon for 30 seconds to 1 minute, or until it begins to lose its gloss, and pour it immediately into a buttered 9-inch-square pan.
Let the fudge cool until it begins to harden, cut it into squares, and let it cool completely. The fudge keeps, stored between sheets of wax paper in an airtight container, in a cool place for 2 weeks.
Makes about 2 pounds.
Note: I did these in muffin cups so I can wrap up the fudge to give away.