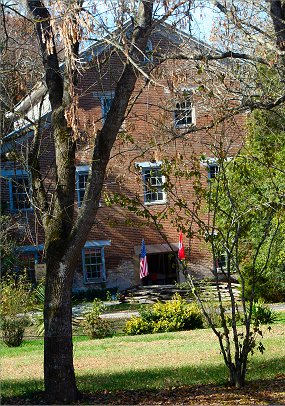 In the fall while on vacation we went to a lovely old mill called Falls Mill in Belvidere, TN. It was originally built as a factory in the early 1800's for carding cotton and wool and spinning cotton thread. In 1968 it was bought by a Colonel Crum and his wife and they converted it to grain milling. The milling operation continues today and is being run by Jane and John Lovett. The flour and meal products today are ground on 2 sets of grinding mills turned by a 32 feet tall water wheel.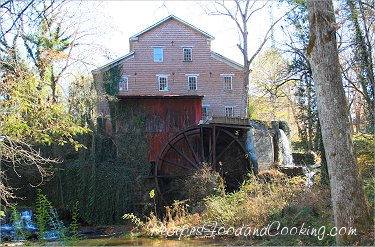 We had a very interesting morning there and were given a tour by John Lovett. The grist mill is also a museum and has equipment that has been used throughout the years. One of the things I got a kick out of was the corn elevator. Corn is carried in the elevator in a metal bucket from the floor bin to the cleaner on the second floor. The corn elevator is in the white columns you see in the picture below. There is also a collection of nineteenth century textile machinery on exhibit with plans underway to restore them which will also be run by the water wheel.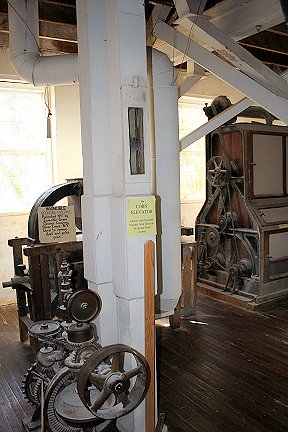 Behind the elevator is a Scouring Mill which is used to remove the dust and polish the grain, it was patented in 1897.
Falls Mills sells their products in the store which include cornmeal, grits, bran and wheat flours and whole grain pancake mix. We brought home several of their products and I have really enjoyed using them. The cornmeal is the best I have ever eaten. The texture is different than commercial products. In the cookbook I bought from them they say it is because stones slice the grains rather than crushing it. The stones processing the grain turn slower and don't heat up the grains, so the taste doesn't change and the grains contain more of the fiber, bran and whole grains. Below are some of their products for sale at the store.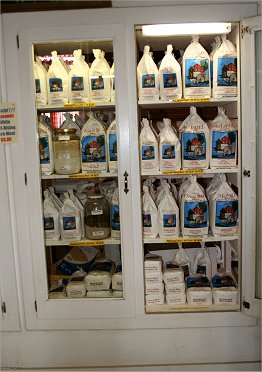 Here is a cornbread recipe I tried from their cookbook.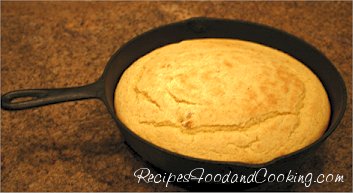 Cornbread
Prep time:
Cook time:
Total time:
Ingredients
1 1/2 cups yellow or white cornmeal
1 cup white flour
1 egg slightly beaten
1/2 teaspoon salt
3 teaspoons baking powder
1/4 teaspoon baking soda
1 1/2 teaspoons melted butter
1 1/2 cups buttermilk (can substitute plain yogurt or milk)
Instructions
Combine dry ingredients in medium bowl. Add remaining ingredients and just enough buttermilk for a good pouring consistency.
Grease pan and bake in 425 degree oven for 15 - 20 minutes or until brown on top.
Serve with honey and butter.
Elaine Lovett - Fall's Mill Cookbook