Wonder why I call it that? Because with this recipe you just add 1 more of all of the main ingredients and before you know it, you'll have a healthy recipe for 1 to 3 people.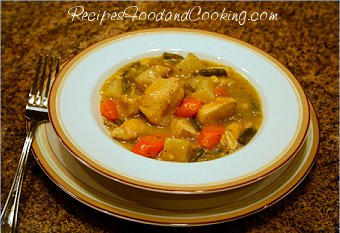 1 – 2 – 3 Chicken Stew
1 – 2 – 3 Chicken Stew
Prep time:
Cook time:
Total time:
Ingredients
1 half chicken breast
1 tablespoon oil
1 carrot - cut in large chunks
1/2 stalk of celery - cut in large chunks
1 potato - cut in large chunks
1/2 cup green beans
1/2 cup frozen or fresh corn
1/2 of a small onion - cut in large chunks
1 1/2 cup water
1 bouillion cube (actually I use Minor's or Penzey's Chicken Base)
1 garlic clove (optional) - minced
salt and pepper
herbs of your choice
Instructions
Cut chicken breast into large cubes. Add oil to dutch oven and brown chicken cubes. Add onions and garlic and continue to brown for several more minutes.
Add remaining ingredients including water. Stir to mix and cover loosely. Cook about 20 - 30 minutes until vegetables are tender. Thicken with 1 heaping tablespoon flour and water mixed together. Cook another 5 minutes and serve.
Serves 1. (Just double or triple this recipe to serve more)
Note: You can substitute any vegetables you have. These just happened to be the vegetables I had on hand.