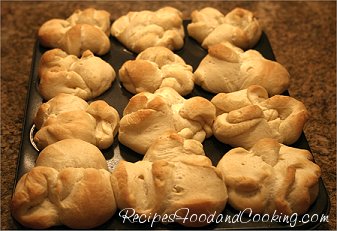 I've been tweaking this recipe for several weeks now. It is a really easy dinner roll recipe especially if you have a Kitchen Aid mixer. From start to finish you can have these rolls on the table in less than 2 1/2 hours with about 15 minutes of kitchen time.
This is a very sticky dough so unless you doing what I did in the notes below don't be concerned, it is supposed to be that way. You can also use all water in this recipe with excellent results.
Batter Dinner Rolls
Prep time:
Cook time:
Total time:
Ingredients
1/2 cup warm water
1 cup milk
2 packages dry yeast
4 cups flour
1/4 cup sugar
1 teaspoon salt
1 egg
1/2 cup butter - melted + 3 tablespoons butter for brushing on rolls before baking
Instructions
Pour warm water (110 - 115 degrees) into a large mixing bowl. Add the yeast and sugar. Stir to dissolve. Let sit for about 5 minutes to make sure your yeast is working.
Add half the *flour, salt and butter. Add egg, start the mixer on medium speed and beat until smooth.
Add the rest of the flour and mix about 3 minutes on medium speed. Scrape down batter from sides of bowl, cover bowl with wax paper and let rise in a warm place until doubled, about 30 minutes. Punch down and let rise a second time until doubled. (You can do only 1 rise if you are short on time.)
Meanwhile, grease 1 1/2 dozen large muffin cups. Stir down batter, scoop with an ice cream scoop into the muffin cups filling 1/2 full. Let rise in warm place until batter reaches tops of muffin cups, 20 to 30 minutes.
Brush with 3 tablespoons melted butter. Bake for 10 to 15 minutes or until brown in oven at 325 degrees. Remove from pan and serve.
Note: The rolls as pictured had an additional 1/2 cup flour so that the dough wasn't as soft. To make cloverleaf rolls as shown, roll dough into long roll about 15 inches long and cut into slices 1/4 inch wide. Roll into balls and place 3 balls in each muffin cup.
* Stir the salt into the flour as salt can kill the yeast.