This post was created in partnership with Ninja® Intelli-Sense™ Kitchen System with Auto-Spiralizer™. I received complimentary products and compensation to facilitate my review, but all opinions within are my own.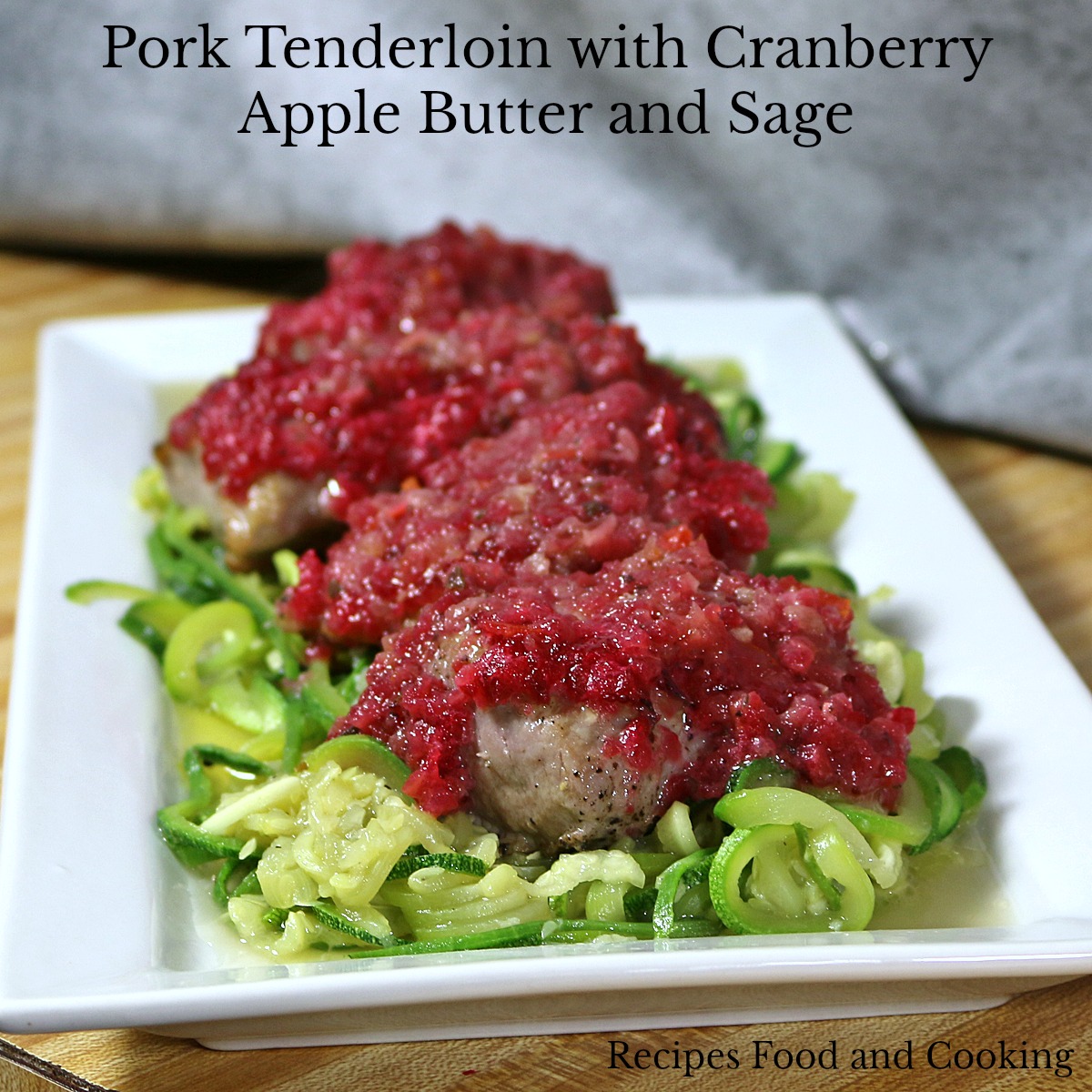 Pork Tenderloin with Cranberry Apple Butter and Sage
I have to tell you I am in love with this Ninja® Intelli-Sense™ Kitchen System with Auto-Spiralizer™! I can see quite a few things moving out of my kitchen now to make room for it including my food processor that I swore I would never replace.  The blender is going also, that's how much I love how this machine works. Oh and the spiralizer I just had to buy last year. The Ninja® Intelli-Sense™ Kitchen System does so much more and is going to save me so much time and cupboard space despite all of the units this has. I am amazed how it works so well with every feature that I've tried so far.
It has 12 Smart Programs which are precisely calibrated patterns of pulsing and pausing combined with ideal speed, power, and torque for each attachment create everything from fresh salsa and pizza dough to margaritas and decadent ice creams—all it takes is a simple tap. Even when I made this White Honey Bread nothing slowed this machine down, oh and once I had the ingredients in the Precision Processor™ it only took a few minutes before I had my dough out waiting for it to rise.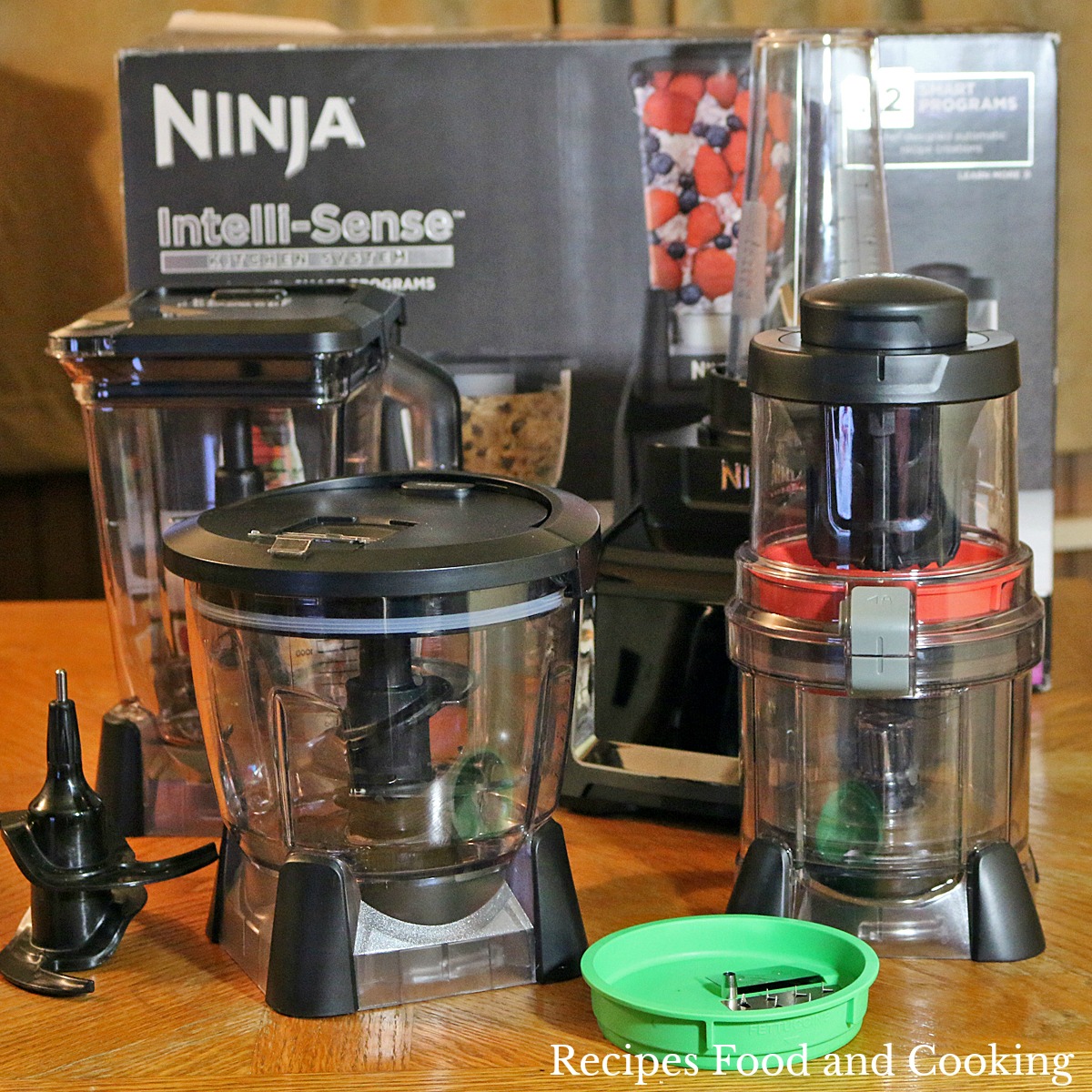 Smart Vessel Recognition: In a snap, Ninja's Smart Vessel Recognition Technology automatically senses which vessel is attached to the base and the touchscreen changes to display a customized menu of Smart Programs on the touchscreen, enabling one Smart Base to become four high-performance appliances. The Ninja® Intelli-Sense™ Kitchen System with Auto-Spiralizer™ features; one smart base that transforms into four high-performance appliances: 72 oz. Total Crushing® Blender, 64 oz. Precision Processor™, 24 oz. Single-Serve Cup, and Auto-Spiralize.
It has an Intuitive Touchscreen: The sleek, flat screen responds to your touch and lets you select between vessel-specific Smart Programs and manual options. And the durable, easy-to-clean screen stands up to everyday kitchen wear and tear.
I decided with Christmas right around the corner I would develop a new recipe that can be almost totally made ahead and had minimum kitchen time. You can do everything ahead except for the assembly and that only takes 5 minutes and 20 minutes baking time. You cook the Spiralized Zucchini with Garlic Butter Sauce the last 5 minutes of baking time. Entree served!
To make the Cranberry Apple Butter and Sage you need the Precision Processor™ set up. Roughly chop your fruits and sage. Add the cranberries, apple, sage and orange rind to the bowl. Set the pre-set Chop auto setting and let it go. The machine will do it all. I did stop it about 10 seconds before the end of the cycle because I didn't want my fruit any smaller.
The cranberries are hiding in this picture but believe me they are the star of this easy to prepare compound butter.
This is the roughly chopped fruits before they started to cook. You want to reduce all of the liquid out of the fruit mixture. If you can drag a spoon thru the mixture and not see liquid turn off the heat. It will turn bright red when finished, perfect for holiday entertaining. Then you want to cover and refrigerate this mixture until completely cold.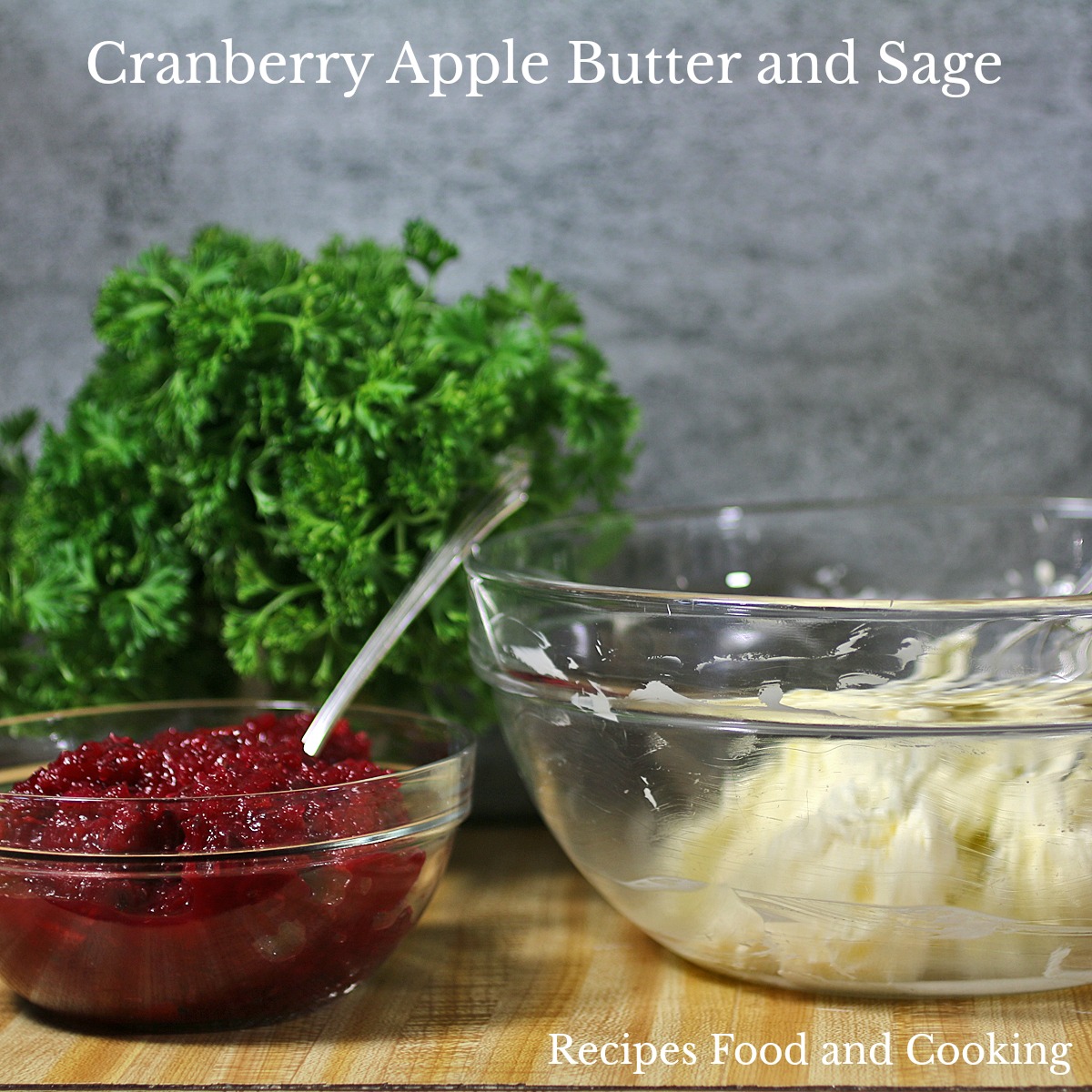 Whip the butter and fold in the cranberry mixture.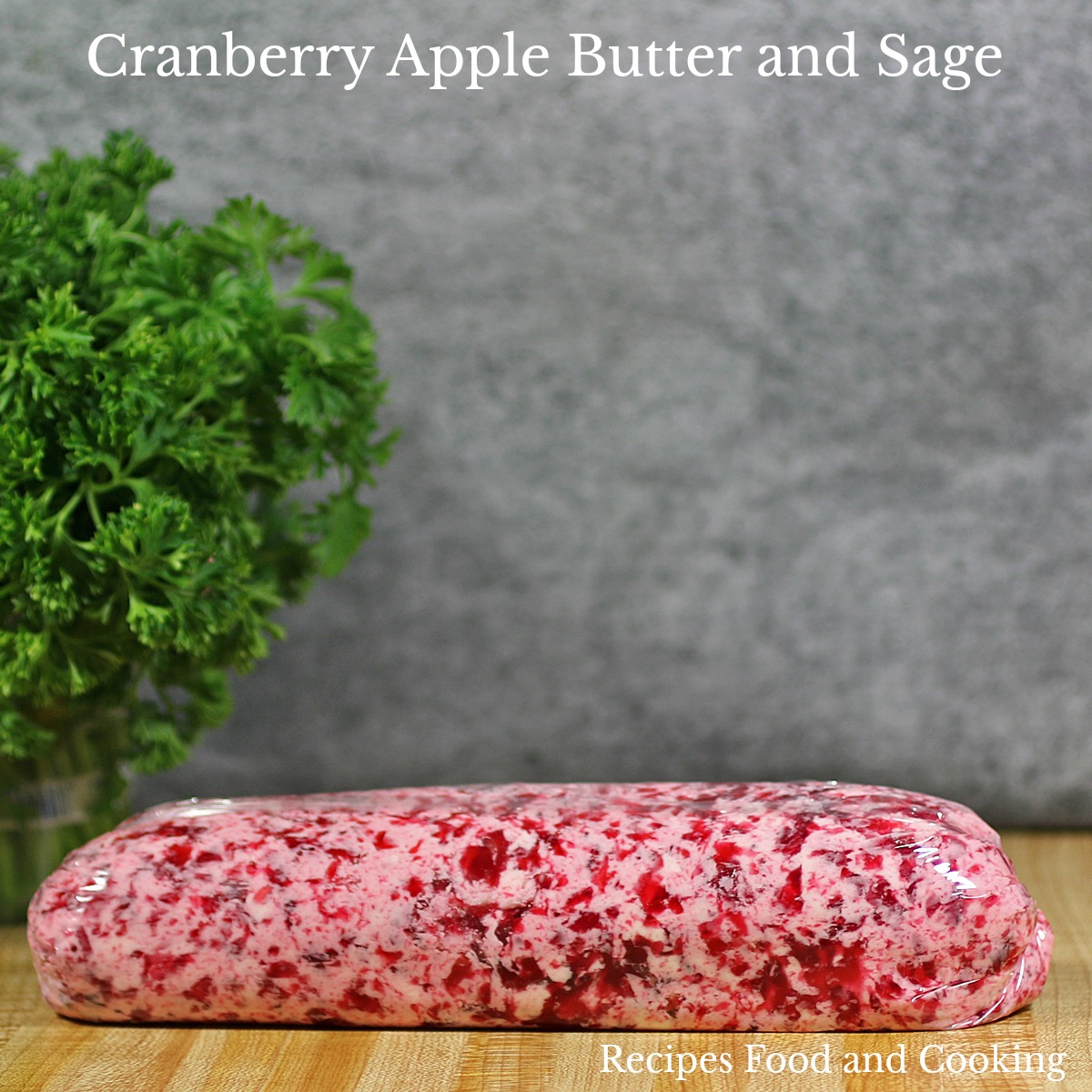 Lay a piece of saran wrap on the counter. Spoon the mixture onto the wrap and form a log. If using the day you are making this just refrigerate it. You can make this several weeks in advance and freeze it too.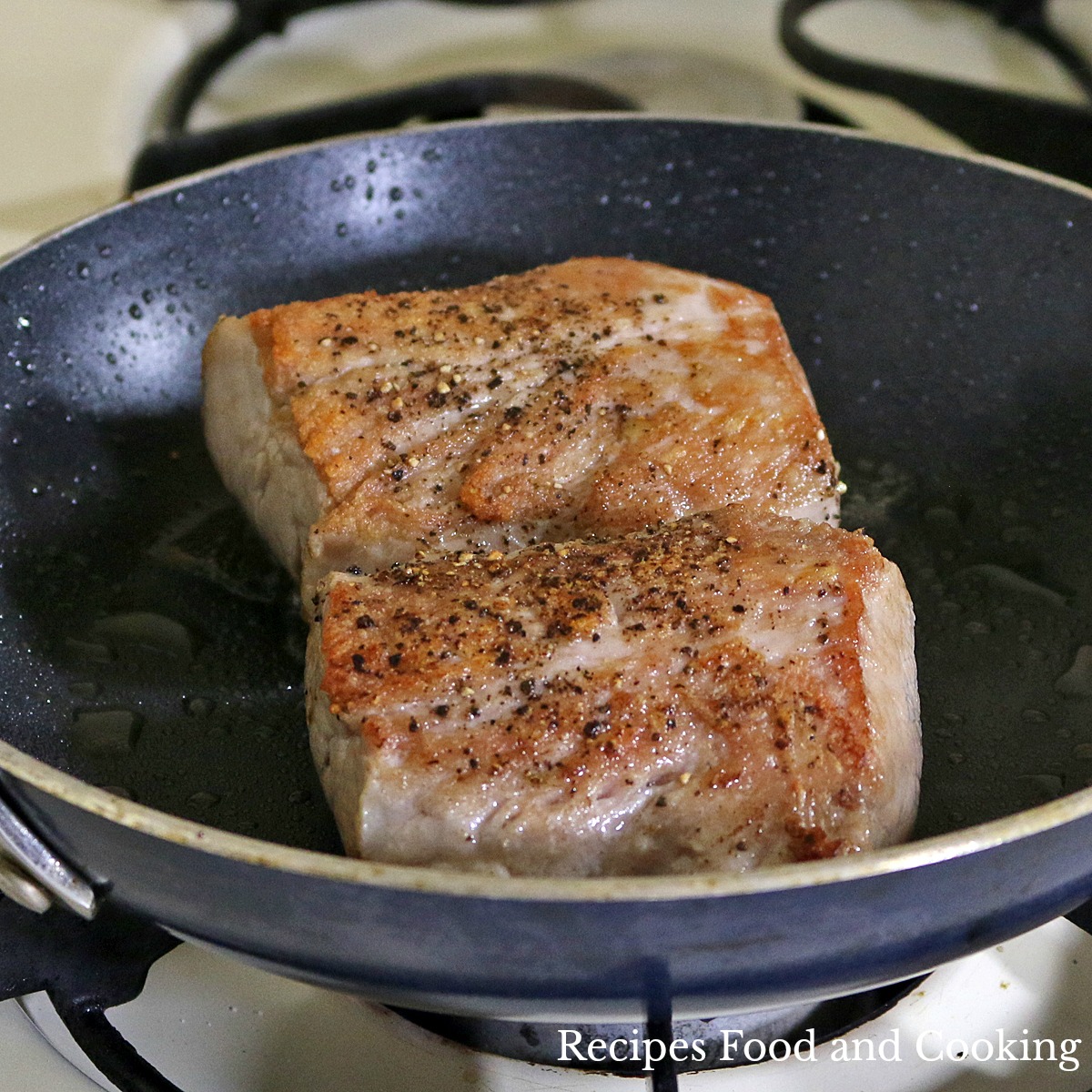 Saute your tenderloin just until browned. It will finish cooking in the oven. You want to serve this at 165 degrees. I remove it from the oven at just under 160 and let it set for about 5 minutes.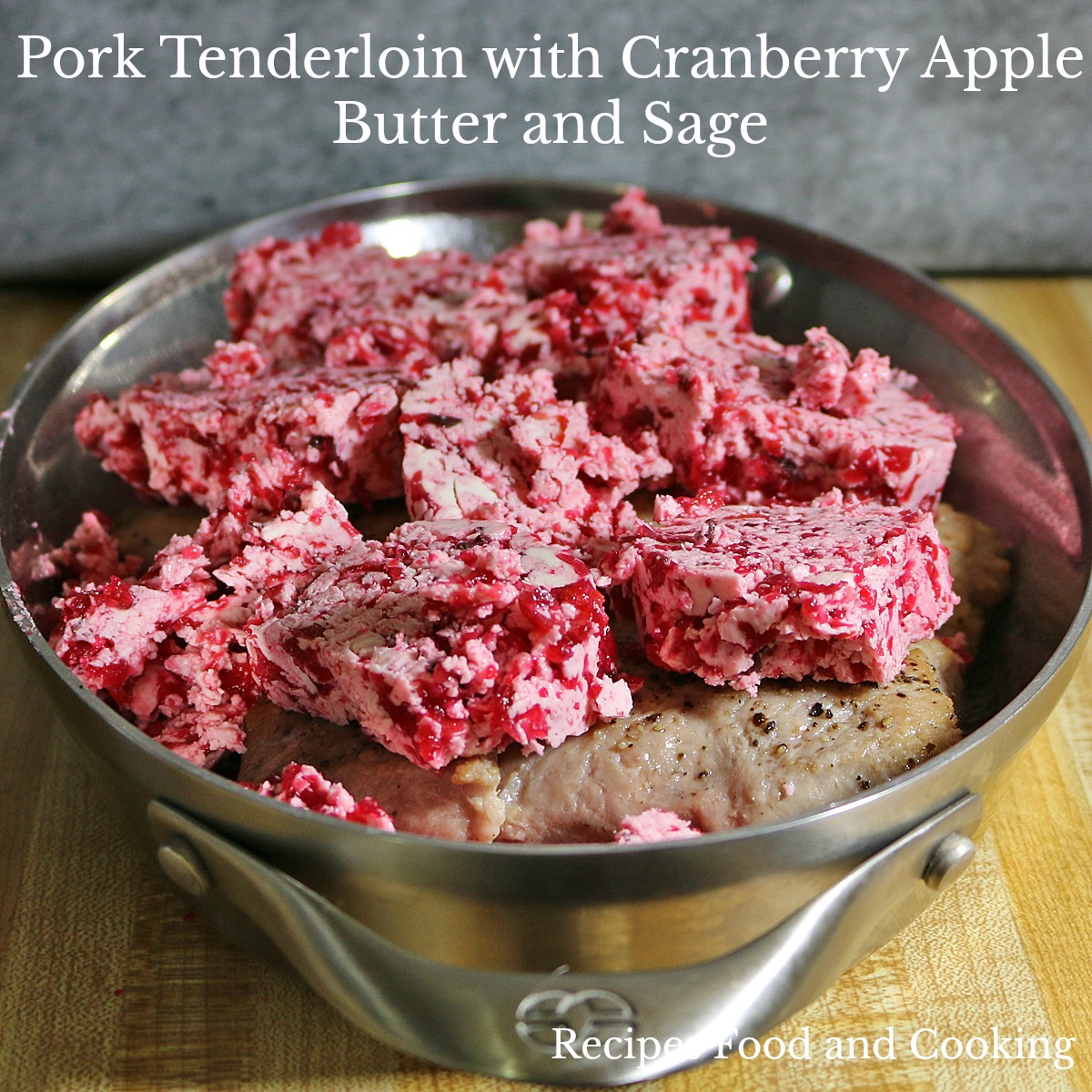 Top the tenderloin with the cranberry butter.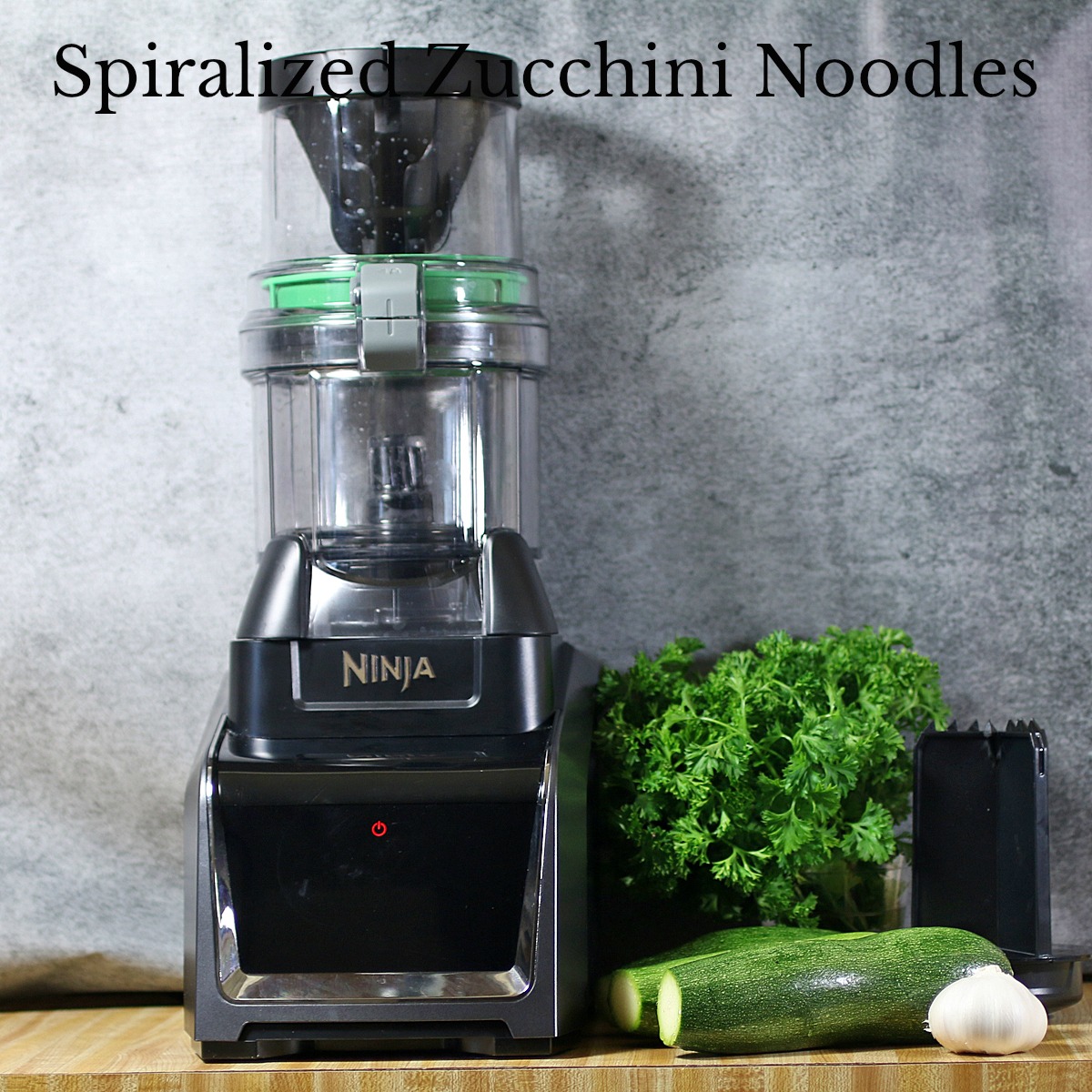 To make your noodles, the pieces should not be thicker than 3 inches and 4 inches long.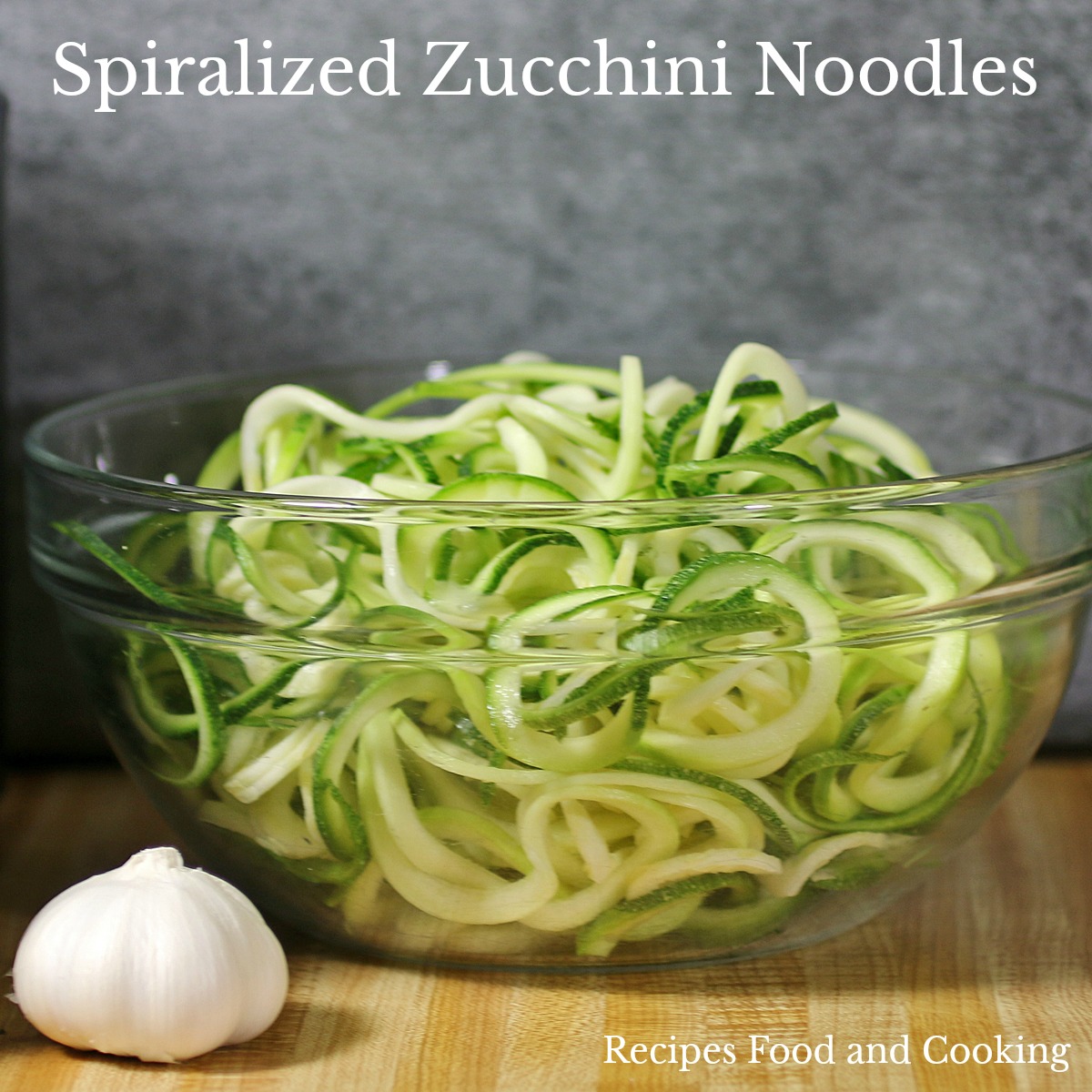 Love these noodles and so healthy too!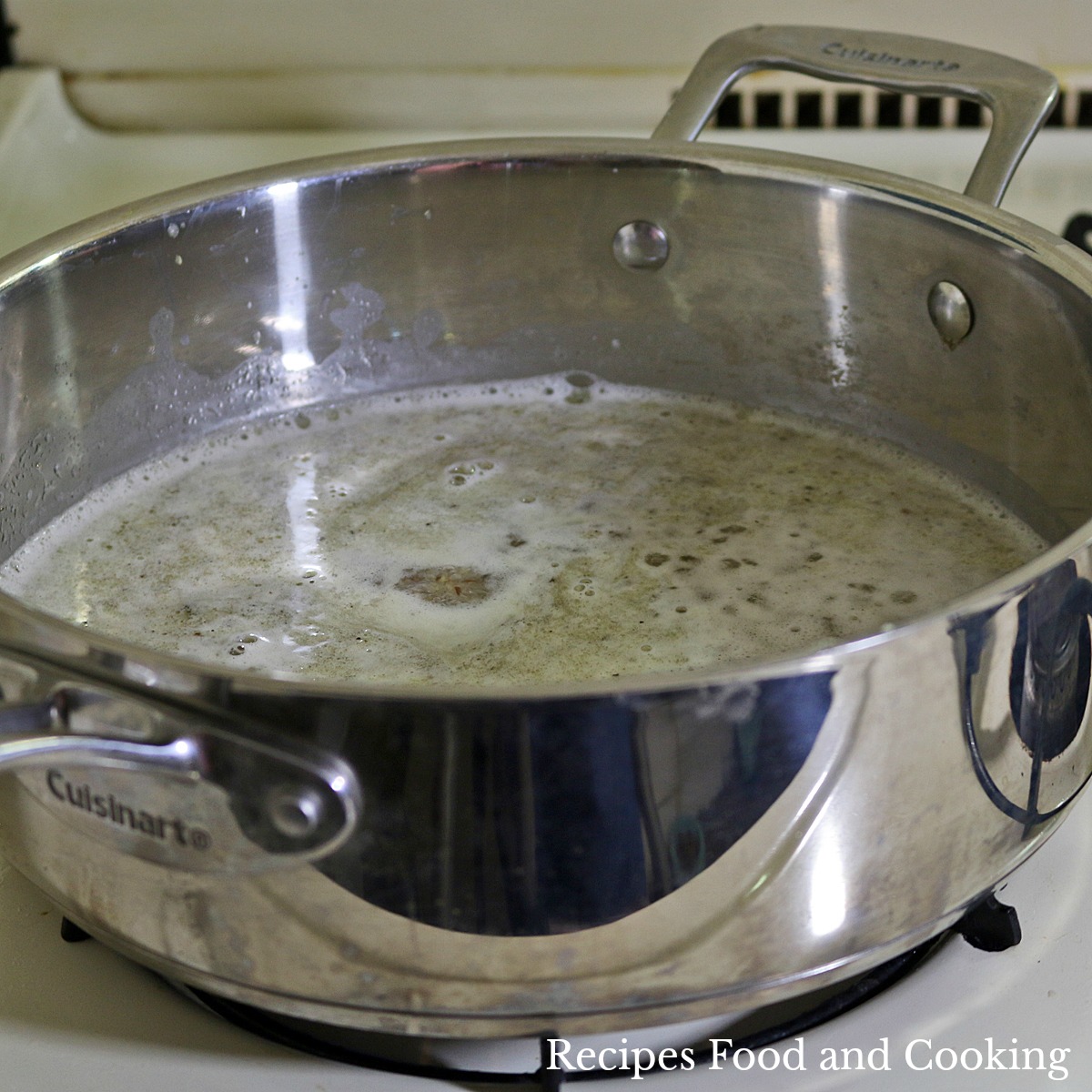 I cooked the garlic for 5 minutes in water and butter to take some of the bite out of the garlic before adding my spiralzed zucchini to the pan. Cover and stir gently at least once. Cook until it just begins to wilt.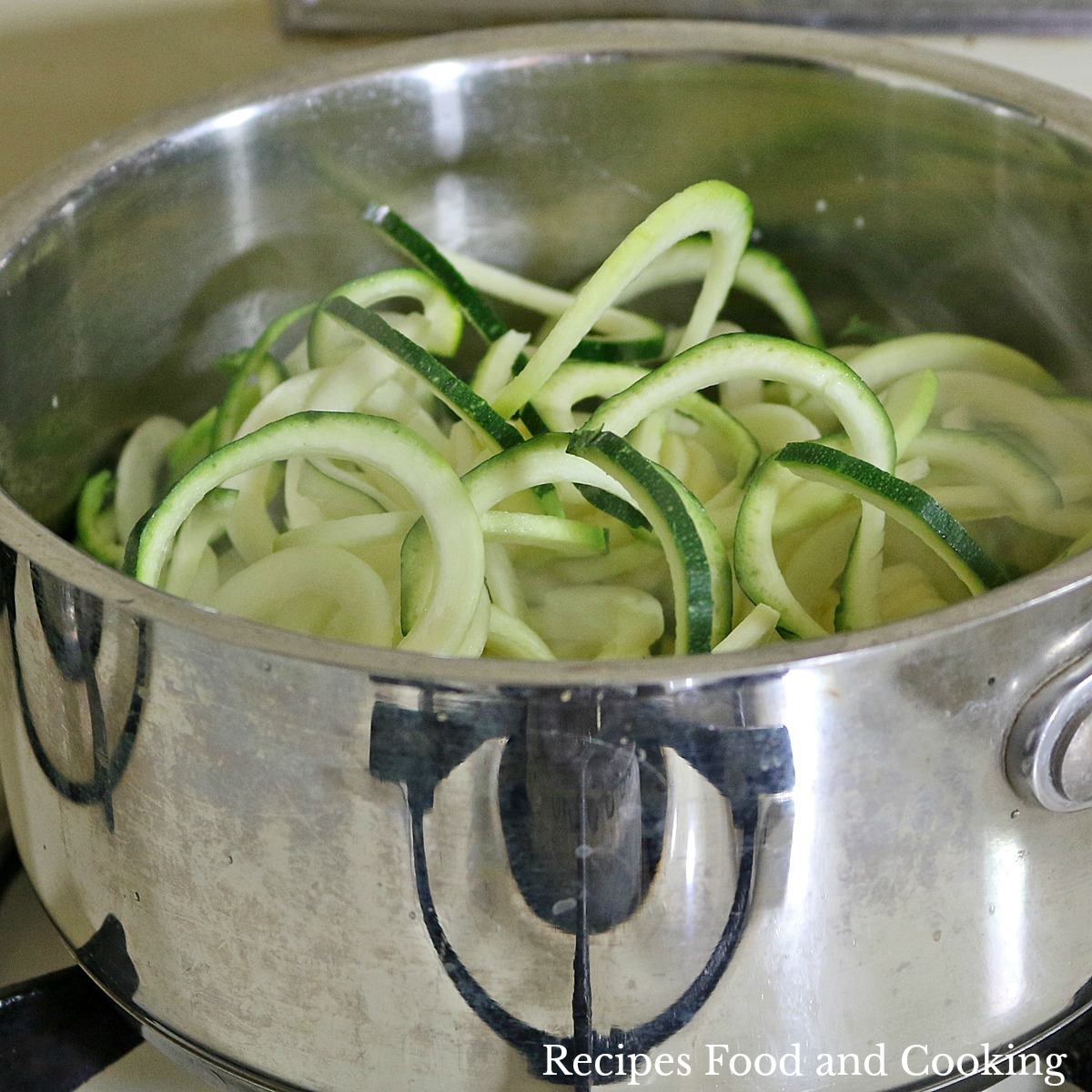 Santa's coming soon, I hope you have this on your list! Use MARYELLEN15 to receive 15% off your very own;Ninja® Intelli-Sense™ Kitchen System with Auto-Spiralizer™ – good from now until Dec. 31". The code is valid through 12/31/17.
Pork Tenderloin with Cranberry Apple Butter and Sage
Author:
Mary Ellen @ Recipes Food and Cooking
Recipe type:
Pork, Make Ahead
Prep time:
Cook time:
Total time:
Pork Tenderloin with Cranberry Apple Butter and Sage with Spiralized Zucchini and Garlic. This is the perfect make ahead party dish!
Ingredients
4 lbs. pork tenderloin
salt and pepper
oil
Cranberry Apple Butter and Sage
1 1/2 cups fresh cranberries
1 cup roughly chopped apple - I used Gala
1 large orange
peel from about half of the orange
juice from the orange
3 tablespoons fresh roughly chopped sage
1/3 cup sugar - I used a little more
1/2 cup water
3/4 lb. butter
Sprialized Zucchini Noodles
4 large zucchini
3 - 4 cloves garlic minced
salt and pepper
1/2 cup water
1/4 cup butter
Instructions
Make the Cranberry Apple Butter and Sage first so it has time to cool.
Set up the Ninja Precision Processor Bowl.
Add the cranberries, apple, orange peel and sage to the bowl. Lock the bowl in place and use the pre set selection to chop the fruits. I hit the stop with about 12 seconds remaining.
Add the water, sugar and the juice from the orange to a large saute pan. Stir. Add the fruit. Cook over medium heat until the water has reduced totally. You should be able to drag a spoon thru the mixture and no water will remain. Cover and refrigerate.
When the mixture is cold, whip the butter in a large bowl. Fold in the fruit. Cut a large piece of saran wrap. Form the butter into a log. Freeze or refrigerate until ready to use.
Clean the pork tenderloin and remove the silver skin with a sharp knife. Cut into individual portions. Salt and pepper the pieces. Add the oil to a large saute pan and brown the tenderloin on all sides. Cover and refrigerate until ready to bake.
Set up the Auto Spiralizer. Cut the zucchini into 4 inch pieces. Spiralize the zucchini and cover until ready to use.
To assemble: Put the pork tenderloin in a greased baking dish. Slice thick slices of the cranberry butter and cover the tenderloin. I also put a little around the dish. Bake at 400 degrees for about 20 minutes uncovered.
Add the water, garlic and butter to a large saute pan. Cook for 5 minutes. 4 - 5 minutes before serving time add the zucchini to the pot, cover it and let it steam until it just begins to wilt. Drain off the liquid and place on a serving dish. Top with the tenderloin pieces and cranberry butter.
For additional recipe and usage inspiration, as well as information on where to buy, visit Ninja Kitchen.
Ninja® Intelli-Sense™ Kitchen System with Auto-Spiralizer™ Giveaway
Prize: Twenty-Five (25) winners will be randomly selected and will each receive one (1) Ninja® Intelli-Sense™ Kitchen System with Auto Spiralizer™
Dates: 11/10 – 12/31/2017
Winners will be randomly selected from all program entries and Ninja will facilitate fulfillment of the 25 winning prizes.
Pin It!