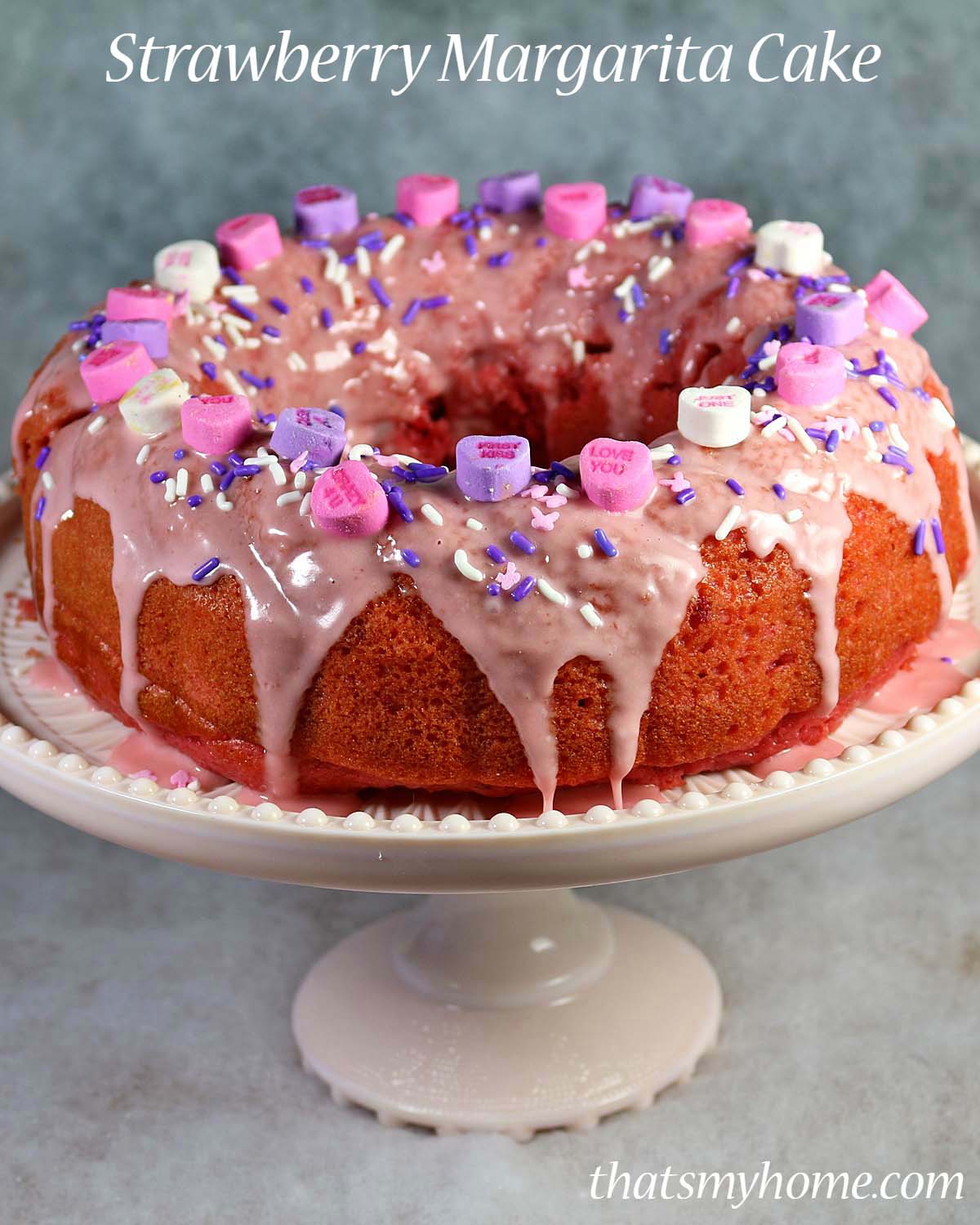 Strawberry Margarita Valentine's Day Cake
I am bringing you today a real easy cake to make for Valentine's Day using a Strawberry Cake Mix and Non-Alcoholic Strawberry Margarita Mix.
I used candy hearts and sprinkles to decorate the cake with. Do you know that Necco has been making these heart candies since 1901? Generation after generation has grown up loving these candies. A few years ago the updated the sayings to include email me, LOL and call me. Makes me wonder if Text Me is coming out next.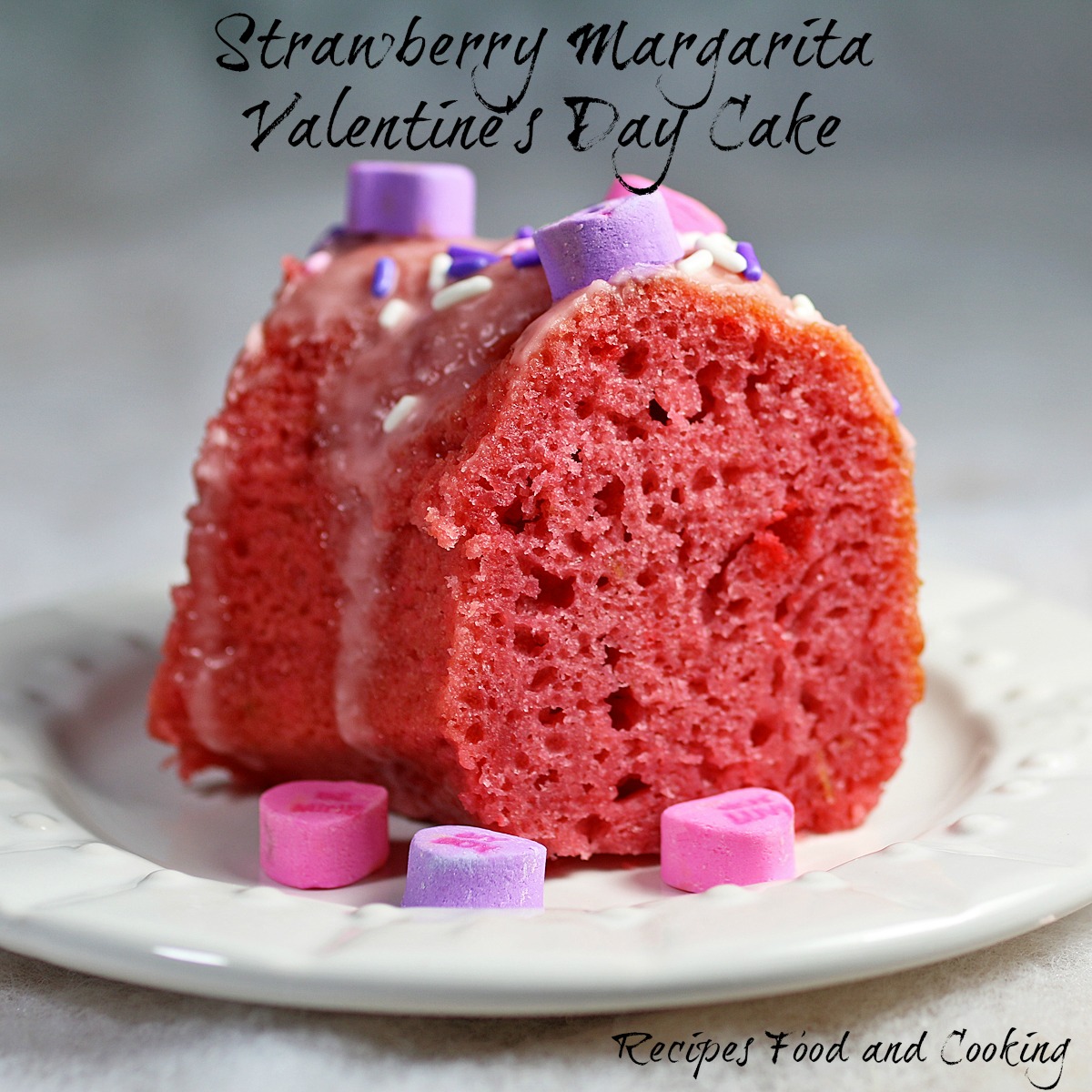 If you're concerned about what to do with the rest of the margarita mix  you can also use it to make the kids a simple drink. Add the margarita mix to a glass with ice and 7 Up. We did it at Christmas and the kids all loved it.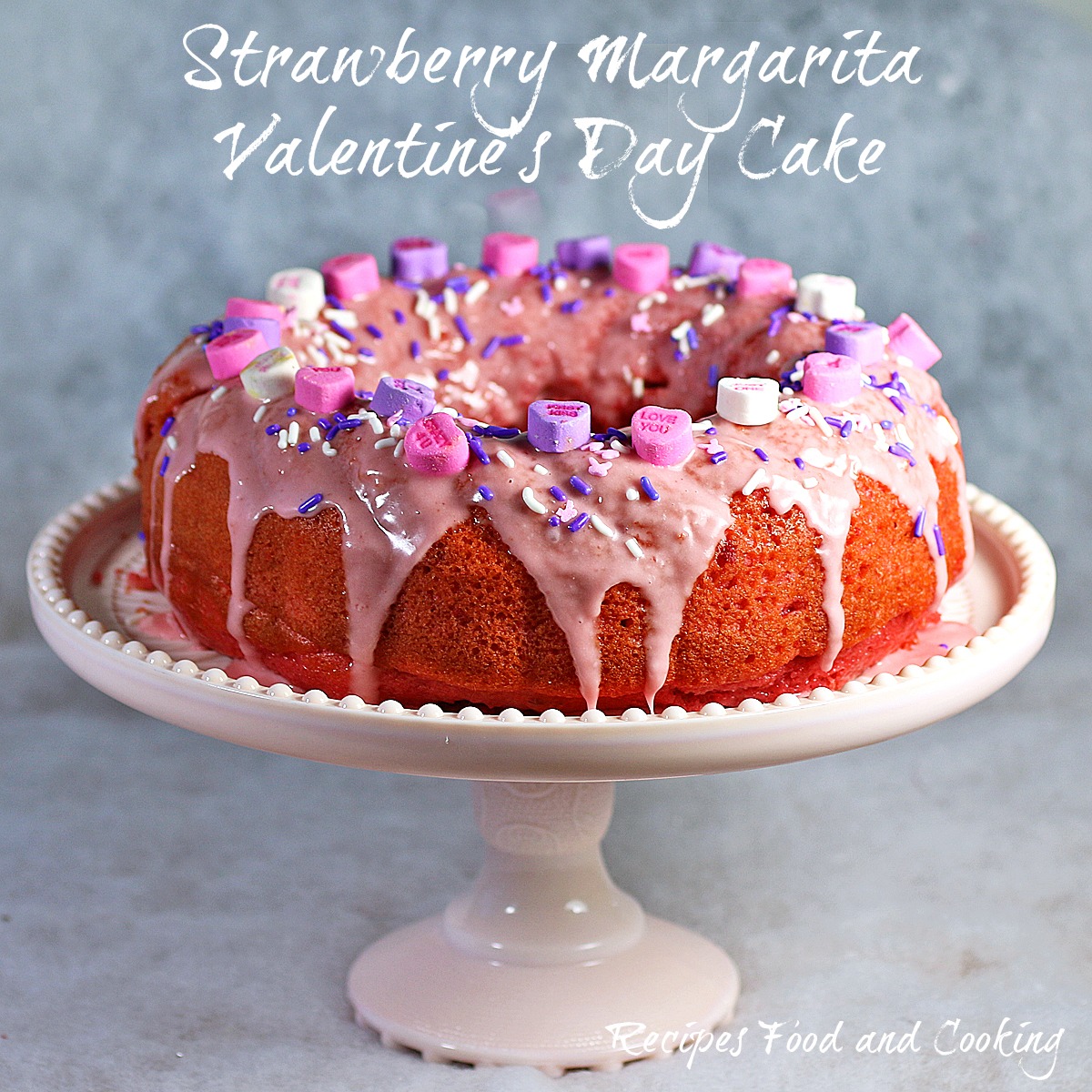 Strawberry Margarita Valentine's Day Cake
Author:
Mary Ellen @ Recipes Food and Cooking
Recipe type:
Cake, Dessert, Holiday
Prep time:
Cook time:
Total time:
Make this delicious Strawberry Margarita Cake for Valentine's Day, topped with candy hearts.
Ingredients
Cake
1 box (18.25 ounces) yellow cake mix
3/4 cup non-alcoholic strawberry margarita mix
1/2 cup water
1/2 cup vegetable oil
3 eggs
1 tablespoon lime zest (about 1 medium lime)
Glaze
2 cups powdered sugar
2 tablespoons non-alcoholic strawberry margarita mix
1 tablespoon of lime juice (about 1 medium lime)
Instructions
Preheat the oven to 350 degrees.
Combine the water and strawberry margarita mix together. In a large bowl beat the cake mix, strawberry margarita mixture, vegetable oil, eggs, and lime zest for 2 minutes. Pour the batter into a greased bundt pan.
Bake the cake for 40-45 minutes or until golden brown. Cool the cake and place it on a cake plate.
Whisk together all of the ingredients for the glaze in a small bowl. Drizzle the glaze onto the cooled cake. Top with the Candy Hearts.
Would you like to try another of our recipes for Valentine's Day?
Chocolate Brownie Hearts with Ganache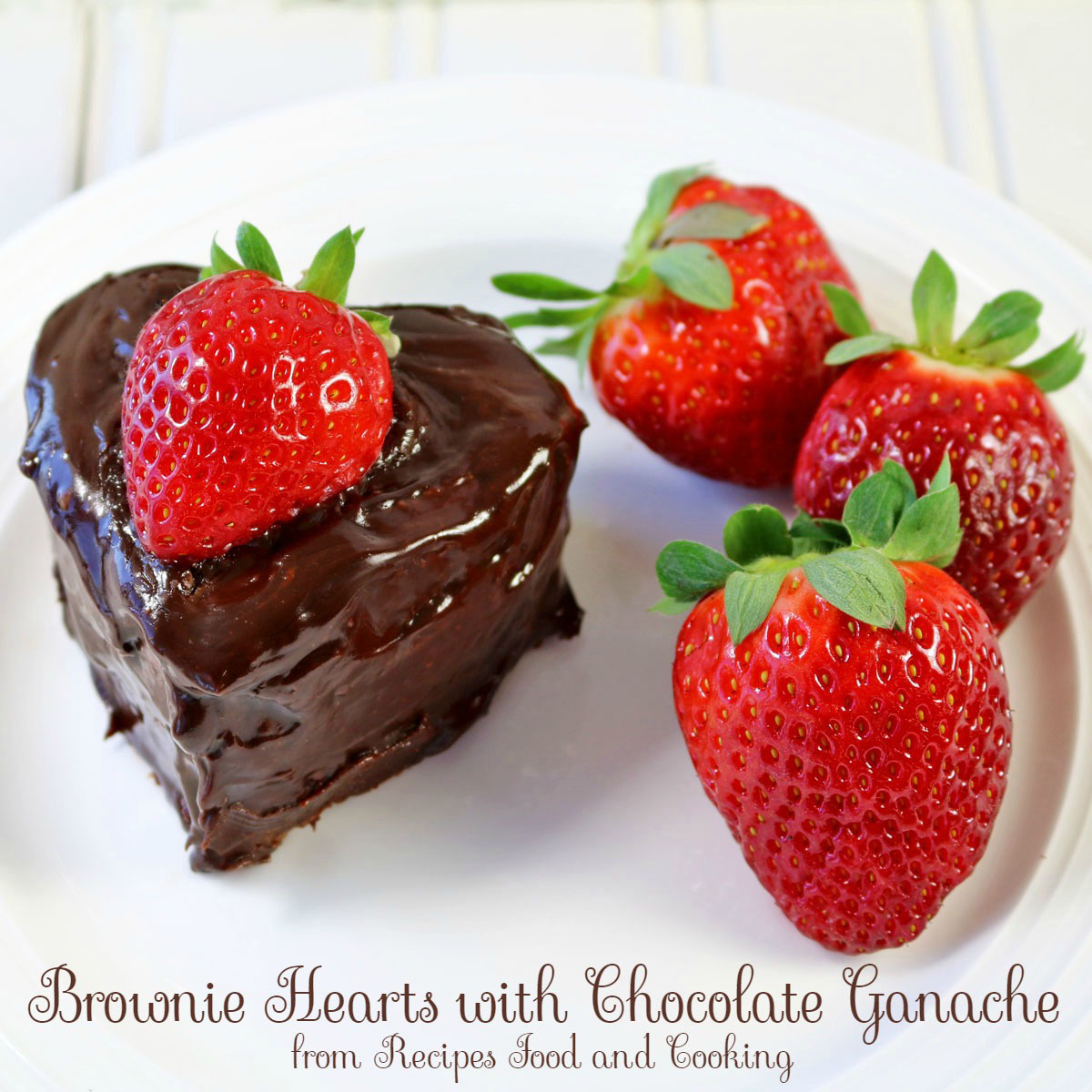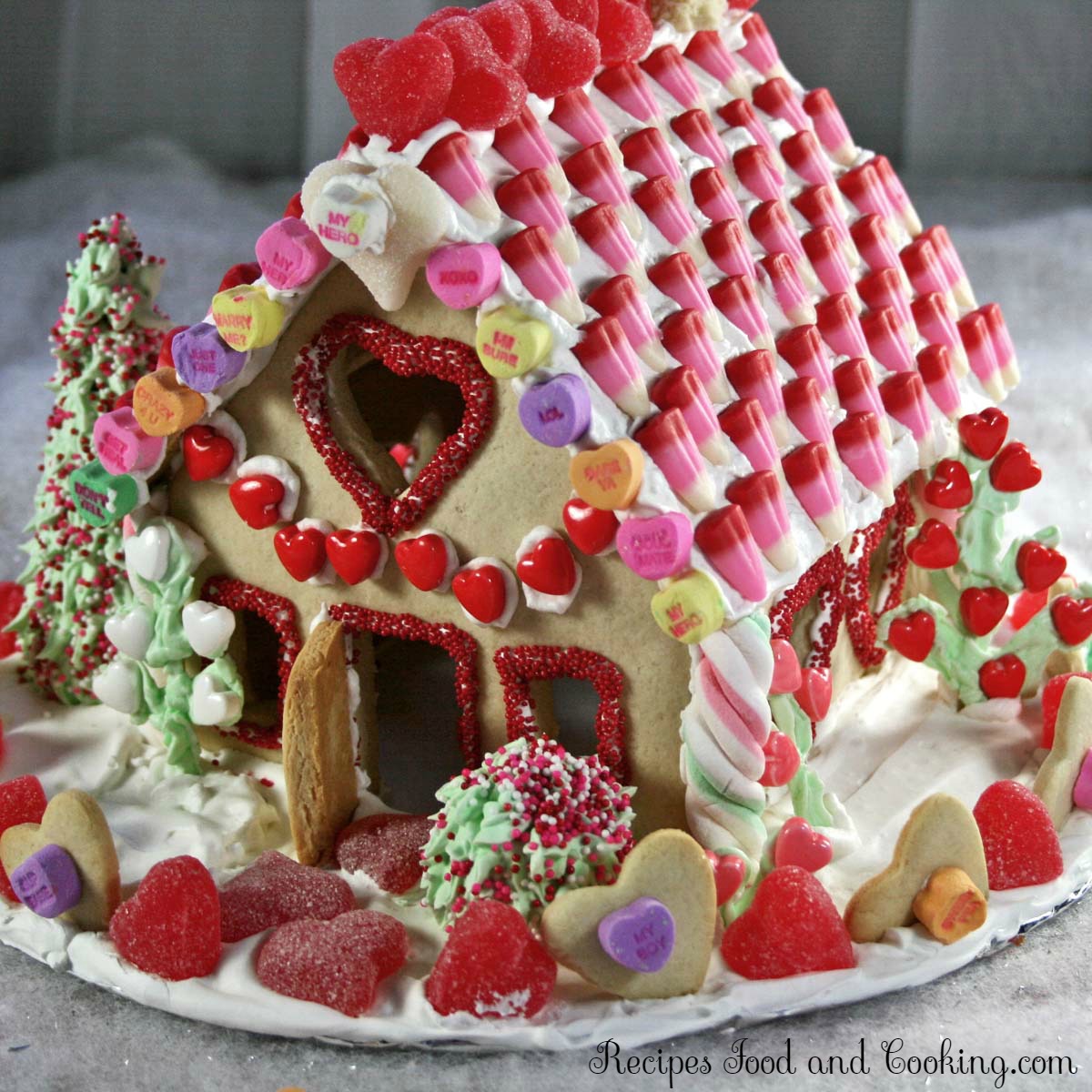 Raspberry and Chocolate Mousse Ghirardelli Cake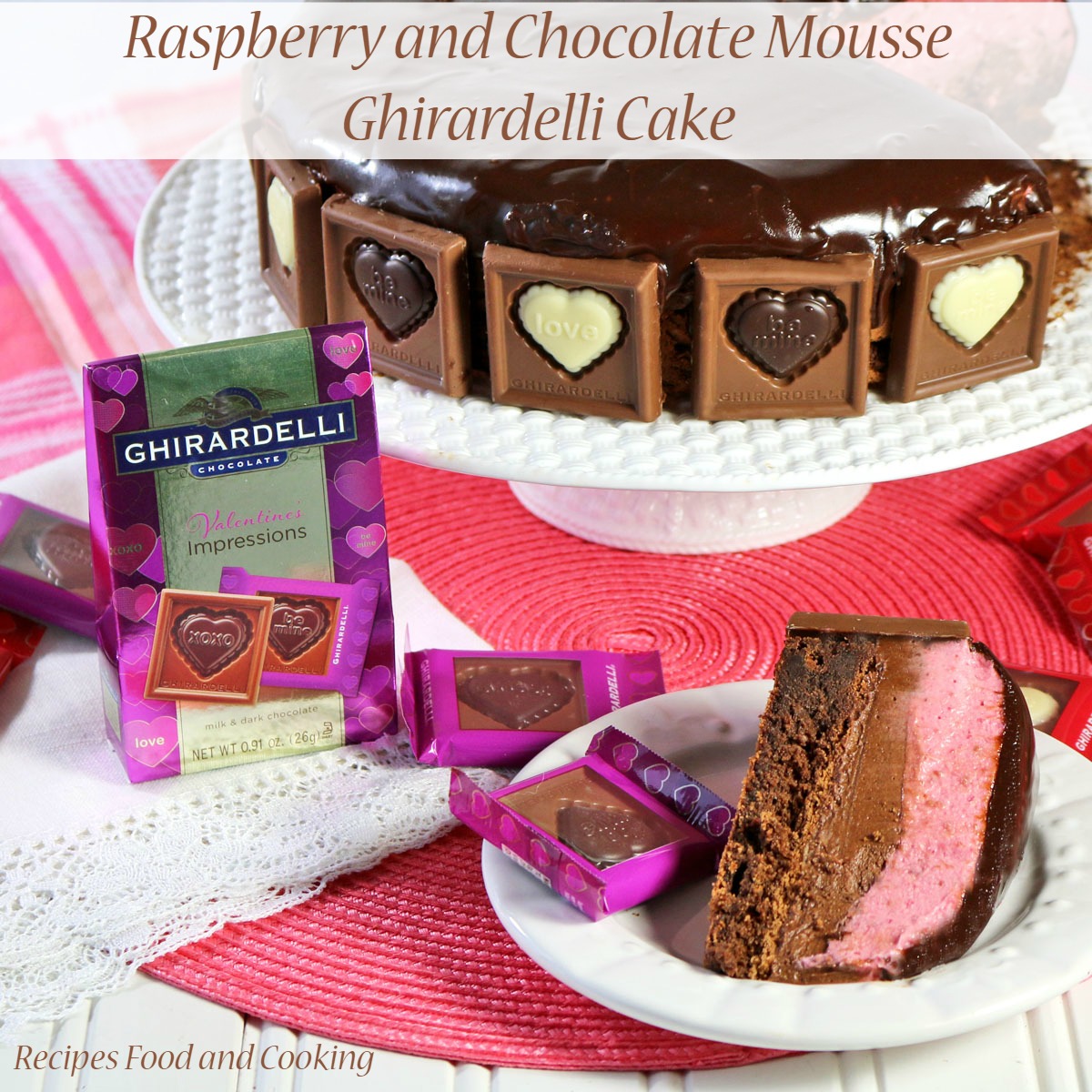 Pin It!