Garlic Shrimp with Roasted Italian Vegetables
This was lunch today and I absolutely loved it. All of the vegetables were roasted and then I added a fresh tomato sauce to them. All that was left to do was to quickly sauté the shrimp in garlic and butter.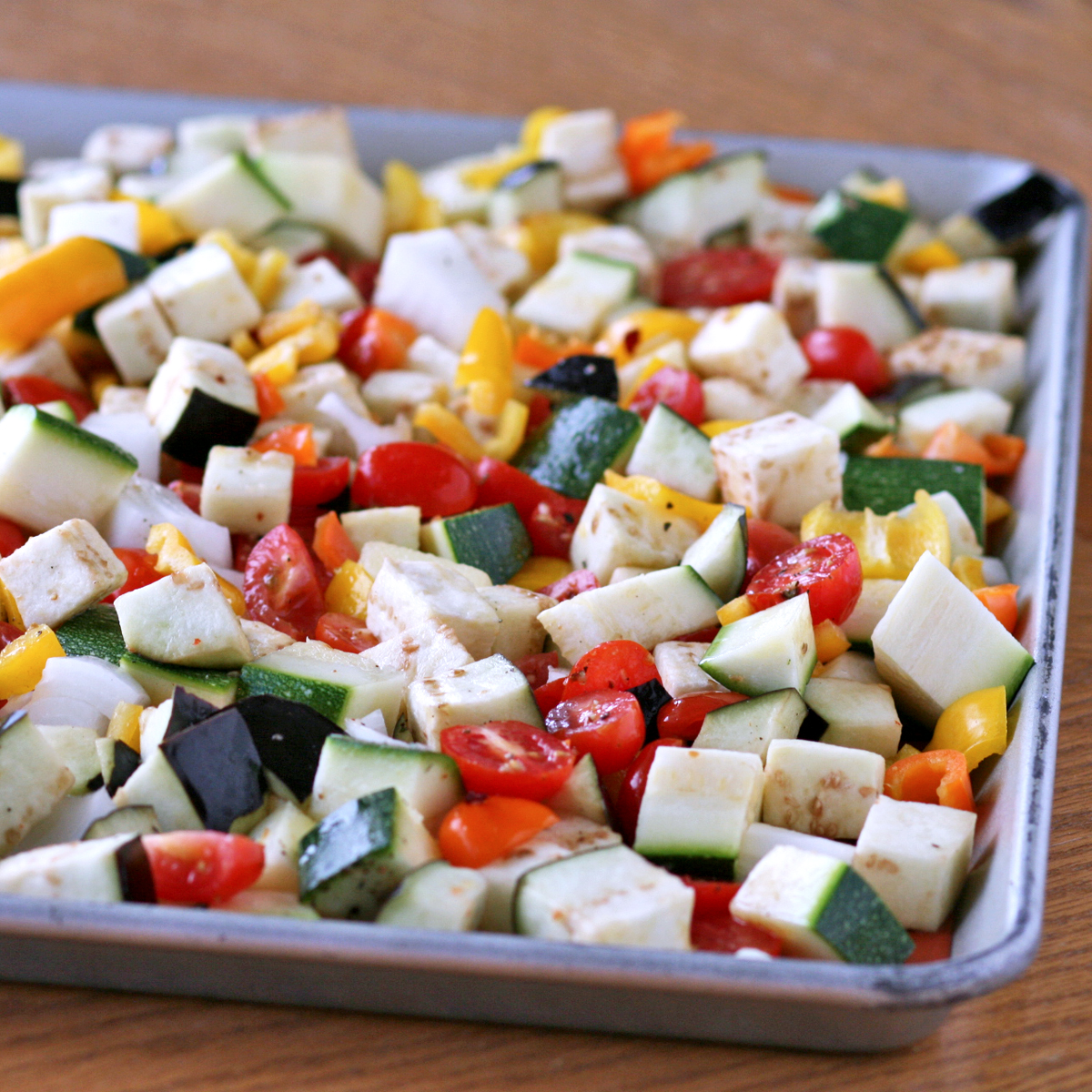 These roasted vegetables were so easy to make. Everything (eggplant, zucchini, onions, grape tomatoes and sweet peppers) was cut into bite size pieces and roasted at 400 degrees.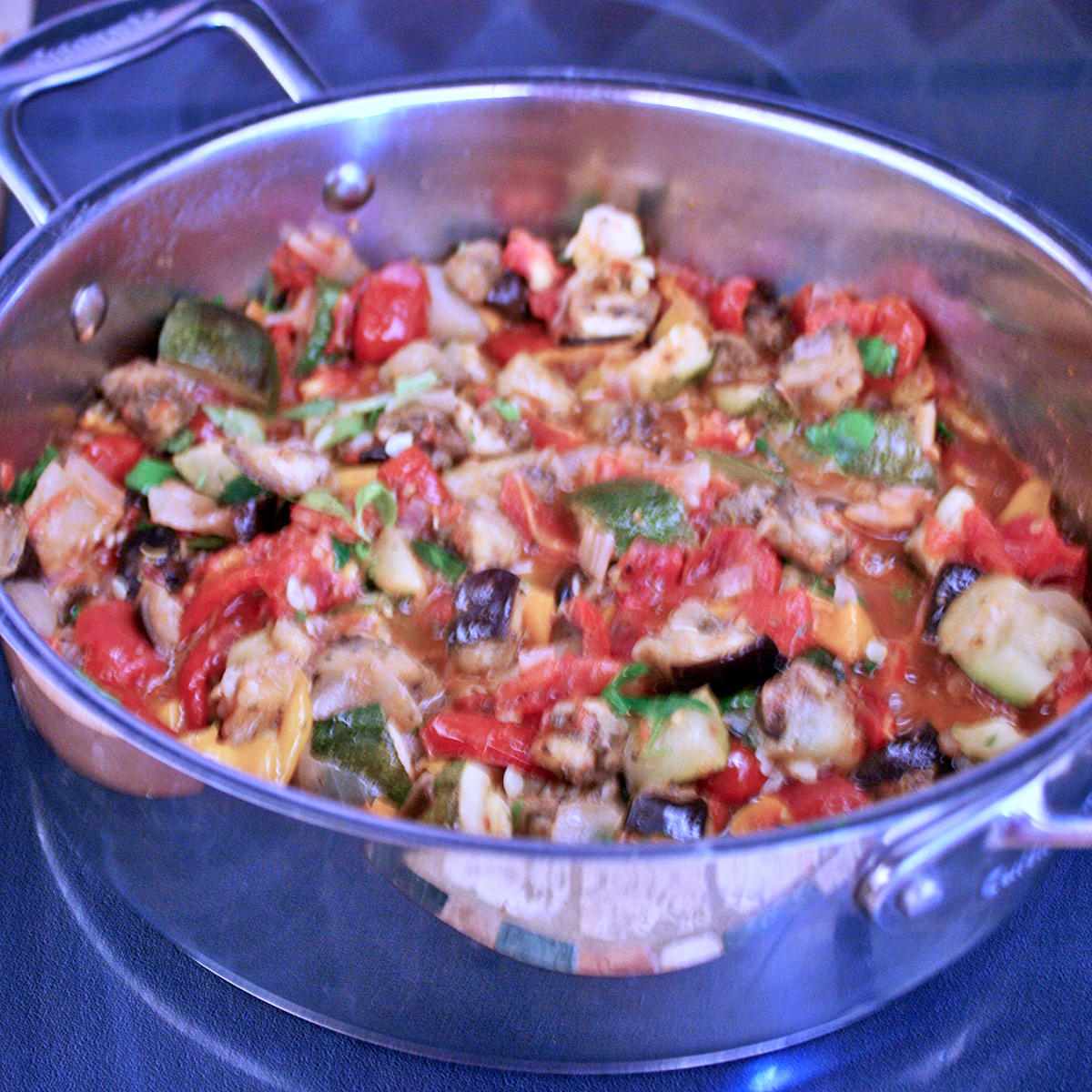 Then I made a fresh tomato sauce to put the vegetables in. I used fresh tomatoes because they are so good right now and removed the seeds from them before cutting them into bite size pieces. I added garlic, fresh basil and a dried Italian herb mix.
Garlic Shrimp with Roasted Italian Vegetables
Author:
Mary Ellen @ Recipes Food and Cooking
Recipe type:
Seafood, Shrimp
Prep time:
Cook time:
Total time:
Tender garlic shrimp with roasted Italian vegetables.
Ingredients
Roasted Vegetables
1 eggplant
1 large zucchini
1 large onion
1 pint grape tomatoes
3 - 4 mini sweet peppers
4 - 5 garlic cloves
2 tablespoons oil
salt and pepper
Sauce
4 tomatoes - skins removed and deseeded
1 tablespoon oil
1 large shallot - minced
handful of fresh basil
4 tablespoons flat leaf parsley
2 tablespoons red wine vinegar
1 tablespoon sugar
Instructions
Cut the eggplant into bite size pieces. Add a little salt to it and place it in a colander to drain for 20 minutes. Blot with a paper towel.
Cut up zucchini into bite size pieces. Place on a sprayed large cookie sheet. Add the eggplant.
Cut the onion into bite size pieces. Add to cookie sheet.
Cut the grape tomatoes in half, add to the vegetables.
Cut the sweet peppers into bite size pieces, add to the vegetables.
Sprinkle the oil and garlic over all of the vegetables. Add salt and pepper.
Roast vegetables in a 400 degree oven until they are tender and just getting a little color, about 20 minutes. While the vegetables are roasting prepare the sauce. Remove and add to tomato sauce.
Bring a pan of water to a boil. Add the tomatoes. When the water comes back to a boil remove the tomatoes and run cold water over them. Core the tomatoes and remove the skin. Cut the tomatoes in half and squeeze to remove the seeds. Cut into bite size pieces.
Add the oil to a sauté pan. Add the tomatoes and shallots. Saute quickly over medium heat. When most of the juices have evaporated add the roasted vegetables. Add the red wine vinegar, sugar, basil and parsley. Cook together for 15 minutes.
To cook the shrimp, clean and devein them. Add the butter to a sauté pan. Stir in the garlic and cook for a minute. Season the shrimp well with salt and pepper. Place the shrimp in the pan. Let cook until the shrimp starts to get browned. Turn over quickly and cook about a minute more. Place the shrimp on the roasted vegetables and serve.
Maybe you'd like to try our recipe for?
Cod with Zucchini Noodles, Tomatoes and Basil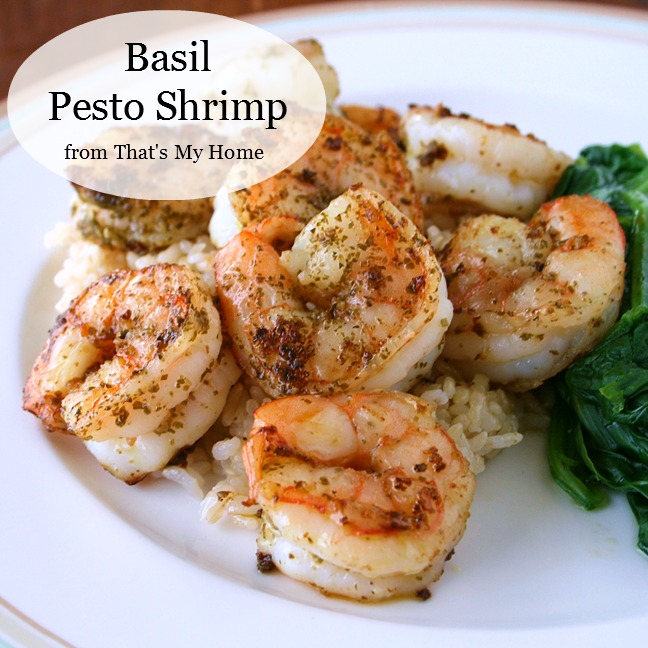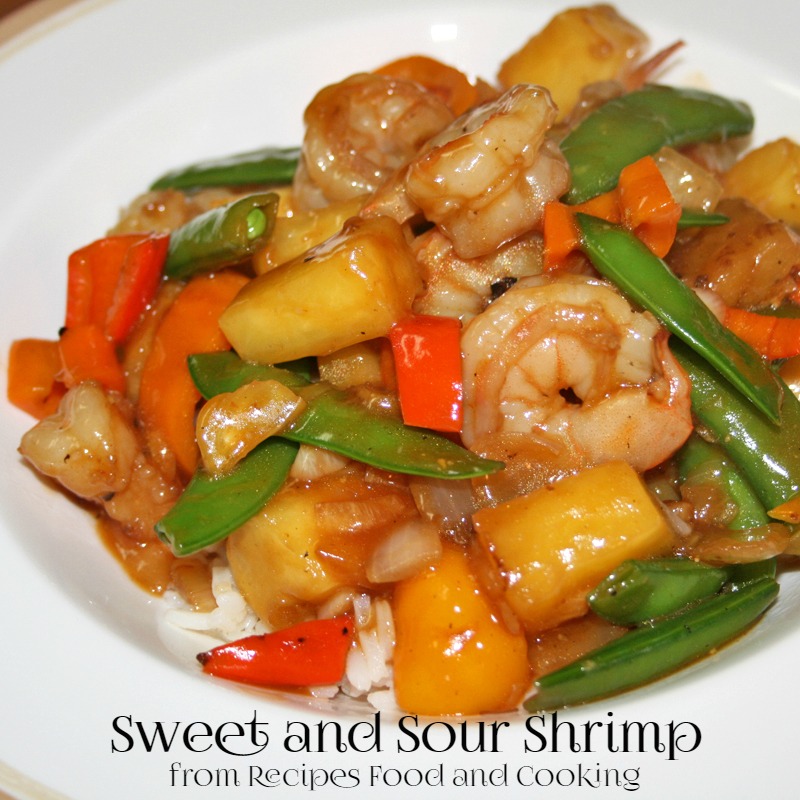 Pin It!
Follow me on Facebook, Google+ , Instagram or Pinterest to see when I post or share something new!