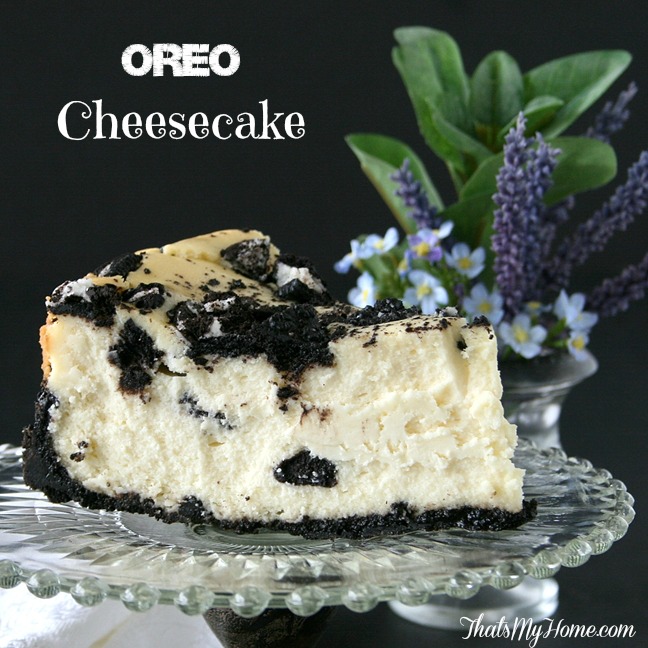 Oreo Cheesecake
Do you have problems with cheesecakes cracking when you make them? I used to also until I read something that made sense to me so I tried it. I run a sharp knife around the outside of the cheesecake in the pan about 5 minutes after it finishes baking. Then I put the cheesecake back in the oven in the pan to let it cool. When it is cool enough to refrigerate it I then cover it and put it the refrigerator. It doesn't always prevent cracking but it does help.
Have all ingredients at room temperature when you start to make the cheesecake.  Over-mixing can cause air bubbles, which are a major cause of cracks in cheesecake. Be sure  to use a water bath. This insures the cheesecake will cook evenly.
This is a cheesecake that gets better after it has time to ripen. 24 hours is optimal. I think any cheesecake is better the next day.
Oreo Cheesecake
Recipe type:
Cheesecakes, Dessert
Prep time:
Cook time:
Total time:
Oreo Cheesecake is rich, smooth and creamy with an oreo crust and topping.
Ingredients
Crust
1 1/2 cups Oreo cookie crumbs (about 23 Oreos, finely chopped)
2 tablespoons butter - melted
Filling
4 (8-ounce) packages cream cheese, at room temperature
1 cup sugar
5 large eggs, at room temperature
2 teaspoons vanilla extract
1/4 teaspoon salt
1 cup sour cream
14 Oreo cookies - coarsely chopped
Instructions
Preheat oven to 325 degrees. Process cookies for crust in a food processor. Melt butter. Add to crumbs. Dump into a 10 inch springform pan. Press down on bottom of pan and about 1 1/2 inches up the sides of the pan. Bake for 5 minutes.
To make filling:
Put the cream cheese into a mixer bowl. Whip at medium speed until light and fluffy. Add the sugar and turn the mixer down to low. Mix until well blended. Add the eggs one at a time. Wait to add the next egg until the previous one is thoroughly mixed in. Add the salt, vanilla and sour cream.
Pour half of the batter into the pan. Top with about 8 of the remaining Oreo cookies. Add remaining batter and the remaining Oreos.
Bake at 325 degrees for one hour. Place a pan with boiling water under the cheesecake to provide some steam in the oven. The cheesecake will be done when it jiggles slightly in the middle when the pan is gently shaken. If it is too jiggly and not slightly risen in the center bake another 15 minutes.
Take out of oven and let set for about 5 minutes. Take a sharp knife and run it around the outside of the cheesecake. Do not loosen pan. Put cheesecake back in oven with the door cracked to let cool. Refrigerate for 24 hours before serving.
 Would you like to try another one of our cheesecake recipes?
Cheesecake with Strawberry Curd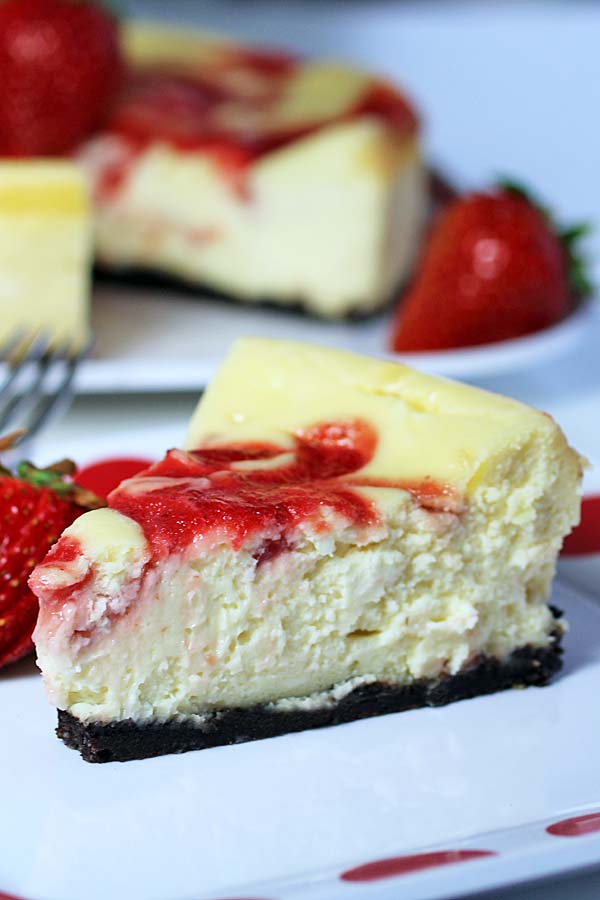 Peanut Butter Brownie No Bake Cheesecake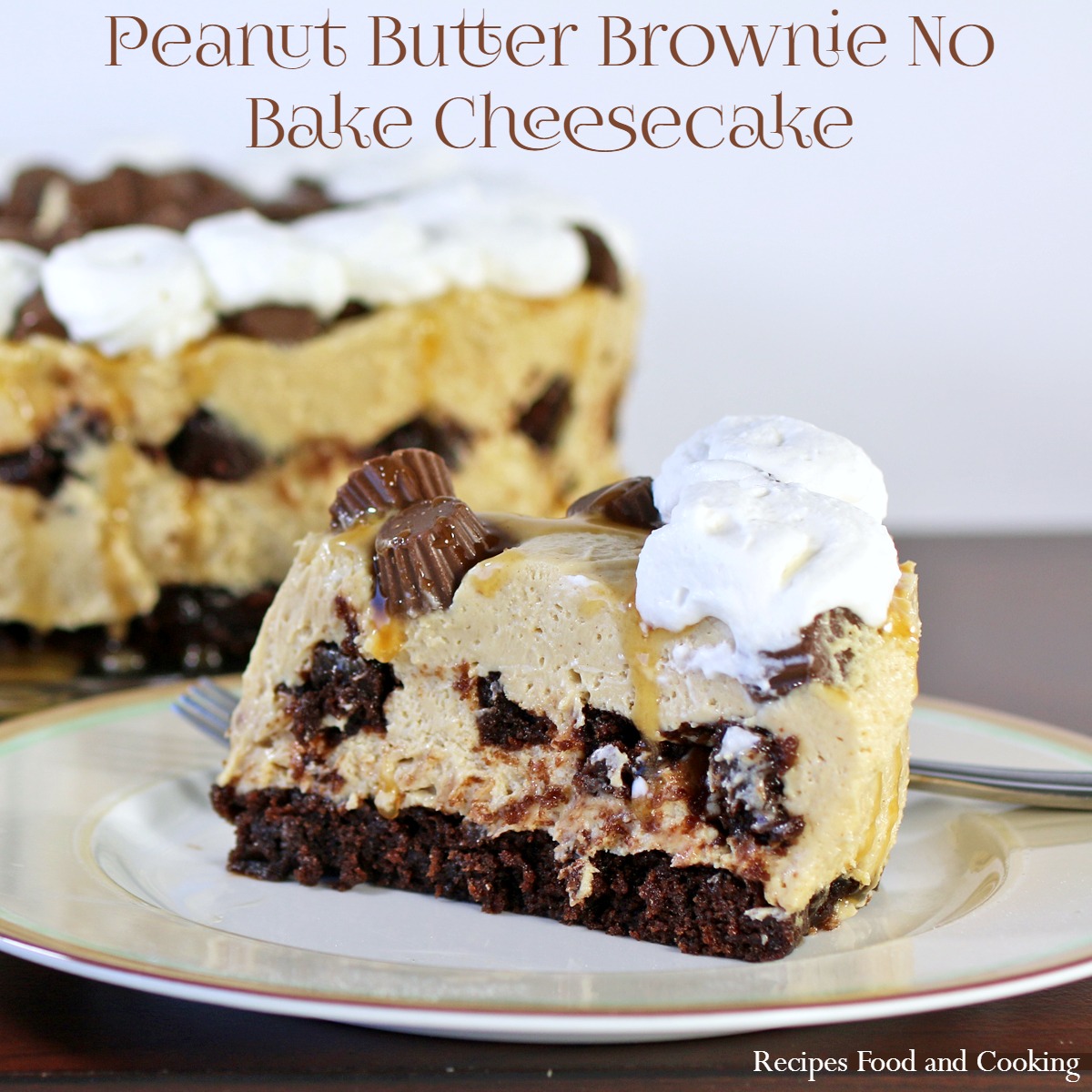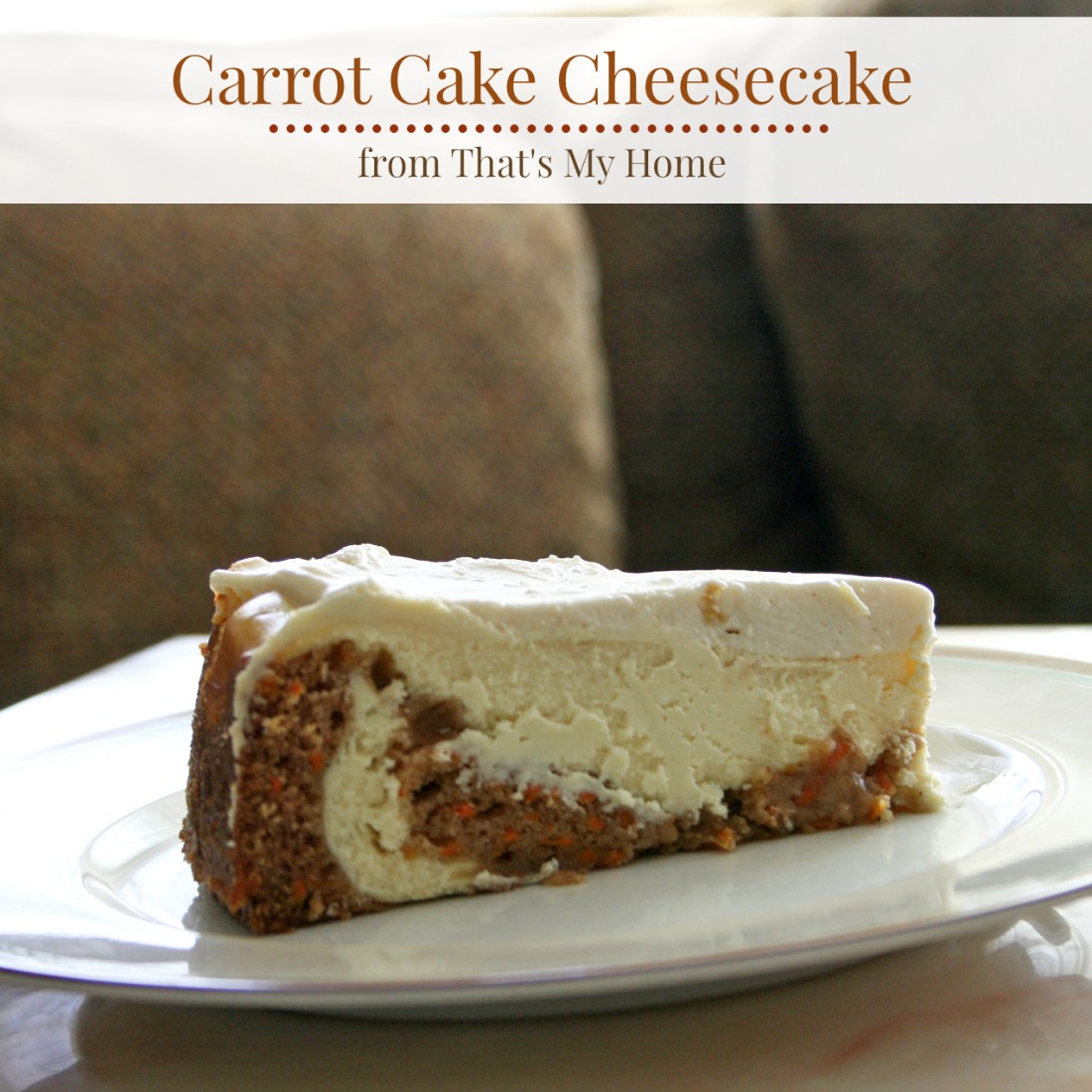 Pin It!