This is a sponsored conversation written by me on behalf of De'Longhi, Kenwood, Braun. The opinions and text are all mine.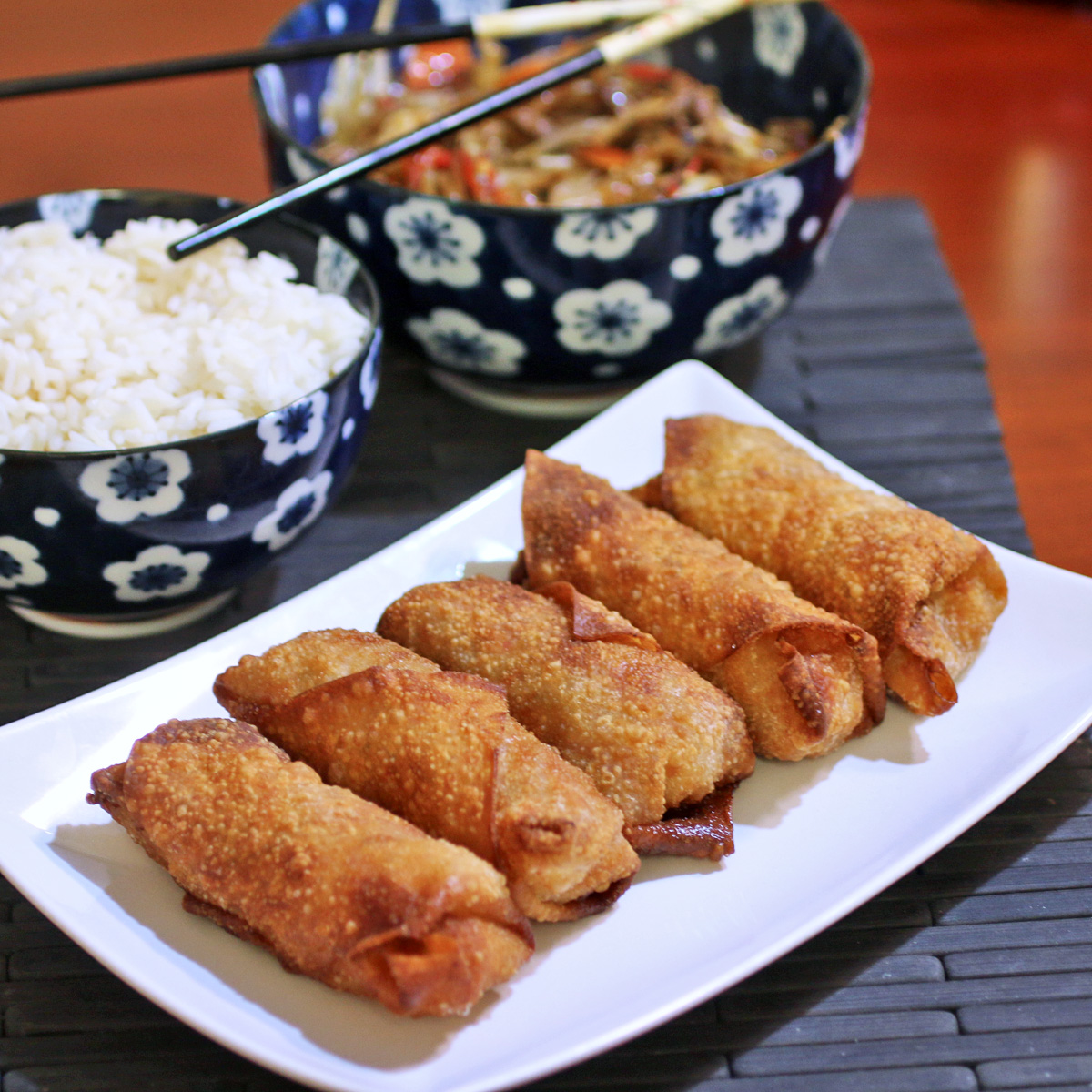 SHRIMP EGG ROLLS
I have to tell you I am loving my De'longhi Livenza Deep Fryer that I got last week. I used it for the third time today and absolutely love the results I am getting with it. If you are cooking for a family this fryer gets it done! I'm going to go sweet next time since I still have some wrappers that needs to be used. Watch for that recipe soon.
There are so many great features to this fryer compared to other ones I've owned. The adjustable thermostat gives you the power to prepare foods exactly the way you like them. This fryer has what they call the cool zone. The heating element is about an inch above the bottom of the fryer so food particles can drop below it. This keeps the food particles from burning up and the oil will last a lot longer. The fryer has an easy draining system also right on the front of the fryer to make clean up easier. Many of the parts of the fryer are dishwasher safe for hassle free clean up!
If a fryer is on your radar screen be sure to look at this one. Their customer support is also awesome! The way the power cord connects to the fryer makes it safer to use also which was the reason I know how awesome customer support is.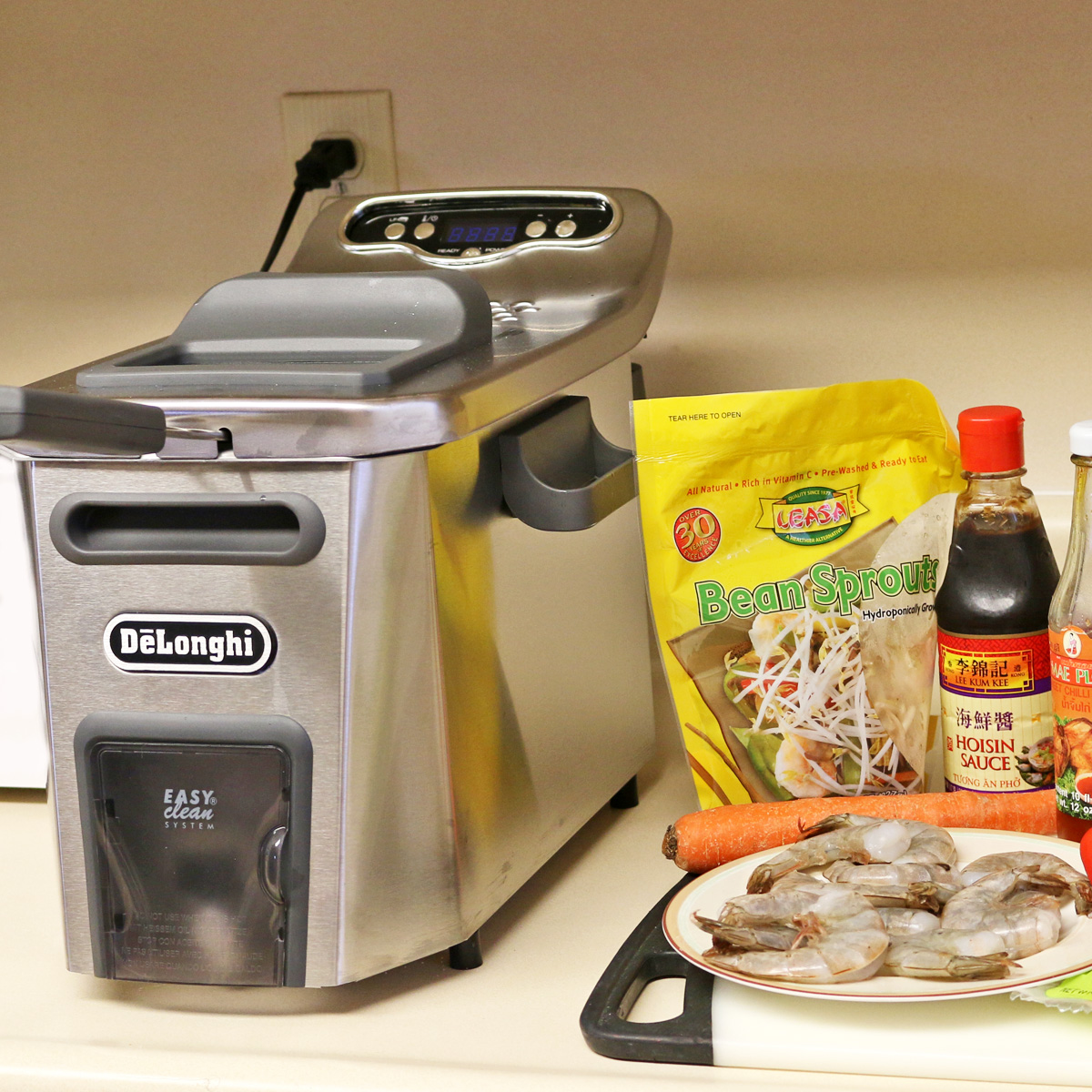 So let's talk about these delicious shrimp egg rolls for a minute. I may never buy them again. I'd forgotten how good homemade ones are! Gather together all of your ingredients before you start. Any extras can be frozen if you need to. Just lay out the uncooked egg rolls in a single layer on a cookie sheet and freeze. Then put them in a freezer bag. Cook frozen.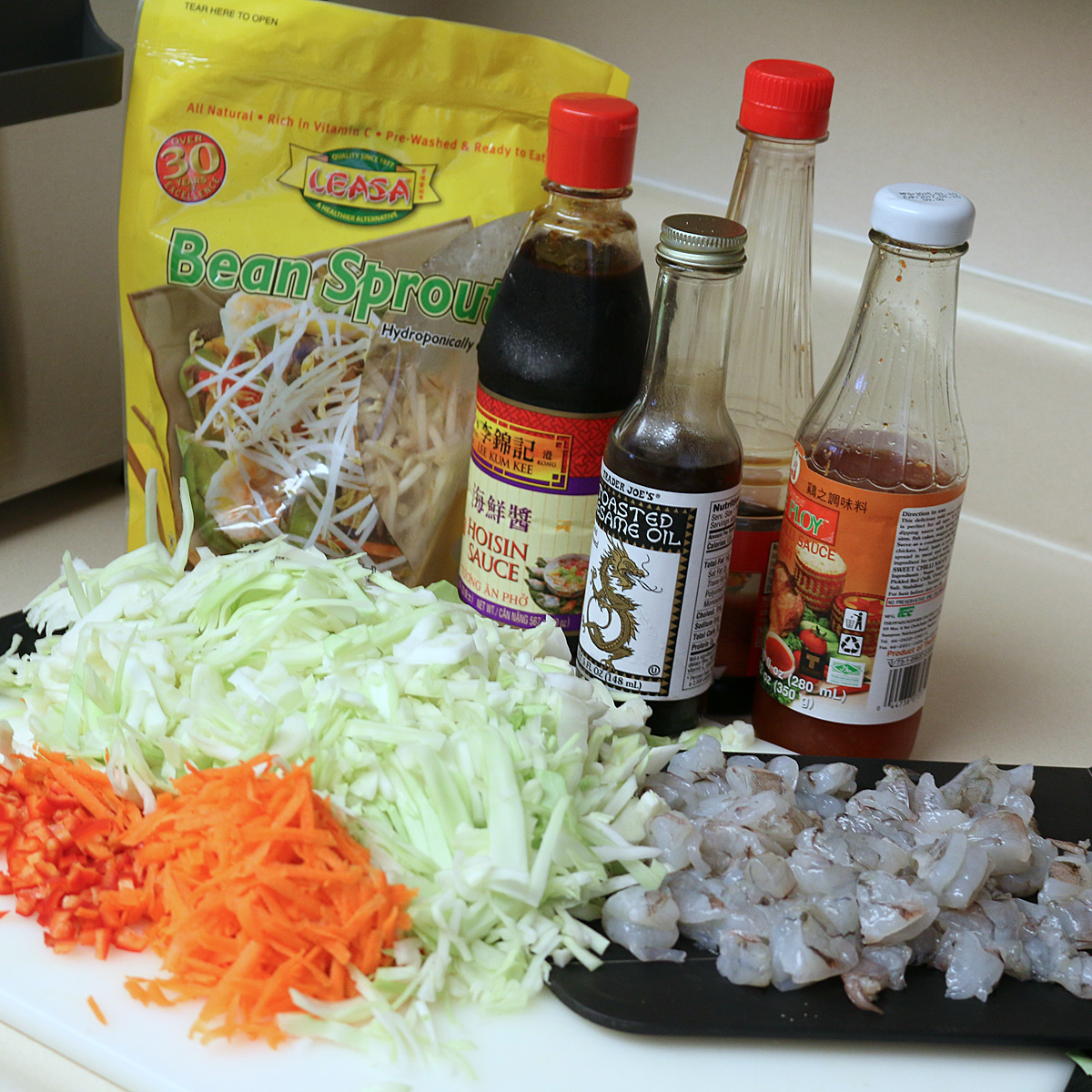 Chop all of your vegetables. Gather your ingredients.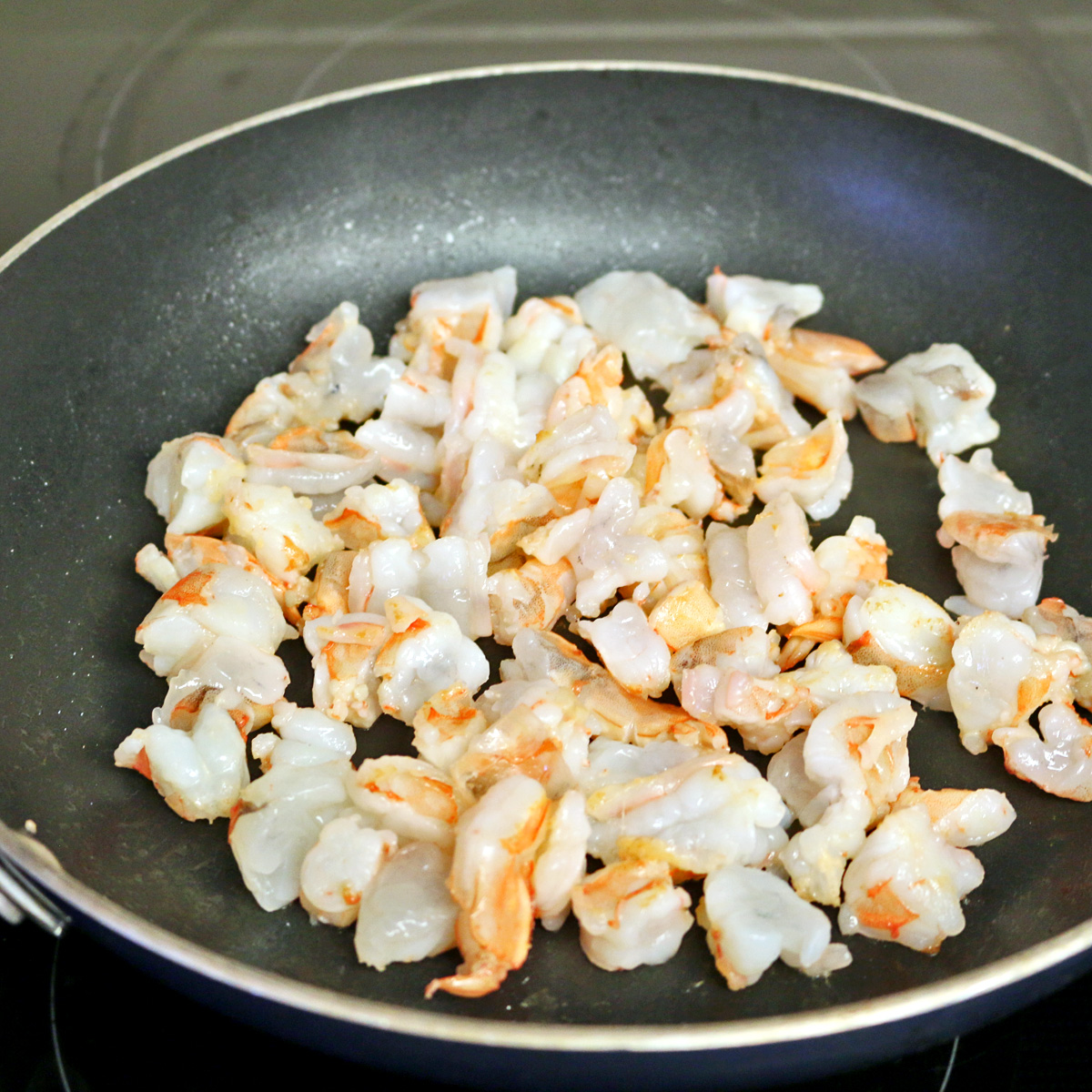 Cook the shrimp. You can see that they are not fully cooked. See the pieces that are translucent? It will finish cooking when you cook the egg rolls. This prevents your shrimp from being over cooked.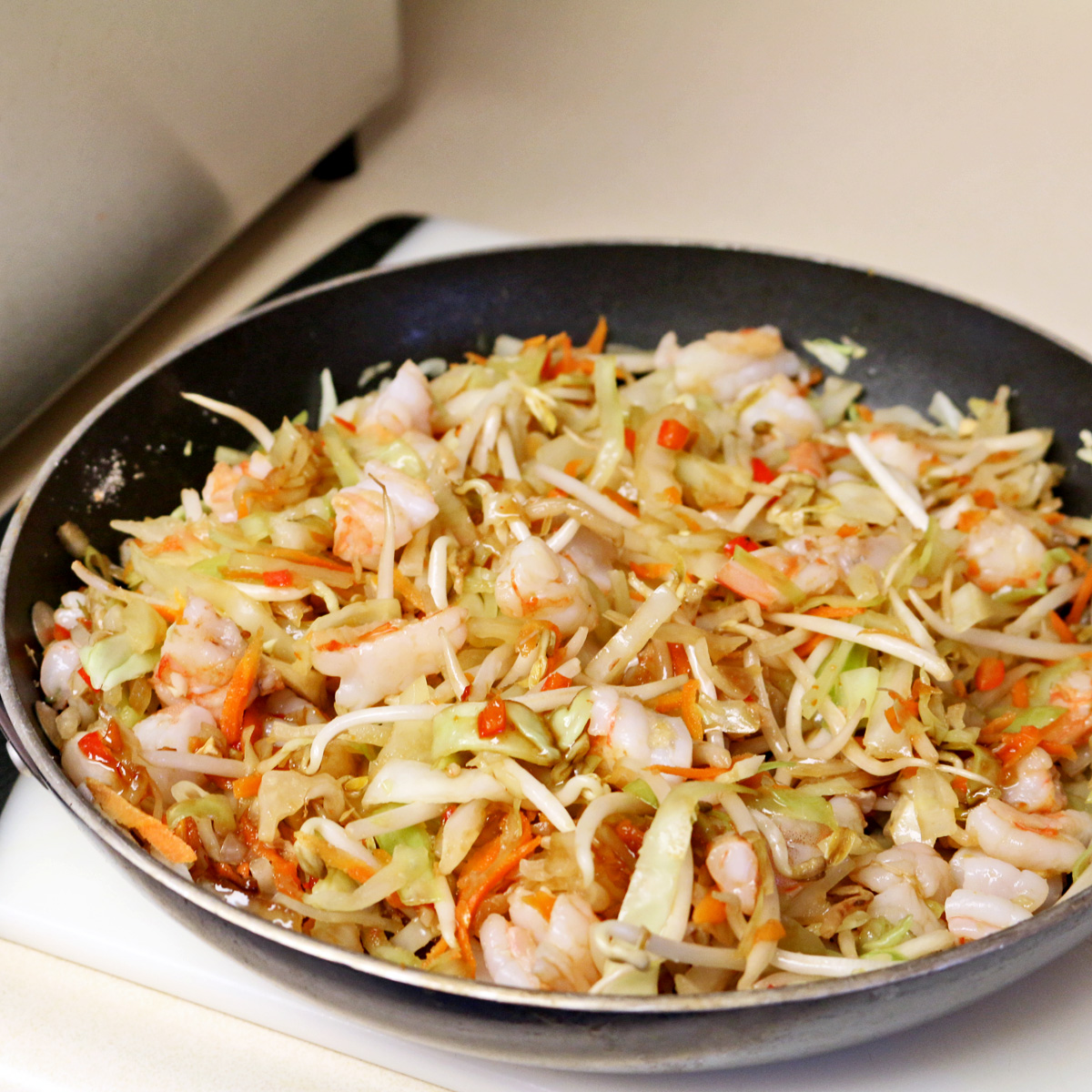 This is what your mixture should look like once you cook the vegetables and add the seasonings.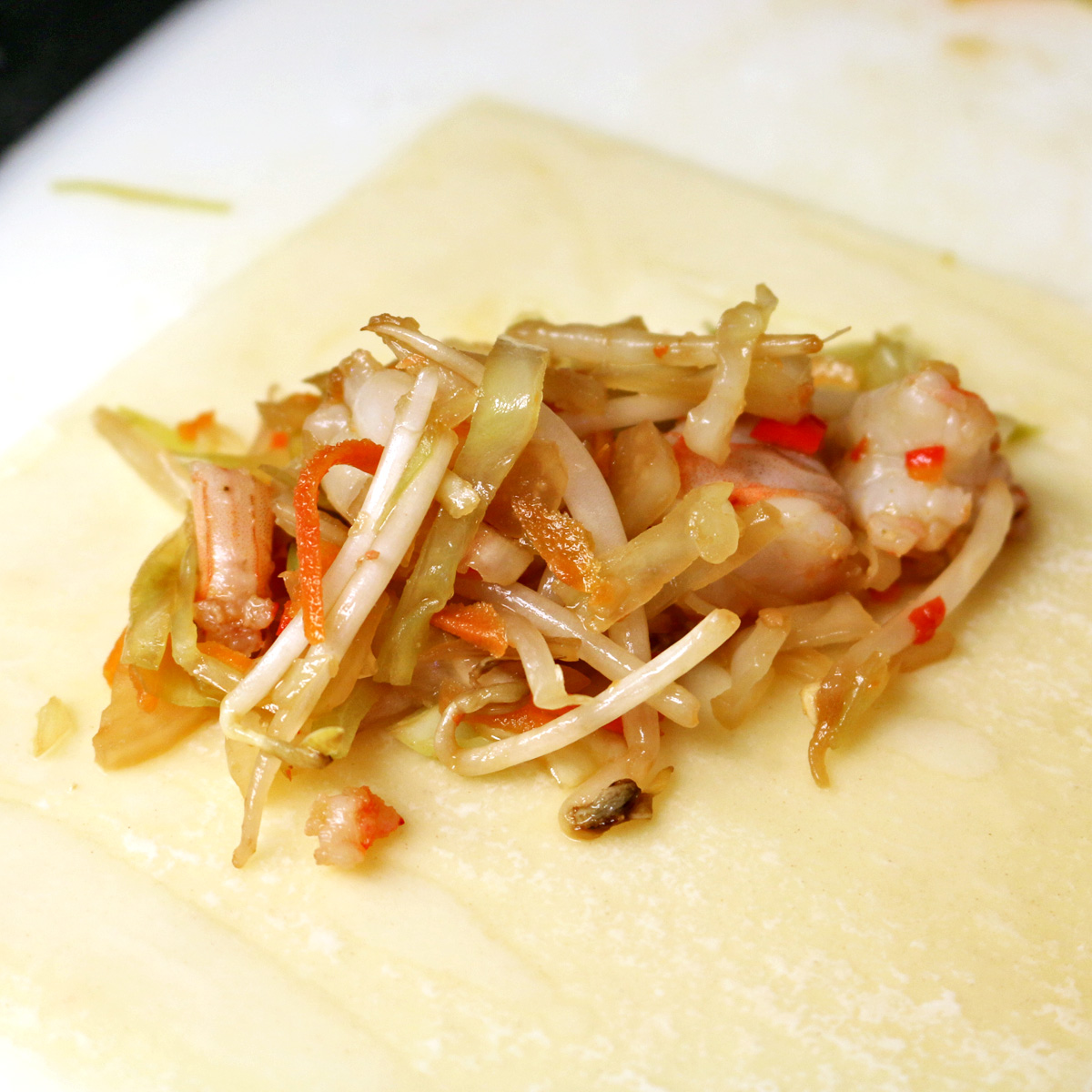 This is how much filling I used in each one.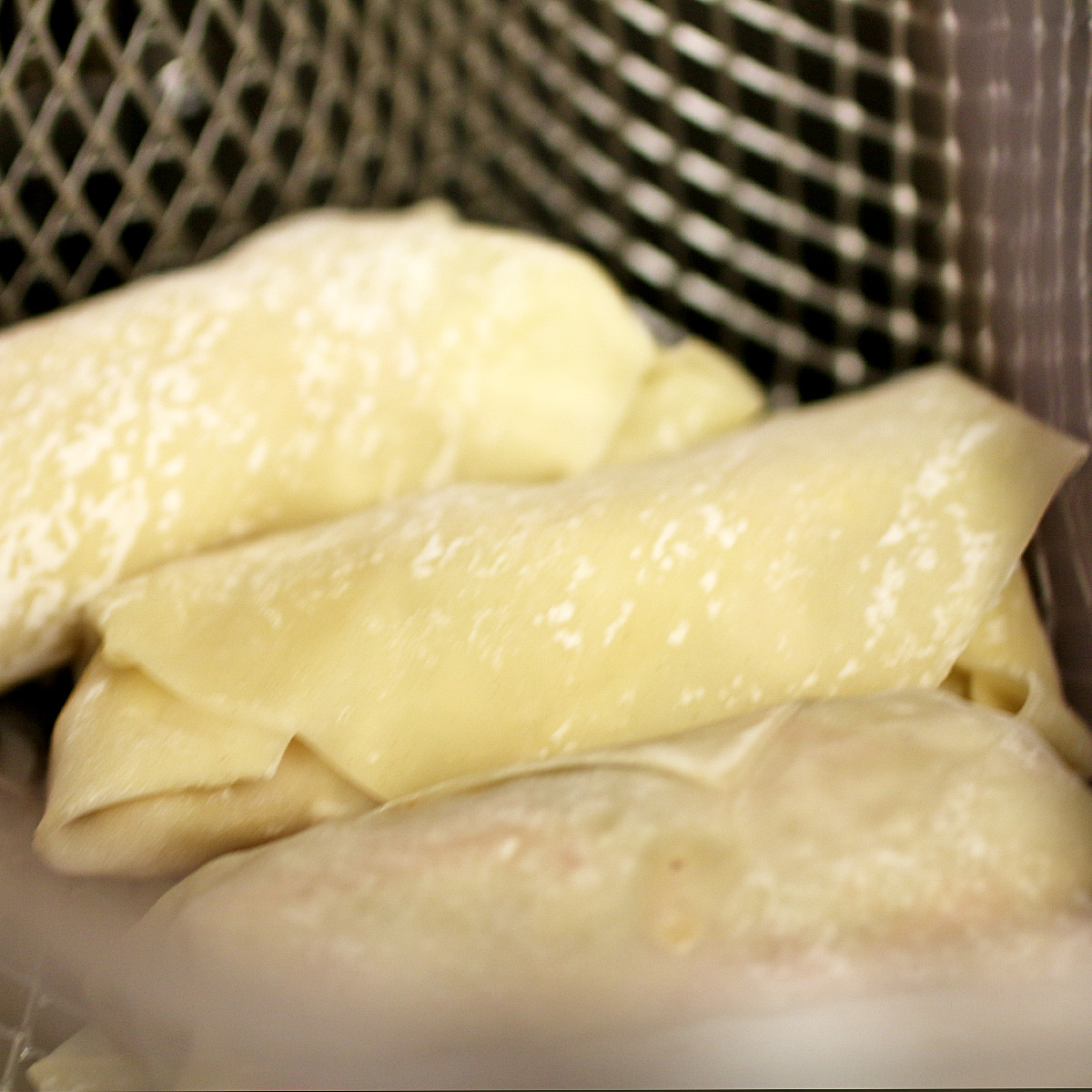 Waiting to be cooked. The fryer basket has a bracket at the top to hold the basket out of the grease.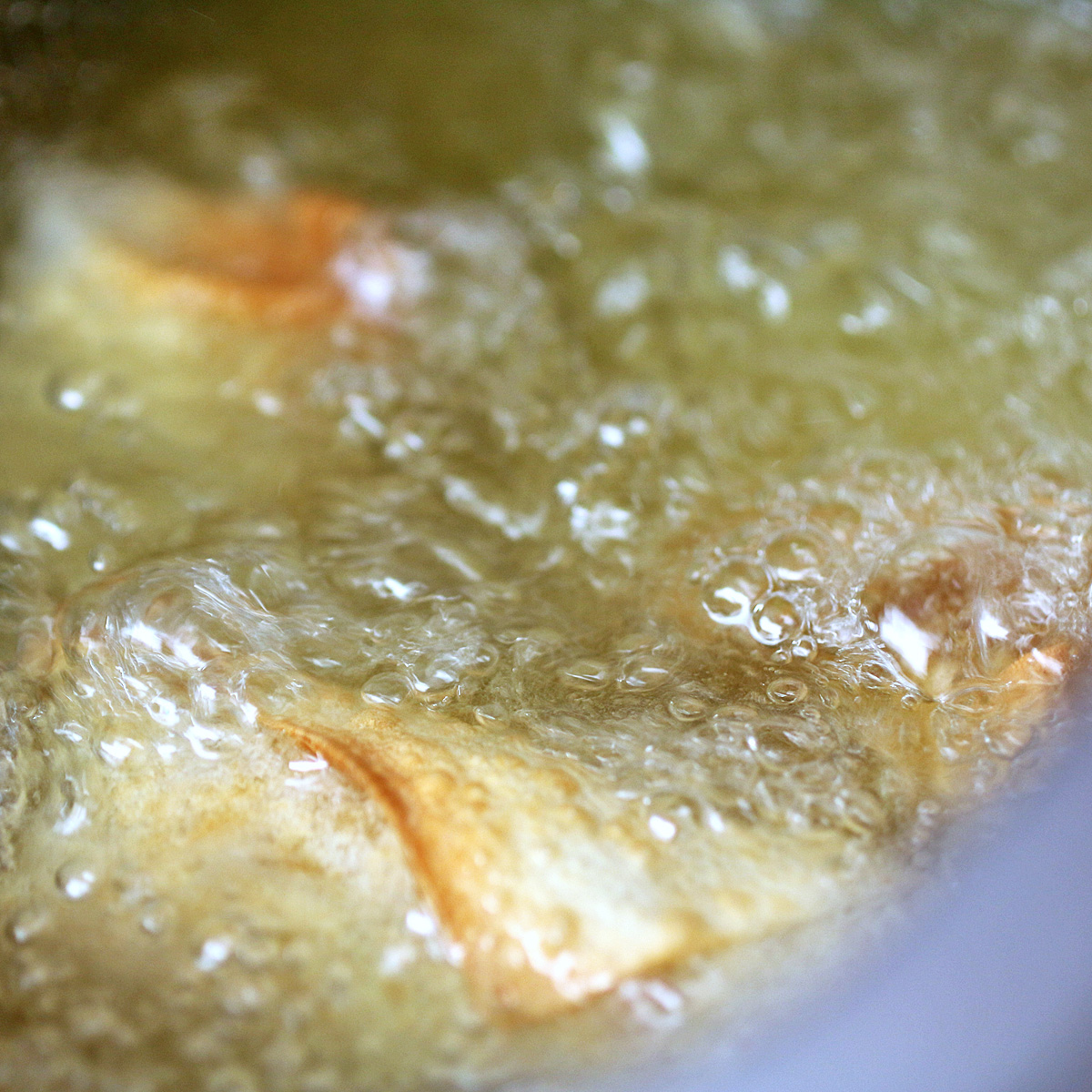 Cooking! When done, shake the basket well to remove any grease and then drain the egg rolls on a paper towel.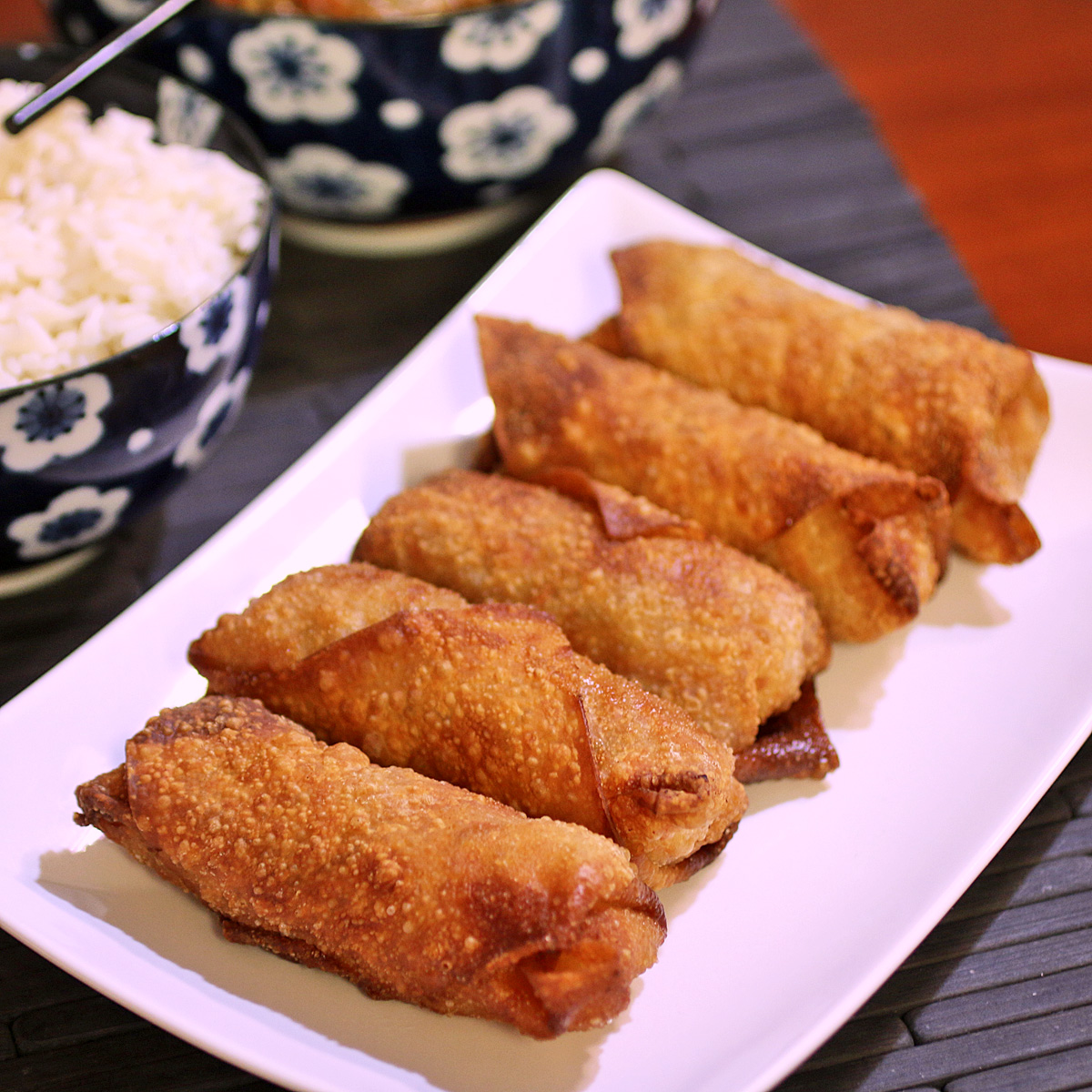 Ready to eat! Dig in.

Shrimp Egg Rolls
Author:
Mary Ellen @ Recipes Food and Cooking
Recipe type:
Appetizer, Chinese
Prep time:
Cook time:
Total time:
Ingredients
1 lb. finely shredded cabbage
½ cup shredded carrots
¾ lb. raw shrimp
2 - 3 mini sweet red peppers
2 cups bean sprouts
1 teaspoon oil
2 tablespoons water
1 teaspoon garlic powder
½ teaspoon fresh ginger chopped finely
1 tablespoon Chinese vinegar
1 teaspoon sesame oil
1 tablespoon Hoisin sauce
2 tablespoons sweet and sour chili sauce
1 package large won ton wrappers
Instructions
Start out by chopping the cabbage into thin slices.
Shred a carrot.
Slice the sweet peppers thinly.
Shell the shrimp and chop them into bite size pieces.
Add the oil to a saute pan and add the shrimp. Cook quickly until the shrimp starts to turn pink. It will look translucent. It will finish cooking in the egg roll. Remove from pan and set aside.
Add the water to the pan and add the cabbage. Cover and cook for several minutes. Stir in the carrots and red pepper. Cover for another 1-2 minutes. You want the vegetable to begin to cook but not loose their crispness. Remove from heat.
Add the shrimp back to the pan with remaining ingredients except won ton skins.
Refrigerate until cool. This can be made ahead to this point if you want to.
Take a won ton skin and brush water around the edges with your fingers. Add several large tablespoons on top of the wrapper. Fold the wrapper like an envelope.
Deep fry at 350 degrees until browned, about 4 - 5 minutes. Drain on a paper towel. Serve
The lid of the fryer has a see thru opening and an air filter. The lid is not attached and is completely removable. The lid also surrounds the electronic display.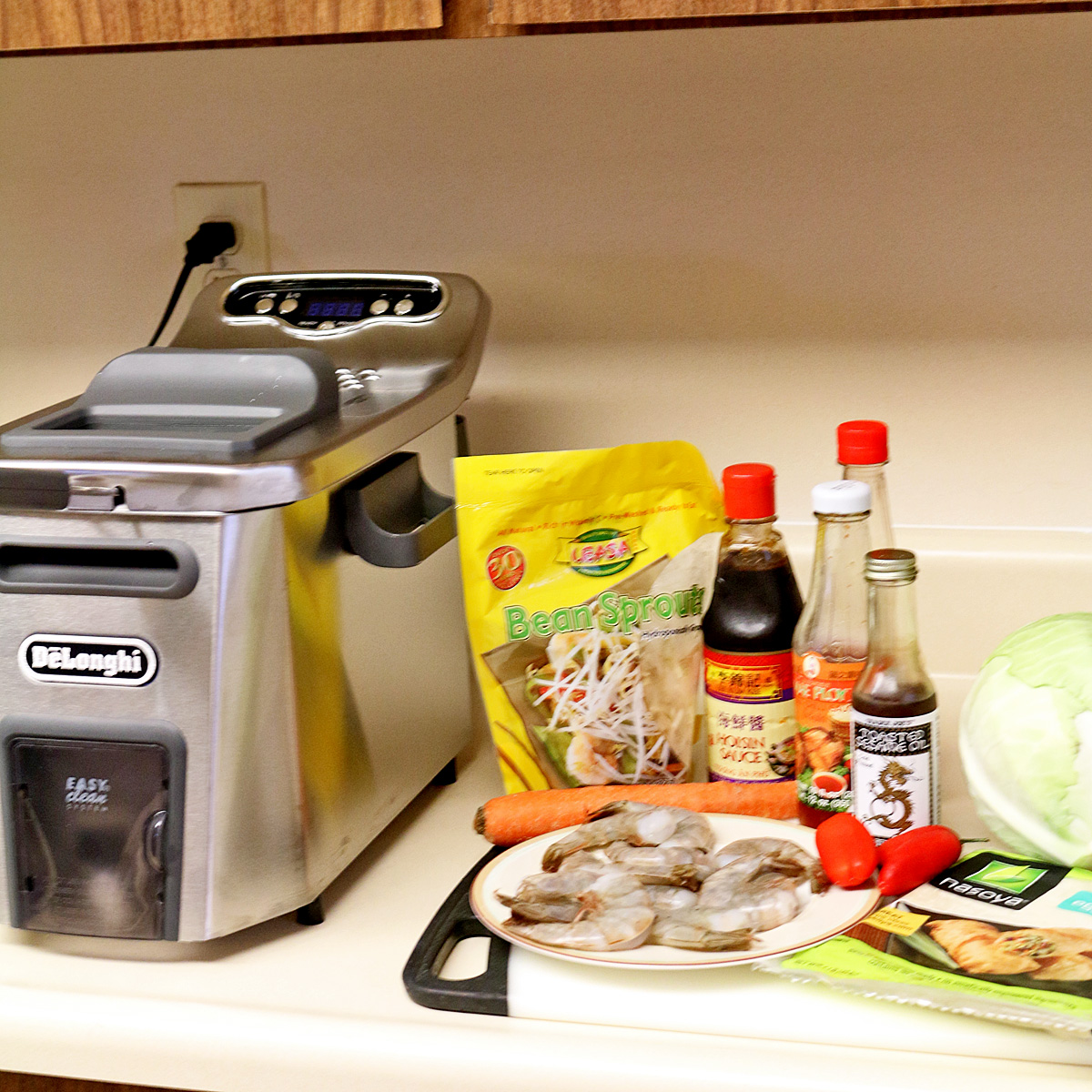 Contact De'Longhi US or in Canada. Visit De'Longhi on Facebook.
Try our Cheeseburger Bites I made last week.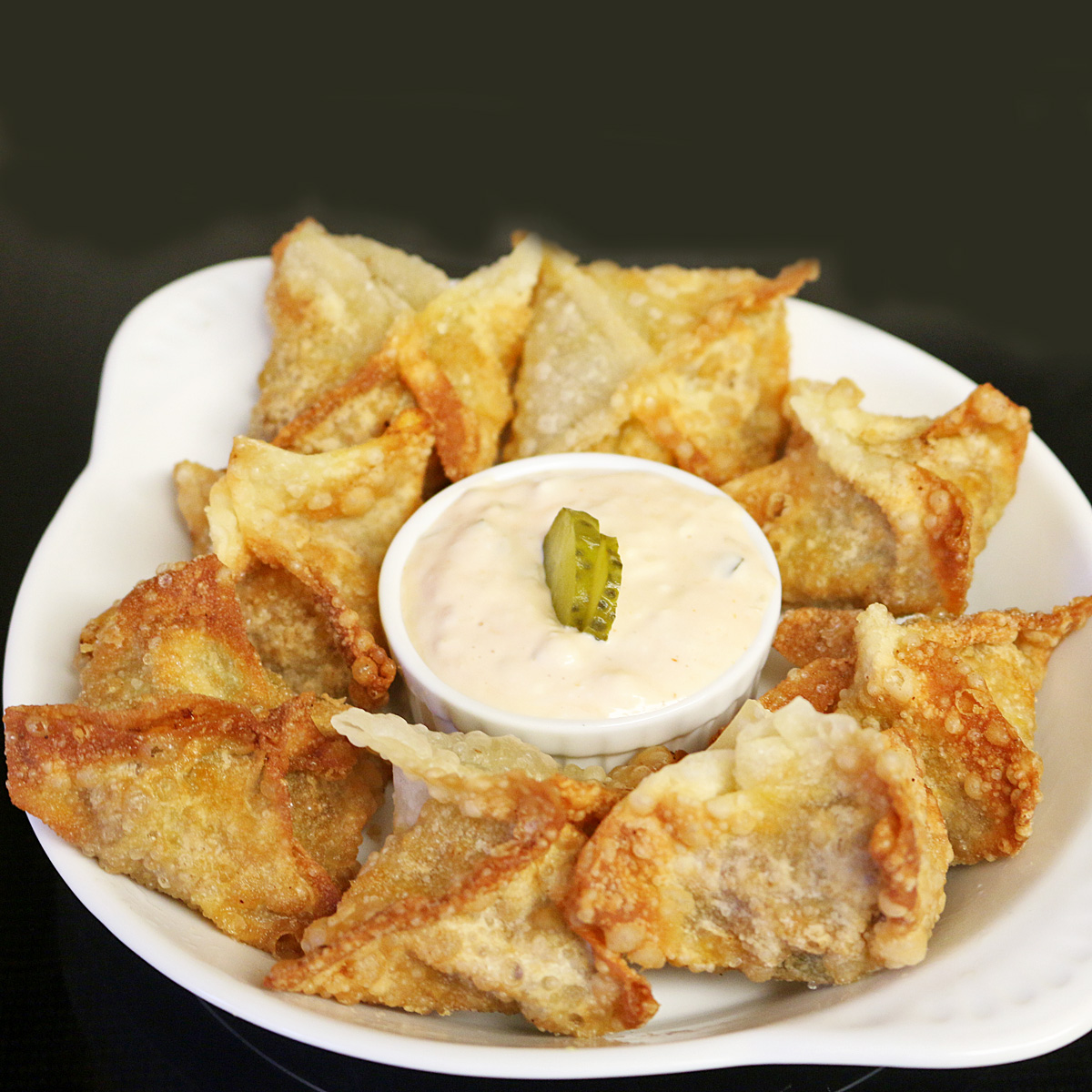 Pin It!
Comments submitted may be displayed on other websites owned by the sponsoring brand.
This is a sponsored conversation written by me on behalf of De'Longhi, Kenwood, Braun. The opinions and text are all mine.