This post is sponsored by McCormick in conjunction with a social media campaign through Sunday Supper LLC. All opinions are those of the individual bloggers.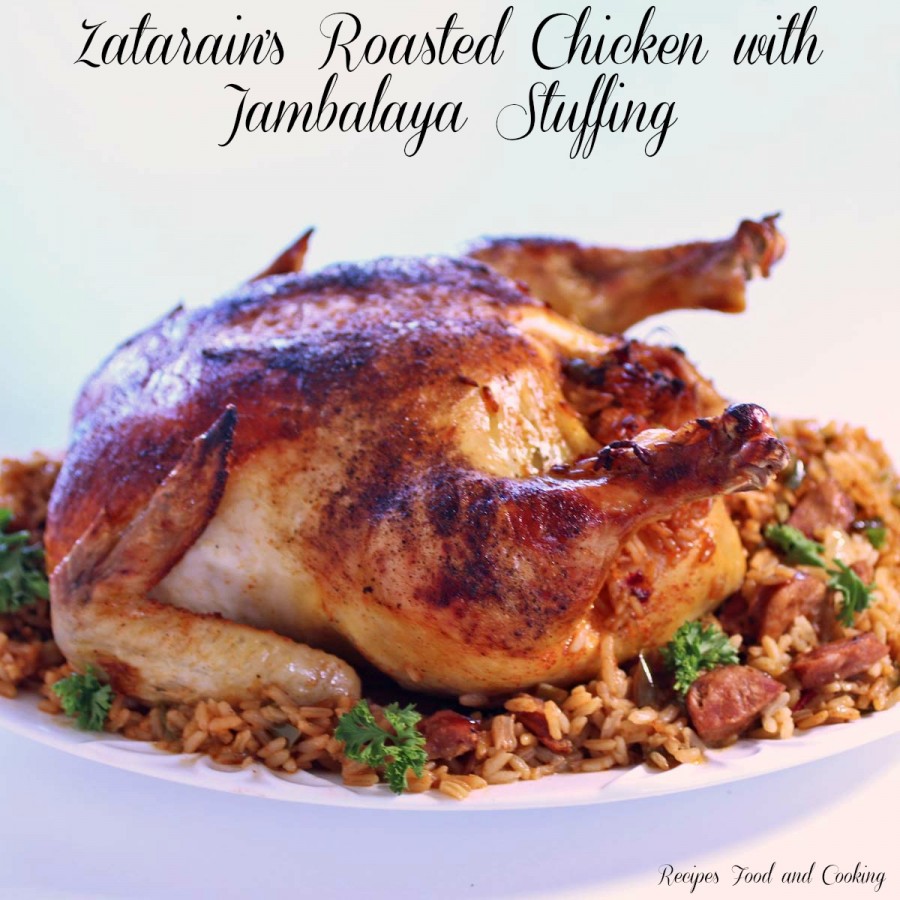 Zatarain's Roasted Chicken with Jambalaya Stuffing
Mardi Gras is right around the corner so it seems appropriate to be making some delicious jambalaya to celebrate the day. Mardi Gras is a major holiday in New Orleans and is celebrated the 2 weeks before Fat Tuesday. It typically involves parades and of course food.
Most dishes in New Orleans start with celery, onions and green peppers, also know as the trinity. I took some classes in New Orleans a few years ago and learned all about preparing this with a roux to make this authentic taste of New Orleans. Zatarain's makes it easy for you with their delicious Jambalaya mixes and Creole Seasoning. Jambalaya is thought to be a version of paella, from the days of the Spanish ruling New Orleans in the mid to late 1700s.

Zatarain's has been in business 125 years! They make it easy for you to be serving a delicious jambalaya in less than 30 minutes. A quote from our sponsor: "Since Mardi Gras day is historically food focused, it's easy to envision early parade-goers filling up on bowls of steamy jambalaya prior to engaging in the day's festivities," said Jill Pratt, general manager of Zatarain's. "Jambalaya is a really versatile dish and can be personalized based on your favorite add-ins."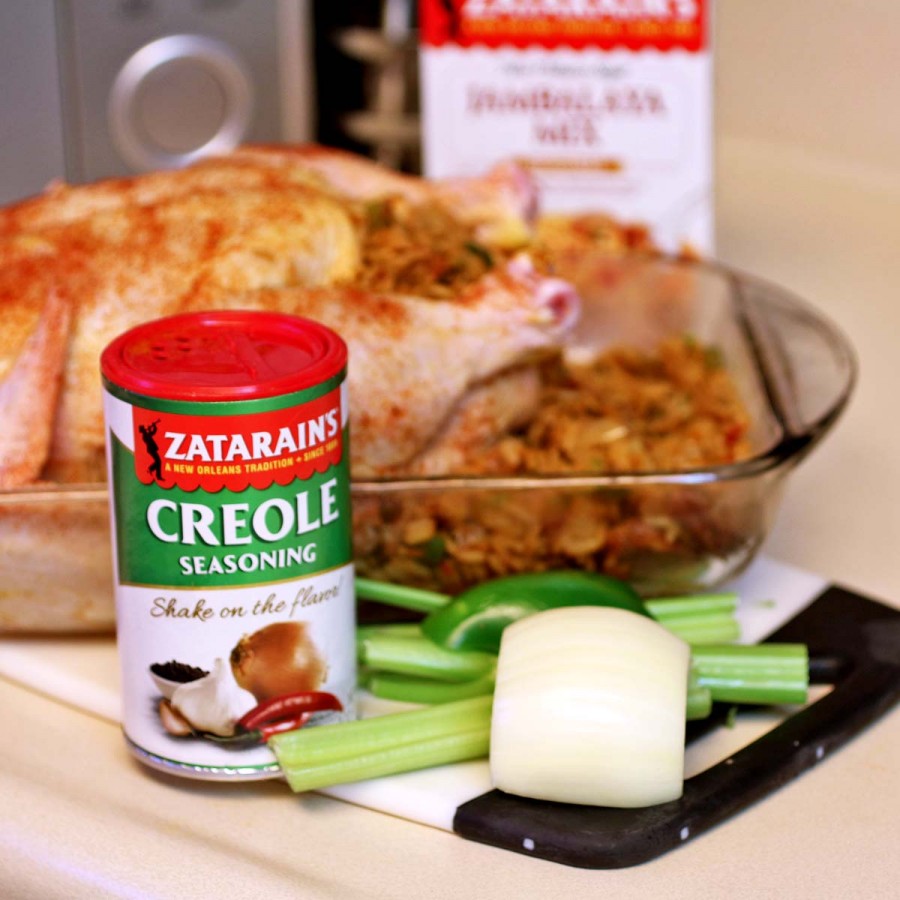 I used the Zatarain's Creole Seasoning on the chicken. I let the chicken set with the seasoning on it while I prepared the rice to stuff the chicken with. Next I prepared some onions, celery and green peppers to add to the rice along with a couple of Cajun sausages. Not all of the rice would fit in the chicken so I spread the extra on the bottom of the pan and put the chicken on top of the rice. I added some water to keep it all from drying out. I can't begin to tell you how good this dish was. A vegetable and salad completes the meal that will have your family asking for more. You could also cook this in a slow cooker all day for a great week night dinner.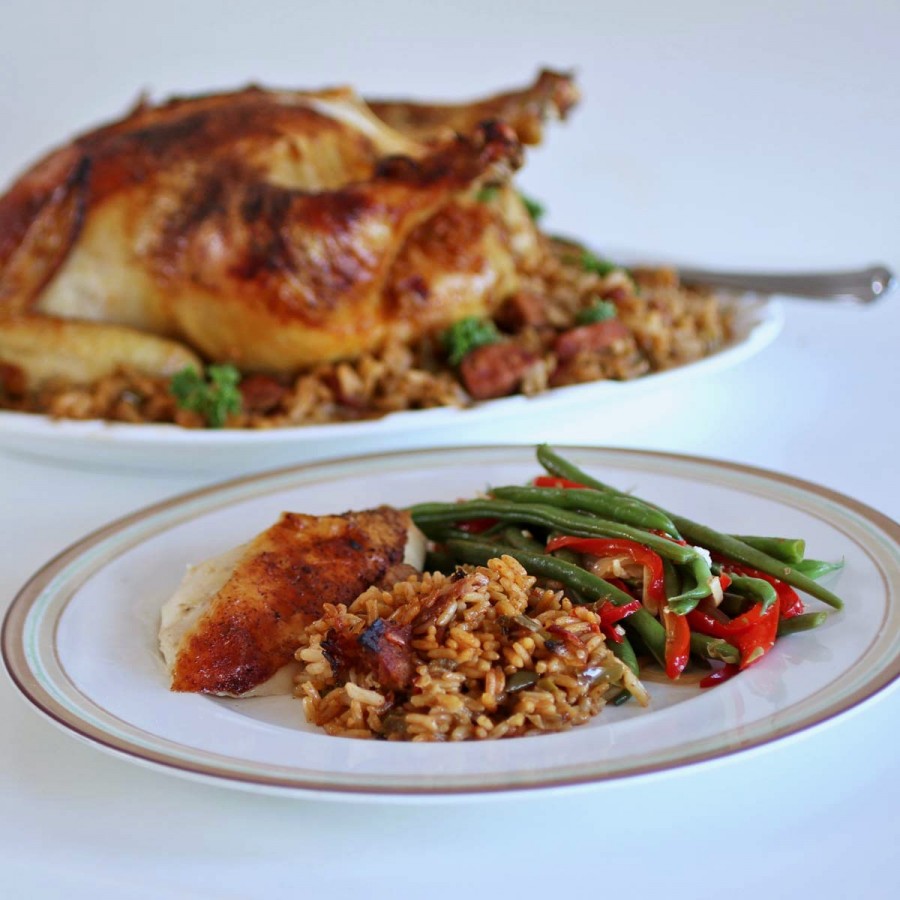 Zatarain's Roasted Chicken with Jambalaya Stuffing
Recipe type:
Chicken, Dinner, Main Dish
Prep time:
Cook time:
Total time:
Whole chicken stuffed with Zatarain's Jambalaya.
Ingredients
1 whole chicken
Zatarain's Creole Seasoning
1 package Zatarain's Original Jambalaya
1/2 cup chopped onion
1/2 cup chopped celery
1/2 cup chopped green pepper
1 teaspoon oil
2 1/2 cups water - divided use
2 Cajun sausages
Instructions
In a saucepan add 1 1/2 cups water. Stir in the contents of the Zatarain's Original Jambalaya. Cover and cook for 15 minutes.
Add the chopped vegetables to a hot pan with the oil. Sauté for 5 minutes or until vegetables are tender. Chop the Cajun Sausage into 1/2 circles. Add the Cajun sausages to the vegetables. Add to the rice.
Prepare the chicken for roasting by covering liberally with the Zatarain's Creole Seasoning. Place in a roasting pan or the slow cooker.
When the rice is ready stuff it into the cavity of the chicken. Any extra can go on the bottom of the pan. Add the remaining water to the bottom of the pan.
If roasting, heat oven to 400 degrees. Cover the rice with foil. Bake for 1 hour or until chicken reaches 165 degrees in the thickest part. Let set 10 minutes before cutting chicken.
If using the slow cooker cook on LOW for about 8 hours.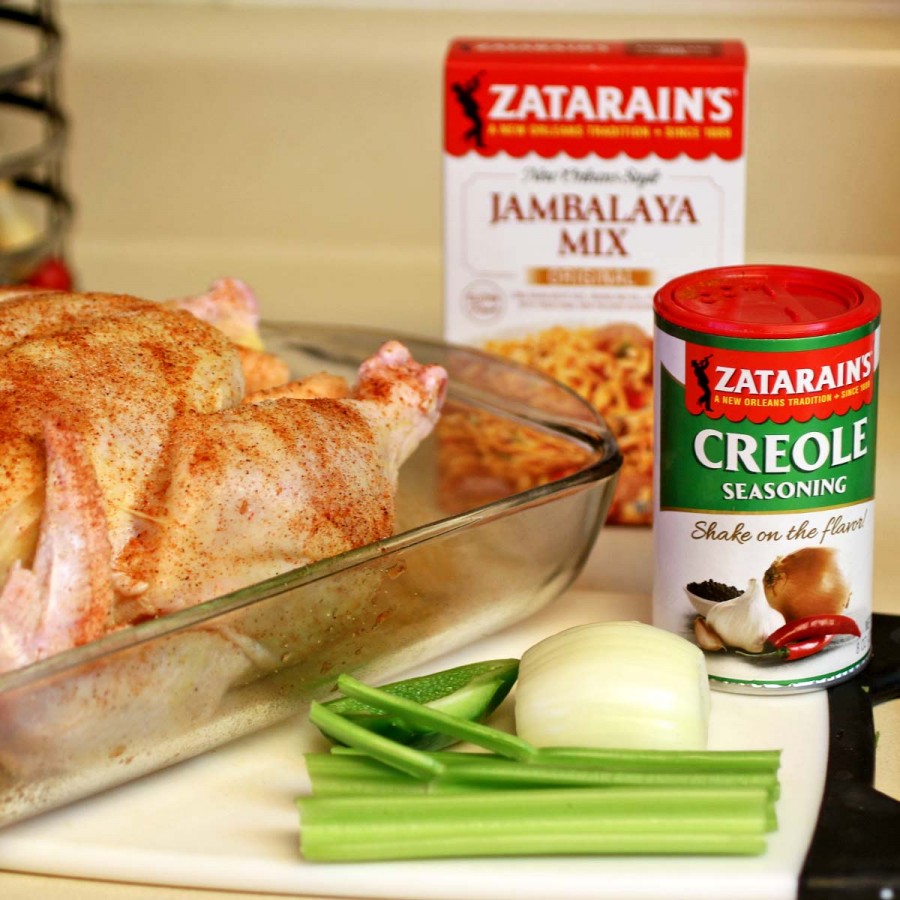 You can follow Zatarain's on these sites.
Website: http://www.mccormick.com/Zatarains
Facebook: https://www.facebook.com/Zatarains/
Twitter: http://www.twitter.com/zatarains
Instagram: https://www.instagram.com/zatarains/
Pinterest: https://www.pinterest.com/Zatarains/
Be sure to stop by our Sunday Supper Jambalaya Pinterest Board to see all of the Jambalaya recipes this week.
Appetizers and Soup
Main Courses
Have you signed the #SundaySupper pledge to eat together as a family? Do it right here!
Join the #SundaySupper conversation on twitter on Sunday! We tweet throughout the day and share recipes from all over the world. Our weekly chat starts at 7 pm ET. Follow the #SundaySupper hashtag and remember to include it in your tweets to join in the chat. To get more great Sunday Supper Recipes, visit our website or check out our Pinterest board. Would you like to join the Sunday Supper Movement? It's easy. You can sign up by clicking here: Sunday Supper Movement.
Pin It!