This shop has been compensated by Collective Bias, Inc. and its advertiser. All opinions are mine alone. #SpreadTheMagic #CollectiveBias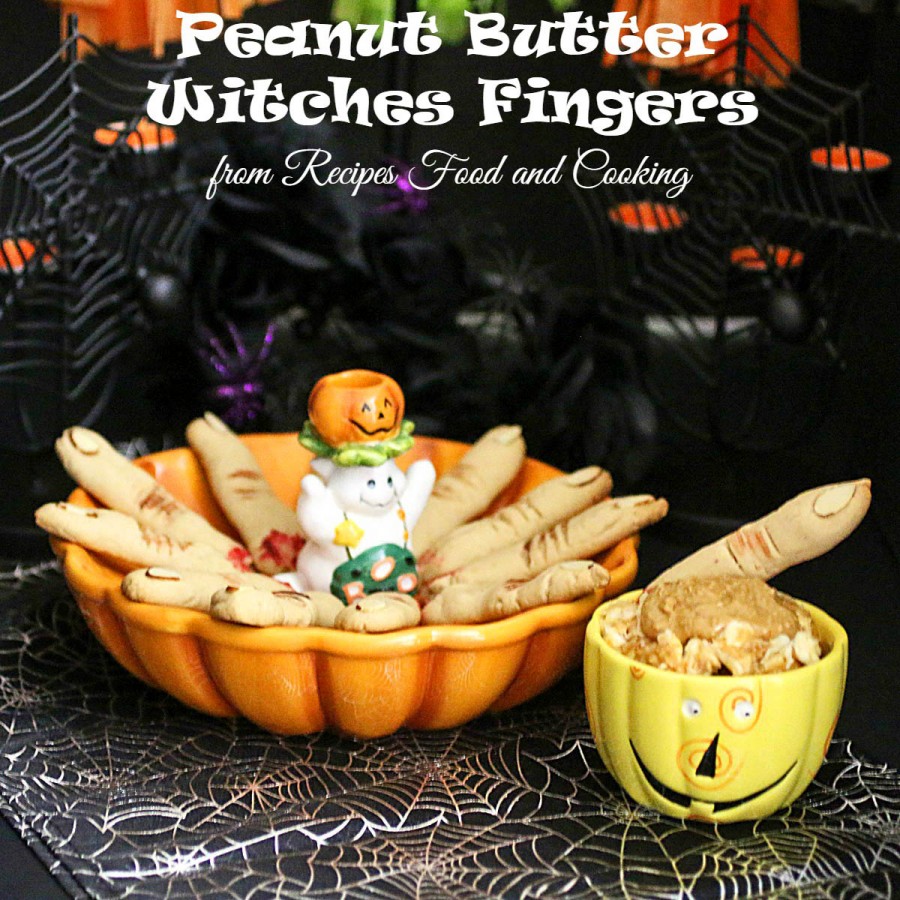 Peanut Butter Witches Fingers
Halloween is just a couple of days away and I'm getting so excited! I love this time of year and Halloween is just plain fun. I love serving fun food during the week leading up to Halloween. Today I made some delicious Peanut Butter Witches Fingers with a Creamy Peanut Butter Dip.
I've been using the New Peter Pan Simply Ground Peanut Butter all week, 2 jars so far and working on 3. Can you tell I like it? There's a Honey Roast version also. I love the consistency of it, so "creamy with a BIT OF CRUNCH." It is the perfect balance and no artificial colors, flavors, or preservatives. Never stand there and wonder again, smooth or crunchy!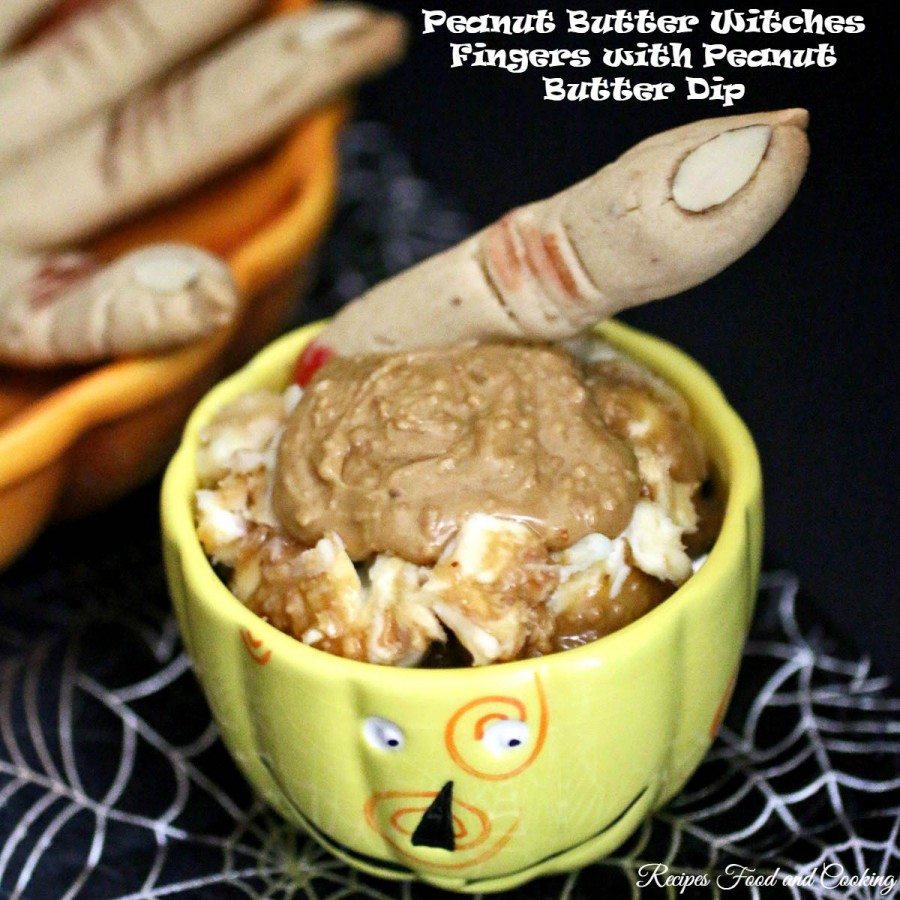 With a texture just like freshly ground peanut butter, Simply Ground Peanut Butter spreads evenly on bread without tearing it, unlike some creamy and crunchy peanut butters. You can see the texture above of the peanut butter right out of the jar. I love the wide mouth jar also, it's perfect for dipping.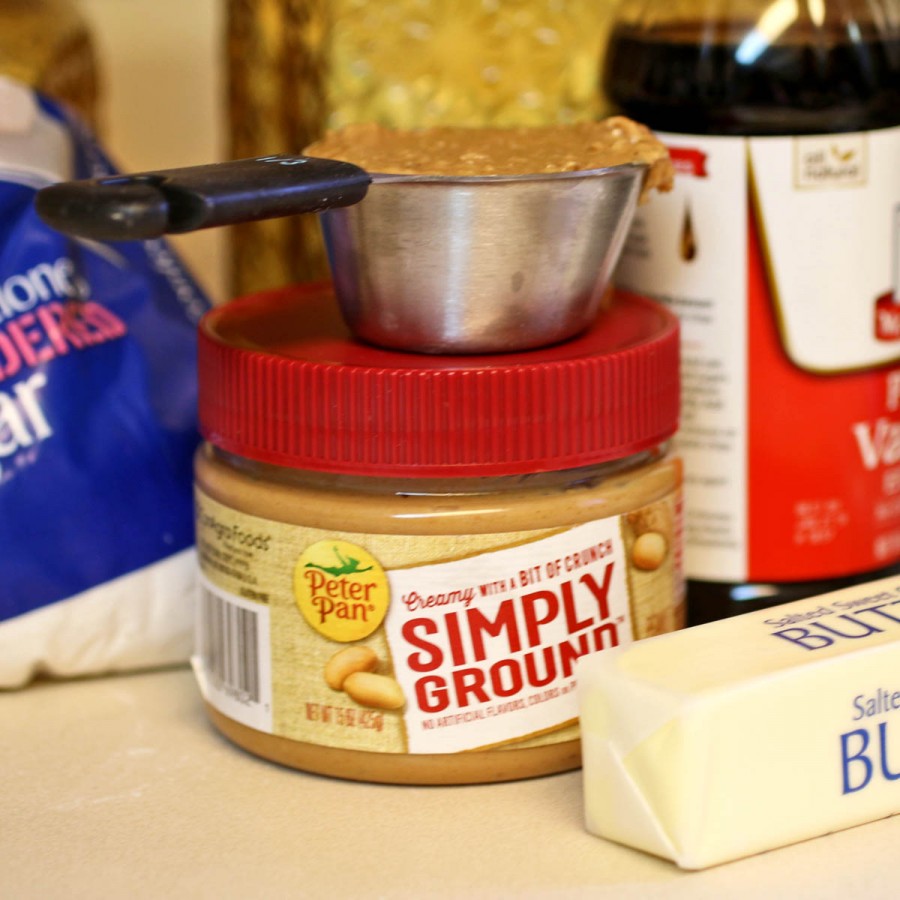 Making these cookies is so simple and only 5 Ingredients! Simply Ground Peanut Butter, butter, vanilla, confectioner's sugar and flour. So easy. The texture of the peanut butter is perfect for these cookies!
Shaping the cookies is fun. Don't be fussy about the shapes. Having each cookie look a little different makes it look like lots of fingers.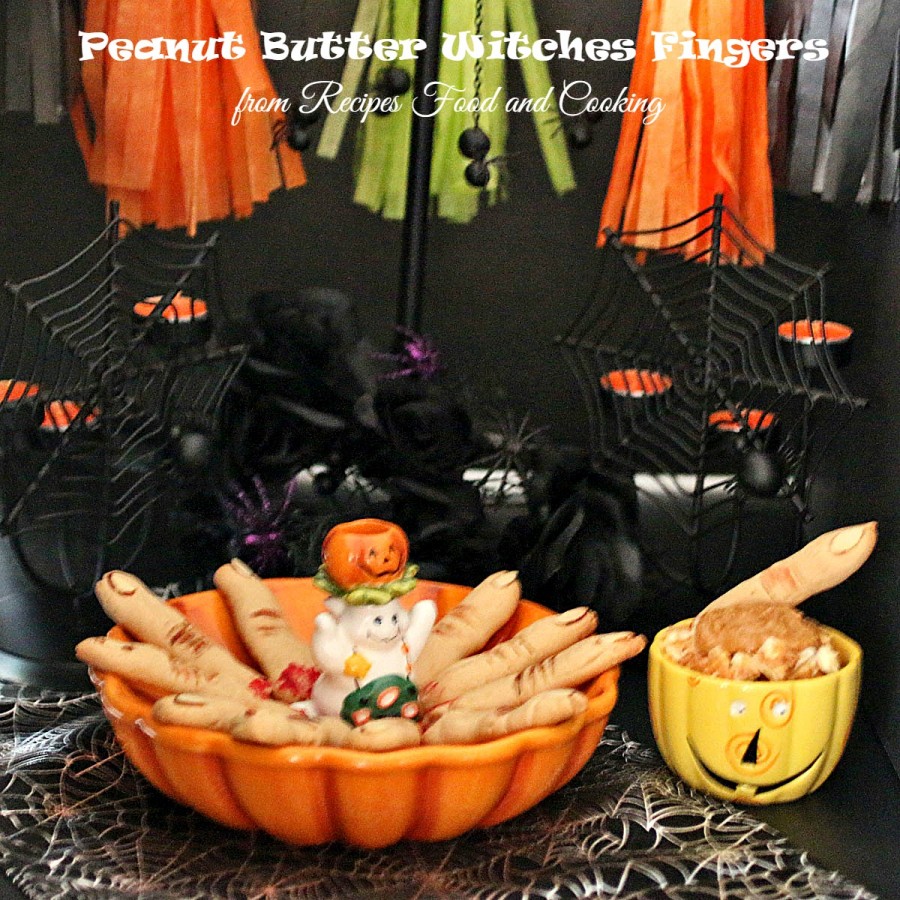 I also made the tassel garland you see in the back of the pictures. You can make a pretty good size garland rather quickly once you get the hang of it. I used tissue paper I found at Walmart when I was buying the Simply Ground Peanut Butter. They had a great variety of colors too!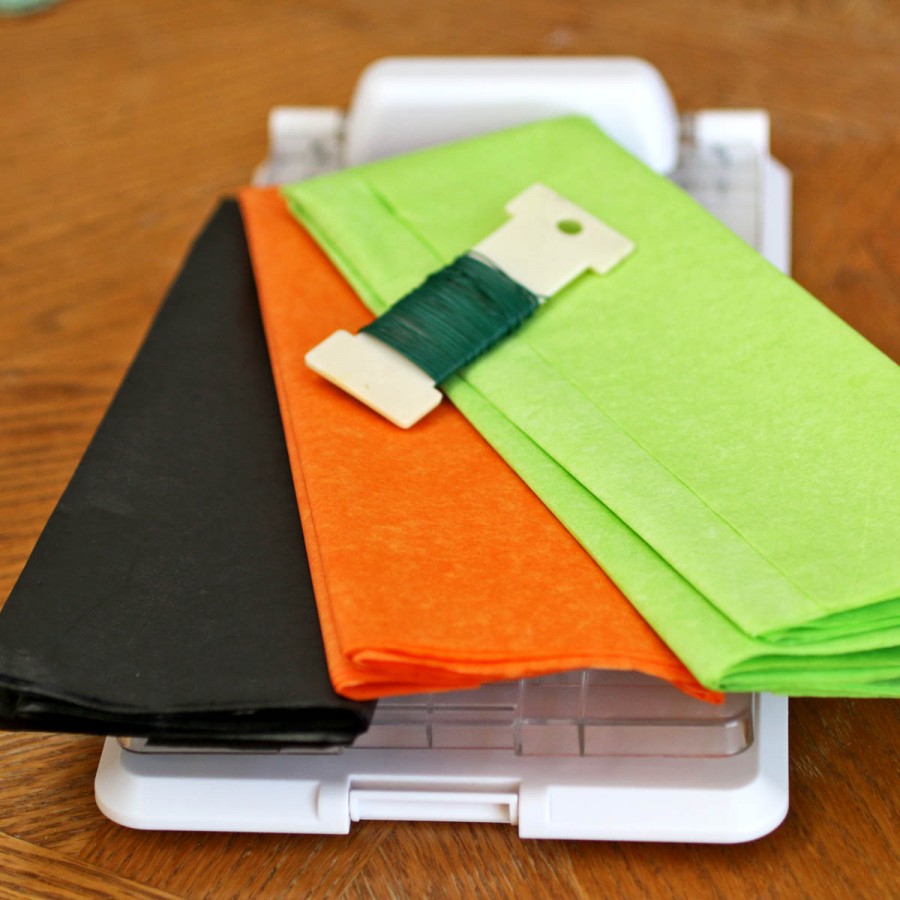 I have a tool that cuts the tassels for me but a pair of scissors will work. To prepare the tissue for cutting, take 1 sheet of paper and fold it in half lengthwise. Then fold it in half again from the opposite side. Cut into 2 equal pieces. Cut 1/2 inch cuts up to within 1 inch of the folded top edge. Run a piece of wire thru the top and I crinkled and wrapped the garland around at the top. Twist the wire together to keep it closed at the top.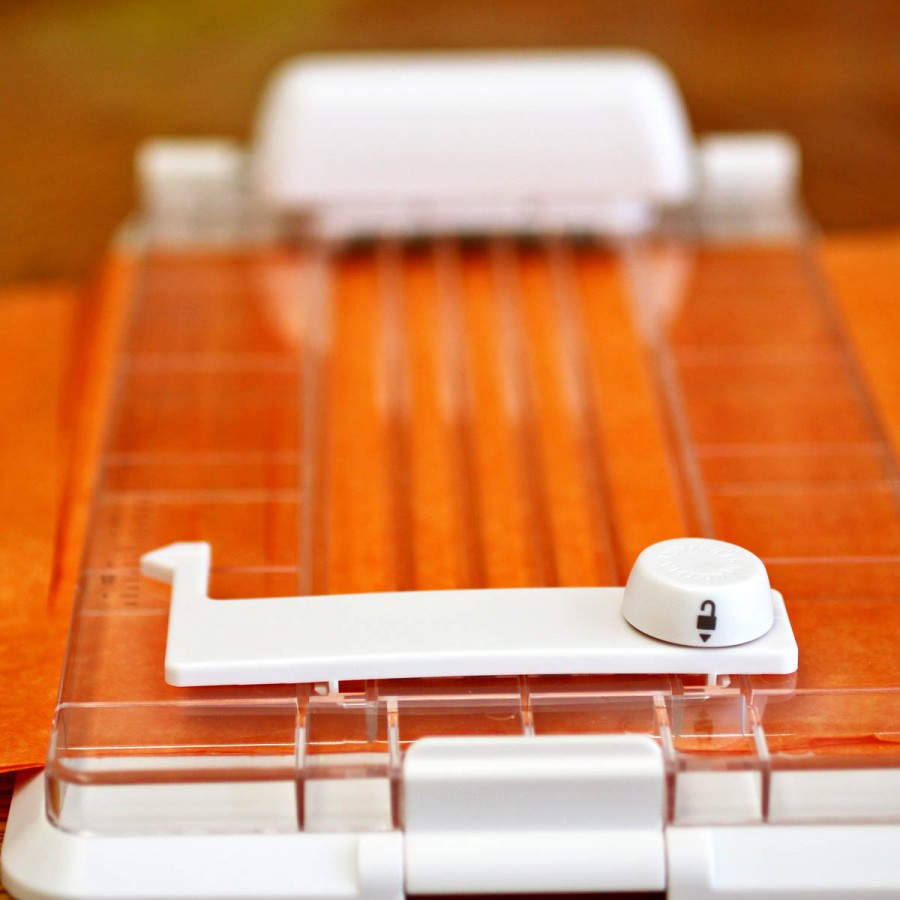 Peanut Butter Witches Fingers
Recipe type:
Cookies, Halloween
Prep time:
Cook time:
Total time:
Peanut Butter Witches Fingers made using Peter Pan Simply Ground Peanut Butter.
Ingredients
1/2 cup butter, at room temperature
1/3 cup Simply Ground Peanut Butter.
1/2 teaspoon vanilla
1 1/2 cup flour
1/4 cup confectioner's sugar
sliced almonds
red paste food coloring (optional)
brown paste food coloring (optional)
Instructions
Mix the butter and Simply Ground Peanut Butter.together.
Add the vanilla and confectioner's sugar. Mix well.
Add the flour. Mix util thoroughly combined.
Divide the dough into 18 pieces, 3/4 oz. each.
Roll the dough into a cylinder to make it look like a finger.
Put a single slice of almond at the top of the cookie, to make a fingernail.
Cut 4-5 straight lines into the dough where the knuckle should be.
With a paint brush, dip it lightly into the red food coloring. Blot slightly on the lid Put it at the bottom of the cookie, really light. When you get all done, dip the brush in a bit of water and smear the red over the end of the cookie. Less is more when doing this. Repeat the same thing with the brown food coloring over the knuckles.
Bake at 375 degrees for 12 - 15 minutes. They will just start to be browning on the bottom. Cool.
Here they are just after I put them in the oven. Notice how bright the food coloring is before they're baked. The color will fade as it bakes into the cookies some.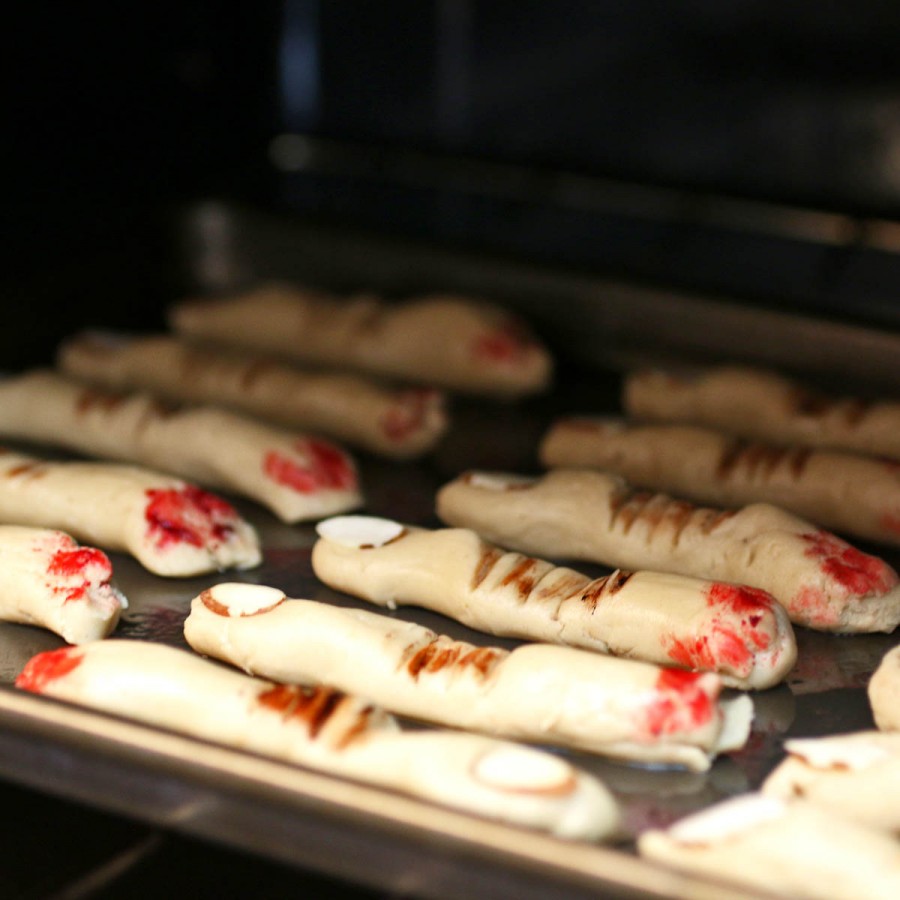 Peanut Butter Dip
Cream cheese and peanut butter swirled together for a great dip.
Ingredients
8 oz. cream cheese
1/2 cup confectionery sugar
1 teaspoon vanilla
1 heaping tablespoon Peter Pan Simply Ground Peanut Butter
additional Peter Pan Simply Ground Peanut Butter for top
Instructions
Mix together in a small bowl the cream cheese, confectionery sugar and vanilla. When it is smooth and creamy swirl in the tablespoon of Peter Pan Simply Ground Peanut Butter.
Put in a bowl and top with additional Peter Pan Simply Ground Peanut Butter.
What Peanut Butter Flavor Fits Your Personality? Take the fun quiz to find out. You can get a coupon and access to more peanut butter recipes too! Walmart also has a coupon available right now.
Look for Peter Pan Simply Ground Peanut Butter at Walmart. In my store it were the coffee and beverages are.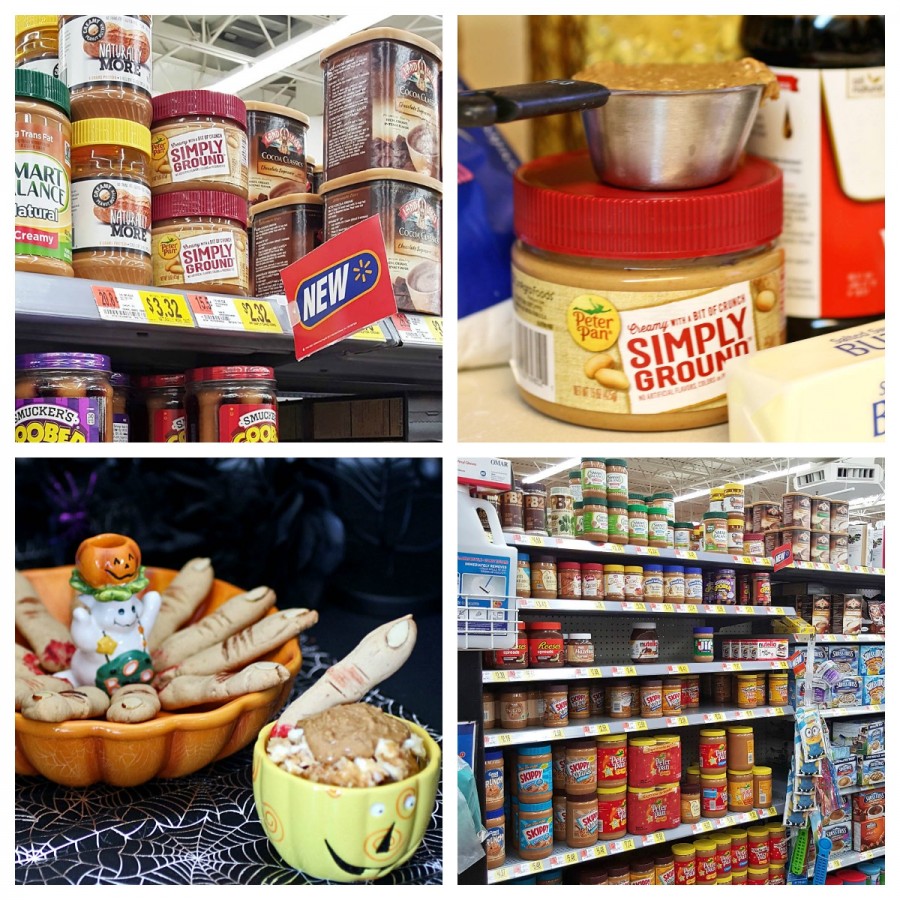 Maybe you'd like to try another one of my recipes using Peter Pan Simply Ground Peanut Butter, Peanut Butter, Cream Cheese and Jelly Roll Roll Ups. You can really see the consistency and the texture of the peanut butter in this recipe.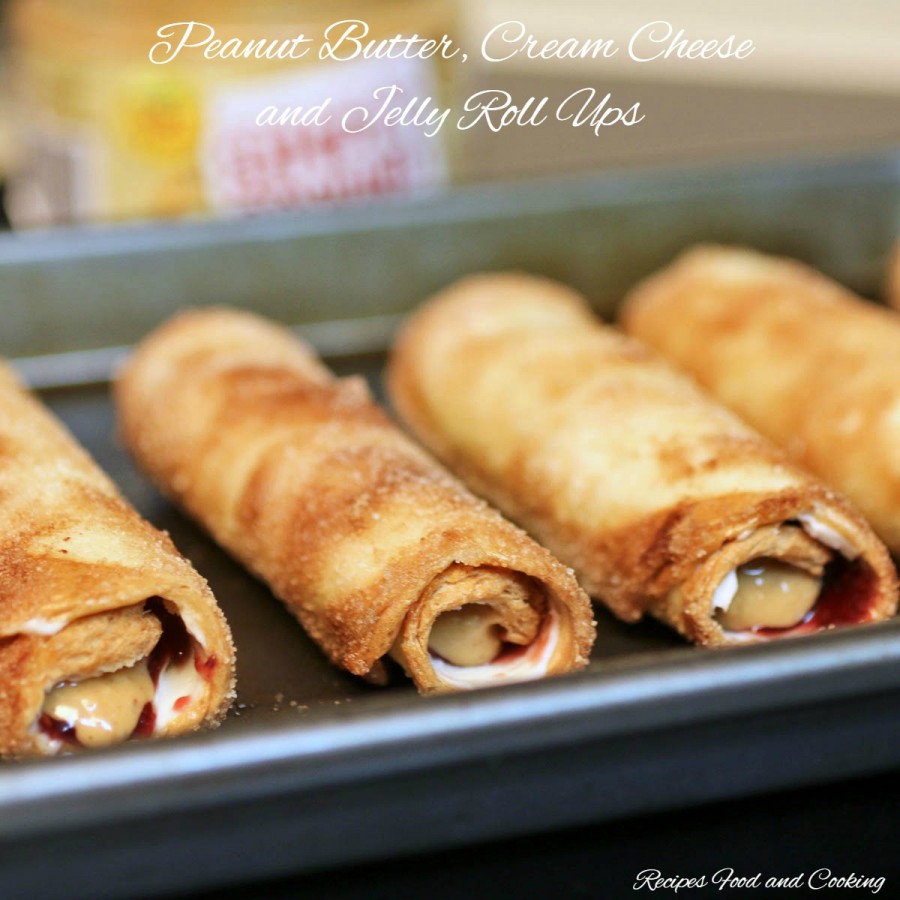 Be sure to check out more delicious peanut butter recipes at the New Peter Pan Peanut Butter website. I'd love to hear about your favorite peanut butter recipe recipe!
Pin It!