This post brought to you by Campbell's Slow Cooker Sauces. The content and opinions expressed below are that of Recipes Food and Cooking.
Hawaiian Pulled Pork
I am so excited to share with you a product from Campbell's that I had never tried before. This is my first post where I hadn't already tried the product but I trusted the brand. I grew up with Campbell's and I'm betting you did too. I'd done a post earlier this year for their new Soups for Easy Cooking and I loved all of those so I decided to take a leap. Campbell's now has a collection of Slow Cooker Sauces that you just add the package of whichever flavored sauce you want and then the meat. 5 minutes and you have dinner cooking! Love it!!! They would also be perfect for any game day party or weekend entertaining you might be doing.
I used the Hawaiian Pork sauce and a pork boston butt roast. That's all, so it couldn't be easier. Spending time with your family is precious and these sauces give you more time with them because they are so easy to use. Let your slow cooker do the work! Campbell's Slow Cooker Sauces are both Every Day Easy and Game Day Great.
I decided to make some sliders out of the Hawaiian Pork Sauce and added a little coleslaw with pineapple in it. I used whole wheat potato buns and I can tell you the combination was amazing! With the coleslaw on the sliders that was all I served for dinner. For a game day event I'd add some frozen french fries or just chips!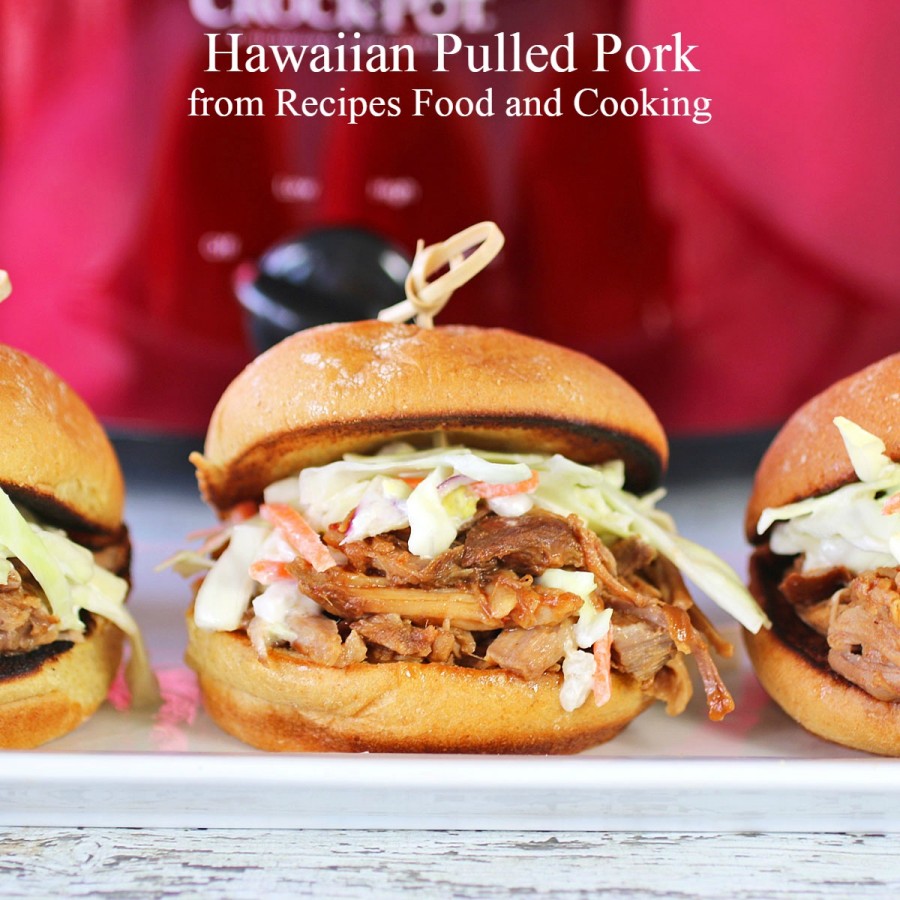 These sauces take 5 minutes of prep time and you will have a delicious dinner waiting for you when you get home. These sauces also make any family gathering special and easy!
Take the Game Day Great, Every Day Easy Challenge and experience it for yourself over at the Campbell's Sauces. You can also print out a buy one, get one free coupon during October so you can try these sauces. To find where these sauces are in your market at the bottom of the Campbell's page, there is a list of major grocery stores. Look for your markets name and it will give you the general location the sauces should be in at your store.
Campbell's Slow Cooker Sauces
Tavern Style Pot Roast
Apple Bourbon Pulled Pork
Beef Stew Southern BBQ
Sweet Korean BBQ
Hawaiian Pork
These sauces require minimal ingredients. You're going to love how simple these sauces will make your life and how great they taste!
Campbell's – Made for Real, Real Life"
Hawaiian Pulled Pork
Recipe type:
Pork, Dinner
Prep time:
Cook time:
Total time:
Ingredients
1 package Campbell's Slow Cooker Sauces - I used Hawaiian Pork
1 2½ - 3 lbs boston butt roast
Instructions
Put the roast in the crock pot.
Pour the sauce over it.
Cook on LOW for 8 hours or on HIGH for 4 hours.
Notes
Note: I served this with a Hawaiian Cole Slaw. Just add crushed pineapple to your favorite cole slaw recipe. I add 2 tablespoons for every cup of cole slaw.
Pin It!