This post brought to you by Simply Potatoes. The content and opinions expressed below are that of Recipes Food and Cooking.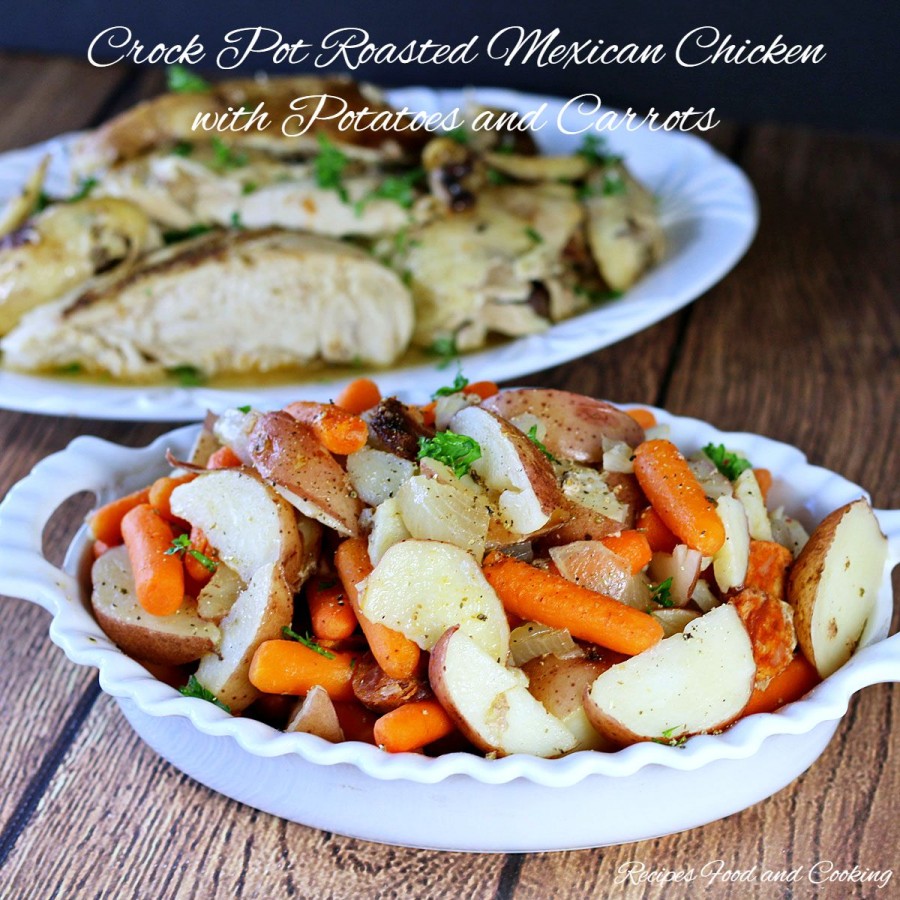 Crock Pot Roasted Mexican Chicken with Potatoes and Carrots
Looking for an easy chicken crock pot recipe? Do you need a new crock-pot? Simply Potatoes is giving me one to give away! I was so excited when I heard this. You can enter below because first I want tell you about this recipe and Simply Potatoes. This recipe is about as easy as it gets and it is full of Mexican flavors. When I have a busy day or have to be out all day I love coming home to dinner in the crock pot. The second you open the door you know somethings cooking. Then 5 minutes later you think you're starving even though you weren't hungry 10 minutes before. I think we've all done that.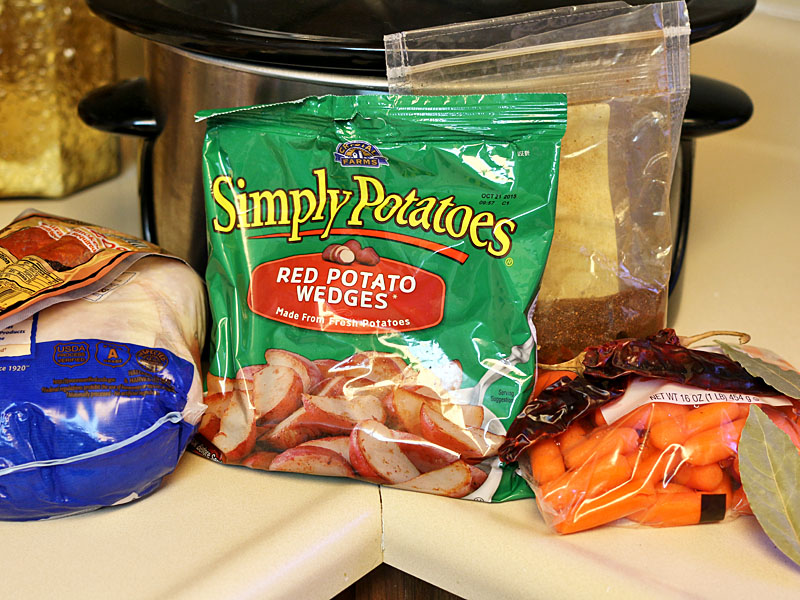 You can have this ready and cooking in about 10 minutes. How's that for fast? First off you are going to add a bag of baby carrots to the crock pot. Then you are going to add Simply Potatoes Red Potato Wedges. Buying the potatoes already prepared just saved you 10 minutes. Cool!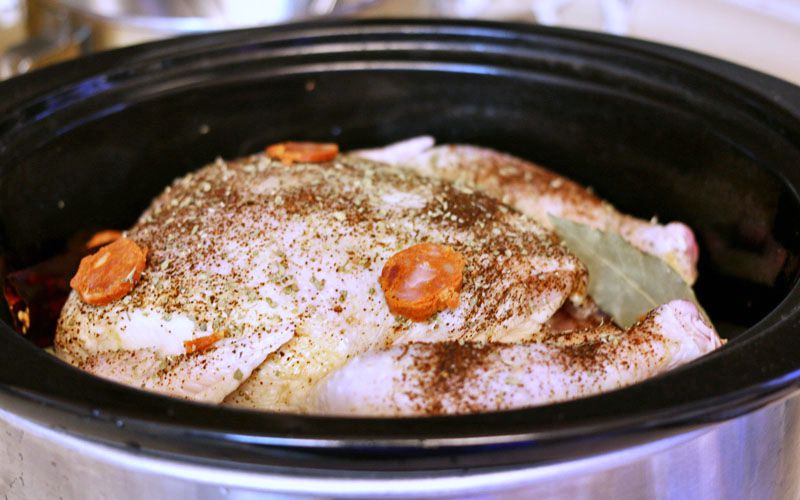 Then season up that chicken with some taco seasonings, add some chorizo, a couple of bay leaves and a couple dried red Mexican peppers. It's not even 10 minutes later and you'll be putting that lid on the crock pot. Set the crock pot on Low. Come home to a delicious and great dinner!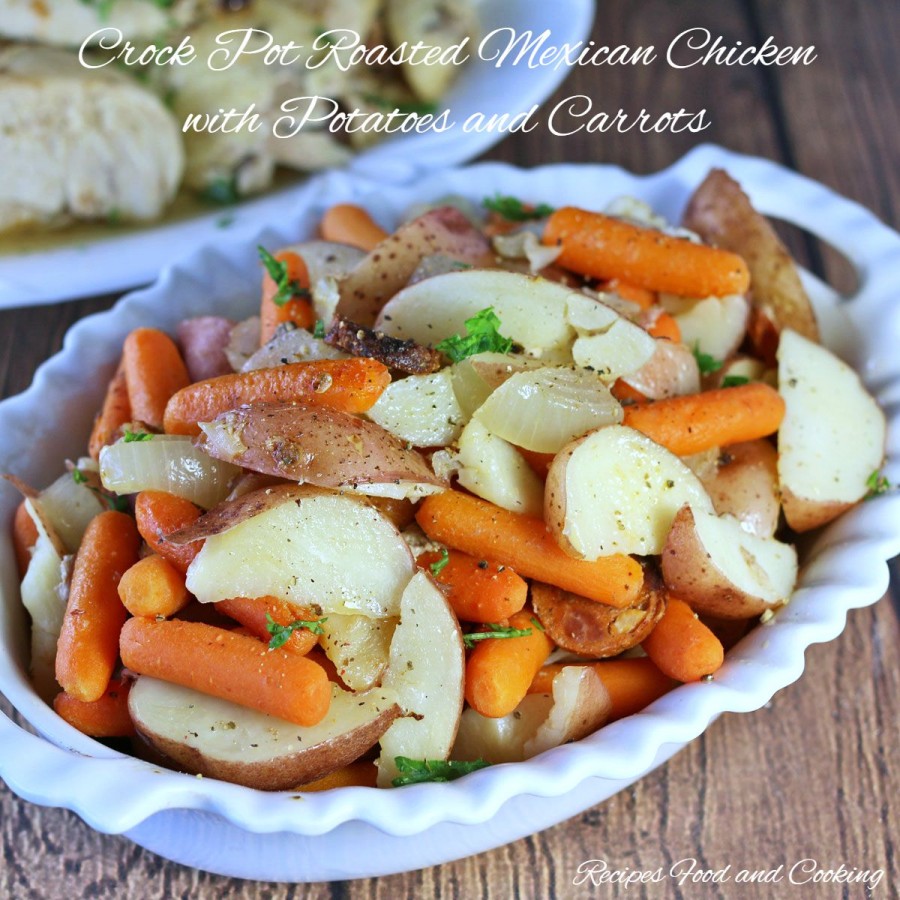 Crock Pot Roasted Mexican Chicken with Potatoes and Carrots
Recipe type:
Chicken, Dinner, Main
Prep time:
Cook time:
Total time:
A whole chicken roasted in the crockpot with Mexican seasonings, carrots, Simply Potatoes and mild chorizo.
Ingredients
1 3 - 4 lb. chicken
1/2 package Mexican Taco Seasoning
1 bag Simply Potatoes Red Potato Wedges
1 bag baby carrots
1 onion - diced
1 cup water
1 small chorizo sausage cut into circles
2 bay leaves
1 - 2 dried Mexican peppers (optional)
salt and pepper
Instructions
Spray a crock pot with cooking spray. Turn on Low if cooking all day.
Add the carrots and onions to the bottom of the crock pot.
Add the bag of Simply Potatoes Red Potato Wedges. Season with salt and pepper.
Remove chicken from bag. Pat dry with paper towels. Sprinkle with the Mexican seasonings over the chicken. Salt and pepper the chicken. Sprinkle the chorizo over the carrots.
Add the water to the crock pot. Place chicken on top of the carrots. Put the lid on. Cook for 8 hours on LOW or 3 1/2 hours on HIGH.
Simply Potatoes is a line of refrigerated, prepared potatoes proudly made by the Crystal Farms Company. Crystal Farms is also known for great-tasting, high-quality cheese, eggs, butter and English muffins found in the dairy section.
I love cooking with Simply Potatoes, they have so many varieties to choose from. Simply Potatoes are fresh potatoes and never frozen. You can find them over at the refrigerated dairy section of your supermarket. The best thing about them is they are so easy to prepare and ready whenever you need them. No peeling or shredding required! They're also made with real ingredients like milk and butter. A couple of them even come seasoned. I've tried the Garlic and Herb Hash Browns and love them.
Be sure to visit Simply Potatoes Recipes for recipes using Simply Potatoes. I've seen a few recipes over there that I want to try and know you will too. Visit them on Facebook and on Simply Potatoes on Pinterest.
Try our Cheeseburger Soup made with the Simply Potatoes Garlic and Herb Hash Browns.
Pin It!