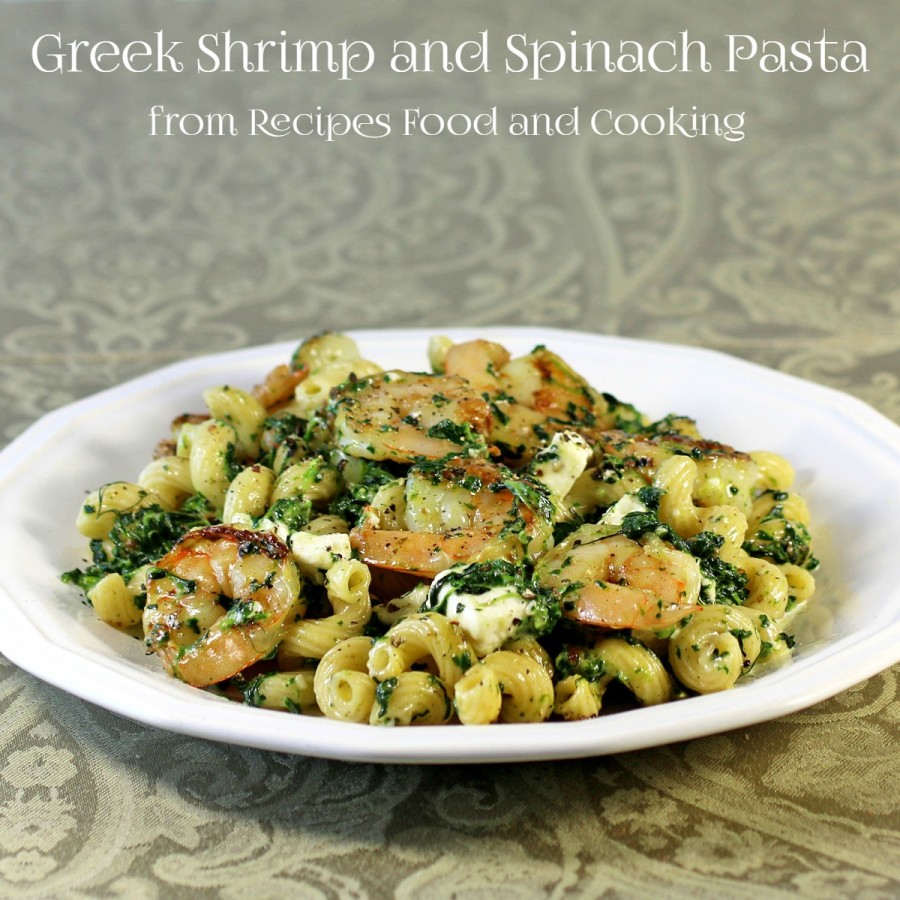 Greek Shrimp and Spinach Pasta
Today's weekday supper meal is ready and on the table in less than 30 minutes.  Greek seasoned shrimp are quickly sauteed in a little olive oil and set aside for a few minutes while you prepare the rest of the dish. While the pasta cooks squeeze the spinach dry and cube up the feta cheese. Our theme this month is green and I've been celebrating the Irish in me all month long. Our grandmother was so proud of her Irish heritage and she made sure she shared it with all of her grandchildren.
This dish came about after a trip to Tarpon Springs the other day a city that celebrates it's Greek heritage. I had the best gyro sandwich I'd ever had and I've had a few. That sandwich set me off on a quest to buy some pita bread. They were several bakeries including one that had been in business since 1925 and none sold pita bread to my surprise. On a side street I did find a great Greek market and came home with pita bread, big blocks of feta cheese and filo dough to name a few things I found there.
Originally this dish was going to have a basil spinach pasta but I kept thinking about that feta in the refrigerator so as the shrimp was cooking I changed the recipe. Who needs Parmesan when you have fresh feta? Apparently not me. I can tell you this combination is delicious and I enjoyed it thoroughly.
Greek Shrimp and Spinach Pasta
Recipe type:
Seafood, Pasta
Prep time:
Cook time:
Total time:
A delicious pasta dish full of shrimp, spinach and feta with a Greek flair.
Ingredients
1 lb. shrimp
1 tablespoon olive oil
3/4 lb. pasta of your choice
1/2 lb. feta cheese - cubed or crumbled
1 package frozen spinach - thawed and squeezed dry
1 teaspoon Greek Seasoning
1/2 cup heavy cream
3 teaspoons fresh dill or 1 teaspoon dry
1/2 teaspoon salt
pepper to taste
Instructions
Bring the pasta to a boil in a boiling water. Cook until tender and drain well.
Season the shrimp with the Greek Seasoning. Let set while the pasta cooks.
In a large saute pan, add the olive oil. Have the pan at about medium high heat. Quickly saute the shrimp and right before they finish cooking remove them from the pan.
Add the spinach to the pan and cook until heated thru. Add the pasta to the pan with the heavy cream. When the pasta mixture is hot add the rest of the spices and feta to the pan. Cook 1 more minute and add shrimp back to pan. Cook one more minute and remove from heat.
Notes
I get the Greek seasoning I use from Penzey's but I am sure you can find it from other spice companies.
Pin It!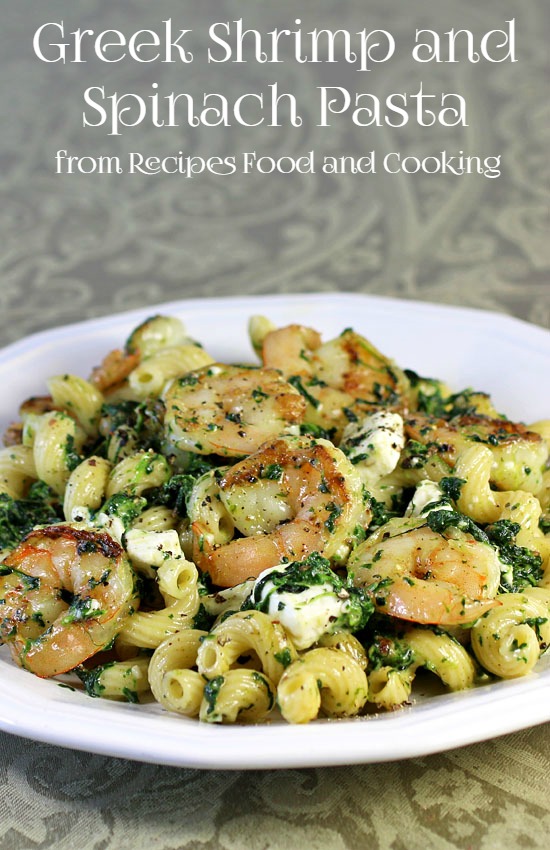 Don't forget to check out the other Weekday Supper suggestions for this week! These are all delicious options that can be on the table within thirty minutes and a great way to shake up your Weekday Supper routine!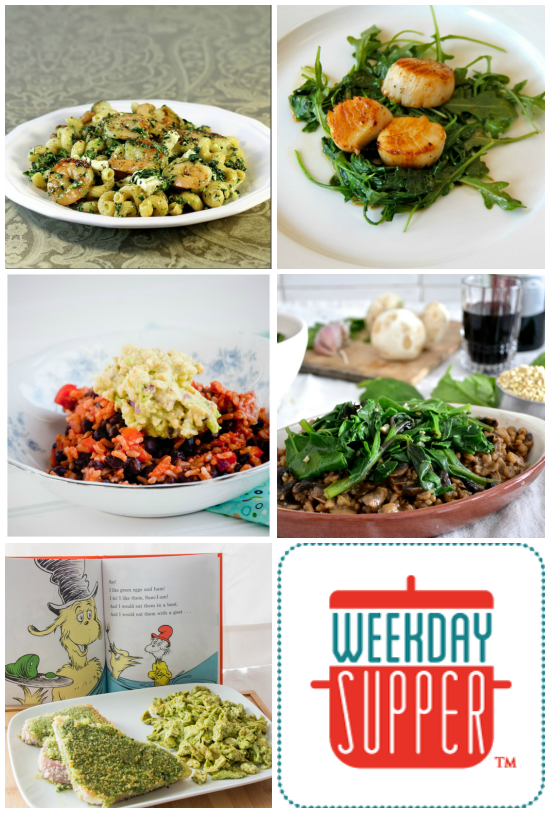 Monday – Greek Shrimp and Spinach by Recipes Food and Cooking
Tuesday – Scallops with Wilted Spinach and Arugula by MealDiva
Wednesday – Rice and Beans with Guacamole by Feed Me, Seymour
Thursday – Barley Risotto with Garlicky Spinach by eating in instead
Friday – Green Eggs and Ham by Sew You Think You Can Cook
Want to join some talented food bloggers at the Food and Wine Conference this summer? It's being held at Rosen Shingle Creek in beautiful, sunny Orlando Florida July 17-19 and we want you to be there with us! Use the promo code FWC15SeavME to get a $50 discount on your full 3-day conference ticket. You don't want to miss this event!
http://foodandwineconference.com/#tile_registration