Whole Wheat Sub Buns are soft and delicious. Perfect for the turkey meatball subs I made.

Whole Wheat Sub Buns
I made Turkey Meatball Subs with these buns and they were so good. I was to lazy to run to the store for buns so I made my own instead. They were wonderful! These buns are best the day they are made, they have a nice tender crumb, they're soft and grill beautifully.
Bread always will be one of my favorite things to bake in my kitchen. There is something about adding flour and yeast together that just makes me happy. I try to make bread at least once a week of some kind. I rarely buy it at the store.
If you don't need 12 sub buns use half of the dough to make hamburger buns with. These buns weigh about 1.6 oz. each. If you want larger hamburger buns I would do 1.9 oz. size balls of dough. When you roll the dough out flatten them with the back of your hand to get the shape not quite as round before you let them raise.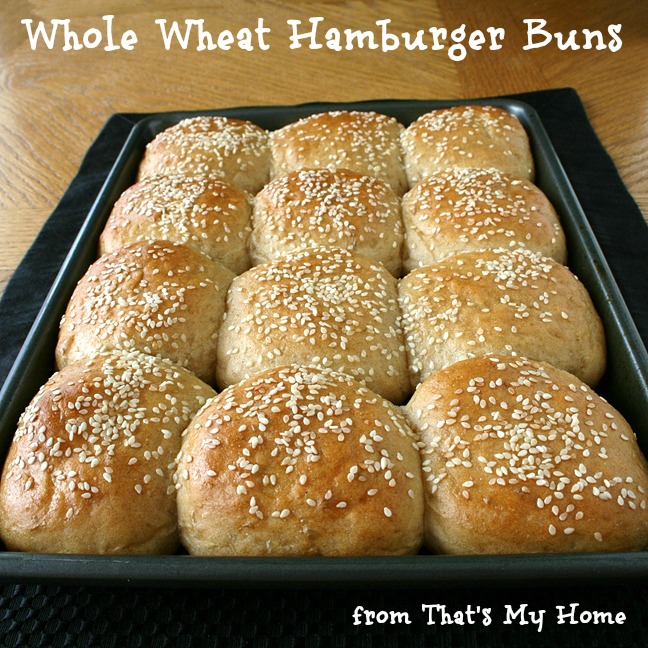 Follow me on Facebook, Google+ , Instagram or Pinterest to see when I post or share something new!
Whole Wheat Sub Buns
Prep time:
Cook time:
Total time:
Whole Wheat Sub Buns are soft and delicious. Perfect for the turkey meatball subs I made.
Ingredients
2 cups wheat flour
2 1/2 cups flour
1 package yeast
1/4 cup warn water
1/3 cup sugar
1 1/2 cups milk - can be part water
1/2 cups vegetable oil
1 teaspoon salt
2 eggs
Egg wash made with 1 egg and 2 tablespoons water
sesame seeds
Instructions
Combine the yeast and 1 tablespoon of the sugar with 1/4 cup warn water. Let set for 5 minutes until it starts to bubble.
Add the milk, eggs, oil and remaining sugar to a mixer bowl. Mix until combined. Add the yeast.
Measure the flours and salt and add to the bowl. With a dough hook knead the dough until it comes together in a ball. If the dough is too sticky add another 1/4 cup of white flour. Usually at this point before I do I let the dough sit and rest for up to 5 minutes to allow the wheat flour to absorb all of the liquids. If the dough is still to sticky at this point add the additional flour.
Continue to knead the dough for about 5 minutes until the dough is smooth and elastic. Cover dough and let raise until doubled. Punch down the dough and let raise again.
Measure out the dough for either hamburger buns (1.6 oz) or sub buns (3 oz). Shape into desired shapes and place on a greased baking sheet. Cover and let raise until doubled.
Brush with the egg wash and sprinkle with sesame seeds if using.
Bake at 350 degrees, about 20 minutes if doing sub buns and about 15 - 18 minutes for hamburger buns.