Watermelon Granita is made from fresh watermelon that is pureed with a hint of lime.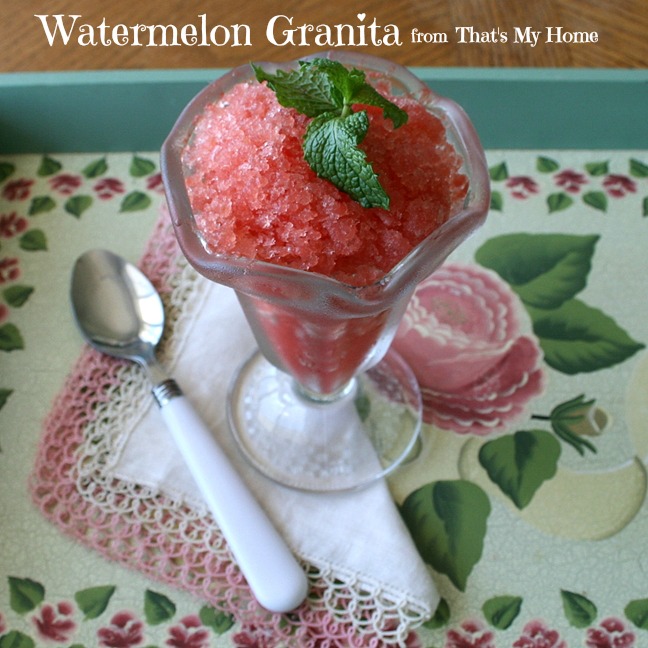 Watermelon Granita
Watermelon Granita is so refreshing that I am not sure why I haven't been making this all summer long. I got a couple of watermelons last weekend for a dollar, seedless too and have been using watermelon in everything I can think of. This is one perfect summertime dessert. I didn't add any additional sugar but did add the juice of a lime and a little zest.
How do you pick a watermelon when you buy one? They say to tap it and if it sounds dull it is not ripe. A ripe melon has a hollow sound. I like to look for dark green stripes also. Also the place where the melon was on the ground should be a nice creamy color, if it is white I am going to guess it is not ripe. You also want it to feel heavy for it's size. Pick up a few and compare. The heaviest one is going to have the most water and most likely be the sweetest. Unlike a pineapple or a melon which you can smell and tell if it is ripe that just doesn't work with a watermelon. I remember as a kid they used to take a plug out of one and show you it was ripe but if I'm not using it right away I don't want someone putting holes in my watermelon.
Follow me on Facebook, Google+ , Instagram or Pinterest to see when I post or share something new!
Watermelon Granita
Prep time:
Cook time:
Total time:
Watermelon Granita is light and refreshing. Easy to make and no ice cream freezer needed.
Ingredients
8 cups chopped watermelon
1 lime, juice and zest
up to 1/2 cup sugar - use half first and taste
Instructions
Chop and seed your watermelon. Place in blender and process until smooth. Repeat until you do all of the watermelon.
Add the juice and zest of a lime.
Add sugar if needed.
Pour into a 9 x 13 pan. Cover and place in freezer.
Take a fork and fluff the watermelon several times as it freezes. Freeze until ready to serve.