Banana cupcakes with peanut butter frosting and top with Reese's Peanut Butter Cups.

Banana Cupcakes with Peanut Butter Frosting
I wasn't intending to make cupcakes when I made the batter but there was some left over from the bundt cake I was making and I decided to do the rest of the batter as mini cupcakes. I got 16 cupcakes and a bundt cake with this recipe. If you wanted to do just mini cupcakes I would think you would get over 40 of them and up to 48. This is a really good banana cake recipe. Most of the ones I have baked have been on the heavier side more like bread, not this one. It is light and has a tender crumb and is just plain delicious.
You want ripe bananas for this cake, you know the ones no one will eat. They are perfect for baking with. If you have some bananas that are ripe and no time to bake put them in a baggie and freeze until you have time to bake. It won't affect the flavor at all.
This is enough of the frosting recipe to do the cupcakes and the bundt cake, to do the bundt cake the frosting will have to be thinned down with some milk until it reaches the point it will flow. Add the milk a tablespoon at a time until it reaches the desired consistency.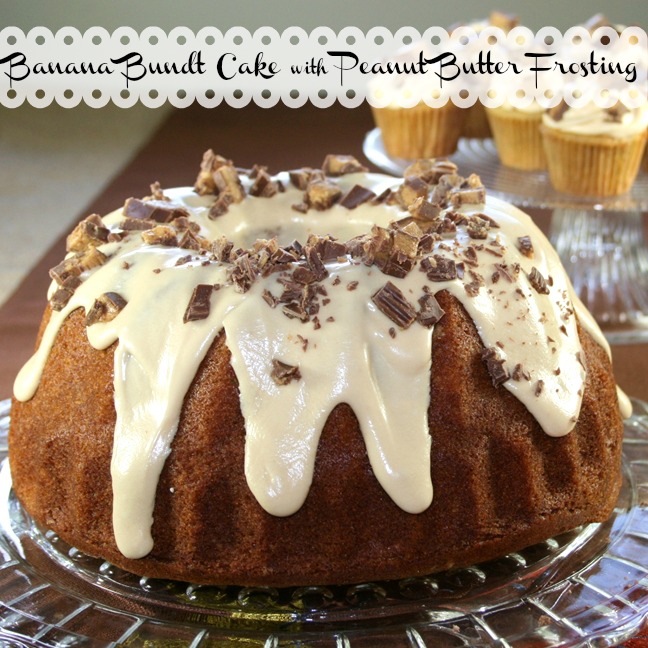 Banana Bundt Cake and Banana Cupcakes with Peanut Butter Frosting
Banana Cupcakes with Peanut Butter Frosting
Prep time:
Cook time:
Total time:
Banana cupcakes with peanut butter frosting and top with Reese's Peanut Butter Cups.
Ingredients
1/2 cup butter, softened
1/4 cup vegetable oil
1 cup sugar
1 cup brown sugar
3 large eggs
2 teaspoons vanilla
1 1/2 cups bananas, mashed and ripe
1 1/4 cups buttermilk
1/4 teaspoon salt
3 cups all-purpose flour
1 1/2 teaspoons baking soda
Frosting
1/4 cup butter
1/2 cup peanut butter
3 cups confectioners sugar
3 - 4 tablespoons milk
peanut butter cups - chopped
Instructions
Preheat oven to 350 degrees. Line a mini cupcake pan with cupcake liners, about 40.
In a mixing bowl combine sugars, butter and oil. Add the eggs and vanilla. Mix well. Add the buttermilk and mashed bananas.
Mix together the flour, salt and baking soda. Add to the above mixture. Mix until very well combined.
Spoon or scoop batter into liners. I use a small cookie scoop.
Bake for 15 - 18 minutes until cupcakes are done, they will spring back when touched in the center or until a tester comes out clean. Cool.
Frosting
Combine the sugar and peanut butter together in a mixing bowl fitted with the whisk attachment. Beat together until it is thoroughly combined. Add the confectioners sugar and 3 tablespoons of the milk. Add more milk if needed to the frosting mix and beat until it gets fluffy, about 3 - 5 minutes. Put the frosting into a pastry bag and pie the frosting onto the top of the cupcakes.
Chop some Reese's Peanut Butter Cups, sprinkle on top of the cupcakes. I large one does about 4 cupcakes.