Easy microwave cake whenever you get a craving for something sweet!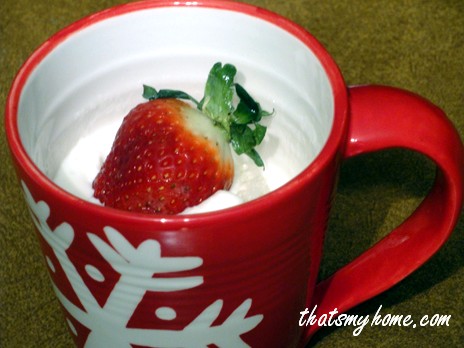 1 2 3 Cake
When my friend Brenda shared this recipe a week on Facebook a week ago I knew I had to try it. I used a white cake mix with the angel food cake. I wanted to do chocolate but alas, no chocolate cake mix in the house. I had strawberry, orange, spice, well you get the picture. I decided with the white I could at least do variations and change the flavor.
I used fresh blueberries (about 12), peaches, chocolate syrup down the sides, anything goes! The one thing I wouldn't do again is to make it in a glass cup, I was trying for photo purposes so you could see more. It cooked way too fast and has that microwave texture, a coffee mug works perfect! I posted this on my Facebook page this morning and one of my readers informed me this also works with a sugar free cake mix.
1 2 3 Cake
Prep time:
Cook time:
Total time:
Easy microwave cake whenever you get a craving for something sweet
Ingredients
1 box Angel Food Cake Mix
1 box Cake Mix - Any Flavor
Instructions
In a ziploc bag, combine the two cake mixes together and mix well.
For each individual cake serving, take out 3 Tablespoons of the cake mix combination and mix it with 2 Tablespoons of water in a small microwave-safe container.
Microwave on high for 1 minute, and you have your own instant individual little cake! You can top each cake with a dollop of fat-free whipped topping and/or some fresh fruit.
KEEP remaining cake mixture stored in the ziploc bag and use whenever you feel like a treat!
Helpful Tips: This recipe is called 3, 2, 1 Cake because all you need to remember is "3 tablespoons mix, 2 tablespoons water, 1 minute in the microwave!" TRY various flavors of cake mix like carrot, red velvet, pineapple, lemon, orange, etc. Just remember that one of the mixes has to be the angel food mix; the other is your choice. The flavor possibilities are endless!
NOTES: The best thing is, you open both cake mixes into a gallon storage bag, one that 'zip locks' or 'self-seals', or a container that seals tightly, shake the two cake mixes to blend and then make the recipe. Storage of mix is simple, put it on a shelf. No need to refrigerate, since the mix is dry. Always remember, that one of the cake mixes MUST be Angel Food. The other can be any flavor. The Angel Food is the cake mix that has the eggs whites in it. So, if, anyone is allergic to egg whites they can't have this.
Unknown - shared with me by Brenda