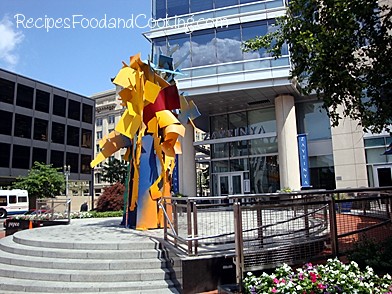 This is perhaps my favorite new restaurant and I hate that it is so far away! Zaytinya is on 9th Street and G. Zaytinya serves Mezze and it is best described on their website as "Mezze, also known as meze, maza and mezethes, are the small plates of the Eastern Mediterranean and the Middle East. Under the direction of James Beard award-winning chef, Josà AndrÃs, Zaytinya's extensive menu reflects the rich, regional diversity of classical and contemporary Greek, Turkish and Lebanese cuisine. It wouldn't be accurate to describe mezze as an appetizer. These small bites are not typically served preceding a meal. Mezze are better described as party food, a meal meant for socializing. The perfect thing to serve at gathering of friends and family. A drink, a little conversation and mezze shared by everyone at the table. " It all starts here.
Once we were seated our waiter came over and suggested we start off with some hummus and their signature olive oil with a pomegrante reduction and their homemade pita bread.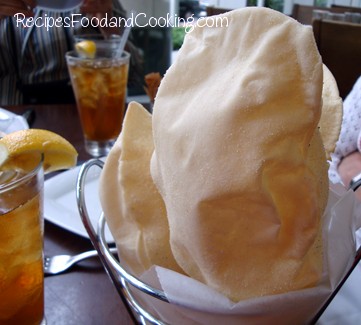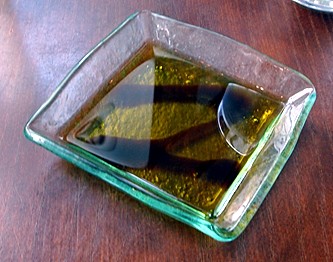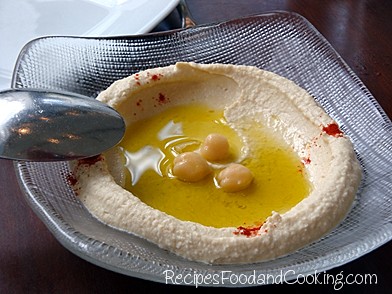 Next we got Fattoush which was tomatoes, cucumbers, red onions, green peppers,radishes and pita chips with a pomegranate vinaigrette.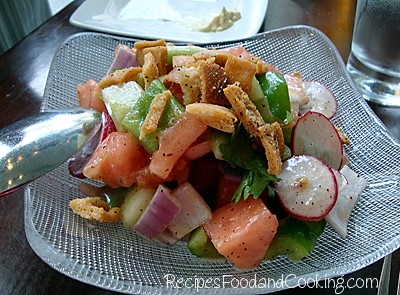 One of the fun things was we never knew what was going to be served next. The mezzes are served as soon as they are ready.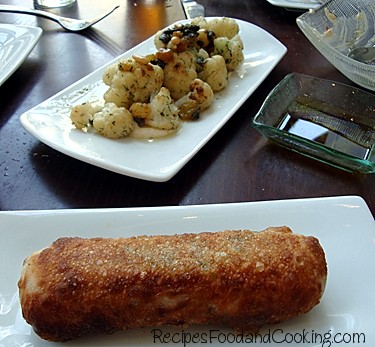 In the front was their Spanokopita made with their house made phyllo filled with spinach and feta cheese. In the back was Roasted Cauliflower with sultans, caper leaves and pine nut puree.
This was perhaps my favorite dish and I can't wait to recreate it at home. As soon as I do I will post the recipe. This was their Seasonal Mushrooms with sauteed mushrooms, dates and toasted almonds. If you notice my friends didn't even wait for me to take the picture here before digging in. Everything was so delicious that each new mezze was a true delight.
Our final luncheon dish was their Kebab Tasting Platter with lamb souvlaki, kofte, chicken kebab, mahanek served over harissa pita with tomatoes, cippolini onions and toum. It is hard to decide which one was best!
By this time we are all really full but decided if dessert was only half as good as what we had already had we had to try it. Zaytinya did not disappoint. I had Chocolate Visne with milk chocolate cream and cherry sorbet with three caramels. This was perhaps the best dessert I have ever had and remember I am a former pastry chef.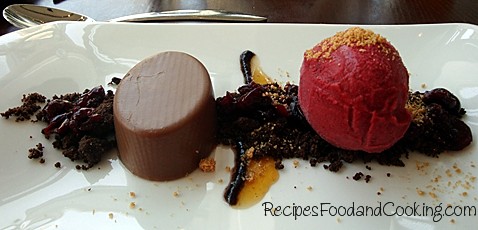 My friends ordered the next 2 desserts.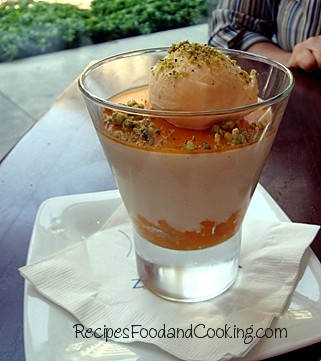 This one really surprised me. I usually hate yogurt but this dessert could make me a yogurt lover.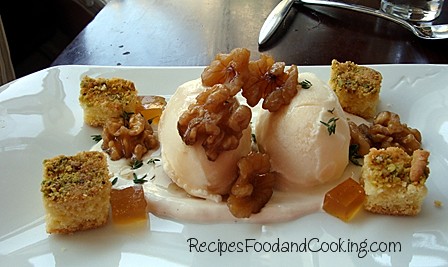 This was their Fresh Cheese "Tart" with pistachio shortbread, Greek honey thyme ice cream and sweet walnuts. I wasn't all that crazy about this one but my friend loved it.
This is what all of our plates looked like when we were done.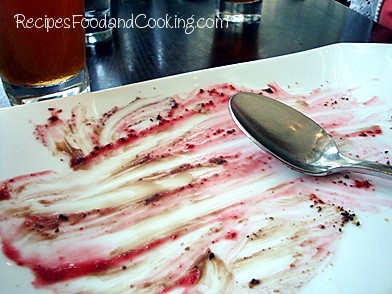 We're in DC for a few more days and I have a couple of more great DC restaurants to share with you. This restaurant is true foodie heaven! Josa Andra's' is the chef and he has a new PBS show on Saturdays. He also is coming out with a new cookbook in the fall. I did get some recipe cards at the restaurant and almost bought a cookbook until I realized it was in Spanish!