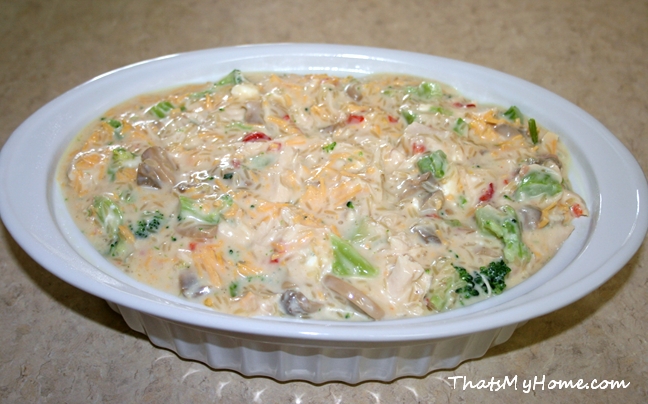 I had taken out a couple of chicken breasts last night for dinner and this is the result. It was quick, delicious and easy.
Chicken Broccoli Casserole
Prep time:
Cook time:
Total time:
Ingredients
2 chicken breasts - cubed and browned (about 3/4 lb.)
2 heads of broccoli - blanched
1 carrot - sliced
1/3 lb. spaghetti - cooked
1 can mushroom soup
1 soup can milk
1 cup cheedar cheese - shredded
1/2 lb. mushrooms
Salt and pepper to taste
Instructions
Cut the chicken into large chunks and brown. Don't cook until done, just brown them lightly. Blanch the broccoli and carrots in boiling water. After the water comes back to a boil cook for 3 minutes. Remove from pan and drain.
Cook spaghetti until not quite done, it will finish cooking in the oven. Drain and rinse well.
Add all the ingredients to a bowl and mix well. Pour into a lightly greased baking dish.
Bake at 350 degrees for about 45 minutes. Mixture should be hot and bubbly.
Serve with a salad and crusty french bread.
Serves 3 - 4
Note: If I was going to serve 4 people this dish, I would add another chicken breast.