What is more perfect on Saturday mornings than hot, fresh from the oven blueberry muffins?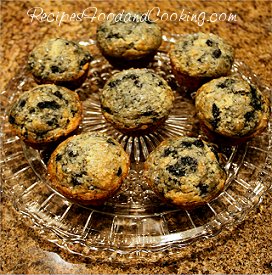 Muffin Making Tips
If you want to make the perfect muffin, start with fresh baking powder and baking soda and do not overmix the batter. Stir just until the dry ingredients are moistened. The batter should still be lumpy. The lumps will dissolve during baking.
Careful, brief stirring will produce a muffin with a high, rounded crown. Overmixed batter will produce a flat-topped muffin.
Use level measures. Scrape off excess flour, sugar, baking powder and baking soda with the flat blade of a knife.
Bake muffins on the middle oven shelf to prevent the bottom or top from over-browning. You can also put the pan on a cookie sheet if you see that your muffins get brown too fast.
Muffin Tips from ThatsMyHome.com

Blueberry Muffins
Ingredients
1/3 cup sugar
1 egg
1/4 cup butter, soft
1 cup sour cream
1 1/2 teaspoons vanilla
1 1/2 cups all purpose flour
1 teaspoon baking soda
1/2 teaspoon salt
1 cup blueberries, drained ( I drained a 15 oz. can of wild blueberries really well and added 1 tablespoon of flour to them before adding)
Instructions
Measure first five ingredients and add to mixing bowl. Beat until creamy.
Stir together dry ingredients. Add wet ingredients to the dry. Stir until moistened. Stir in blueberries.
Grease muffin tins. Fill tins 2/3 full. An easy way to do this is with an ice cream scoop.
Bake at 375F for 15-20 minutes.